Do you like simple and feminine manicures? The French manicure is the most popular manicure in the world! This nail design is quite popular and famous among workaholic women.
However, there are always ways for you to spice up your French nails! We have 20 unique designs that you will love, listed right down below!
Why Are They Called French Nails?
French nails are nails that have a white top and a clear base underneath. The trend originated years back in Los Angeles. One stylist talked about an interesting blend of manicures that they've spotted on some models on several different runway shows as well as fashion shows & fashion weeks!
How To Achieve French Nails?
If you want to do your nails and save money & time by not going to the salon, make sure that you have these following items:
A nail file
Nail clippers
A nail buffer
Basecoat
Clear polish
White polish
Step by step process
Step 1: Cut your nails to your ideal and preferred length. Use a nail file to shape them per your preference. You can go for an oval, square, or stiletto.
Step 2: Use a nail buffer to remove any extra shine. Buff out your nails one by one.
Step 3: Color all of your nails in clear and see-through nail polish. After it dries down and sets use your white polish next.
Step 4: Only color your nail tips with this polish. If you are not precise enough you can use some nail stickers or even a simple scotch tape.
This way you will end up with precise square-shaped french nail tips!
Who Should Get a French Manicure?
French manicures and French nail designs are a common go-to design for women who love classy as well as elegant nails. Usually, French nails are worn by women who love that old-school, safe, as well as practical design. Who should go for French nails, and when?
Get this set if you are off to a prom
These nails are gorgeous & beautiful for brides
French nails will suit women who work in the office
They are great for those who want simple nails that can be worn to any event
You will love them if you are not a huge fan of color and brighter nails
Top 20 Amazing French Manicure Designs
1. Feminine & Beautiful French Manicure – For A Bride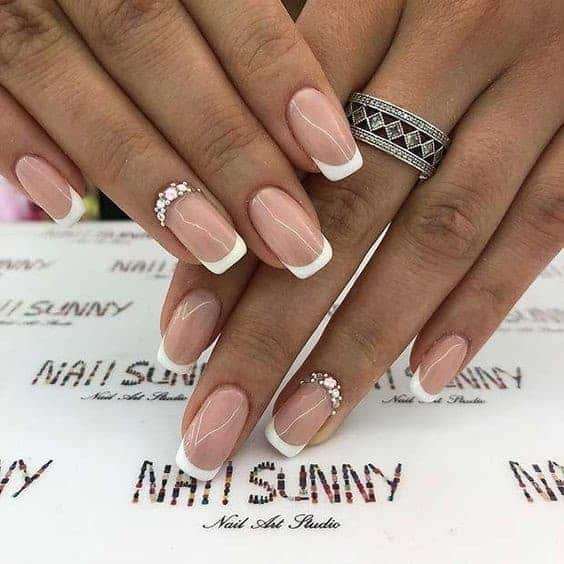 These are beautiful & feminine nails that you will love for your formal events as well as extravagant gatherings! They are filled with beautiful gemstones as well as shimmer, for any lady!
Who should go for these nails?
These are the perfect nails for a bride-to-be! Get this manicure if you are a guest at a wedding, as well as if you love stunning glittery nails!
How to achieve this manicure?
Go for a typical French manicure, just decorate 2-3 of your fingernails in some gorgeous gemstones! Glue them on top with a nail glue and you'll love the outcome.
2. Ombre Seamless French Manicure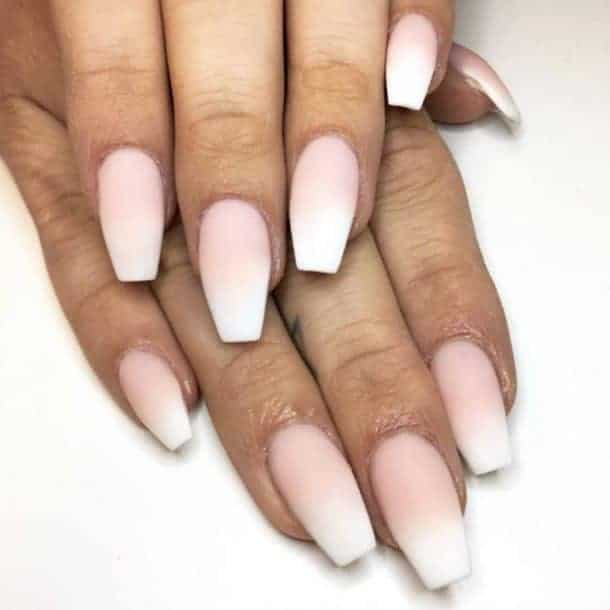 These are the most typical and common go-to French nails at a nail salon. If you are a fan of simplicity as well as wearable nails, you will enjoy this design.
Who should go for these nails?
You will love their seamless transition as well as their square shape. This design is for women who need something wearable for everyday activities.
How to achieve this manicure?
Use a matte top coat since it will help you with this seamless transition.
3. Yellow Short French Nails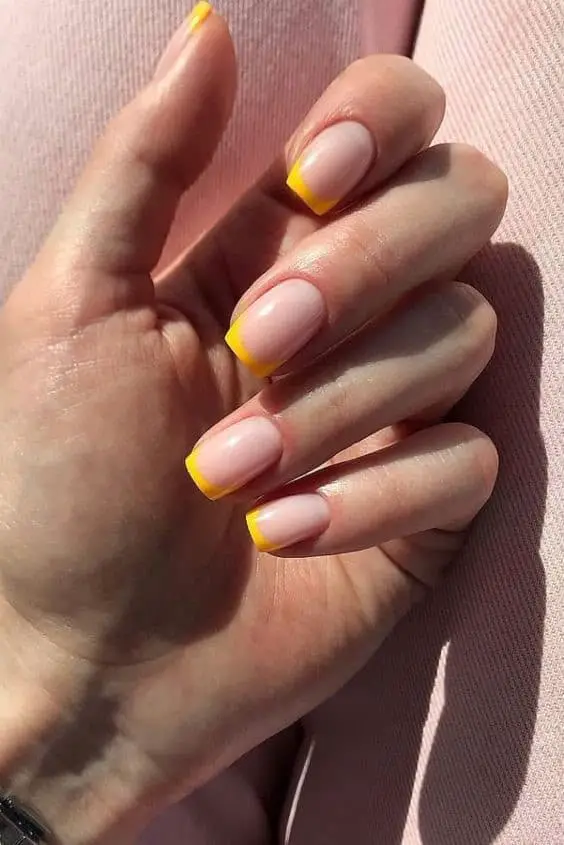 These gorgeous bright yellow nails are for people who want to stand out and who prefer brighter manicures. If you don't like typical polishes, go for the yellow color!
Who should go for these nails?
These are the perfect Summer nails. You should wear them for parties, birthday gatherings, as well as any other similar events.
How to achieve this manicure?
Use a yellow polish instead of your typical white one. Go for a square shape since it will make this manicure pop the most.
4. Bright Rainbow Inspired French Nails

Do you like rainbow manicures, as well as brighter nails? A lot of women love to stand out with their chosen color polish. This is a unique combo, perfect for those who love drama!
Who should go for these nails?
These French nails are perfect for parties as well as rave parties.
How to achieve this manicure?