Difficulties with selecting a new manicure are familiar to many girls. Of course, you can always go for a classic nude or luxurious red nail polish. But what if you want more variety? The nail industry is growing every year, and every season, we can explore new trends and interesting designs. Now you can find numerous ideas suitable for all tastes and preferences so that no one will be left without a gorgeous mani.
You can learn more about the latest nail art trends in 2022 and choose your favorites on this page. Sparkly nails are a bold decision, which is now at the peak of popularity. We want to provide you with some exciting ideas, allowing you to proceed with a remarkable manicure that will attract tons of attention. There is no need to select only one option – after reading, you will be provided with design ideas for a long time.
Galaxy hologram nails imply the creation of the galaxy effect against a shimmering sky, which is a fantastic choice for self-confident ladies. While many still consider that this manicure implies only black and blue colors, we hasten to assure you that you can pick any gel polish and look amazing. Take a look at some brilliant ideas below.
Stiletto Galaxy Nails
This nail art has already become classic, but it doesn't make it boring or usual. So, you should add this manicure idea to your amazing wish list. Nail art in the form of a starry sky using galactic objects is suitable for both business and festive styles, emphasizing individuality and attracting the views of others.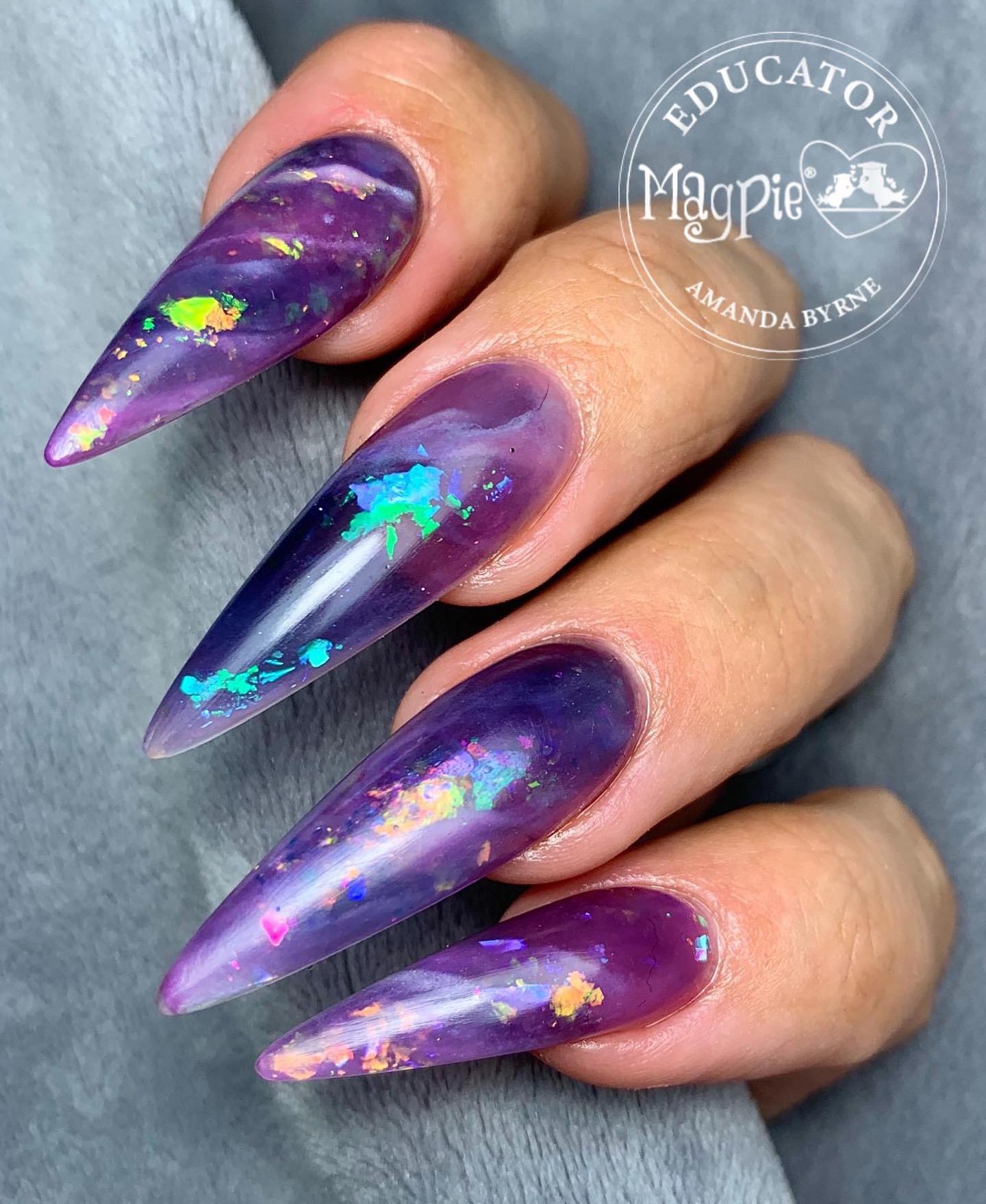 via @amanda_byrne_nailartist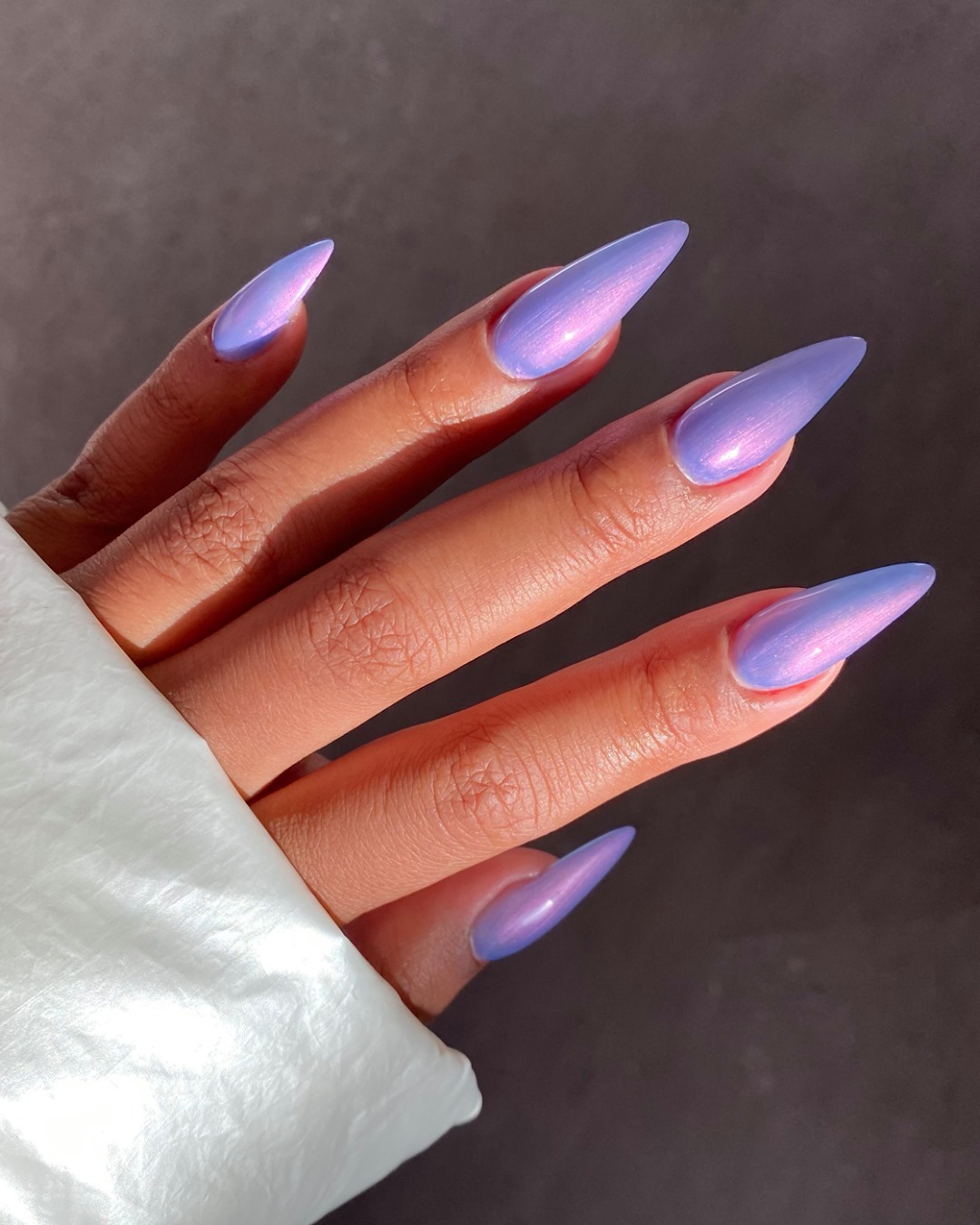 via @the_gelbottle_inc
If you used to have a short manicure, take advantage of acrylic nails, and in a few hours, you will get an astonishing stiletto form. One more benefit is that the nails will be stronger and will not break in this case. You don't have to add a lot of gel topcoats, and a thin layer will be enough. Galaxy holo mani is a perfect solution for ladies with long nails!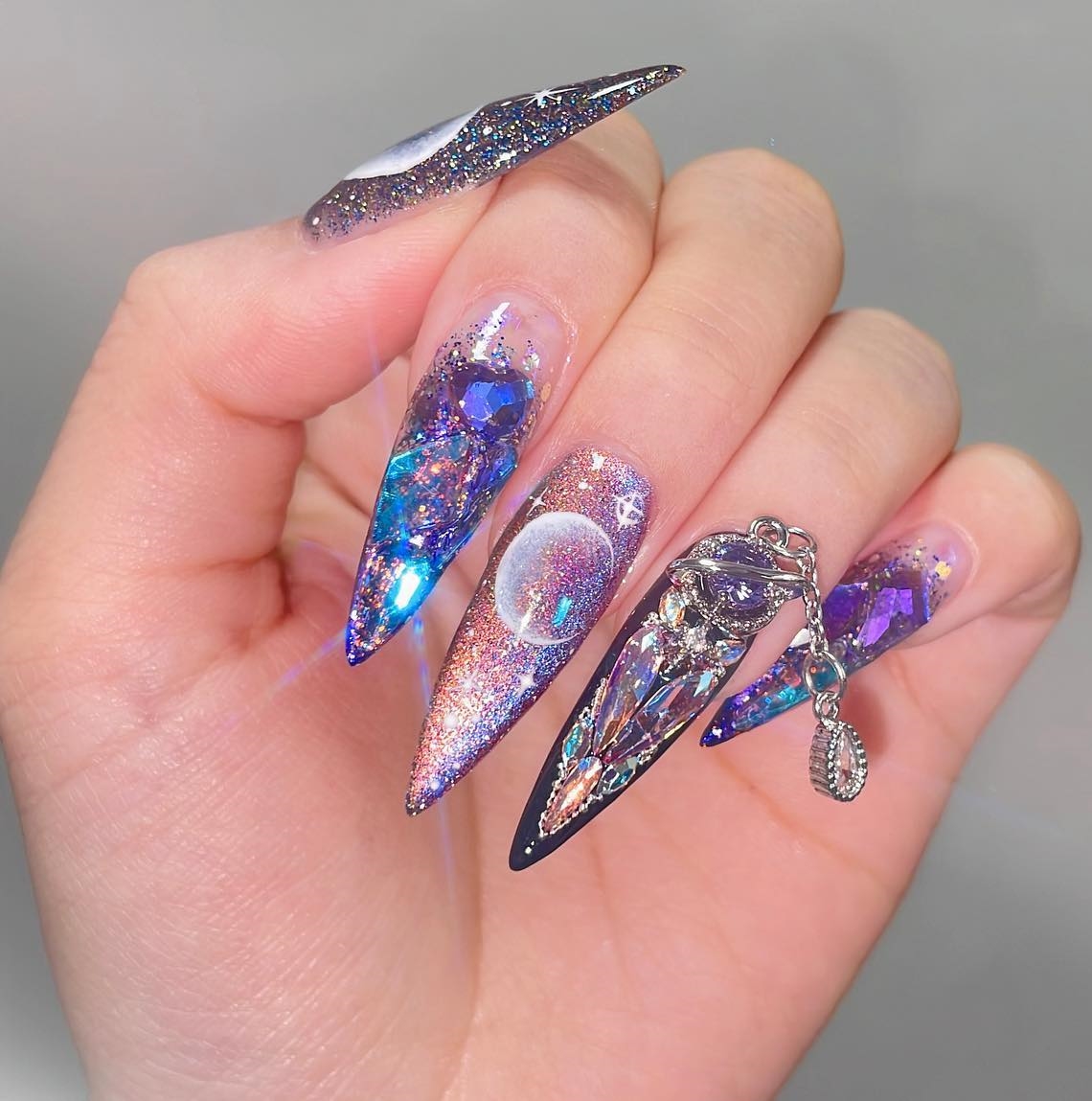 via @jounail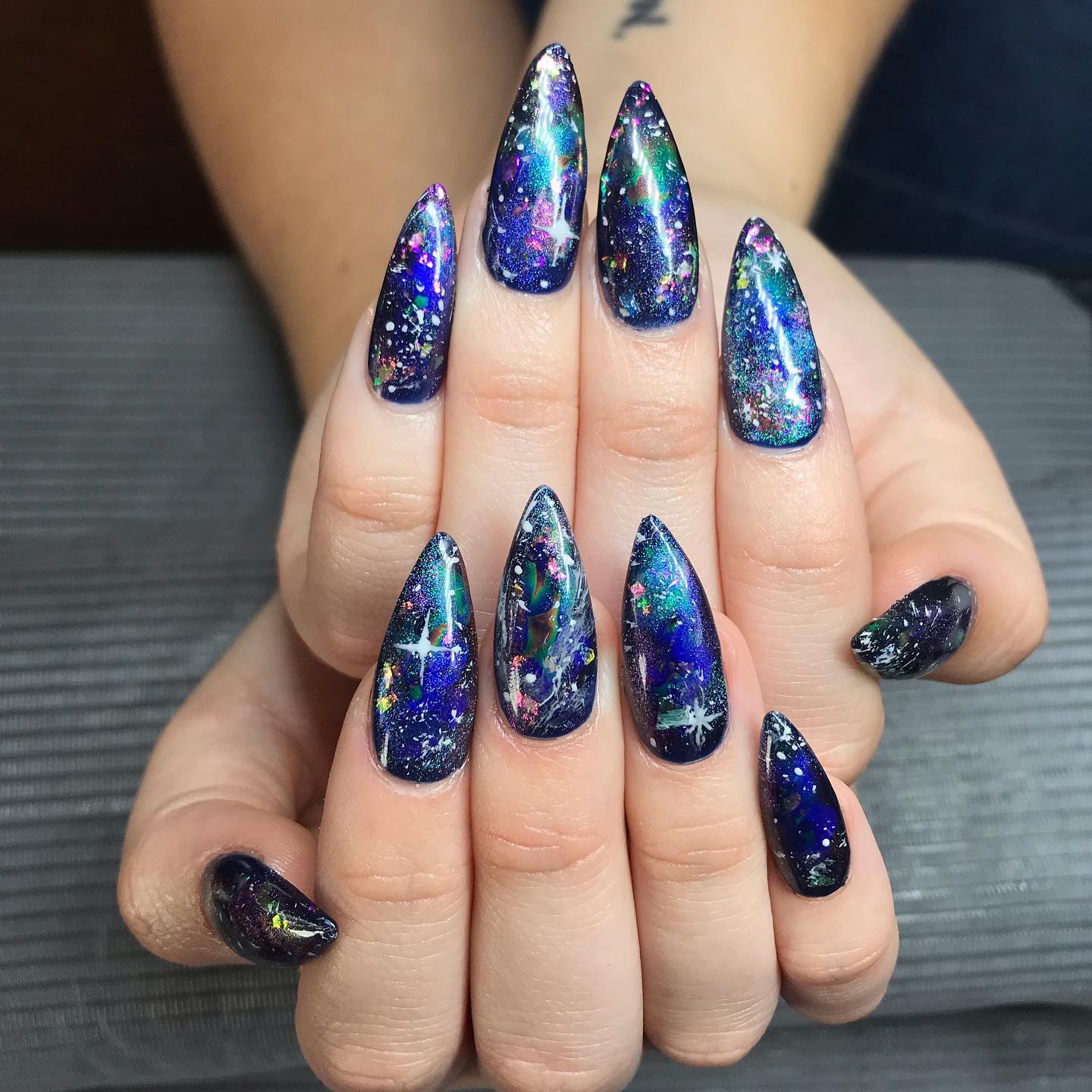 via @fresh.claws
Galaxy on the Tips of Your Nails
If you want to try this manicure option but want to make it less catchy, add a galaxy design only on the nail tips. It is a unique French manicure, a timeless classic with some interesting elements. Dark nail polish emphasizes the elegance of the fingers and suits any skin tone. You can select any main color – transparent, nude, or even grey or black. It all depends on your preferences and imagination.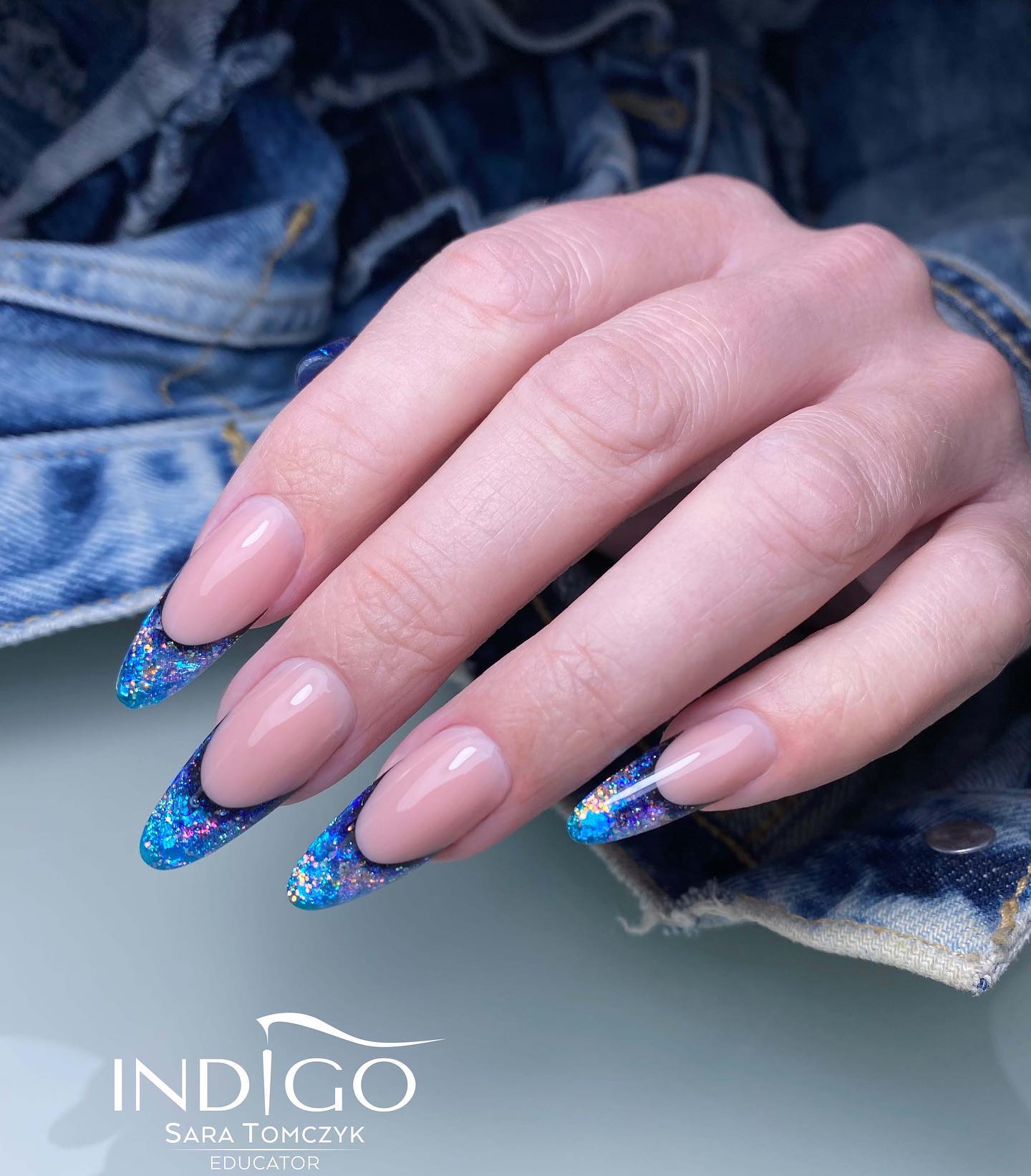 via @indigodistributor_sara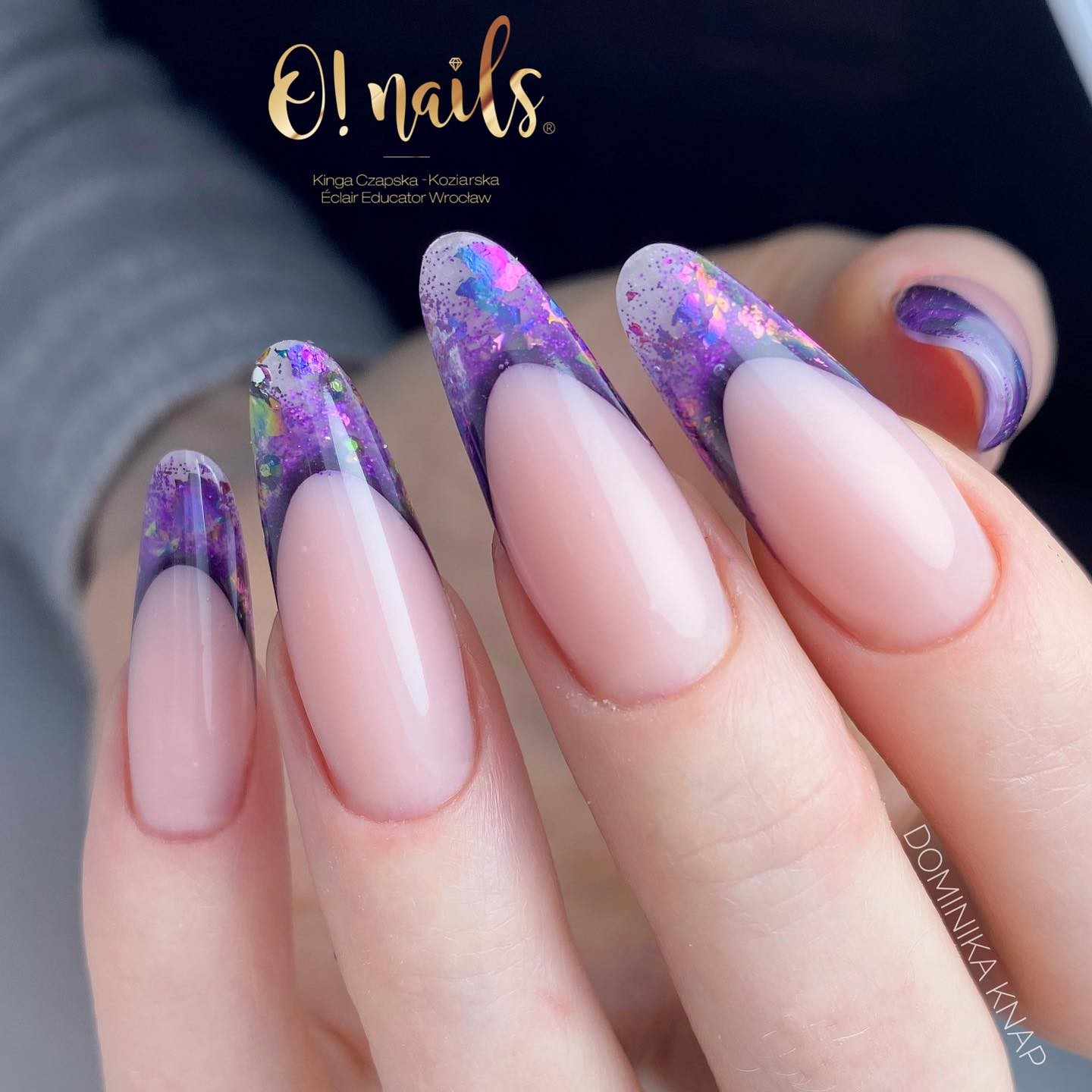 via @o_nails_wro
Galaxy holo is one of the most demanded latest nail trends, and it will not lose its relevance this season. Adding a sparkling top will be a perfect design. Moreover, such an idea will also look perfect with pastel colors. Remember that neat nails are the essential part of your look that forms the first impression.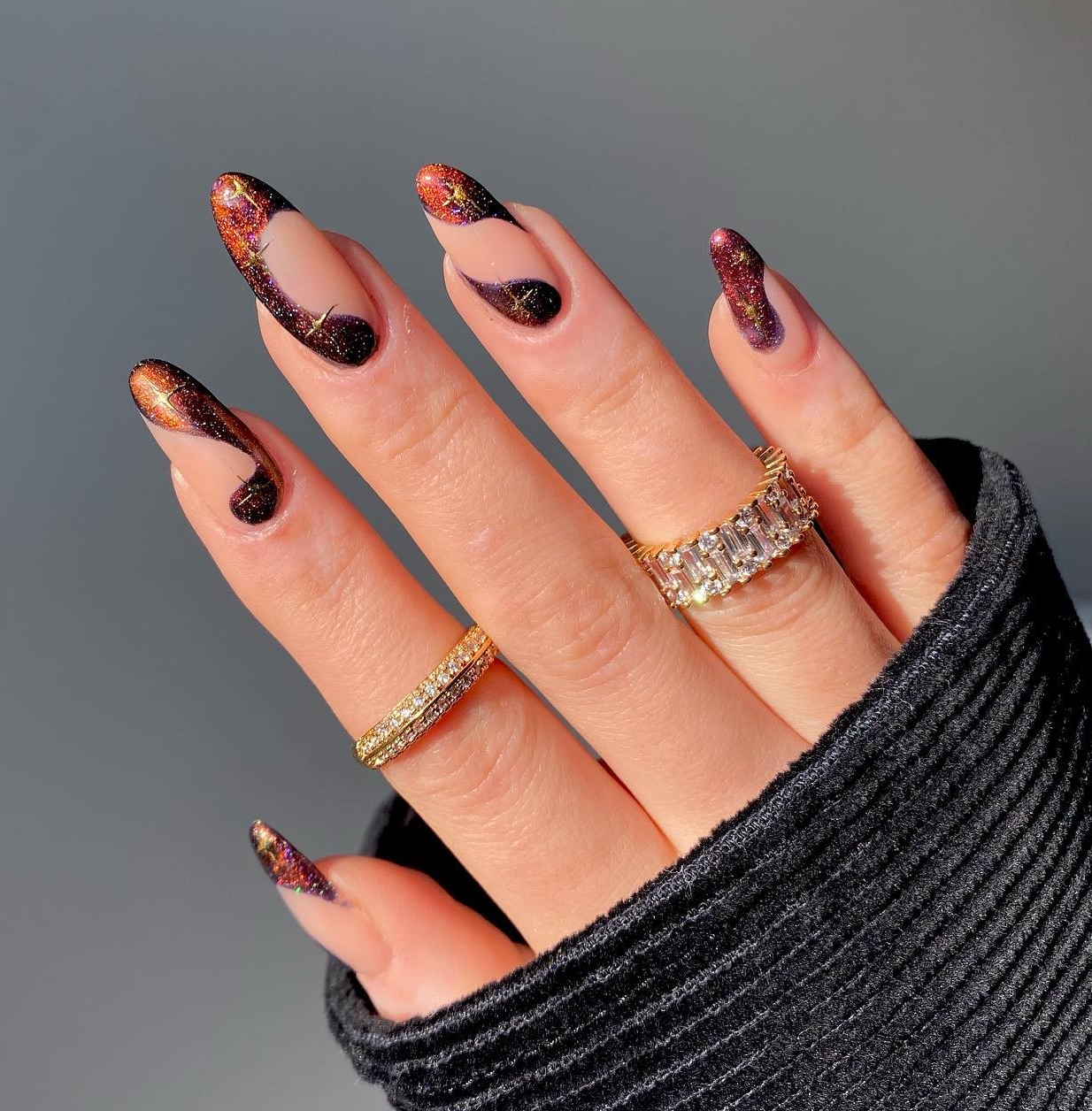 via @_karebeauty_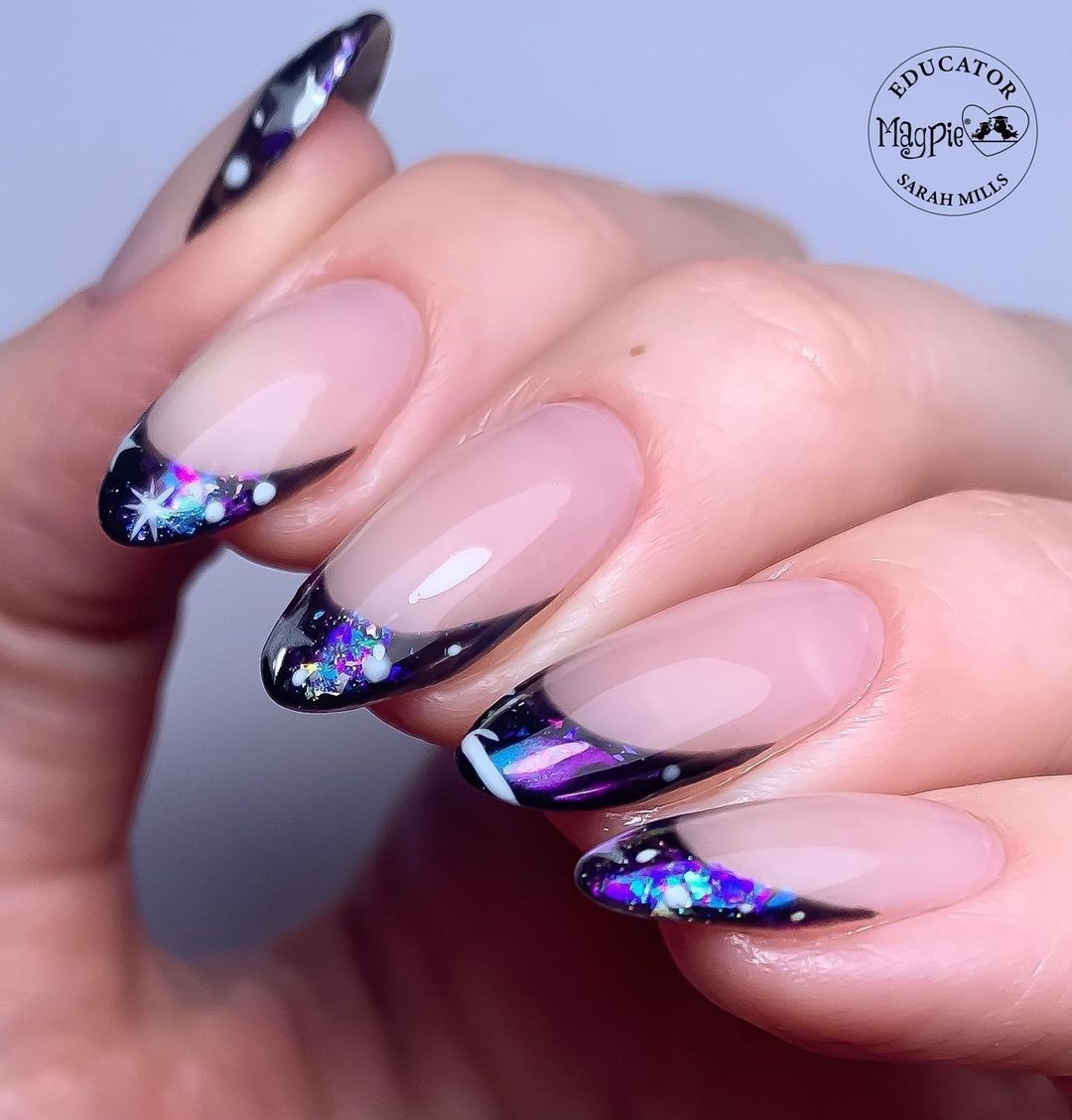 via @magpiebeautyusa
Galaxy Matte Nails
The most common option is to make a cosmic nail design with a glossy or sparkling topcoat. However, trendsetters show us that a matte surface can also be perfectly combined with a galaxy manicure. Making a combination of polished and matte nails is also a great way to get countless compliments.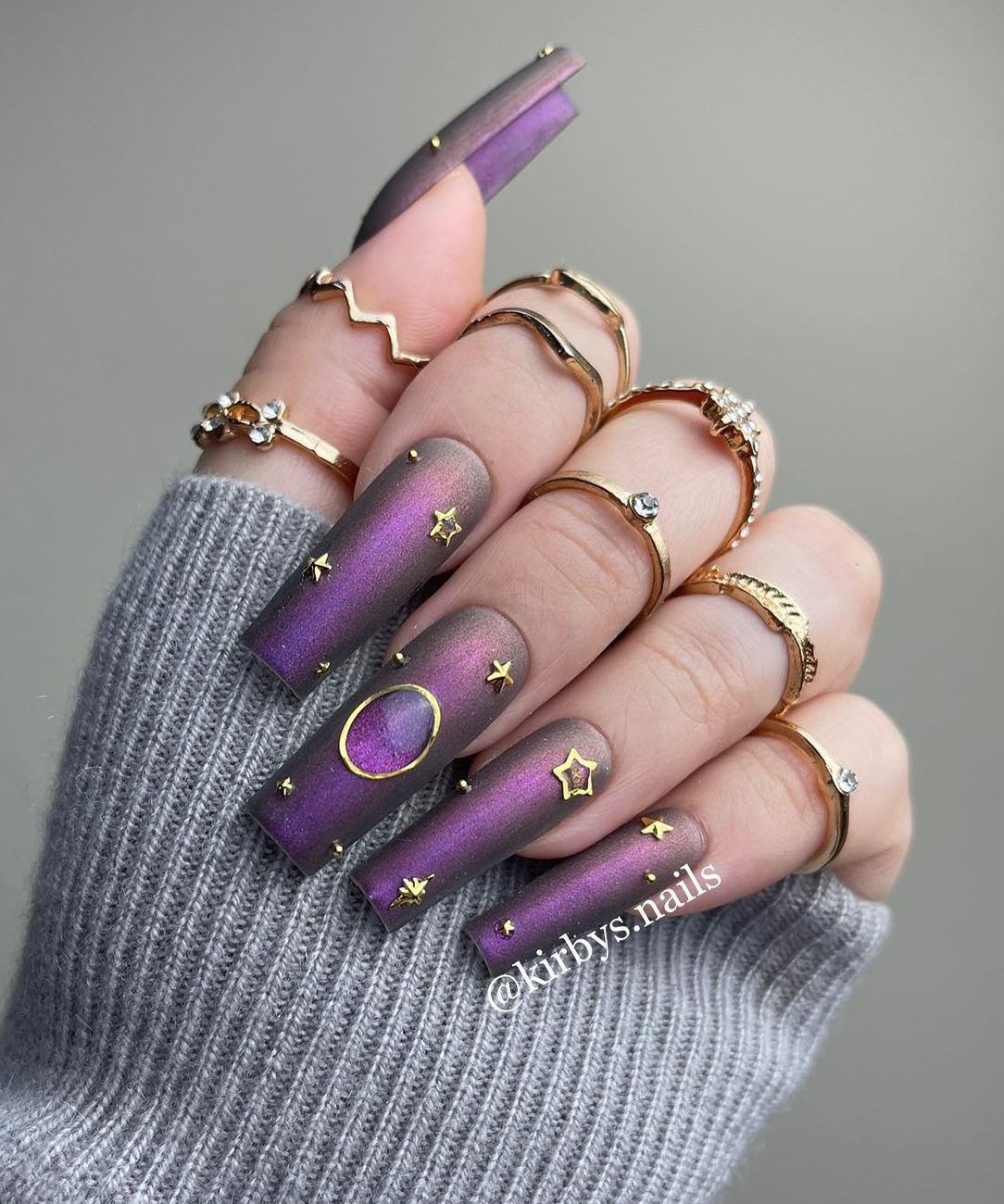 via @kirbys.nails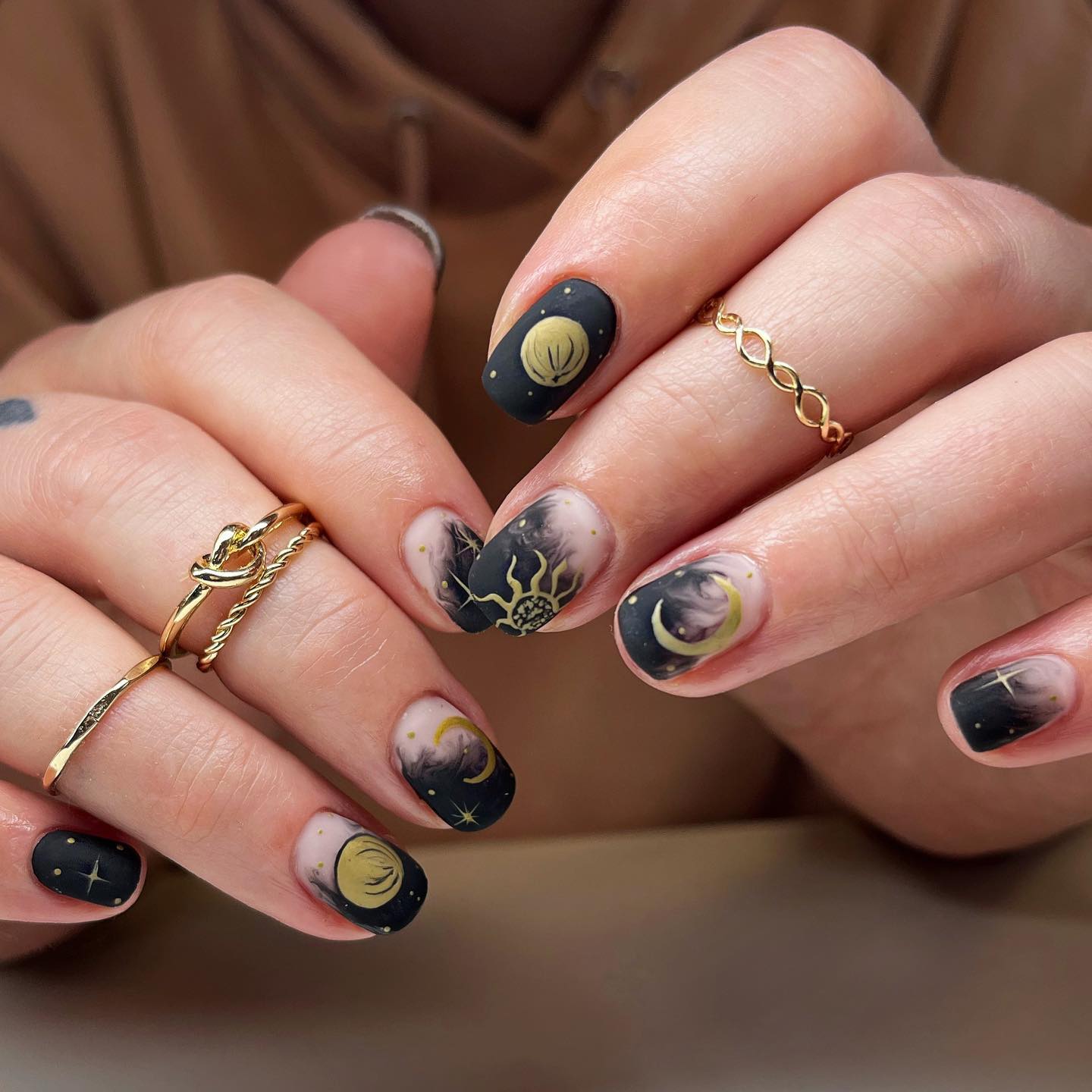 via @natalie_thedollshouse
Many ladies still think that dark nail polish is a good idea only for long stiletto nails, but it is a common misconception. There are numerous impressive ideas concerning cosmic art for short nails. Add some matte nail foil to make your manicure even more unusual and attractive. Make sure to apply a high-quality base coat so that the design will be long-lasting.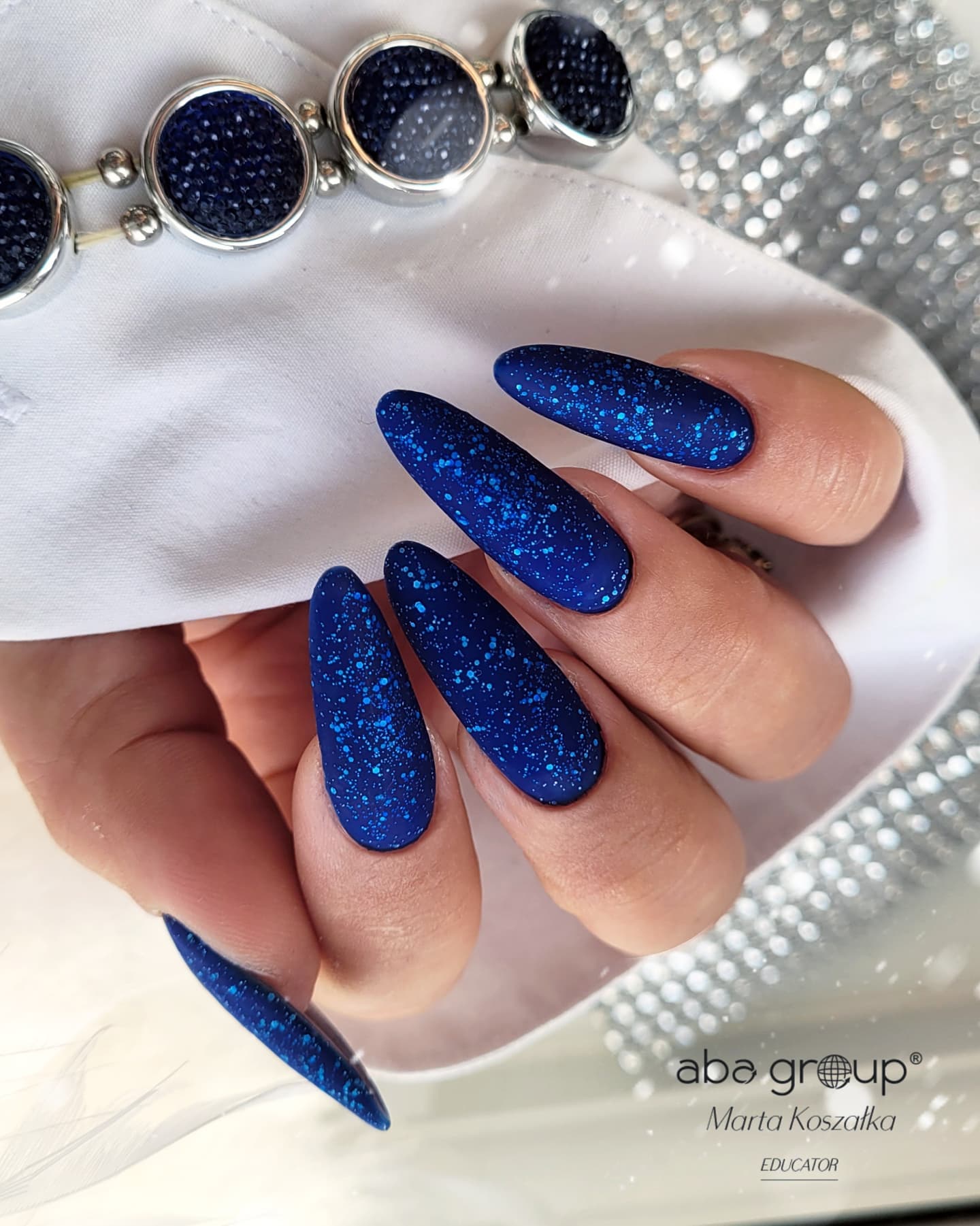 via @martakoszalka_abagroup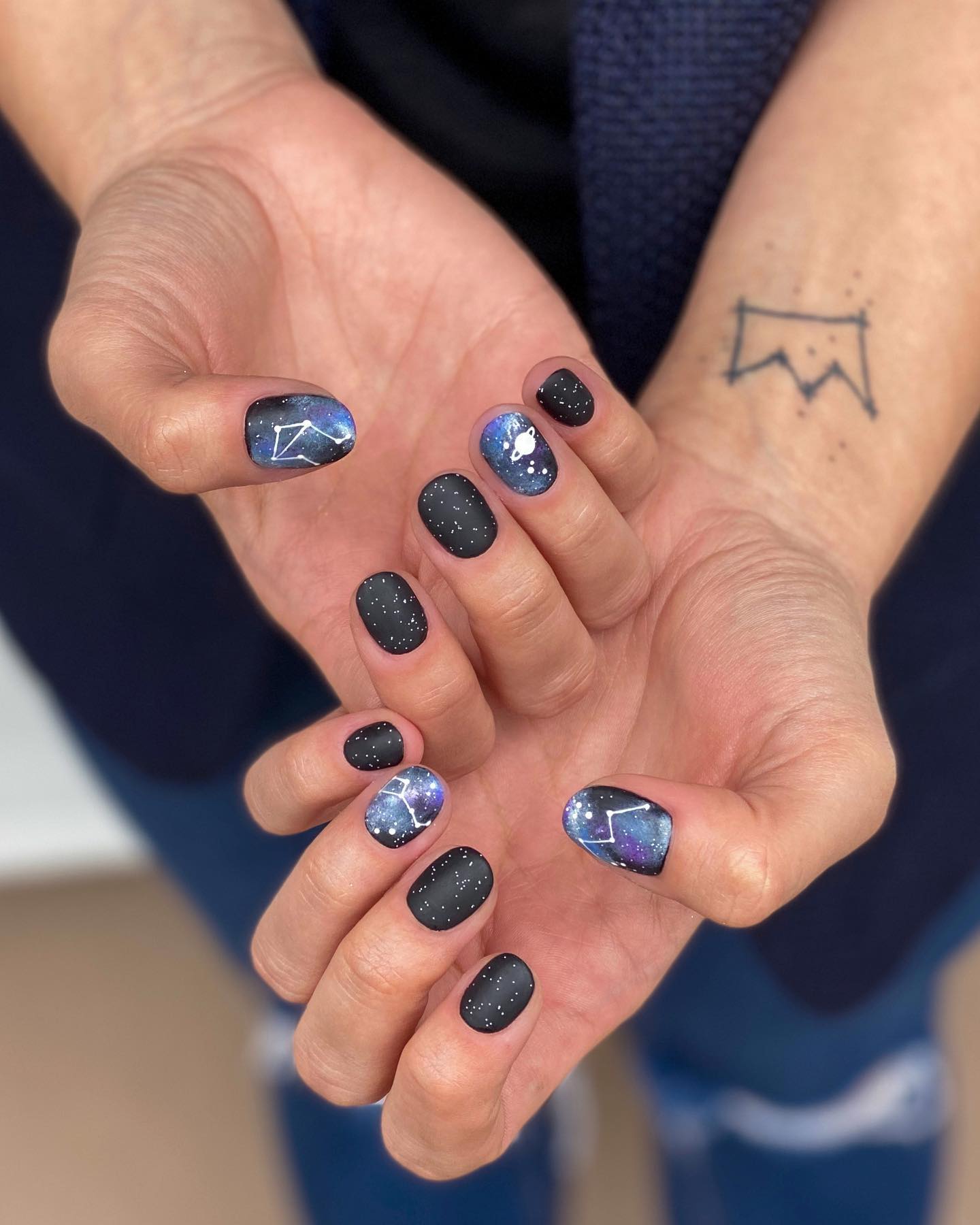 via @luciagruberovanails
Northern Lights Nail Designs
The combination of green, blue, and purple has always been in trend, and it appears that it won't lose its popularity for ages. A sparkly green color is perfect for all skin tones. Just make sure to pick the appropriate shade.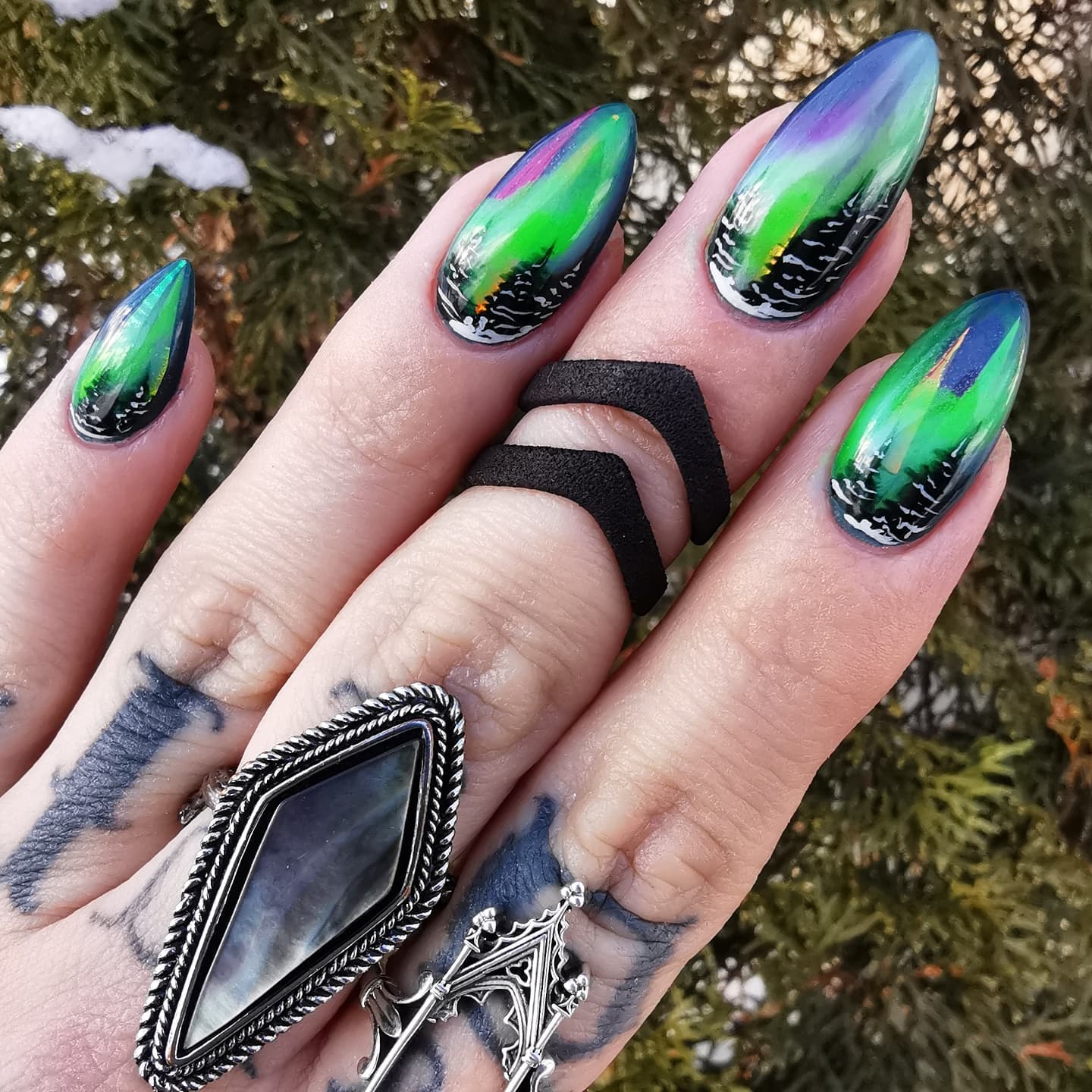 via @sara_strange_art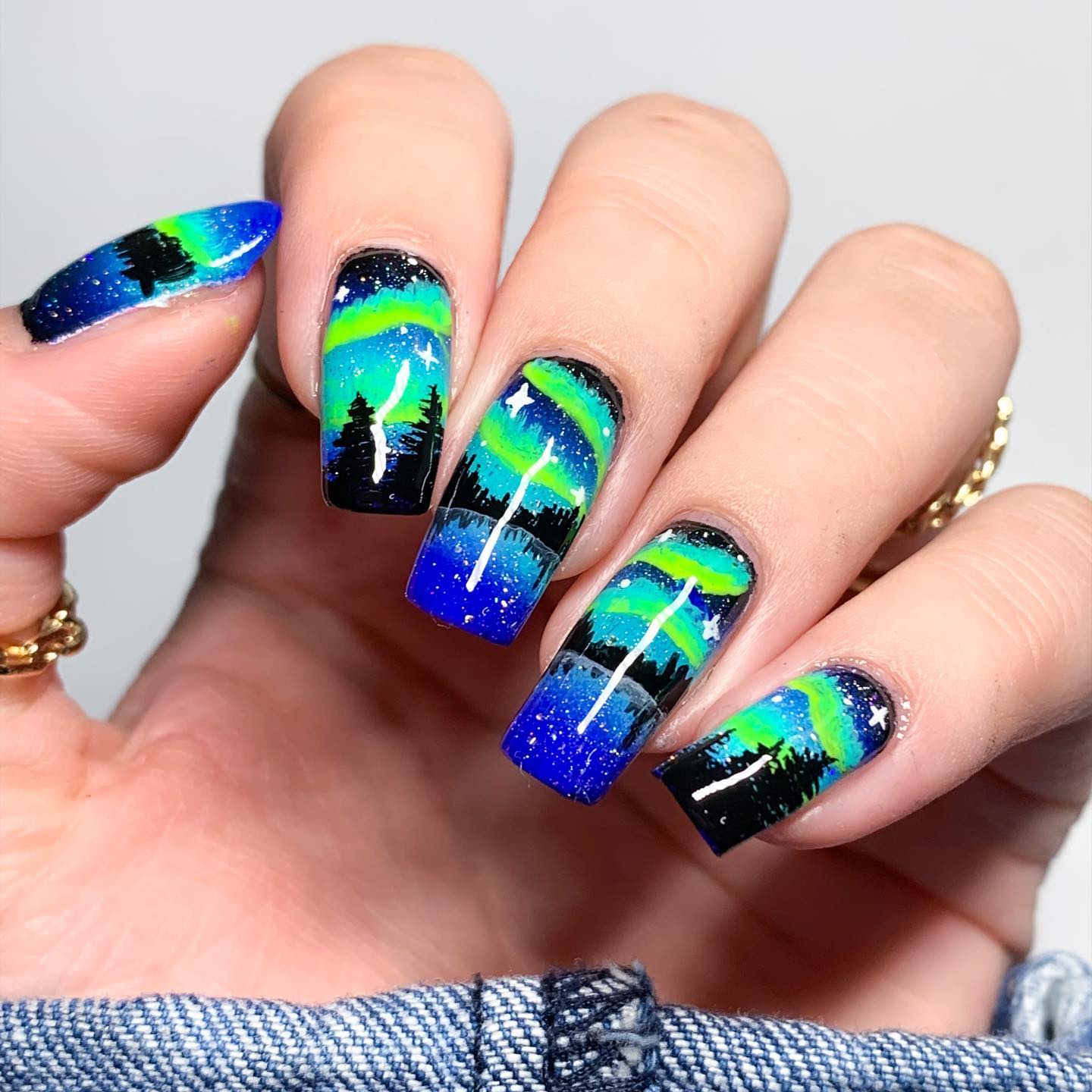 via @claire.lapointe._
Magenta chameleon nails are also a fantastic idea that will suit ladies of all ages. If you want to get a unique design, add some blue and green colors to imitate Northern lights on your nails. You can get a breathtaking chrome effect by applying nail foil. Green-to-purple nail polish will perfectly suit all shapes and lengths so that you can plan such a mani during your next appointment in a beauty salon.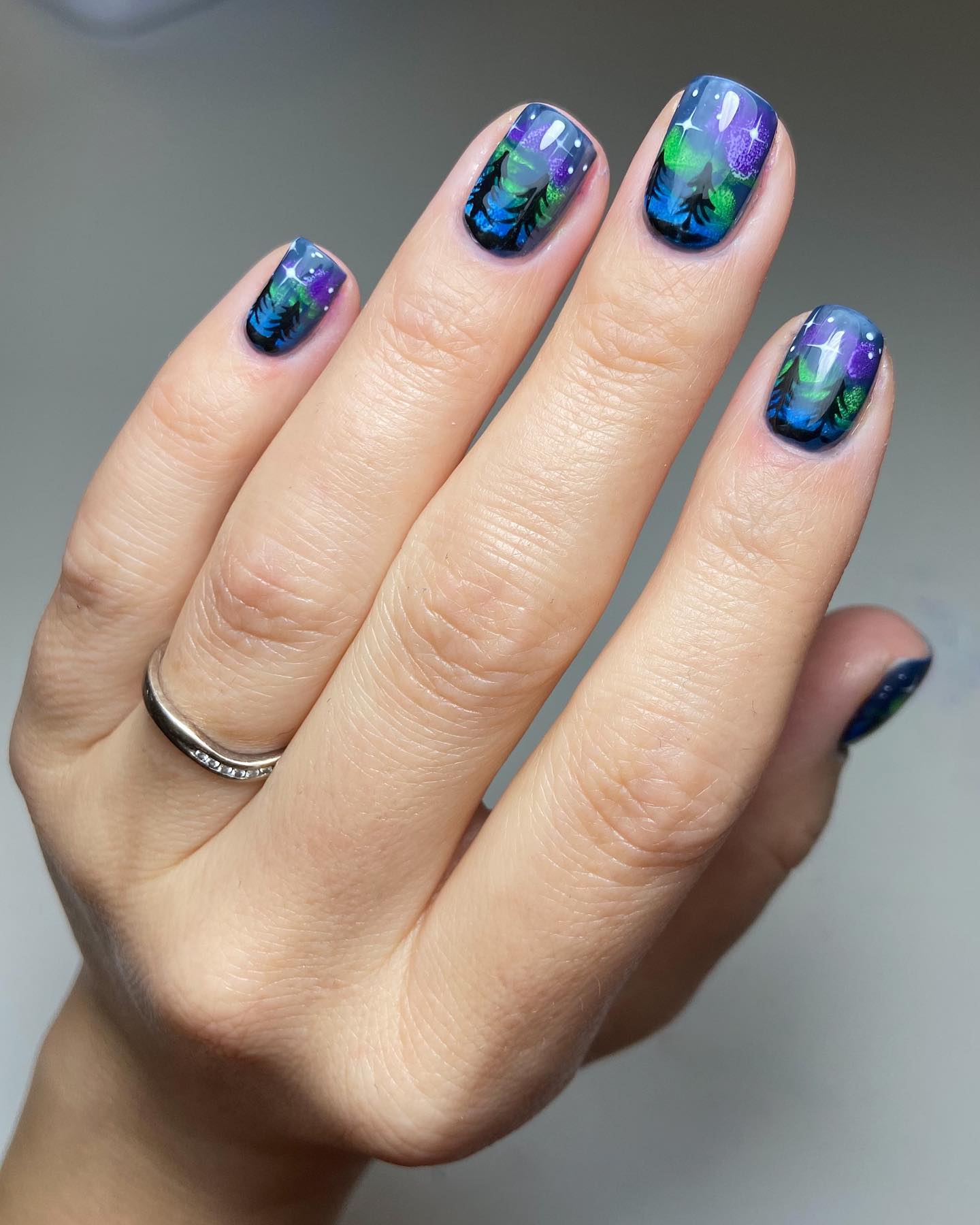 via @beautiful_soul_beauty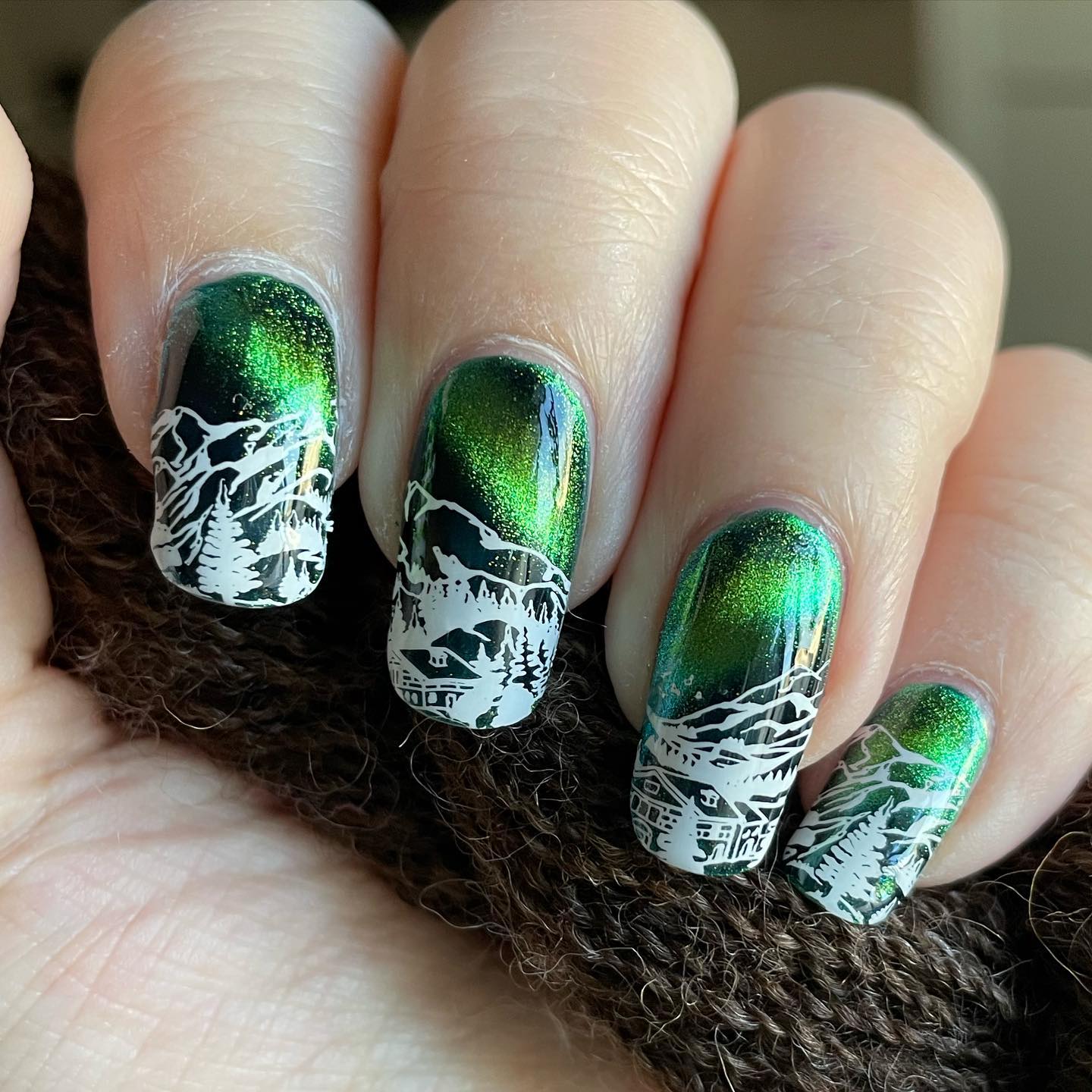 via @nailsforknits
Black Nails with White Space Designs
Applying some unusual and unique patterns on your nails will always stay trendy. Modern fashionistas prefer minimalist designs that are not too conspicuous. Many women of all ages prefer constellation pictures since they are simple but stylish. Choose black nails and add a white or grey design, which is perfect for short nails. Of course, if you like to have a long manicure, you can also apply cosmic nail designs. However, it is better to make patterns only on some fingers for your mani not to look too sloppy.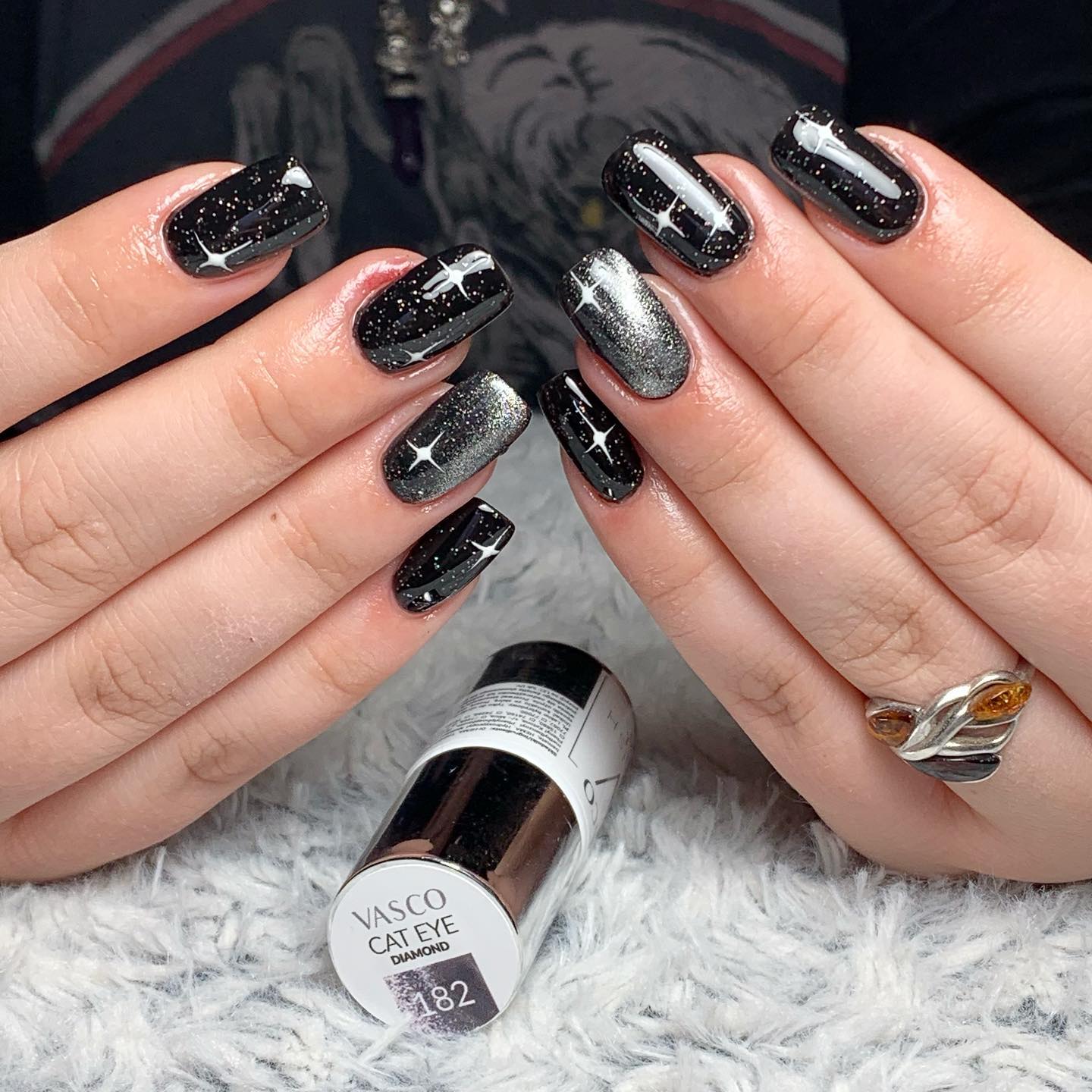 via @paznokcie_sandra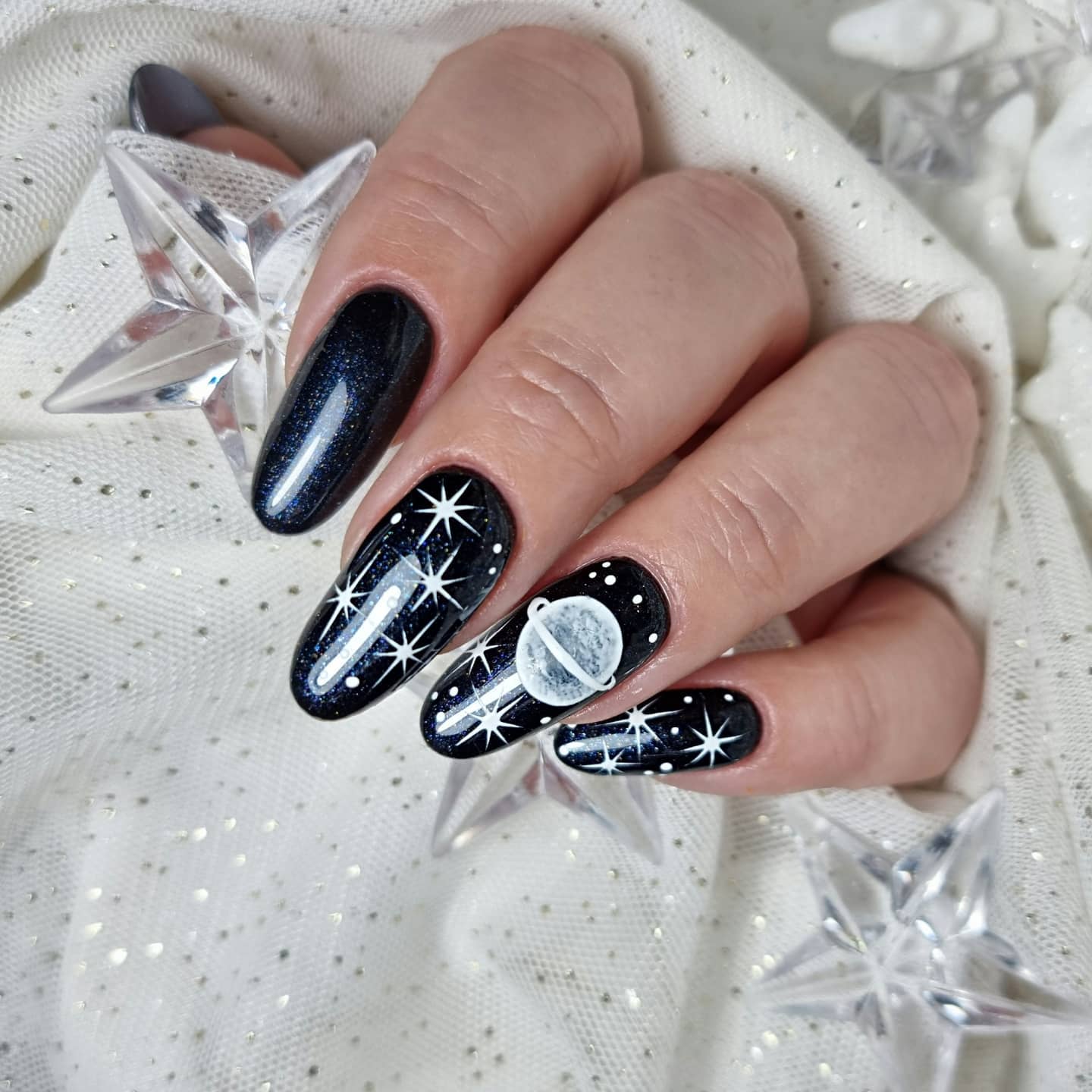 via @tuluza.wuwua
Such a dark cosmic manicure will suit perfectly for any routine and is an excellent idea for official occasions. It provides a neat and exciting look, which doesn't attract extra attention. And by adding a matte nail finish, you can get a more compelling design. Of course, besides white nail polish, you can also utilize bright space colors. And add a sparkling topcoat if you have a special occasion where you want to shine!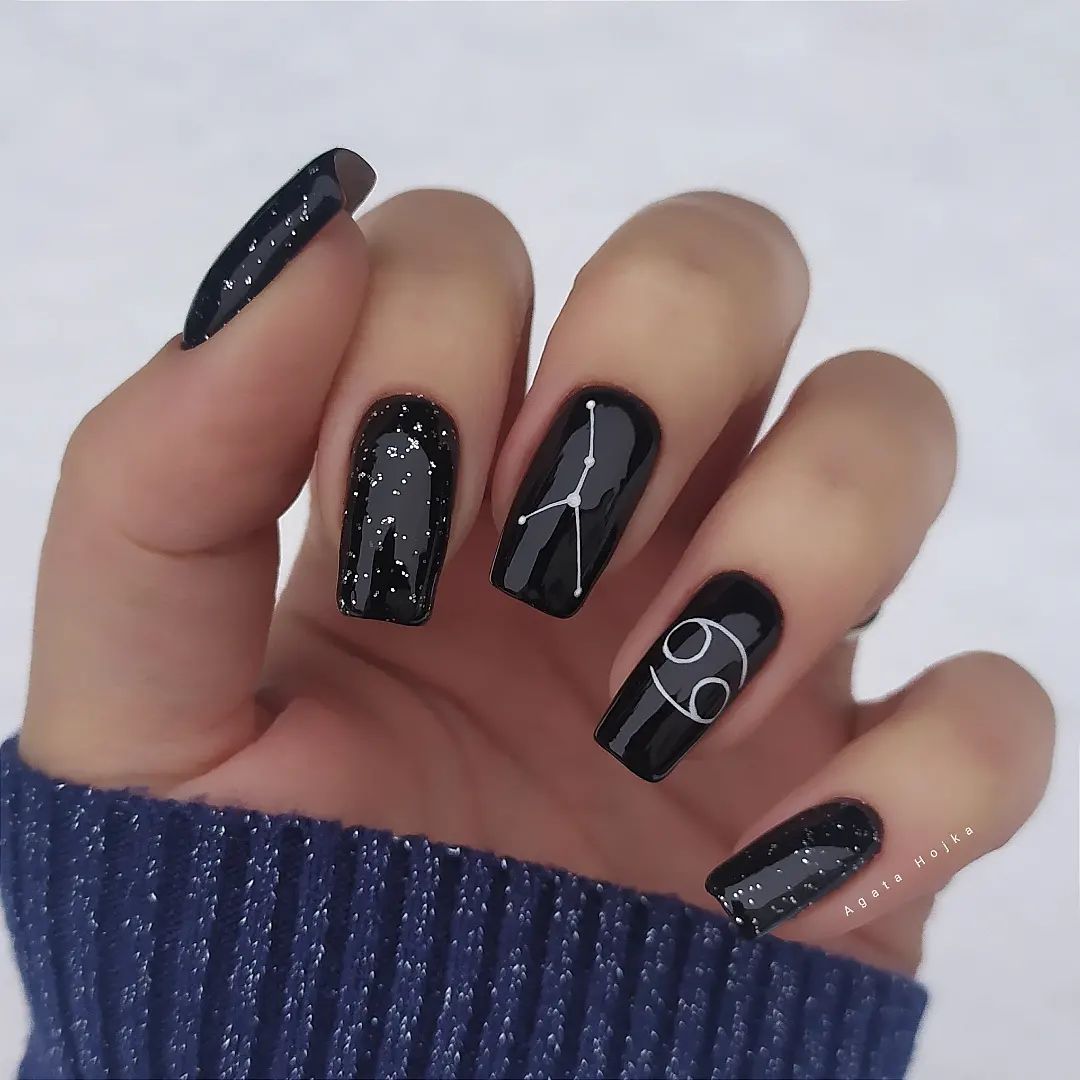 via @agata_hojka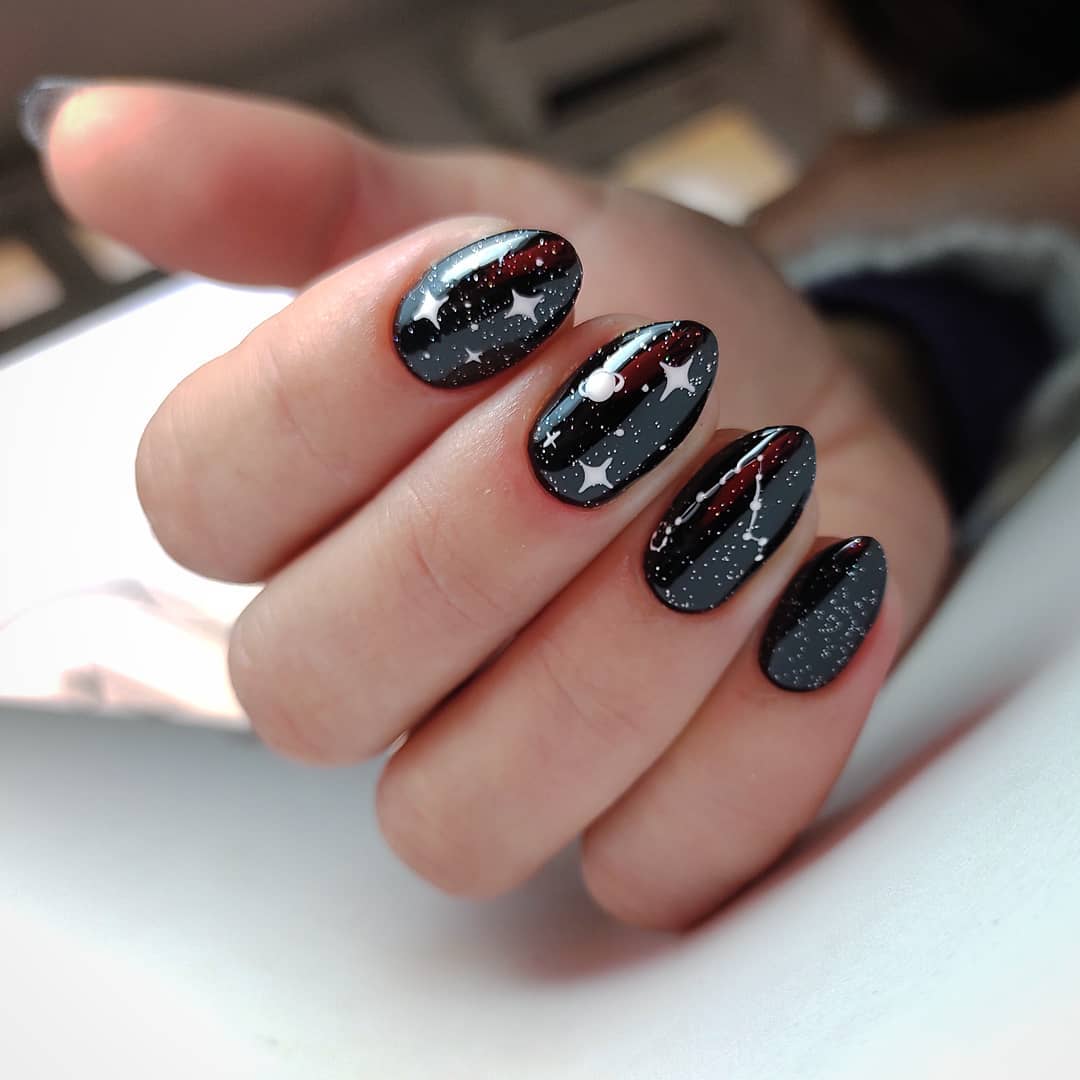 via @missunas.as
Intergalactic Deep Blue Nails
All shades of blue have remained at the peak of fashion for many years and will not give up their positions. Of course, women prefer bright blue color in summer, and in colder times, it's better to pick deeper and richer tones. Sparkly dark blue nail polish is a fantastic choice for all nail shapes and lengths. You can add galaxy holographic flakes and make your mani even more unique.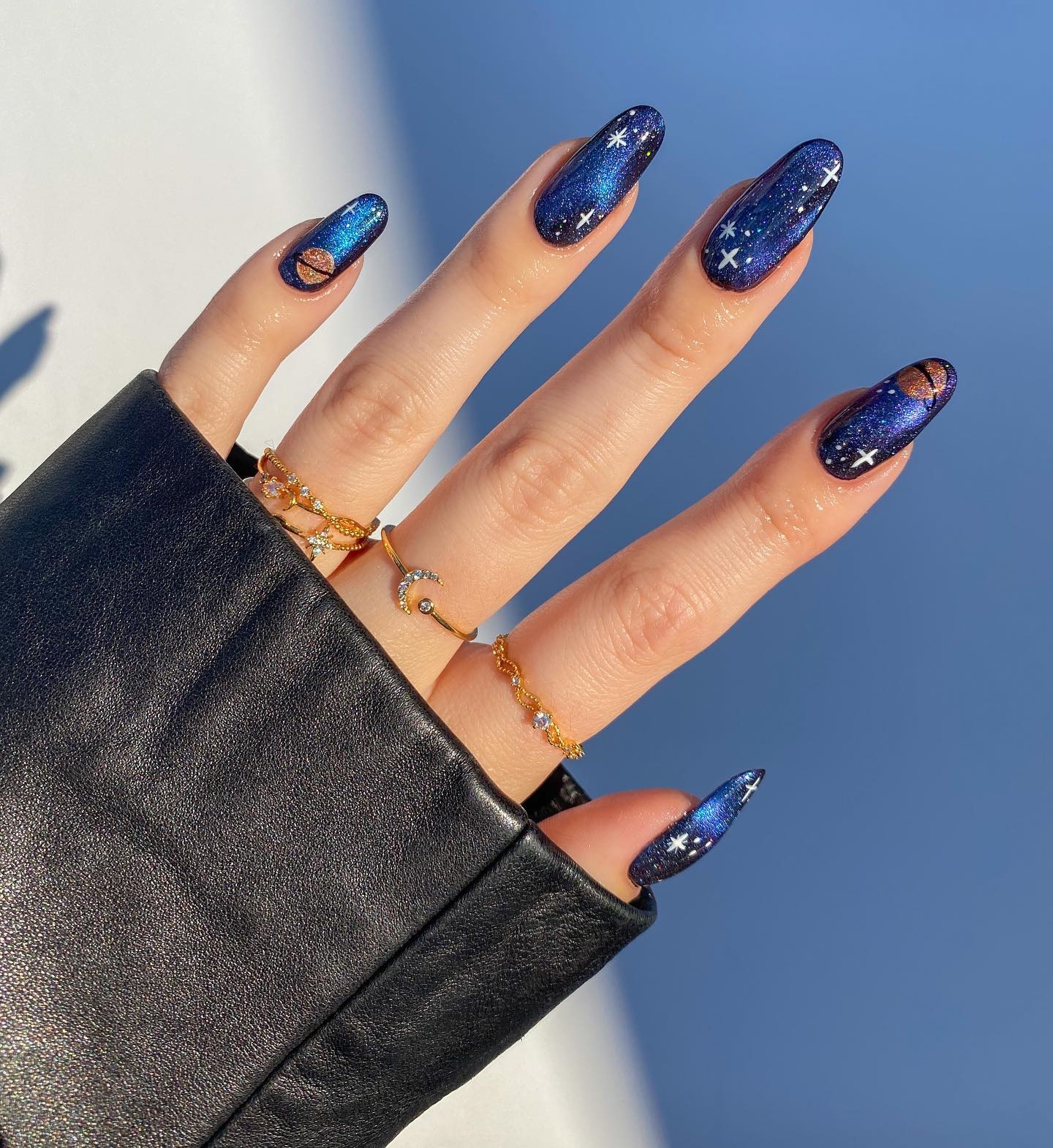 via @pop_polished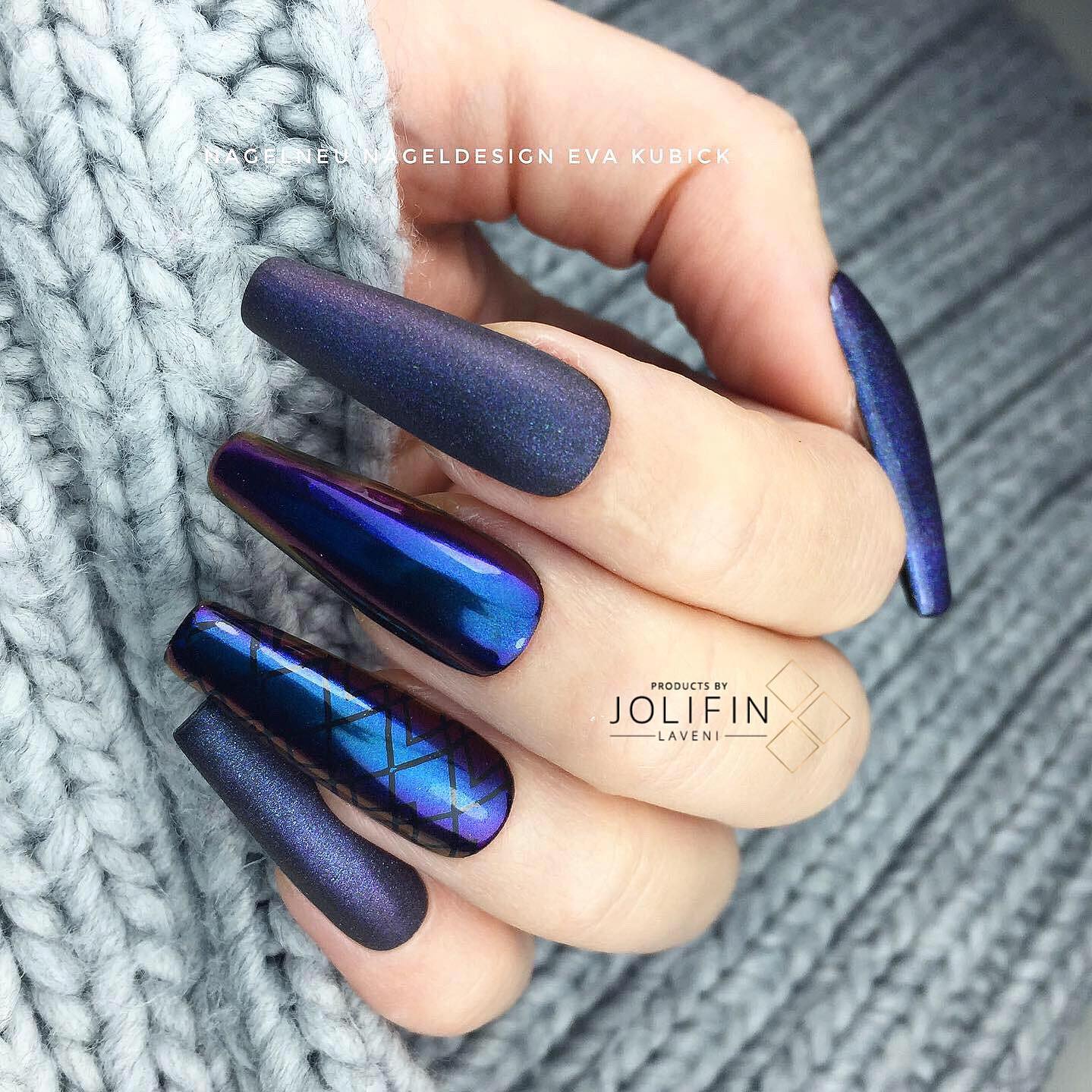 via @nagelneu_evakubick
Professional nails artists recommend ladies consider dark blue with light swirls. This design can also be complemented with a sparkling topcoat. Turn on your imagination and create an exclusive nail design that will blow everyone away! Capture the best Instagram moment with your amazing manicure and catch admiring glances from everyone around. Each nail art is truly unique, so we are confident that everybody will aim to repeat such a design.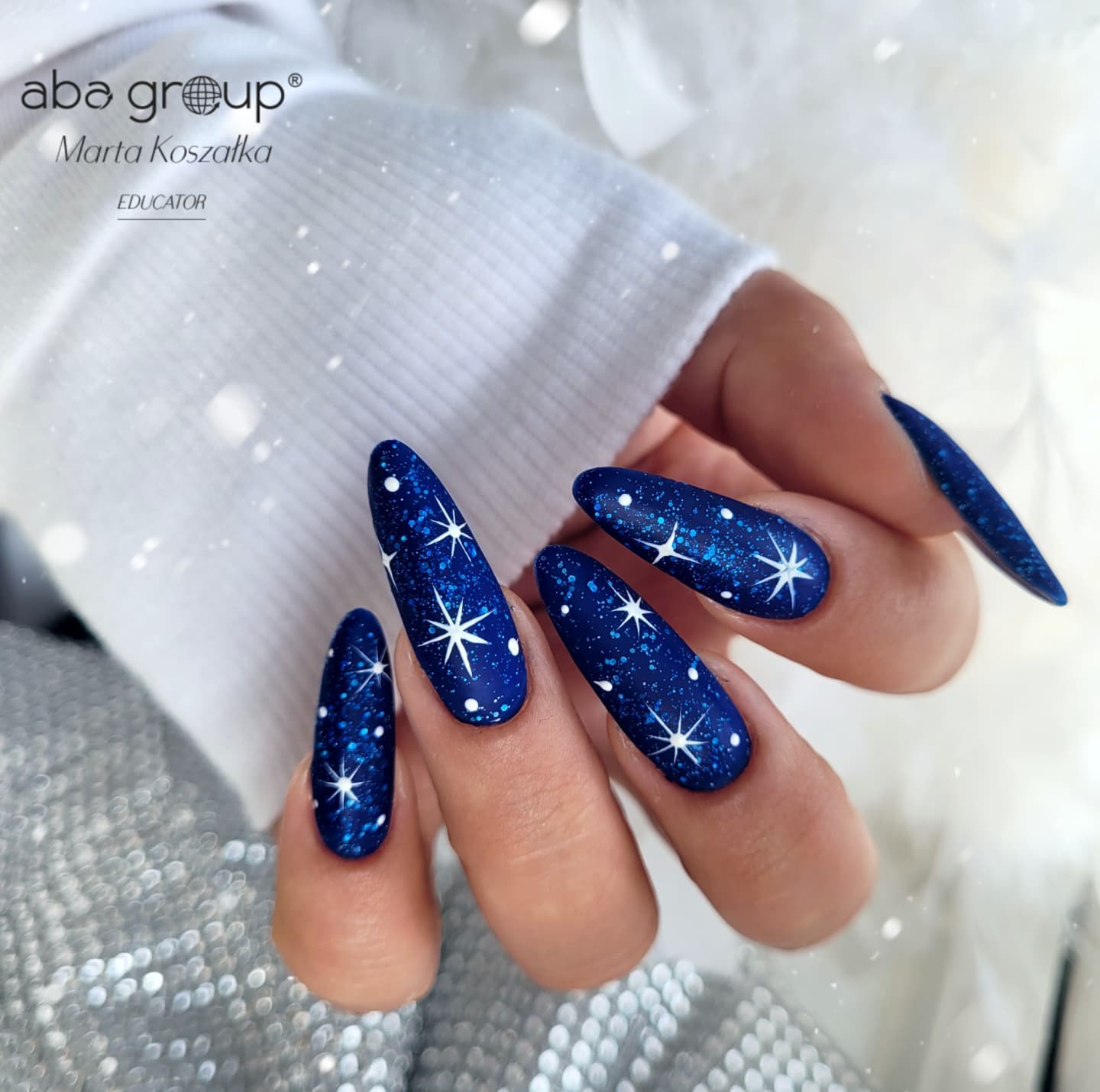 via @martakoszalka_abagroup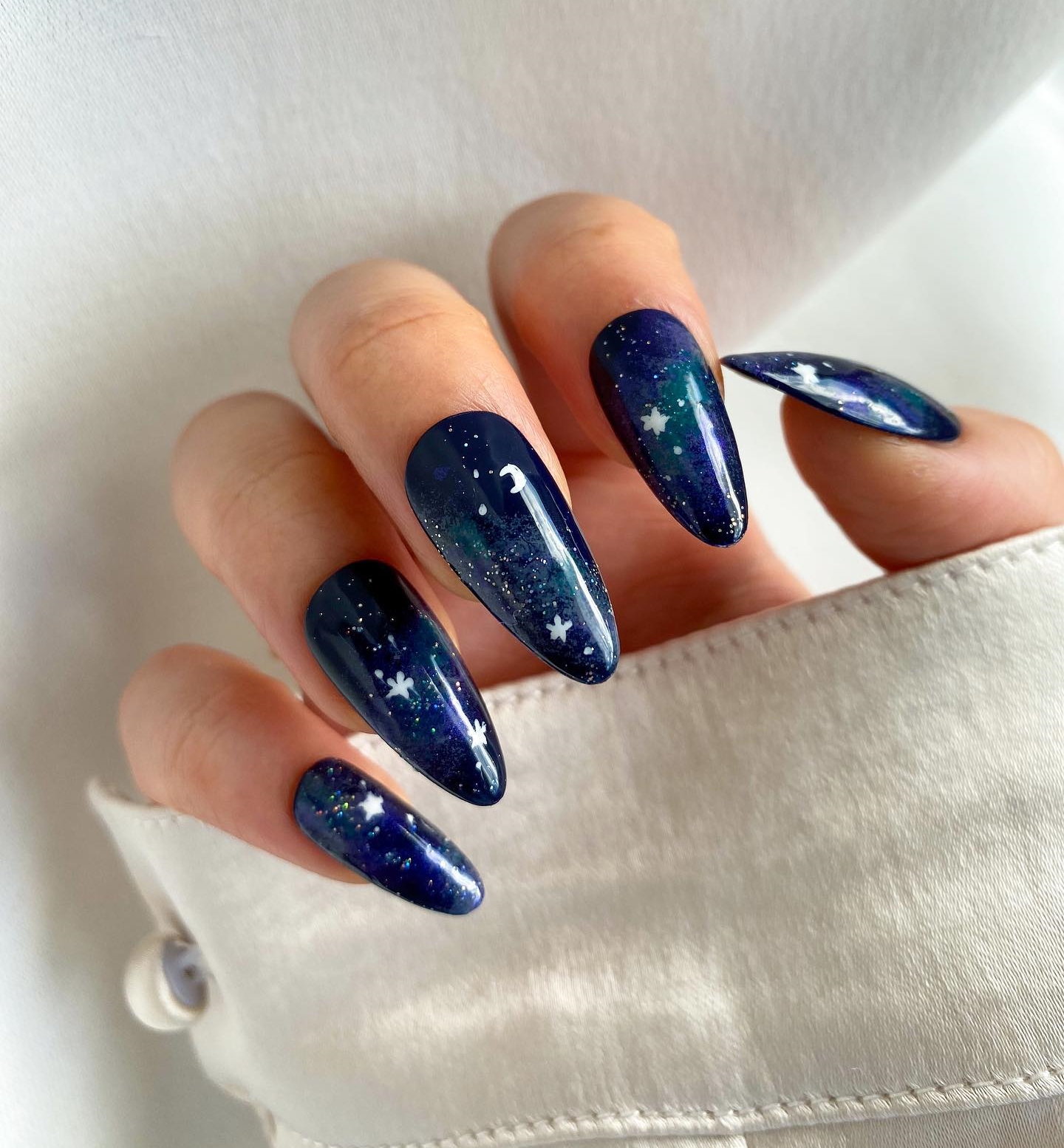 via @mydumbnails
Space Ombre Nails
Ombre manicure has been on top of trends, and the main advantage of this design is that it can be done with any color you like. Those who would like to make a discreet but at the same time elegant and unusual design should pay attention to the space ombre nails. However, a mixture of blue and black is a classy nail art combination, which can be complemented by different elements such as foil, nail stickers, and sparkles.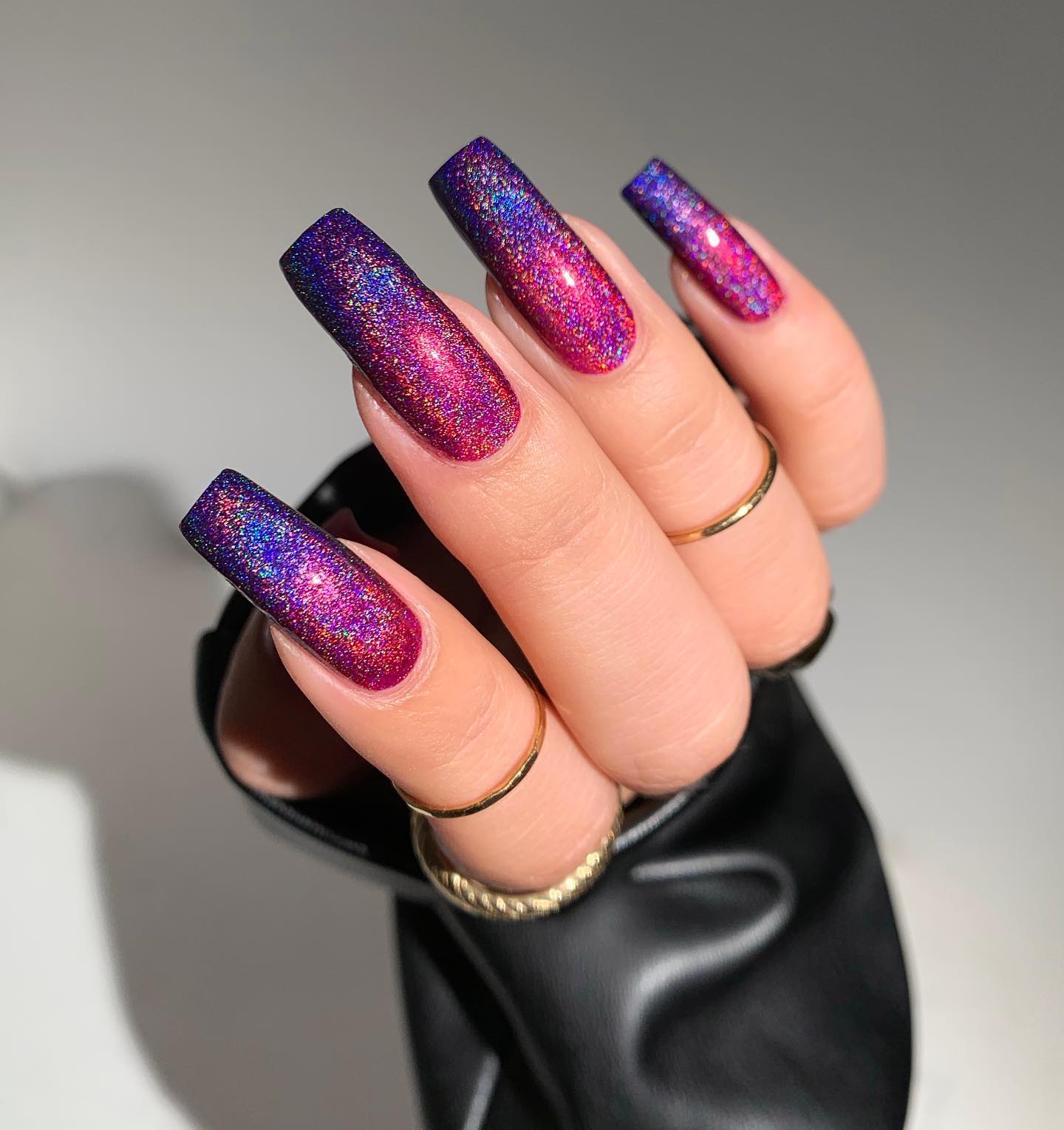 via @checkyesmichelle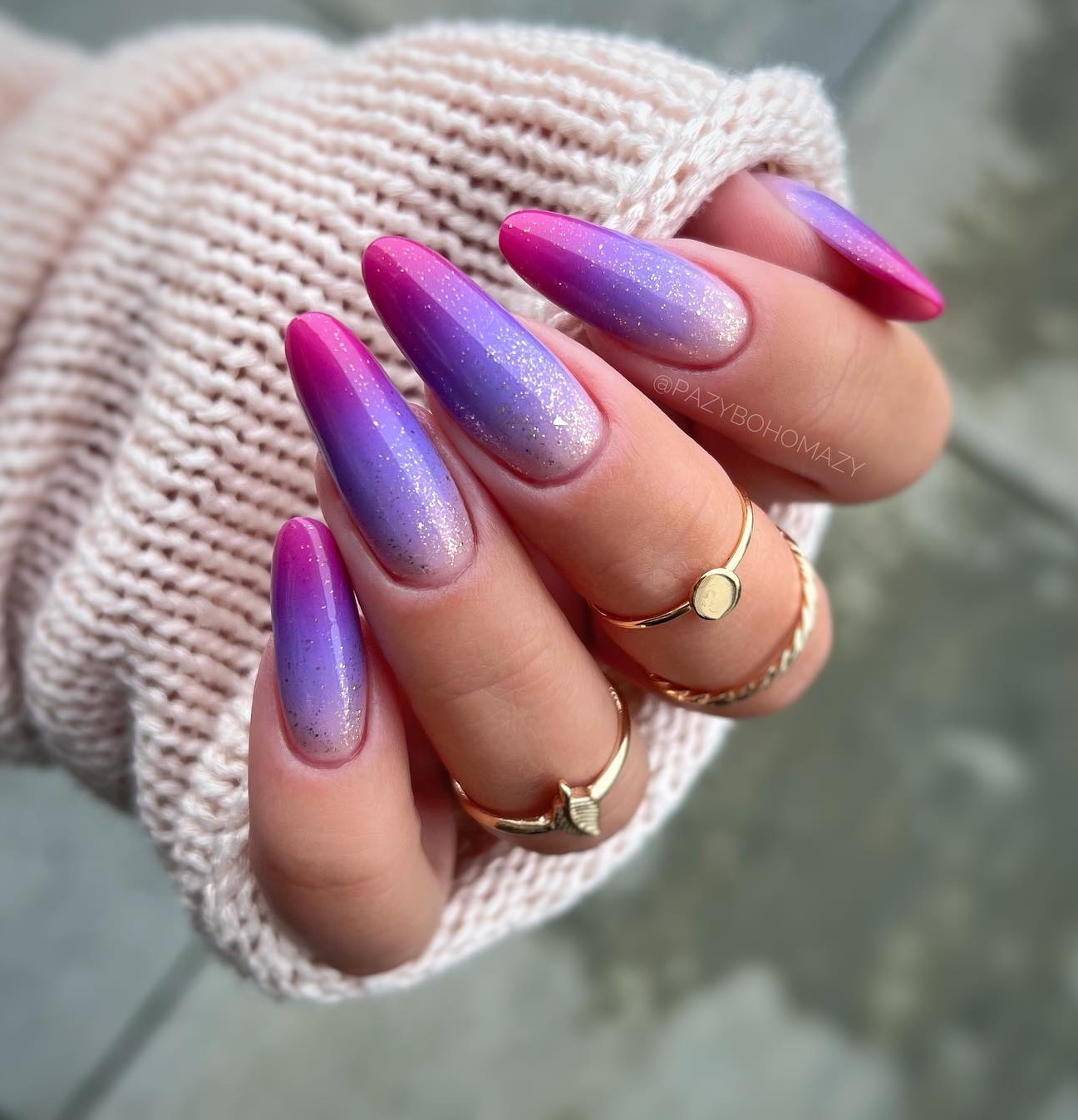 via @pazybohomazy
Choose your favorite shades of galaxy colors and make an impressive gradient that will not leave anyone indifferent. Space nails will look fantastic on any nail length. The palette is enormous, and you can pick the most suitable shades that will favorably set off your skin and emphasize the elegance of your fingers.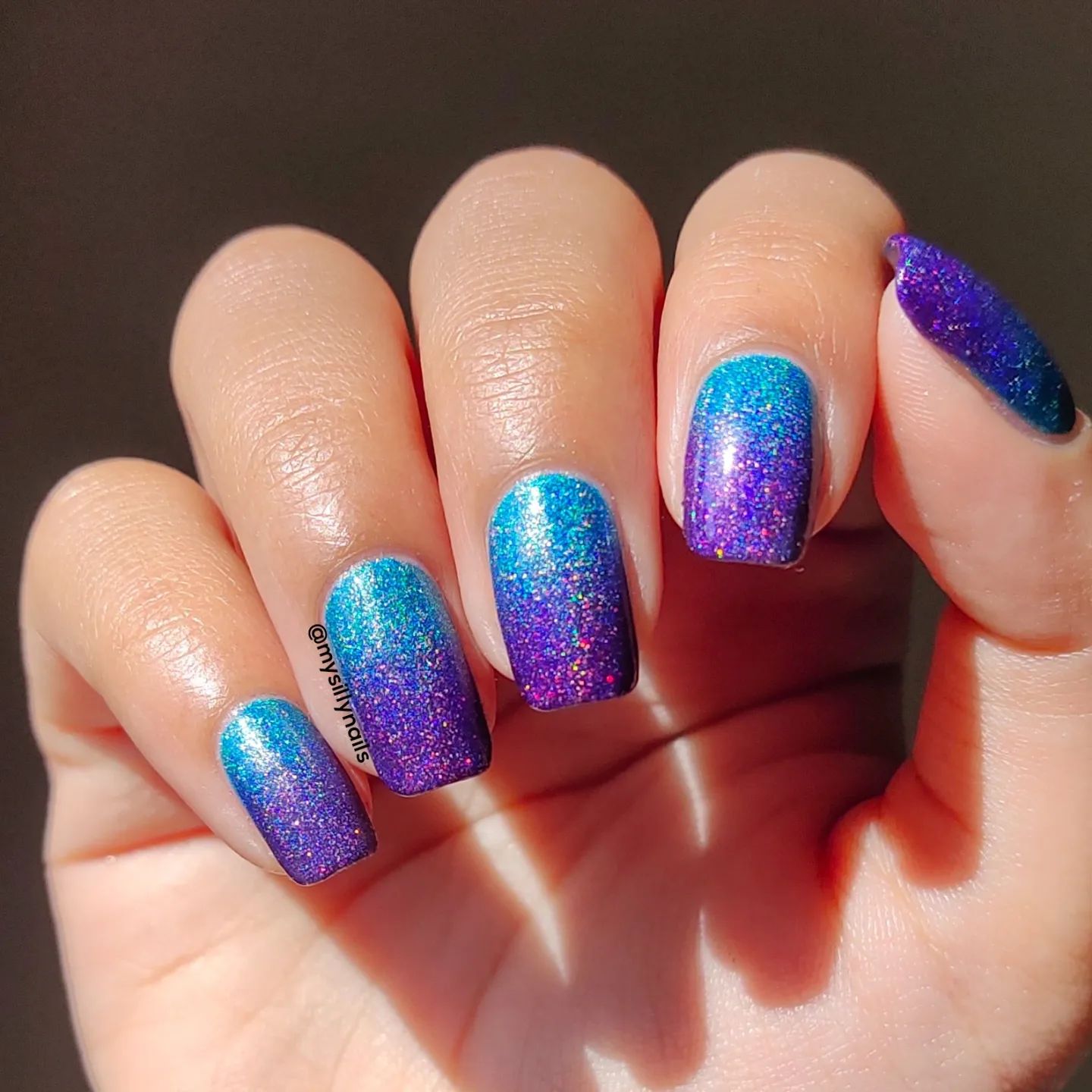 via @mysillynails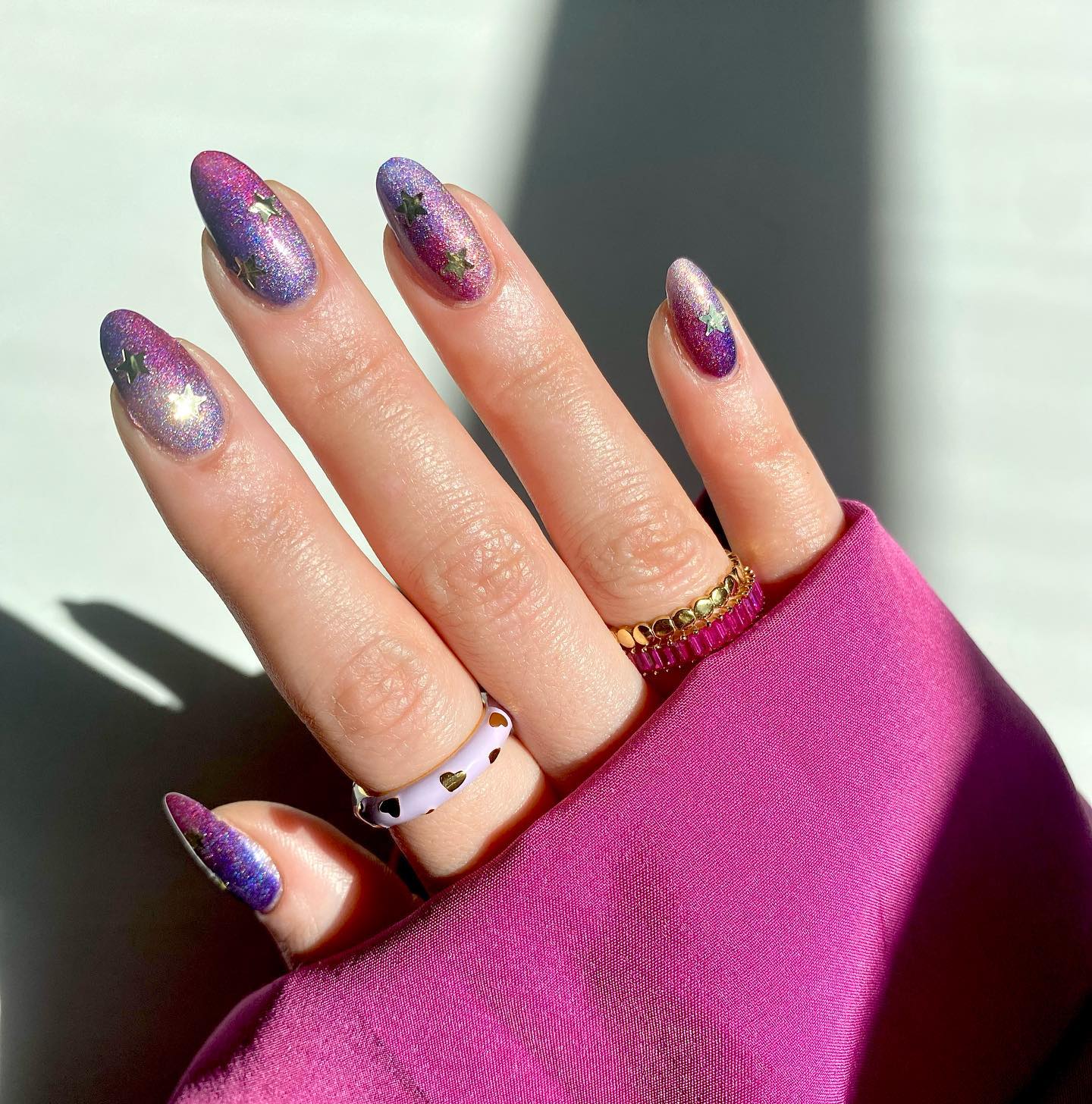 via @_karebeauty_
Starry Night Nail Designs
Black mani is not always classic and boring since you can always get some extra elements to make it brighter and more exciting. Sparkly nails are a great solution for some special occasions or even for your daily routine. Just make sure not to add too much glitter and consider applying a matte top to your dark nail polish.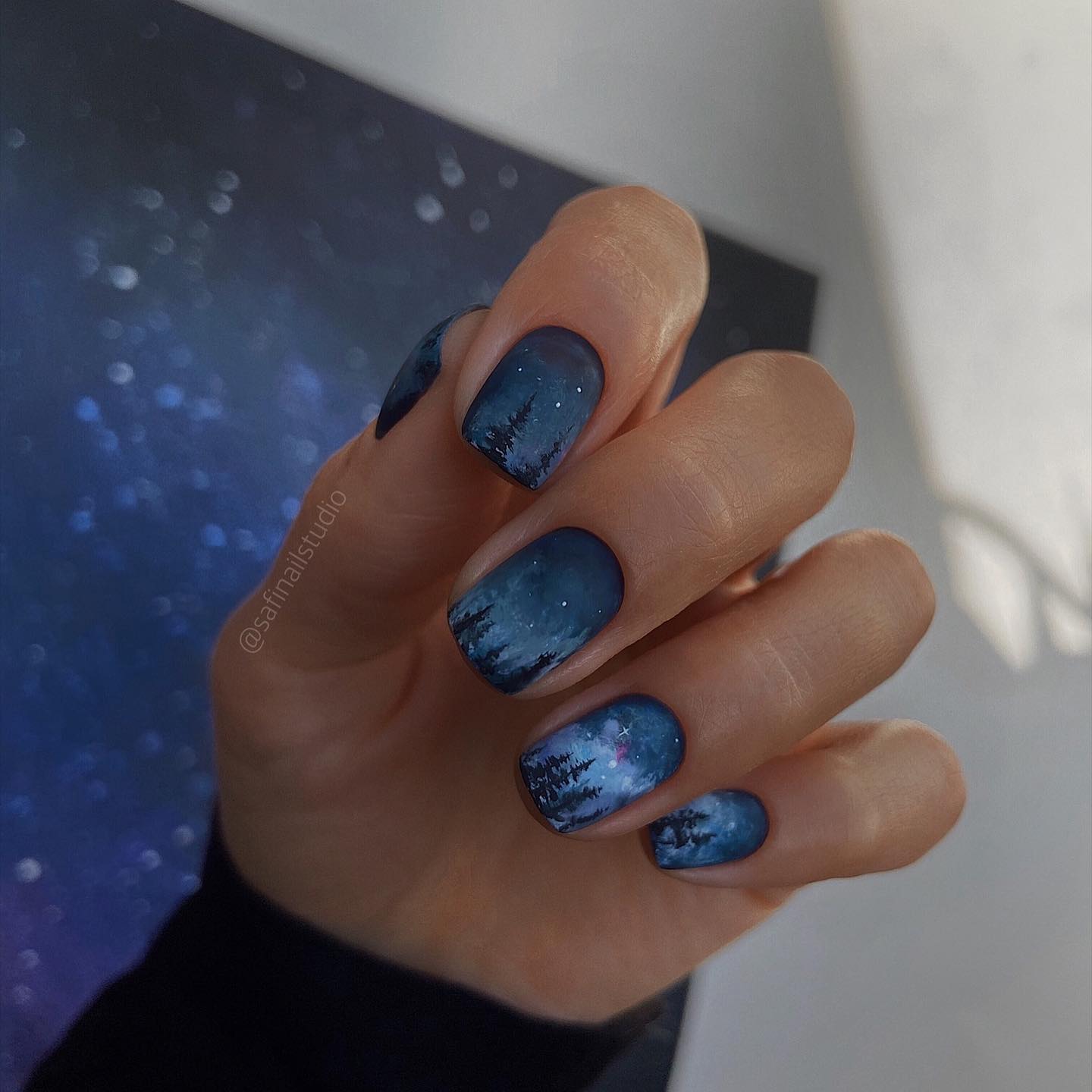 via @safinailstudio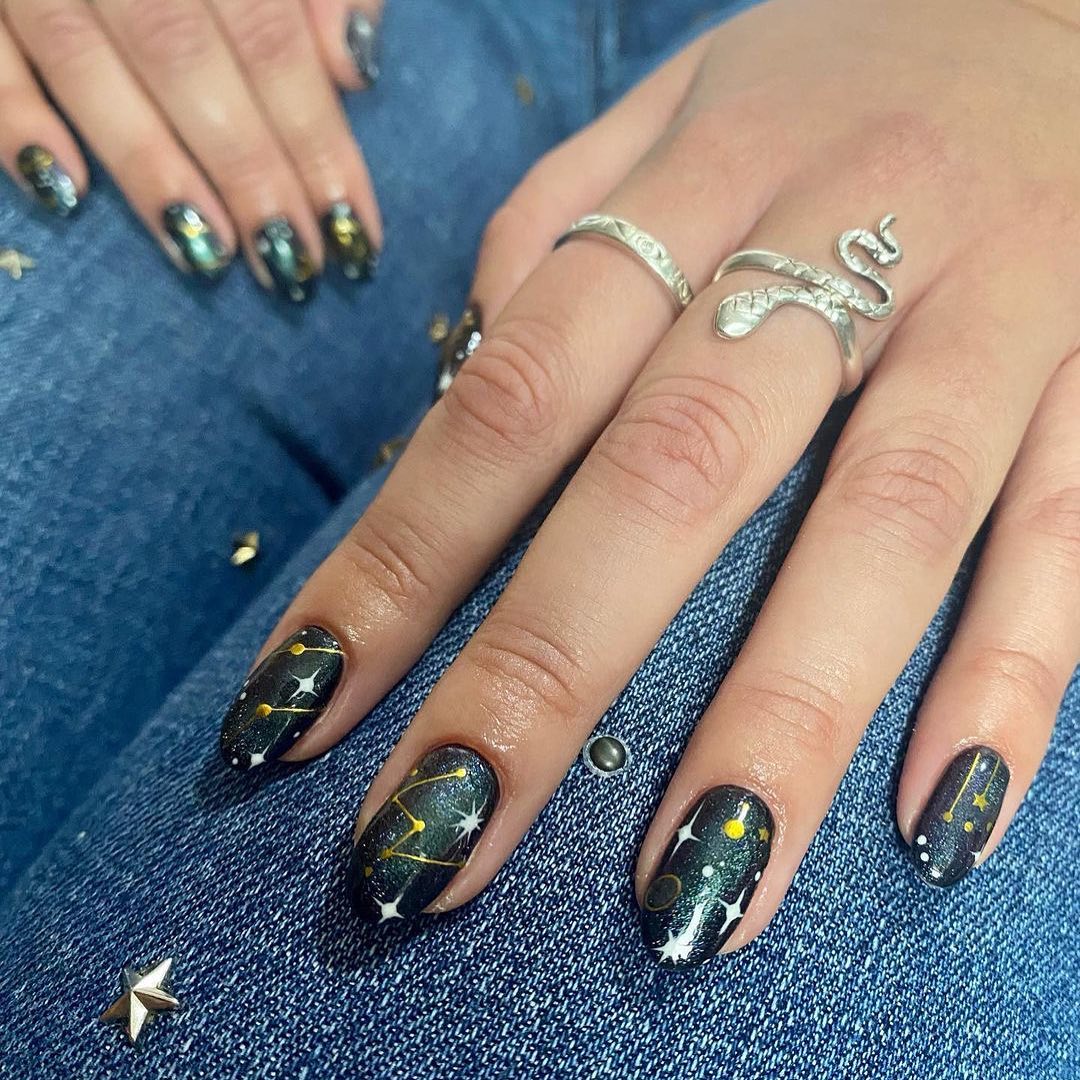 via @nailitmedia
Shiny polishes are in all top ratings and most stylish trends this season. Each brand has different sparkling shades in its new collection so that every lady will find something suitable for herself. Make one coat of glitter to make a discreet but glowing manicure, and prepare to get millions of compliments. Even if you apply galaxy holo flakes on your nails, you can get a simple design with attractive accents.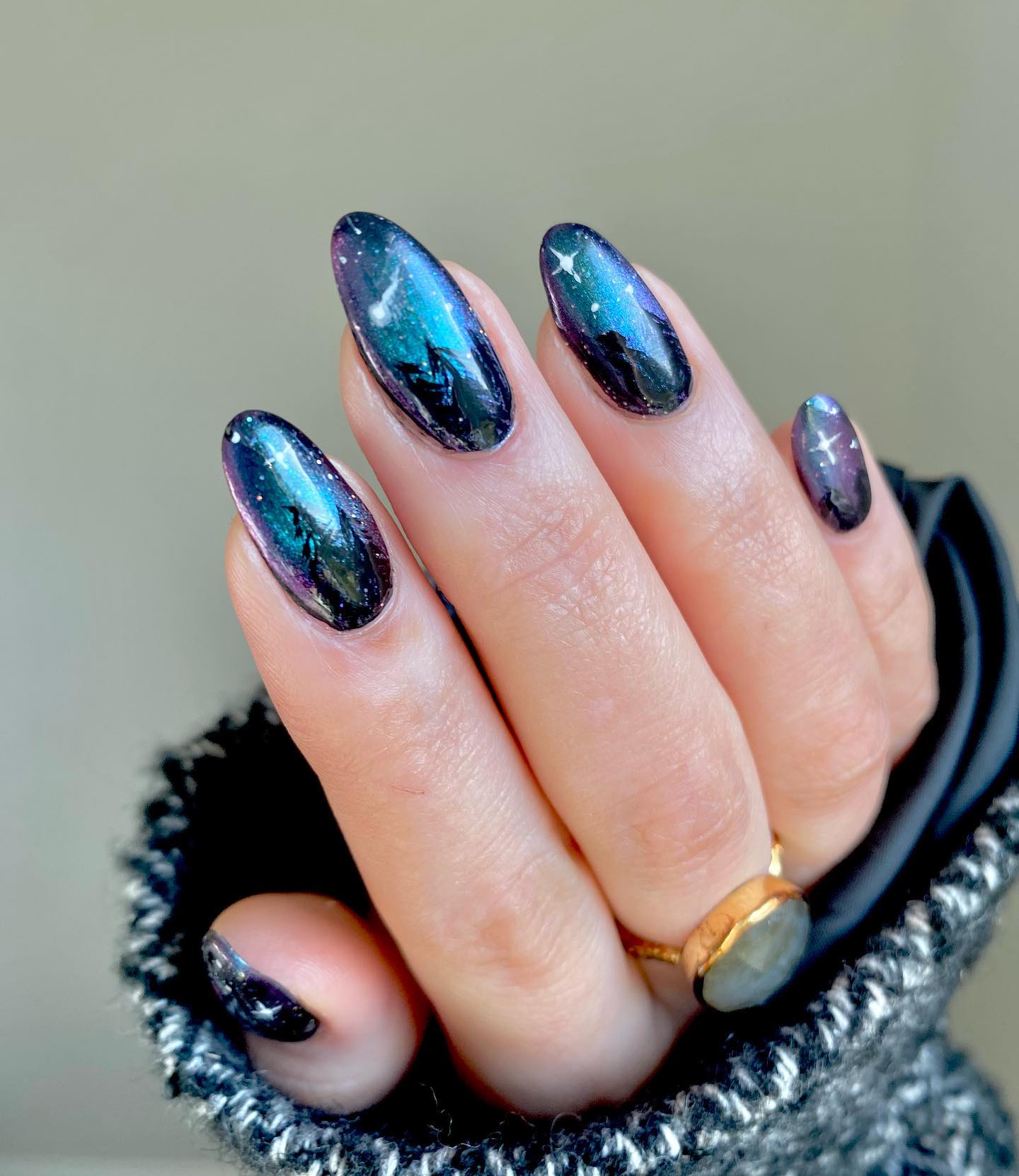 via @_karebeauty_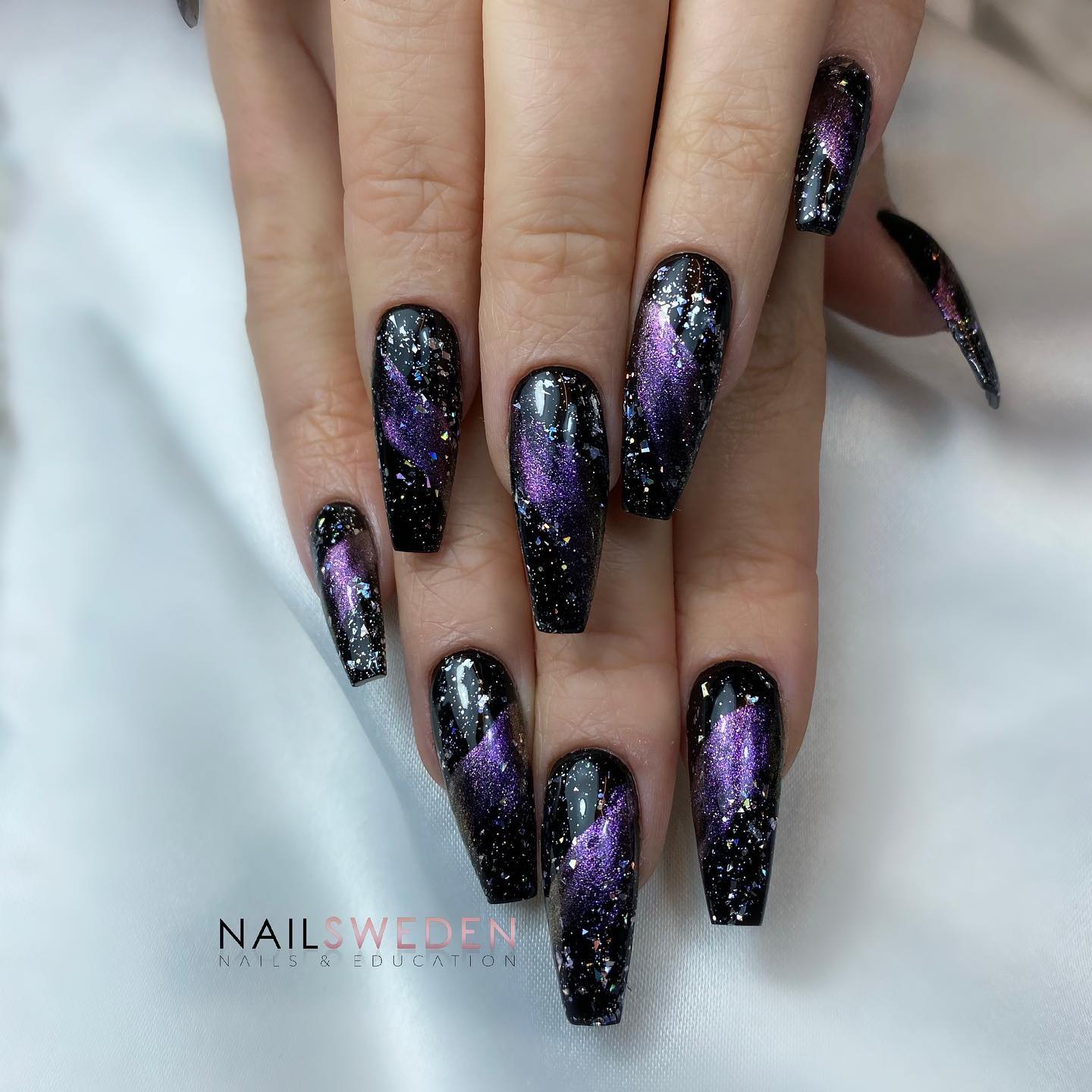 via @mathilda.tingshagen
Magnetic Nail Polish Art
The cosmic nails manicure with a magnet usage has become common in 2011. Since then, this trend has subsided then gained popularity again. We can only say one thing – this wonderful design can now be considered timeless nail art. Although many people still think that magnetic nail polish suits mostly elderly ladies, young women also prefer it, depending on color. Sparkly nails can cheer up every woman, even on the worst days!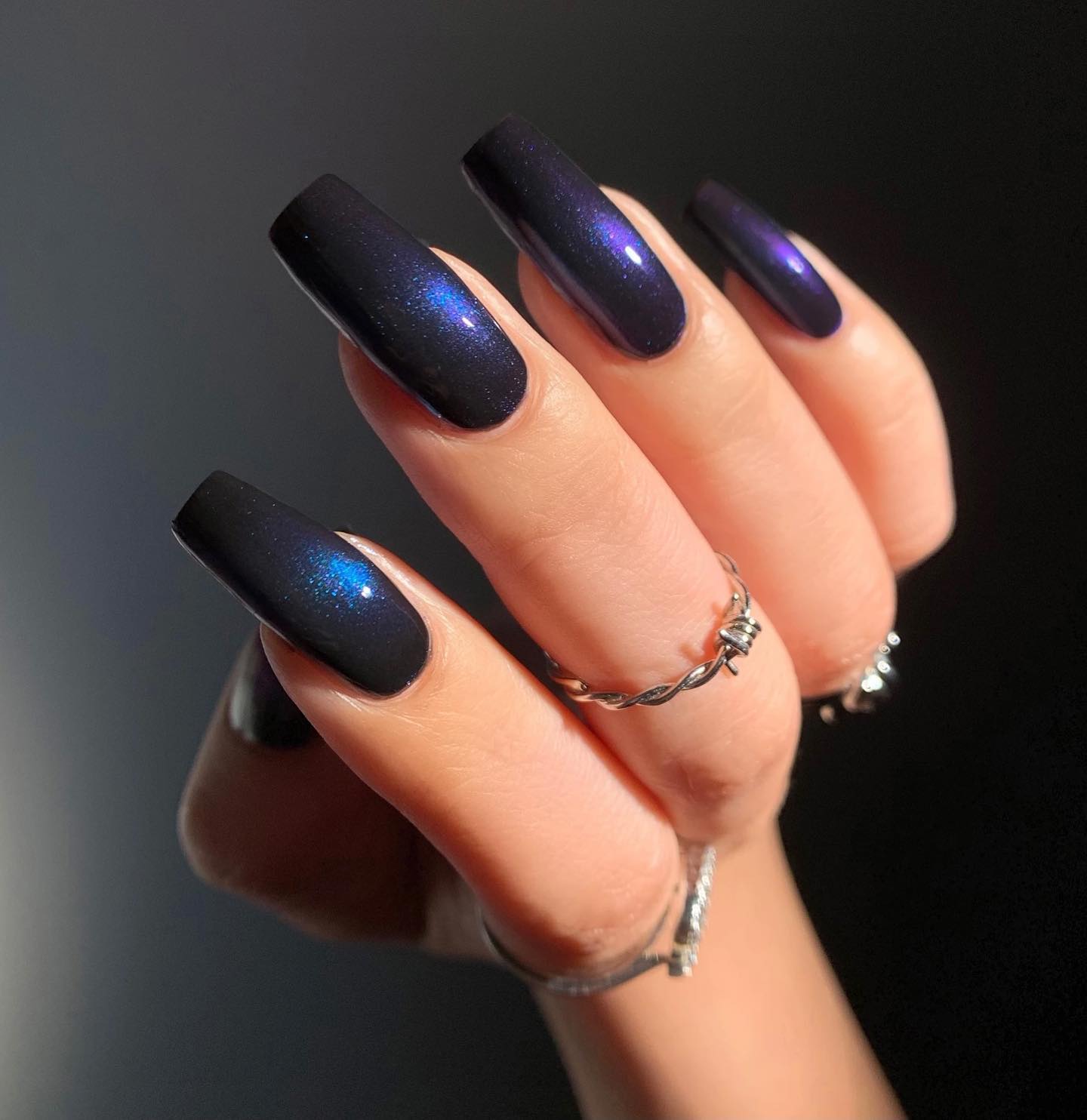 via @checkyesmichelle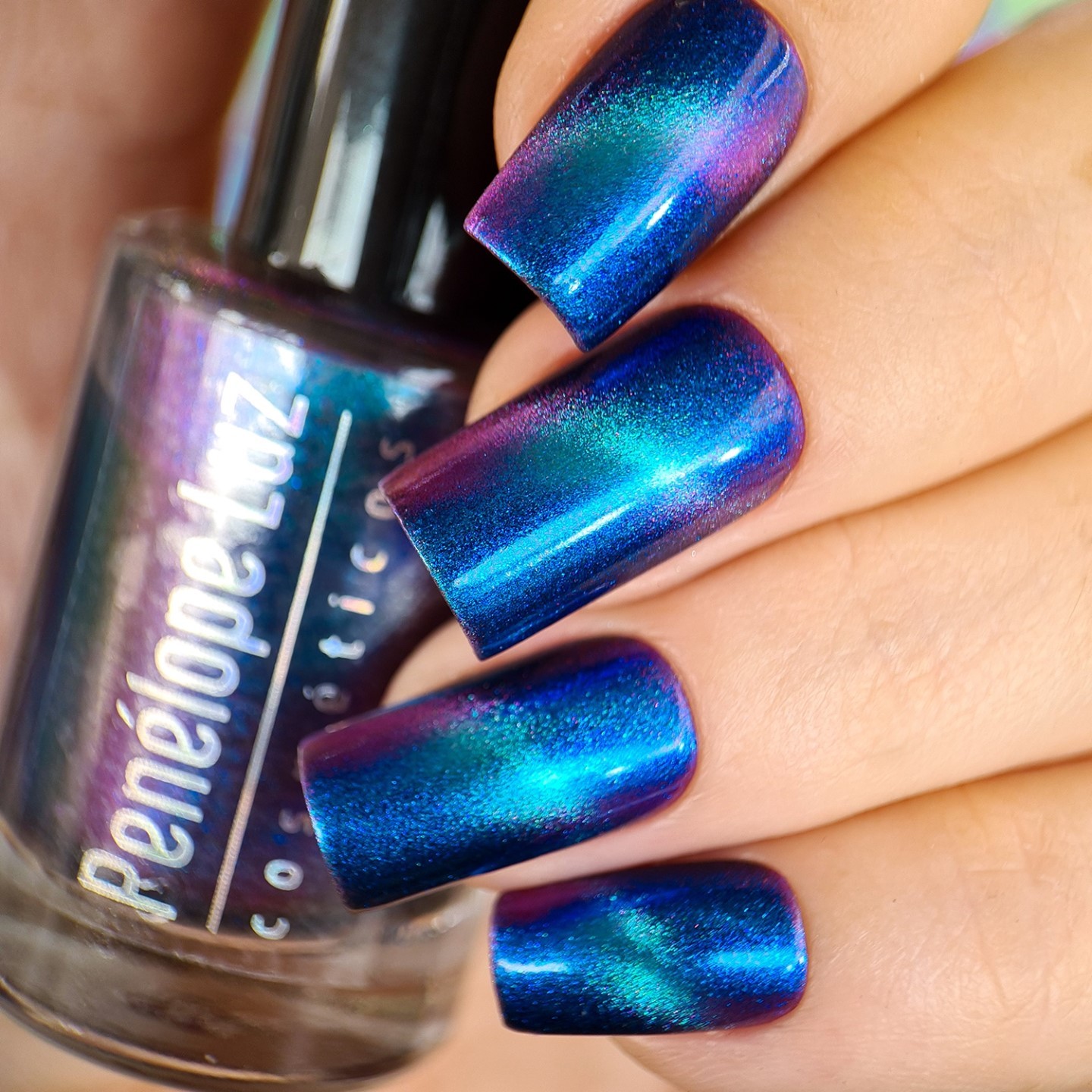 via @hypnoticpolish
If you want to make such a mani, consider the trendiest colors: grey, citron, brown, and others. You can find a wide variety of fun designs that will melt your heart immediately. Enjoy the diamond shine on your fingers!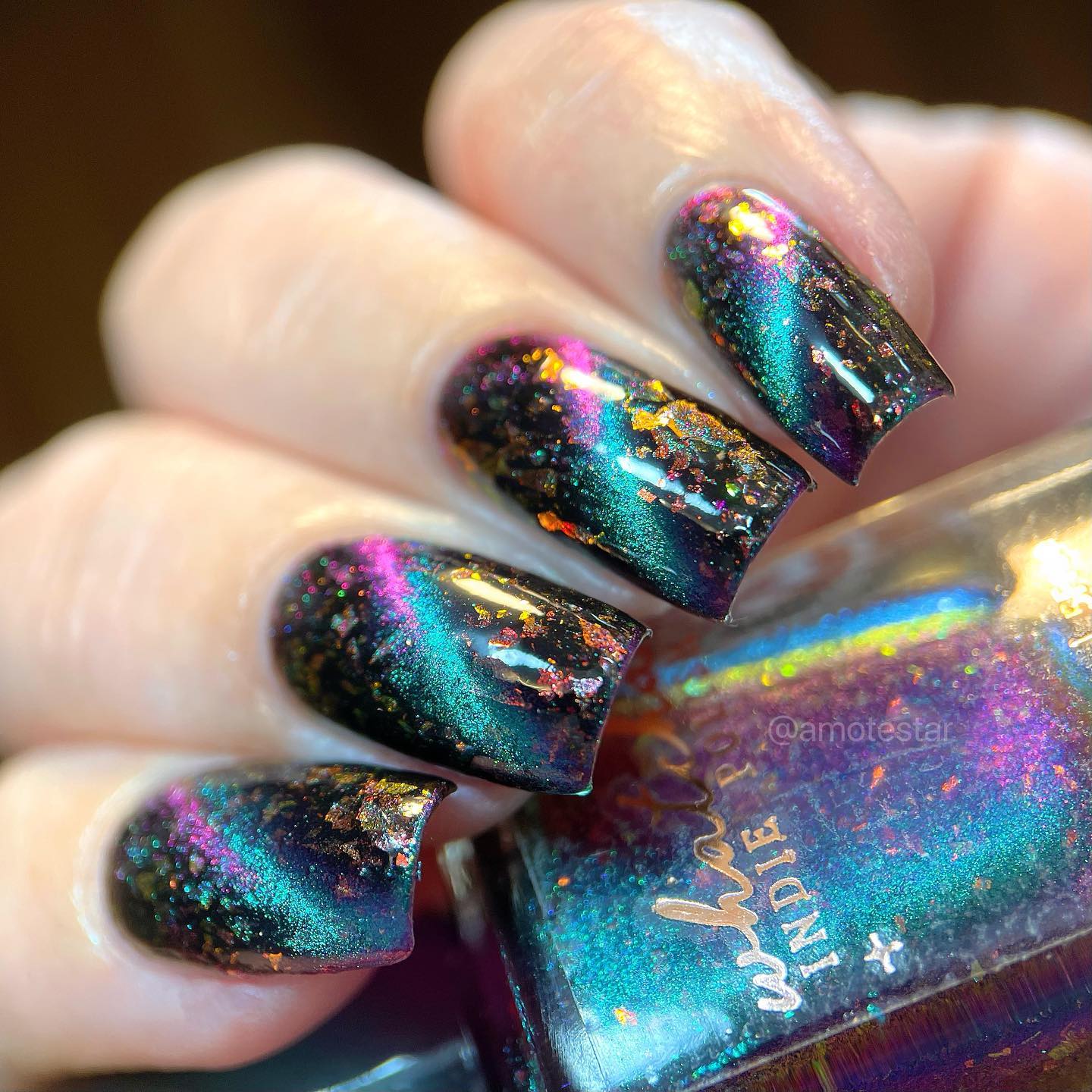 via @amotestar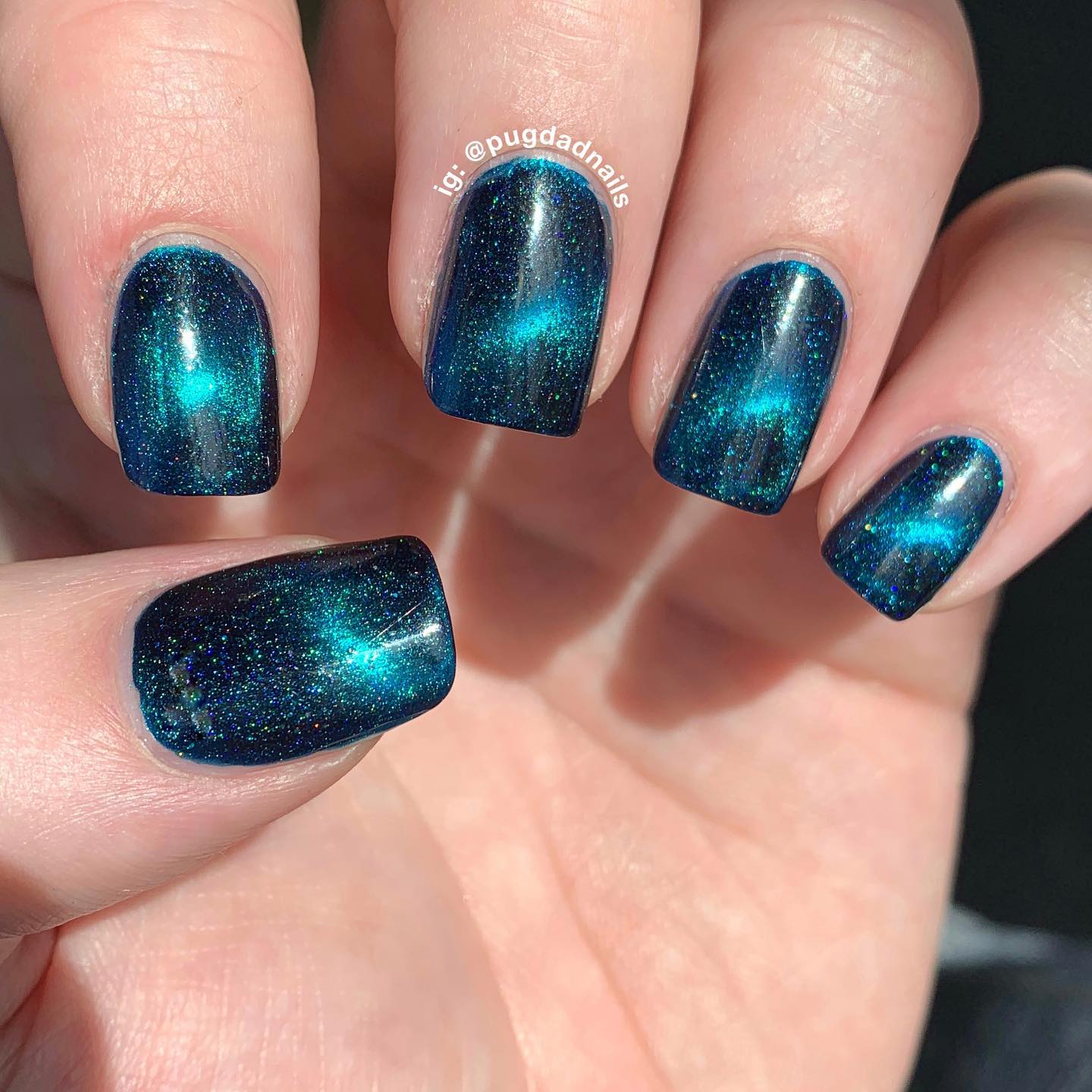 via @pugdadnails
Universe on Your Nails
As has been already mentioned, cosmic manicures will remain on top of trends for a long. While some prefer space design, others pick planet nail art, looking extremely attractive. It is similar to space nails and implies the usage of blue, green, and emerald colors. Moreover, you can choose any base color that you like. Many women prefer the dark nail polish, perfect for such a manicure.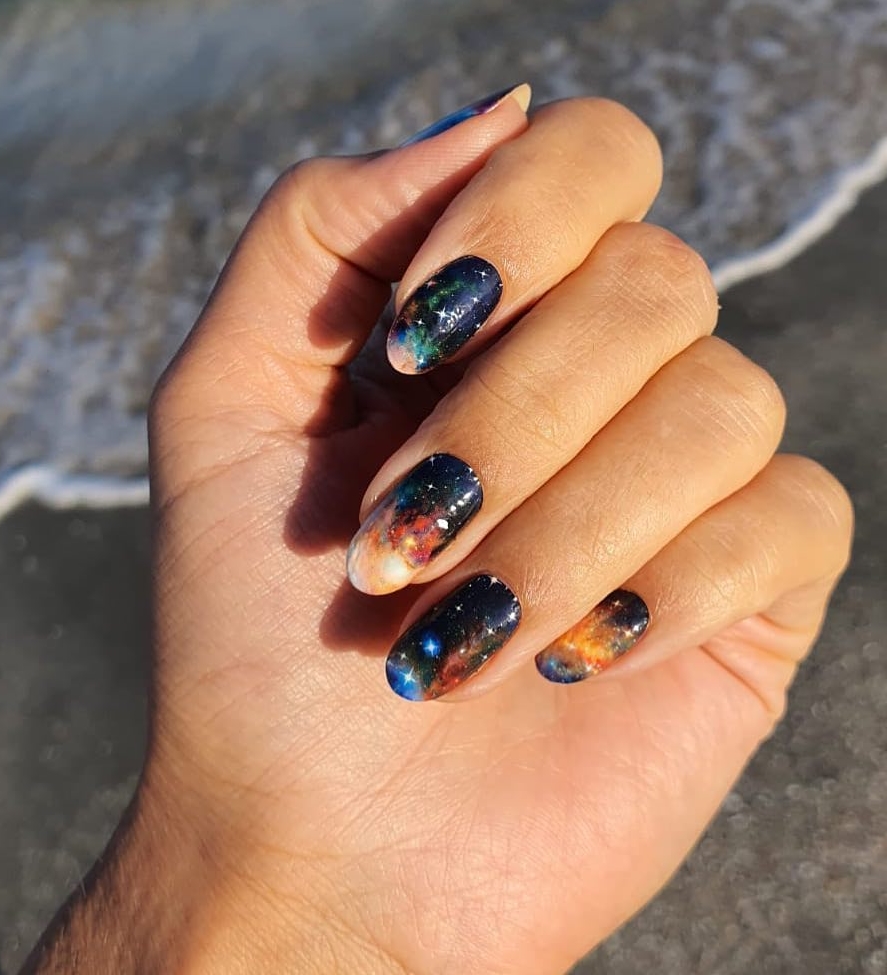 via @catalina_nailexpert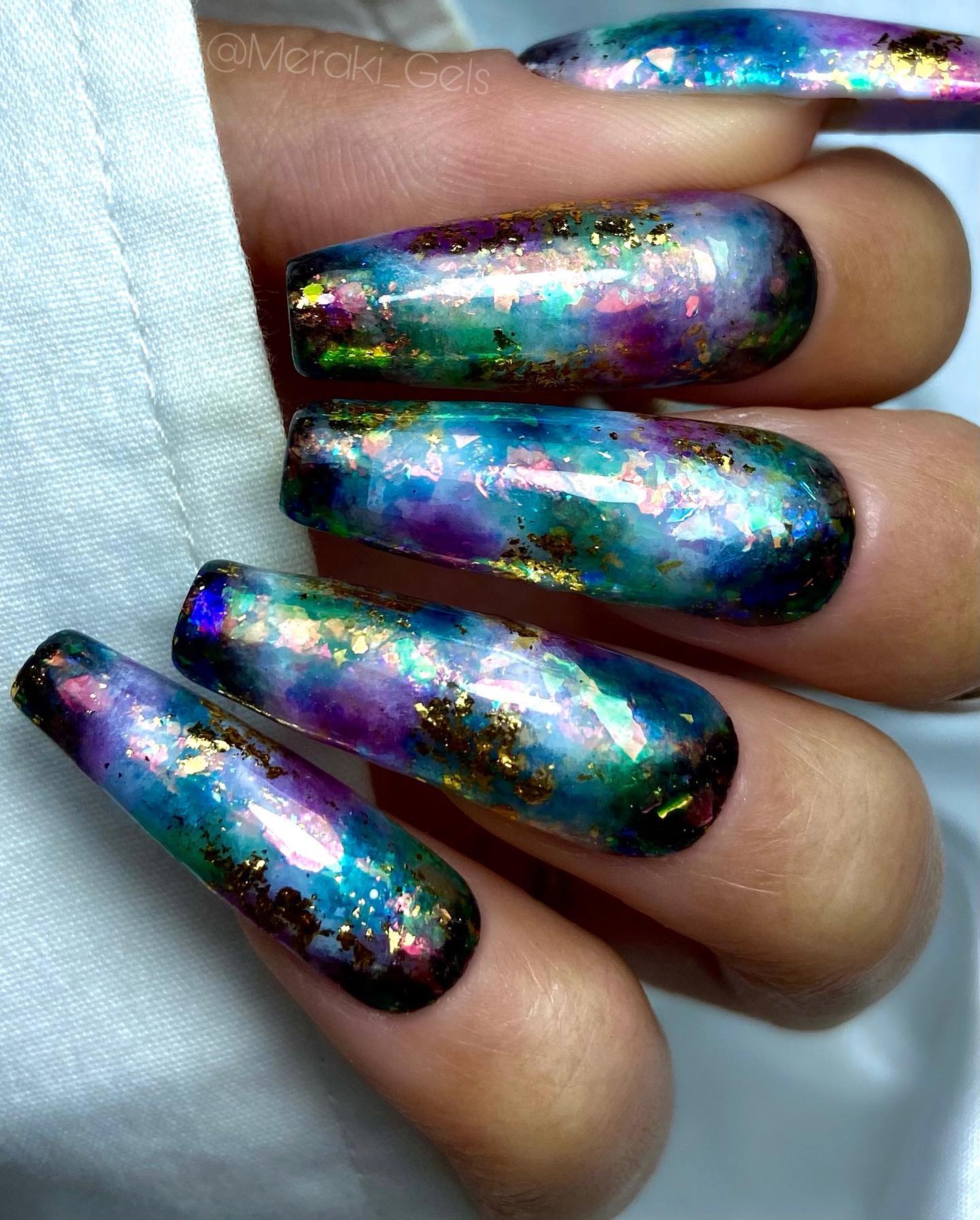 via @meraki_gels
Of course, each design is truly unique so that nobody will repeat the same manicure. Your manicure will look even more festive and exciting if you add glitter. Wear a part of the Universe on your nails and make an unforgettable impression on other people. We guarantee that other women will notice your fantastic mani, and they won't be able to take their eyes off it.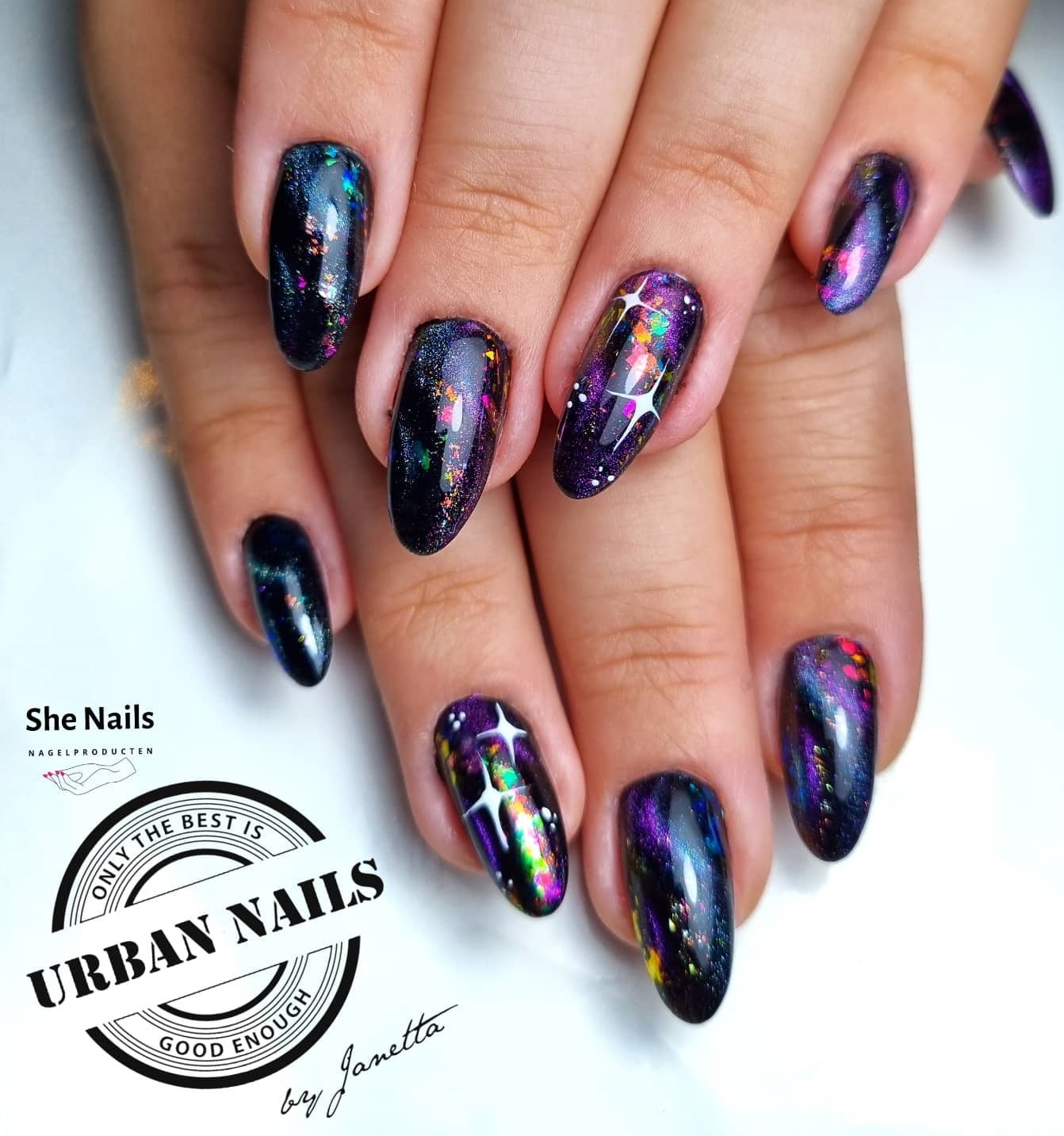 via @shenailsnagelproducten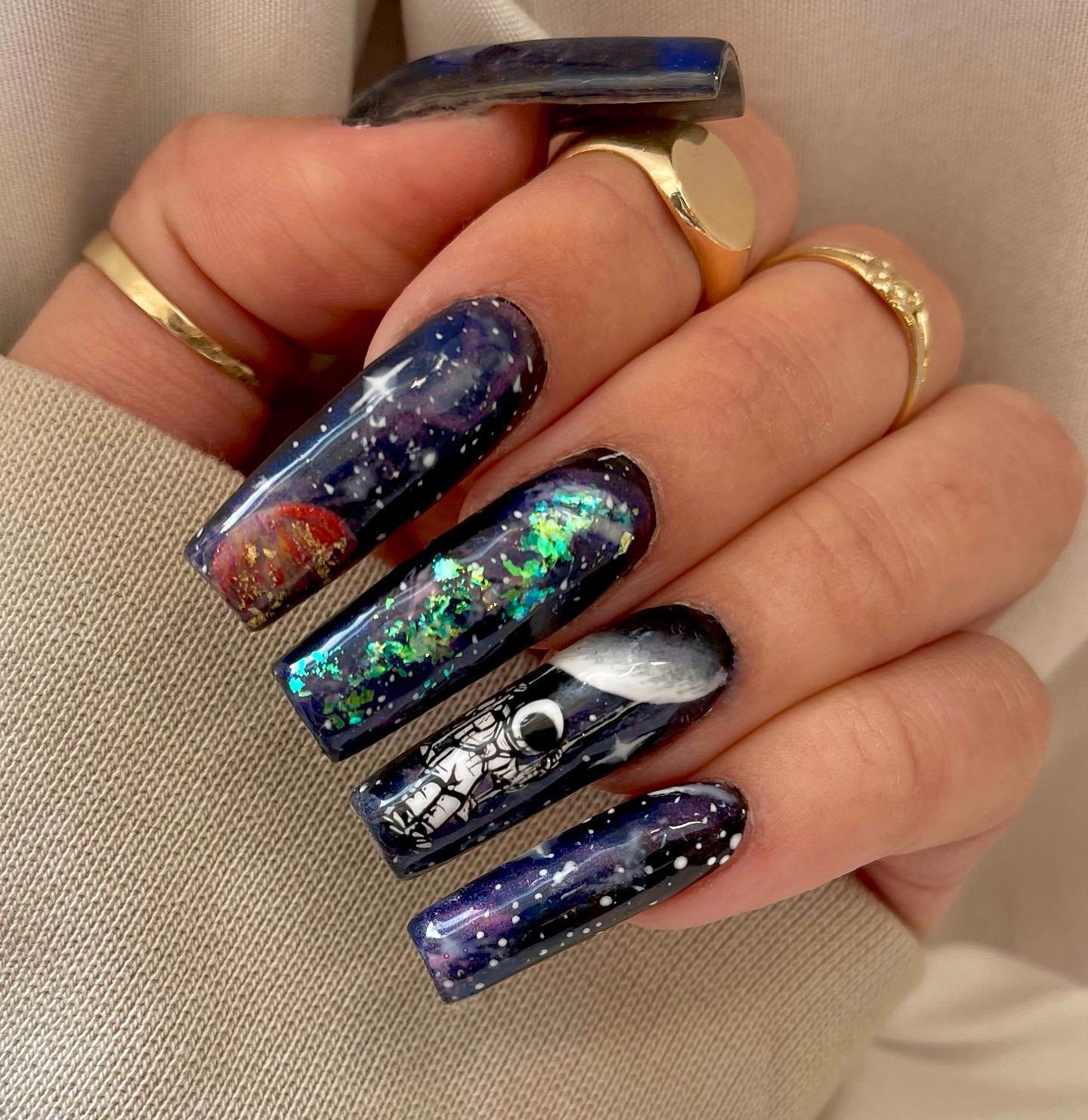 via @nailsbylaz
Milky Way Nail Art
Modern manicure technicians can add stars, planets, and the Milky Way to your nails. It all depends on your imagination! You can find lots of nail art designs on this topic, so the choice is enormous. Many girls believe that this design will only look good on long nails. However, this is a popular misconception. Even if you are used to wearing short nails, a little glitter and bright details is a great idea. You can use magnetic nail polish to make such a manicure and save your time significantly.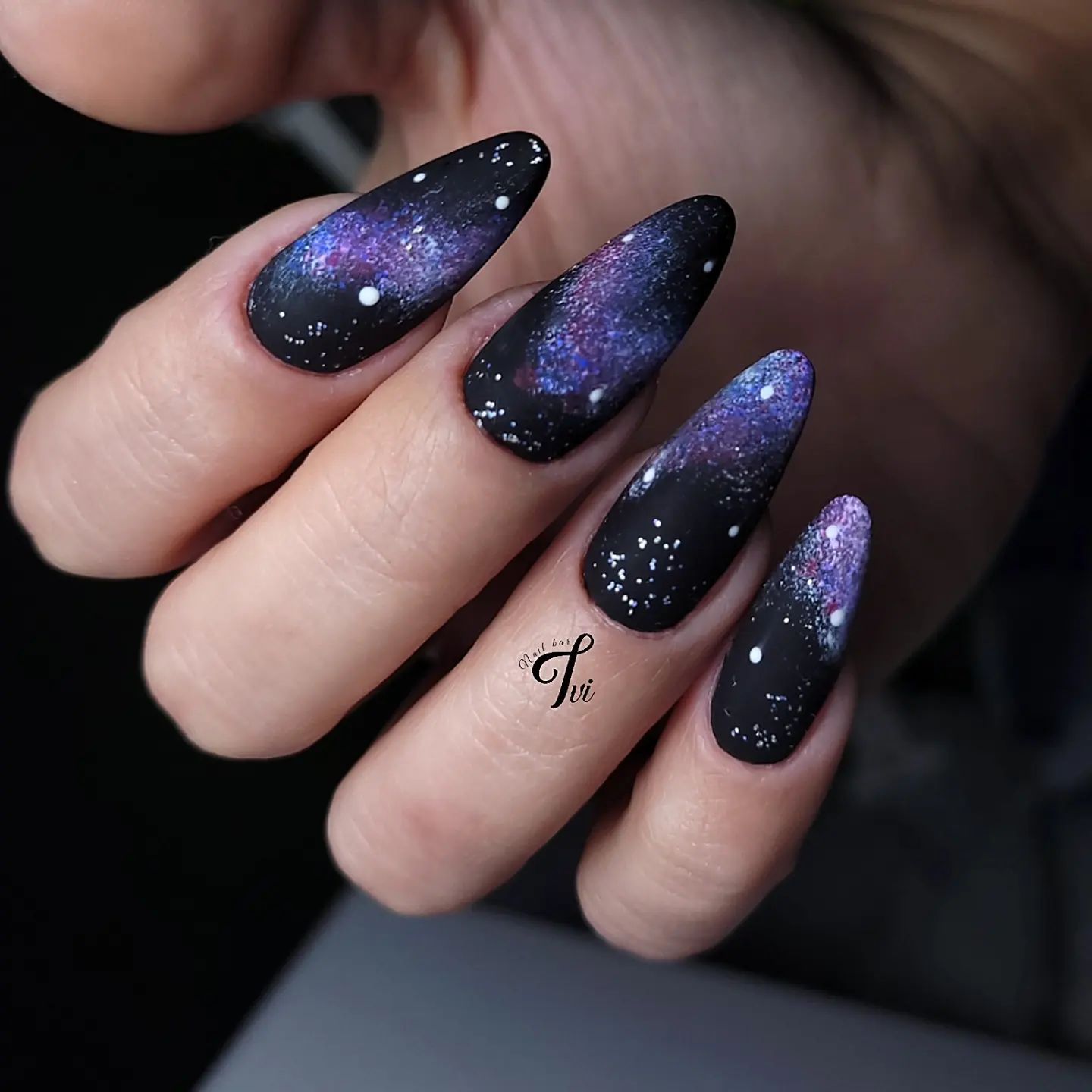 via @nokti_banovo_brdo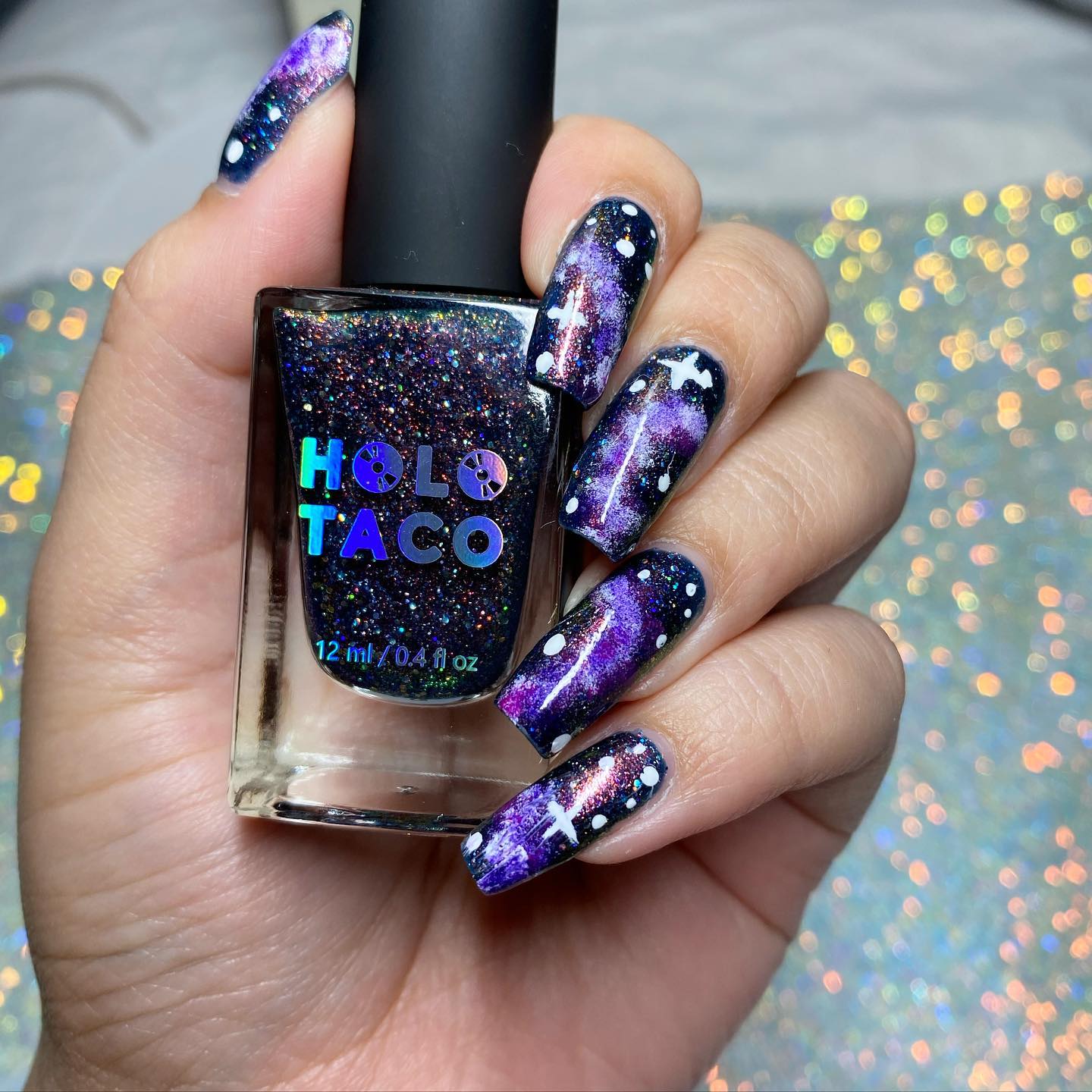 via @nailconicbee
A cosmic look of your nails will attract countless admiring glances. In addition, such a manicure is discreet and is suitable not only for holidays. You can make a Milky Way design on any nail shape. Such a mani suits women of all ages since it is stylish and unusual. It is also worth noting that it will look just astonishing on short nails!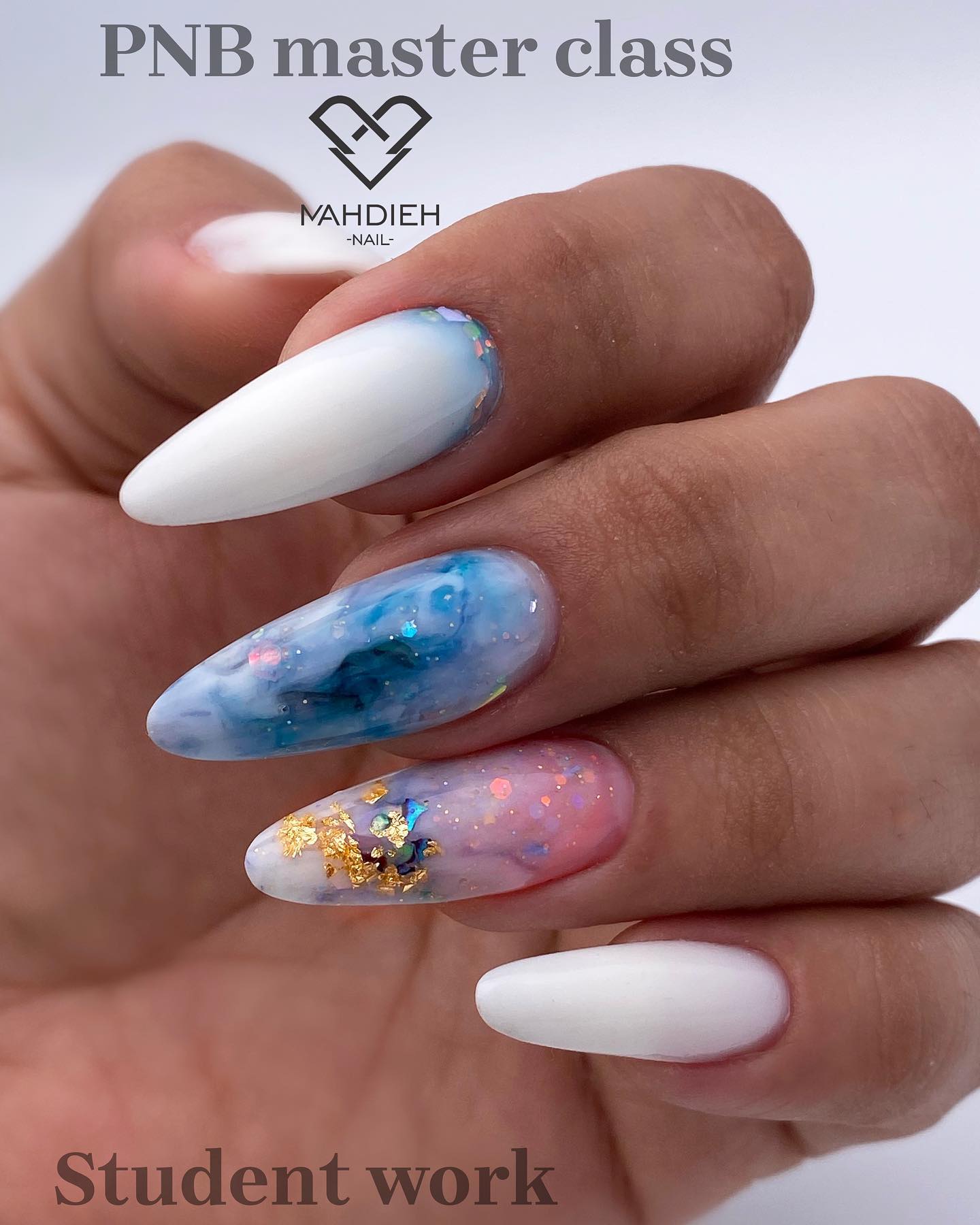 via @mahdieh.nail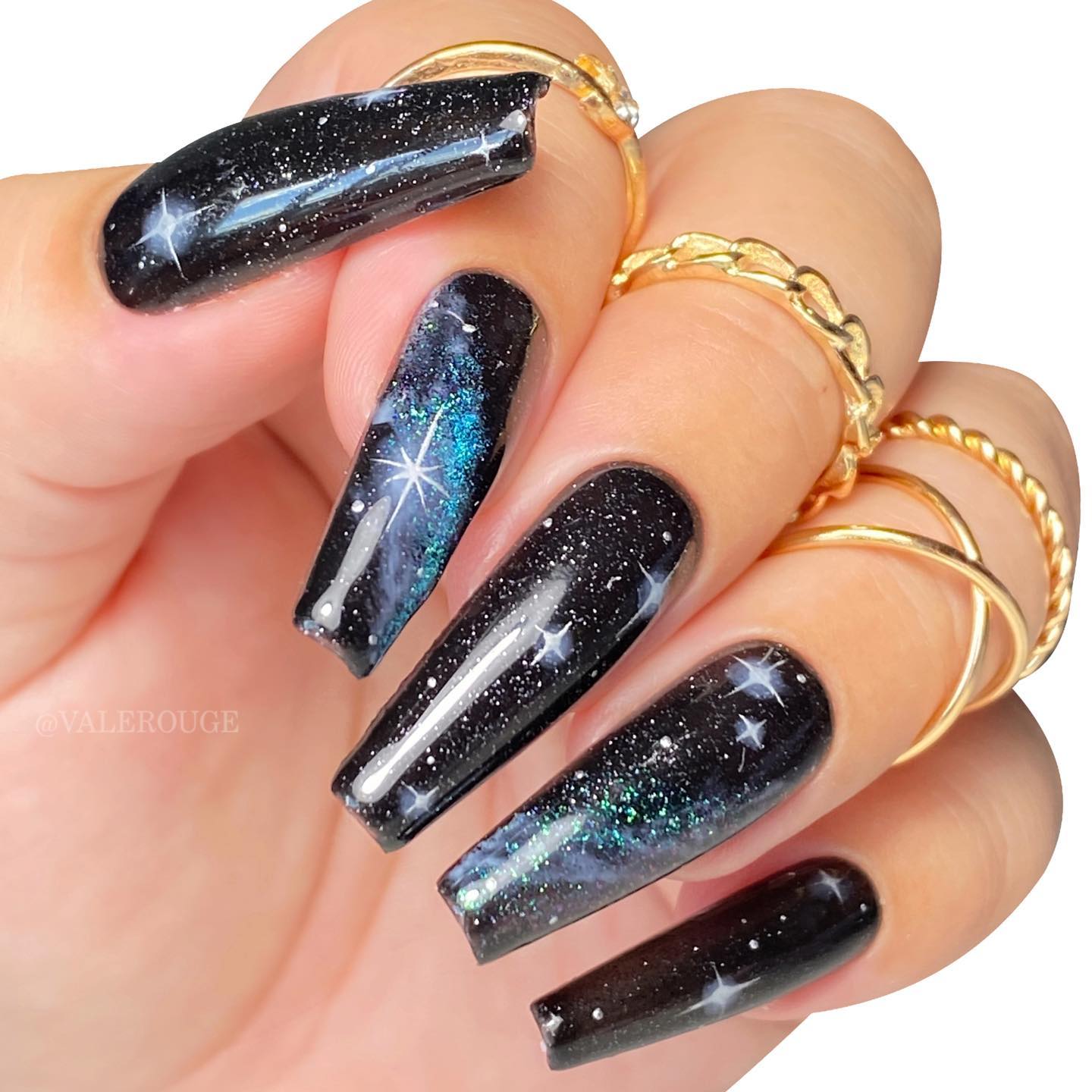 via @valerouge
Moonlight Nails
Moon nails design is undoubtedly familiar to any lady, and influencers show that it'll remain popular. However, we want to tell you about this trend in a slightly new interpretation. Pick a dark nails polish that you like most and add a moon design with yellow, white, or any other pastel shade. You can even ask your nail professional to draw phases of the moon on the nails, which will look fantastic.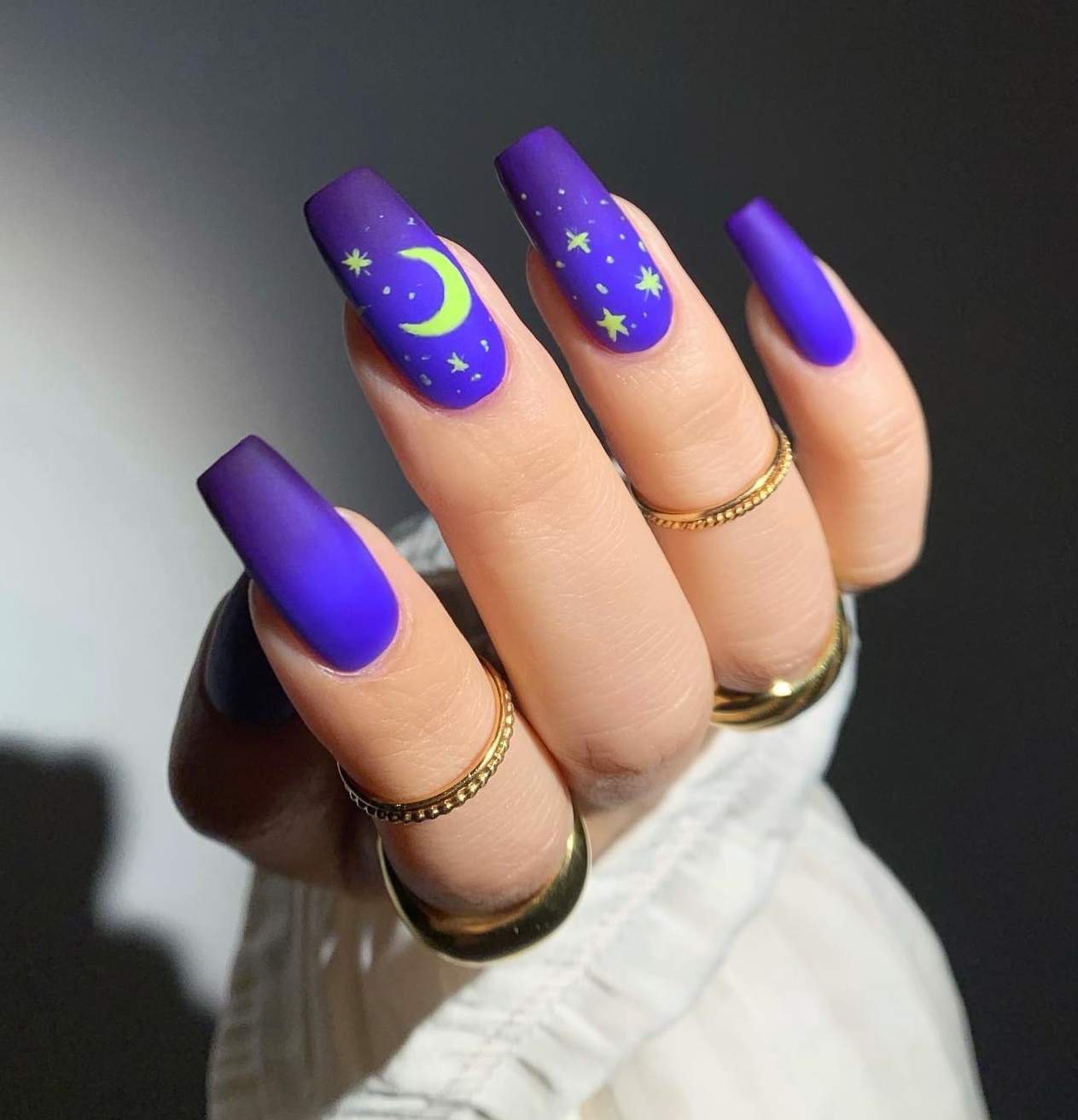 via @checkyesmichelle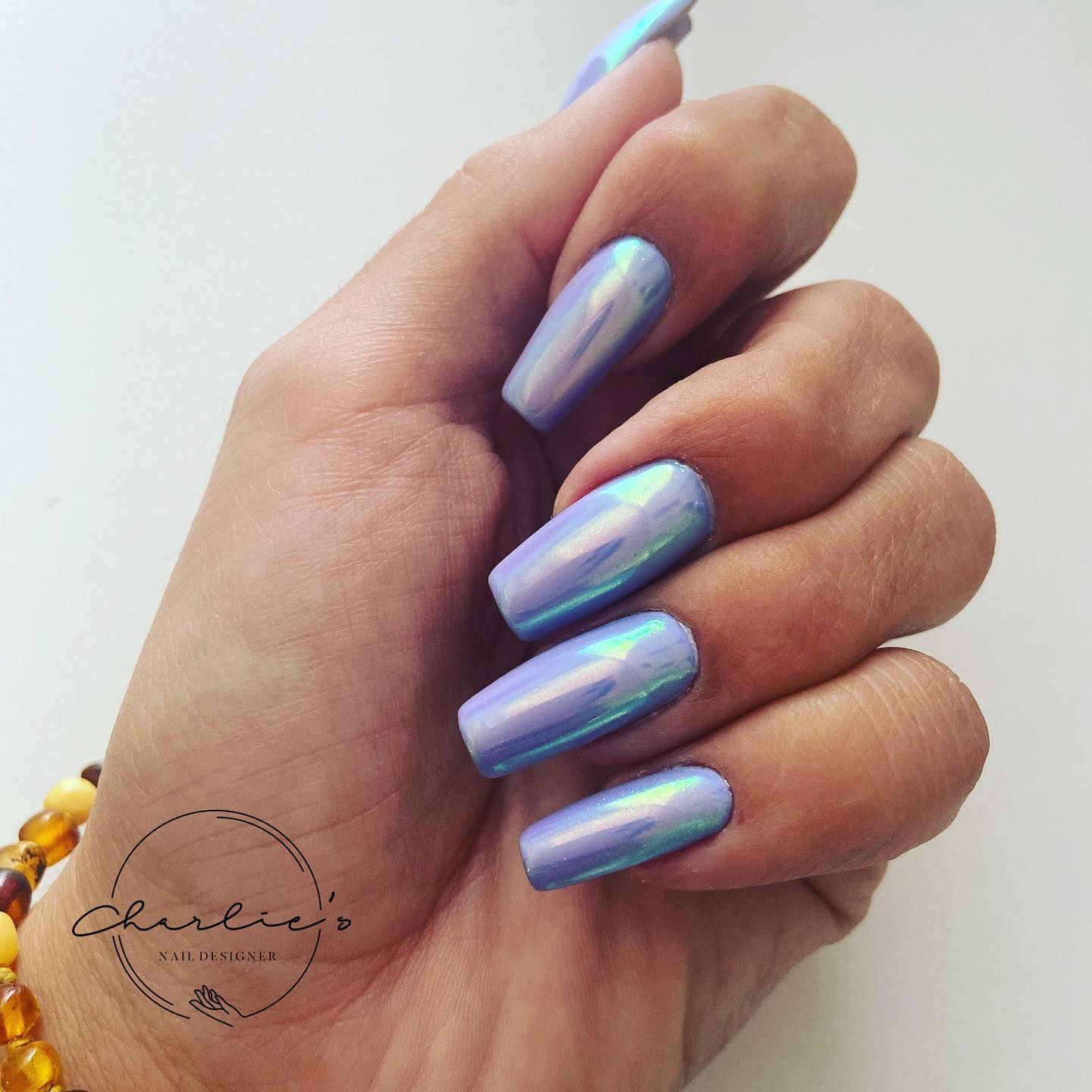 via @atelier.charlie_
Light and dark nail polish combination is a perfect way to make an attractive accent in your manicure. With such unique cosmic designs, you will be in the center of attention at any event. Moreover, this art will be suitable for any occasion, including your daily routines, such as going to the office and formal meetings. There is no need to have long nails since moonlight on short nails will look incredible.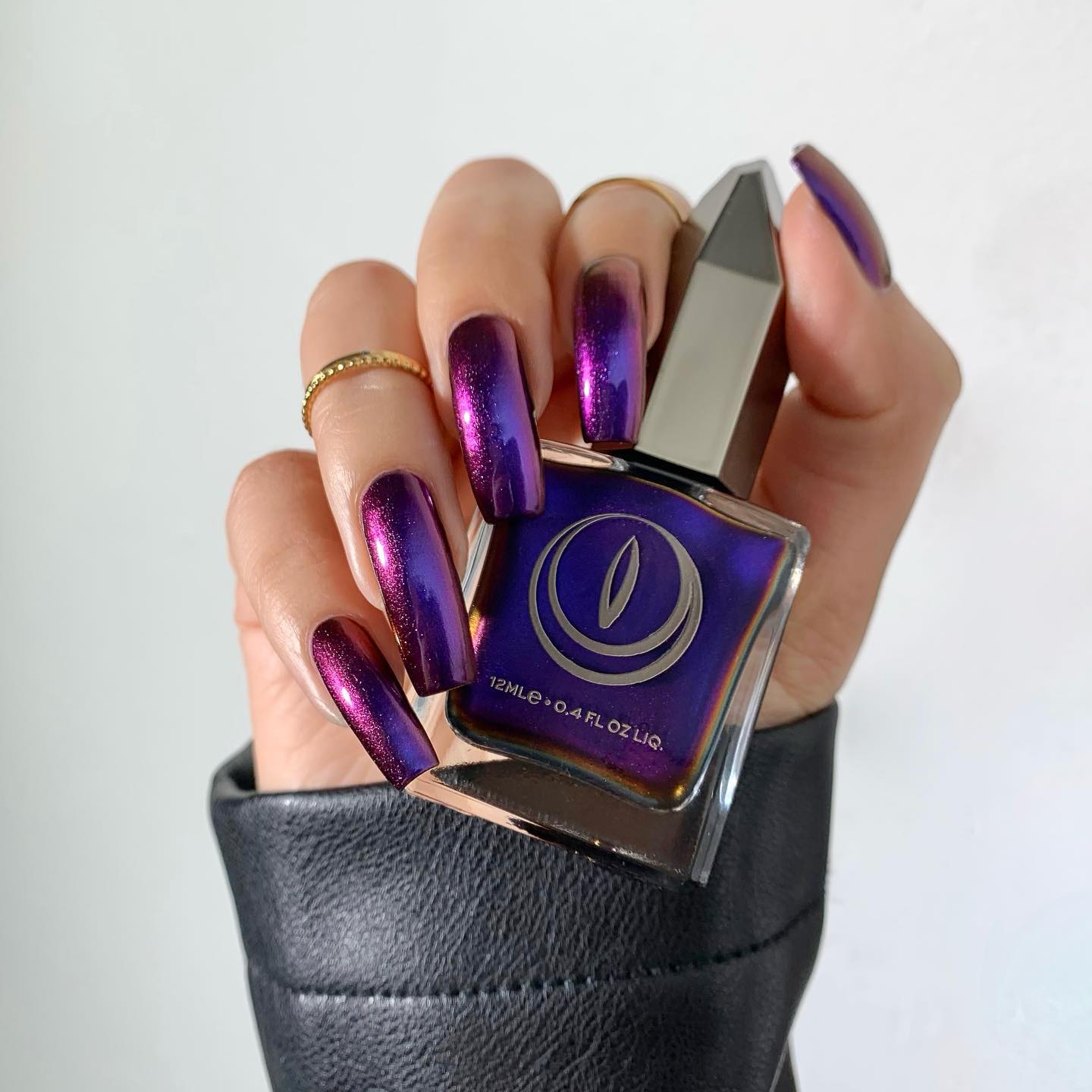 via @checkyesmichelle
via @tori_star_nails
Charming "Cat Eye" Nails
Each woman should look perfect, and a manicure is an essential part of a beautiful image. You won't surprise anyone with sparkly nails since shimmering designs are now incredibly popular. Galaxy holographic "cat-eye" art is also not new to the market. However, this trend has remained in top ratings for many years, and ladies of all ages adore it.
via @nailsvonangie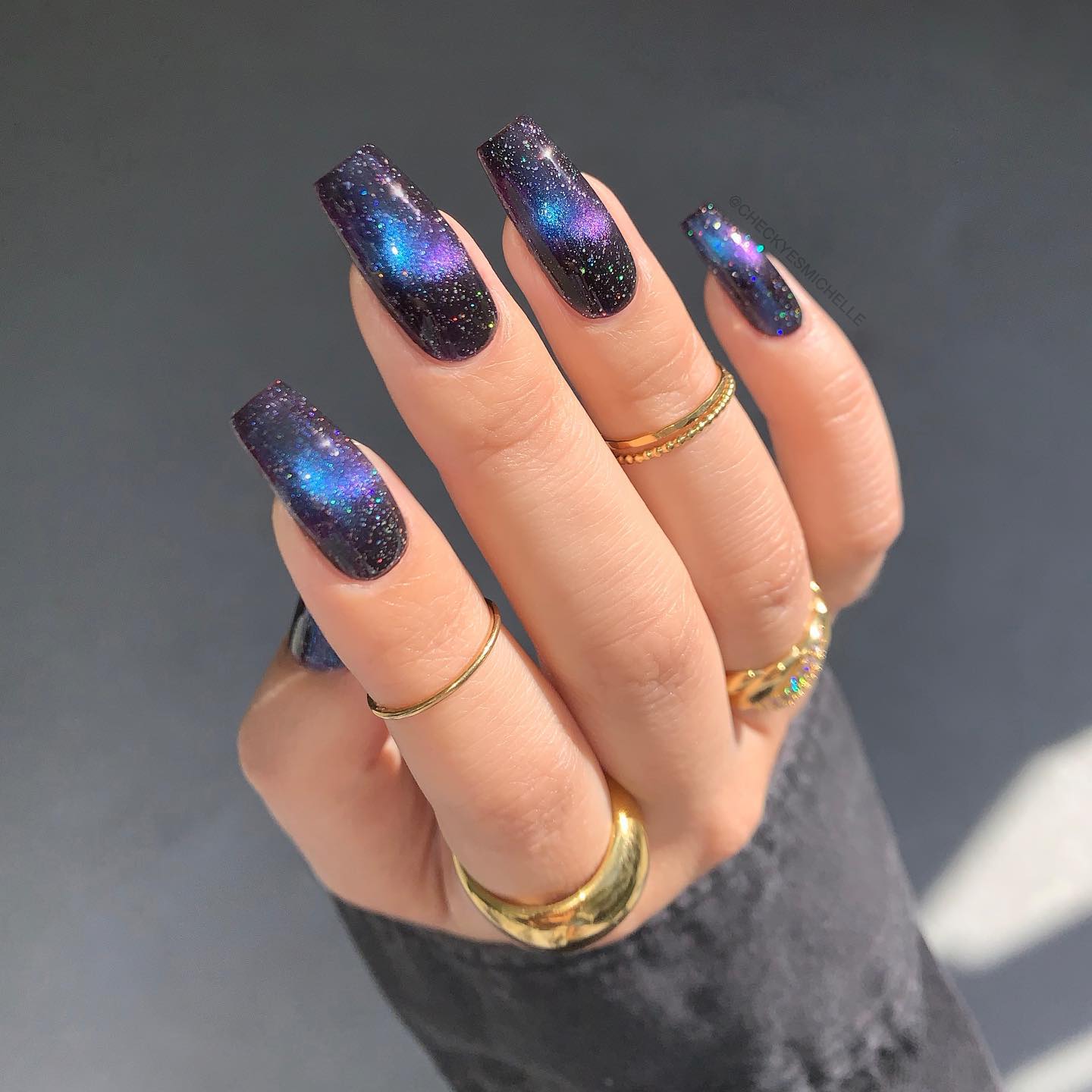 via @checkyesmichelle
The secret of this popularity is simple since it's functional and attractive. It will fit perfectly in your evening look. And diamond shine looks elegant and expensive. Moreover, it's not hard to find such products, as a great palette is available in almost each beauty salon. Many ladies prefer dark nail polish that can be perfectly combined with a noble overflow. If you pick light colors, make sure to apply at least two layers to make the shade more saturated. Those who like fun nail art should better select bright or pastel colors, which is also a wonderful idea for a "cat-eye" mani.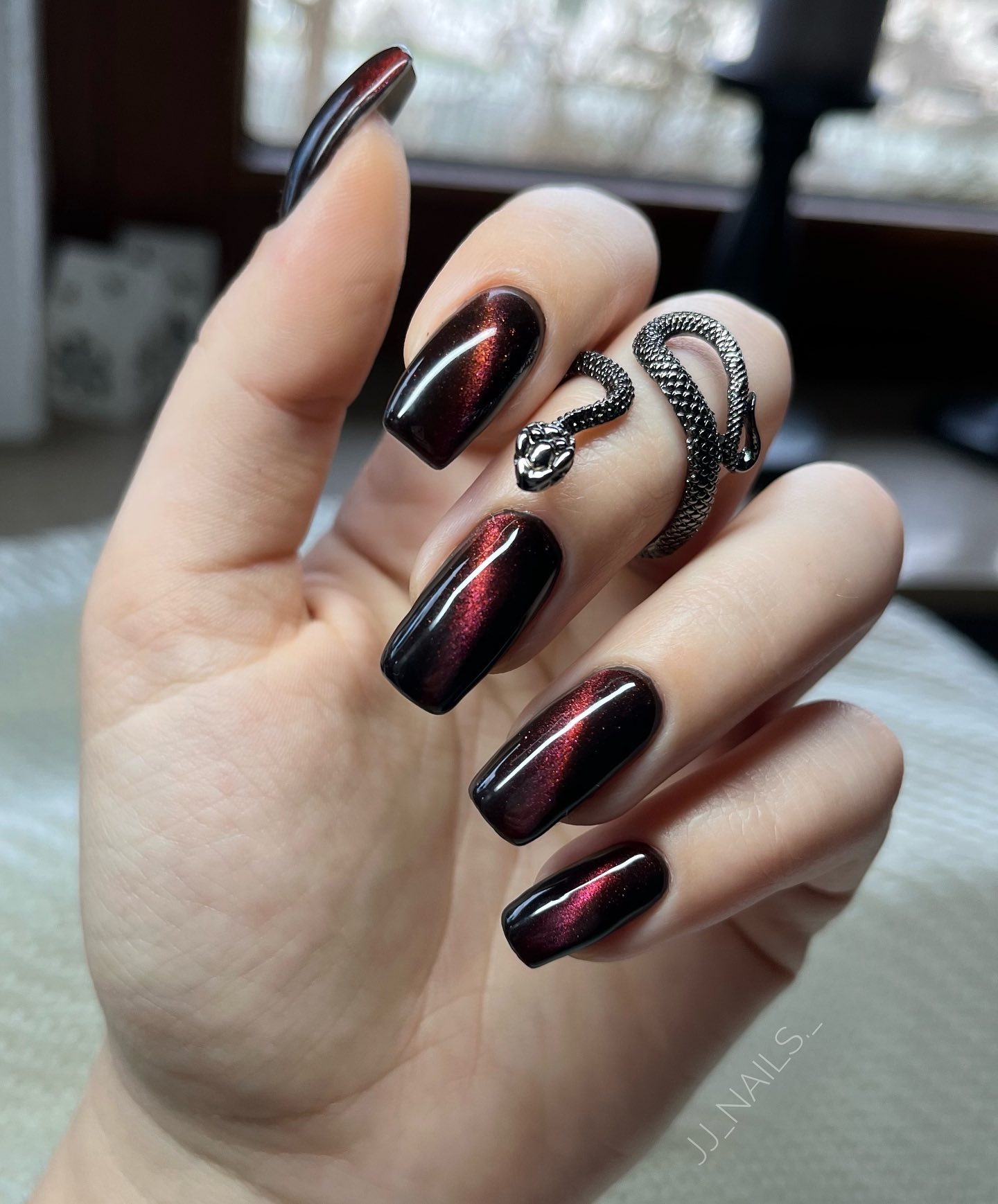 via @jj_nails._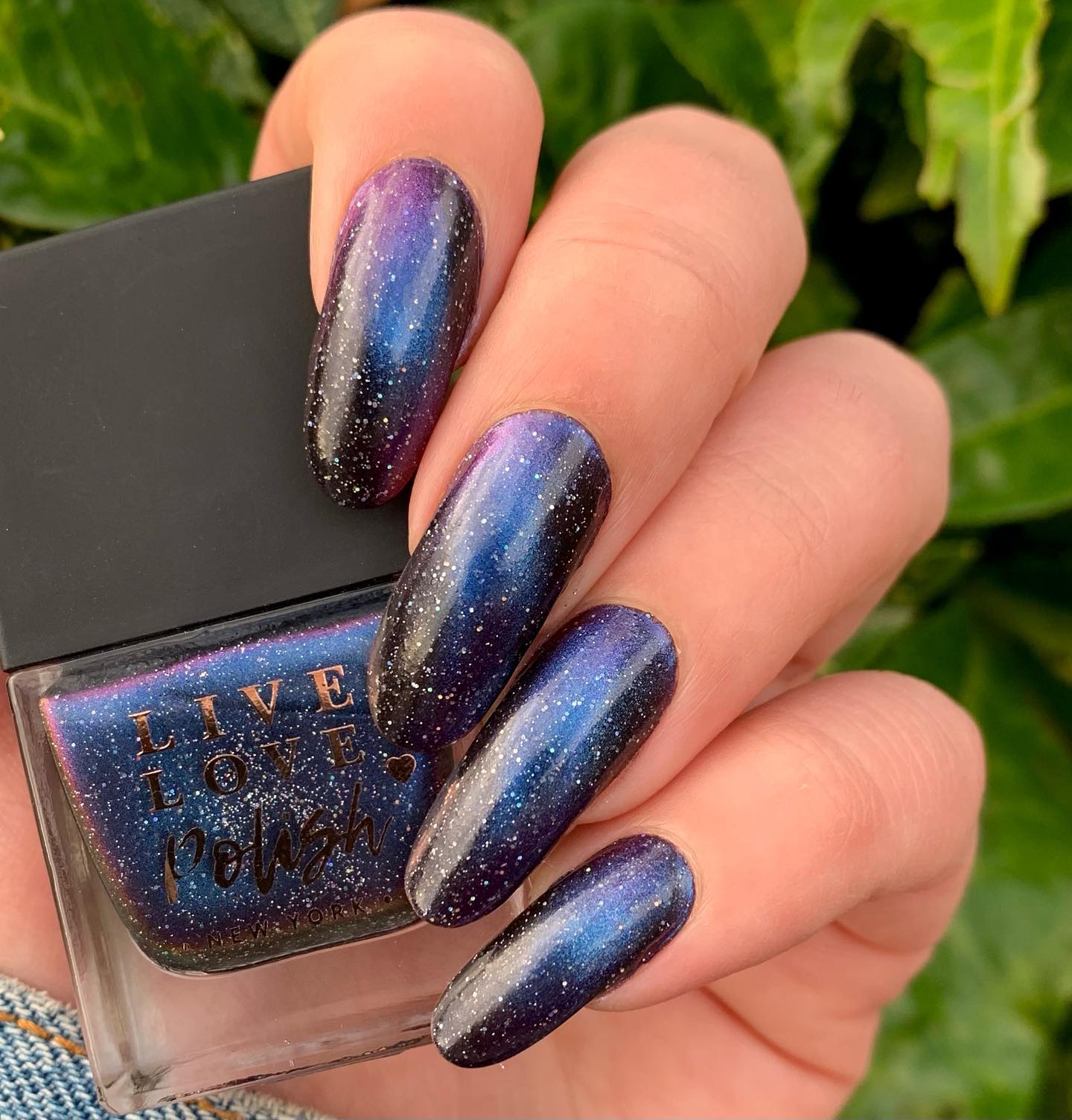 via @nailsbyfem_
Emerald Nail Designs
Different colors of green are now in trends of clothes and manicures. And, of course, emerald is the noblest color that looks expensive and appropriate in any situation. This shade will fit amazingly for galaxy nails. It doesn't matter which shape you prefer since such a design is a great idea for short or stiletto nails.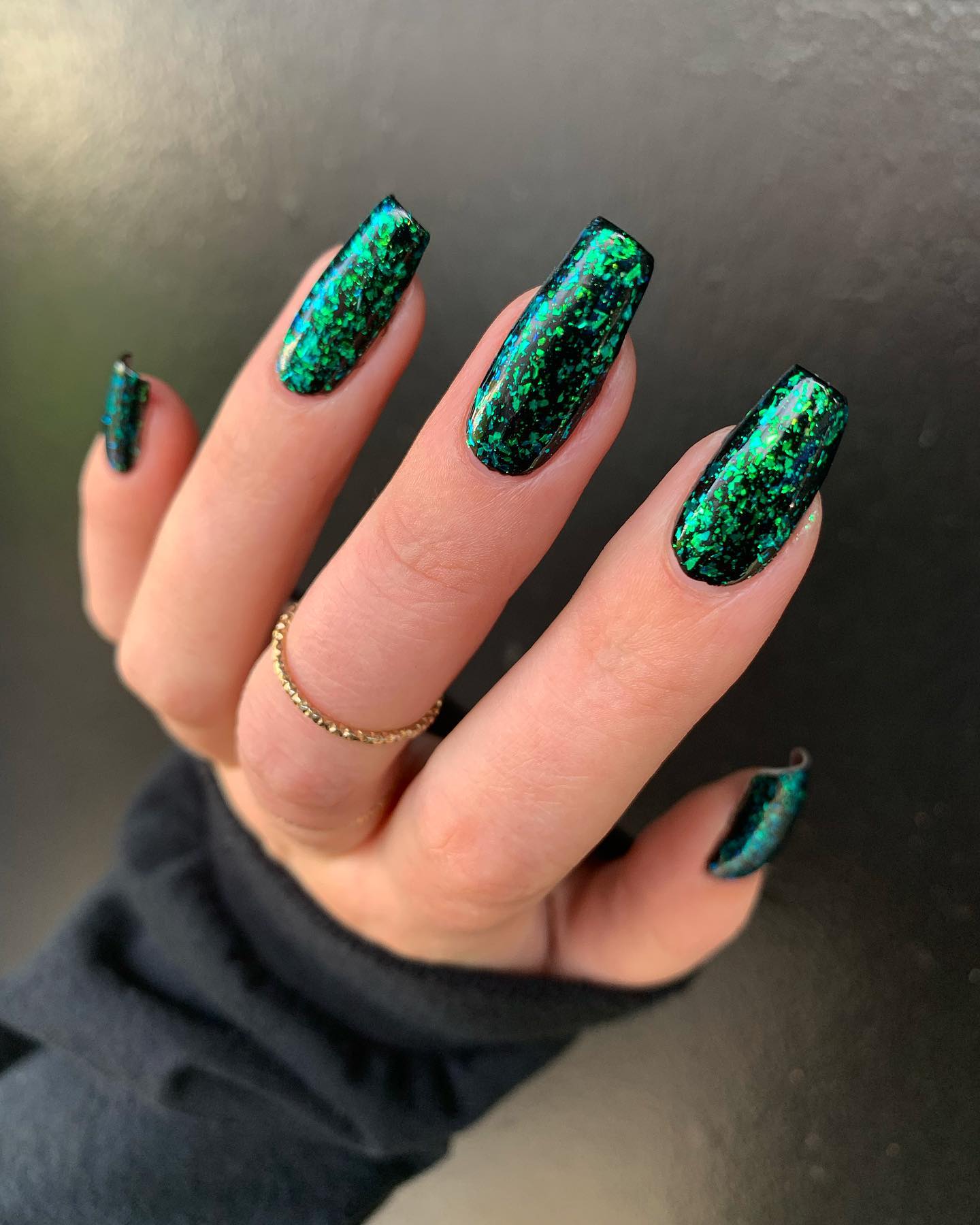 via @kaylacquer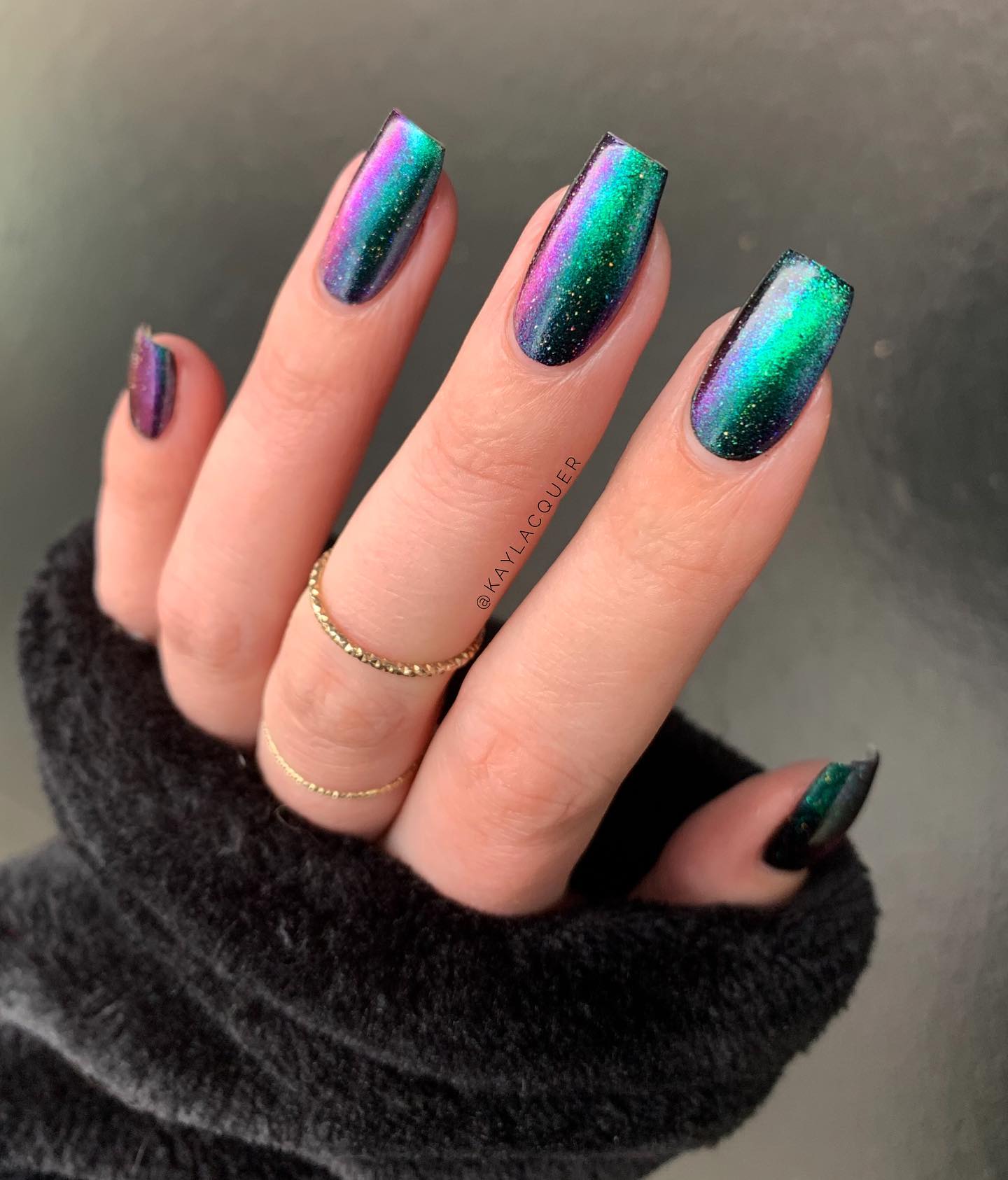 via @kaylacquer
The emerald color alone may seem tedious and unoriginal to many ladies. So, we recommend you add some glitter nail polish or at least a sparkling finish. Such a manicure is perfect for your daily routine, and it is also worth noting that it can be combined perfectly with any clothes. Many women prefer such a design in autumn and winter, while bright colors are considered the most demanded during summer and spring.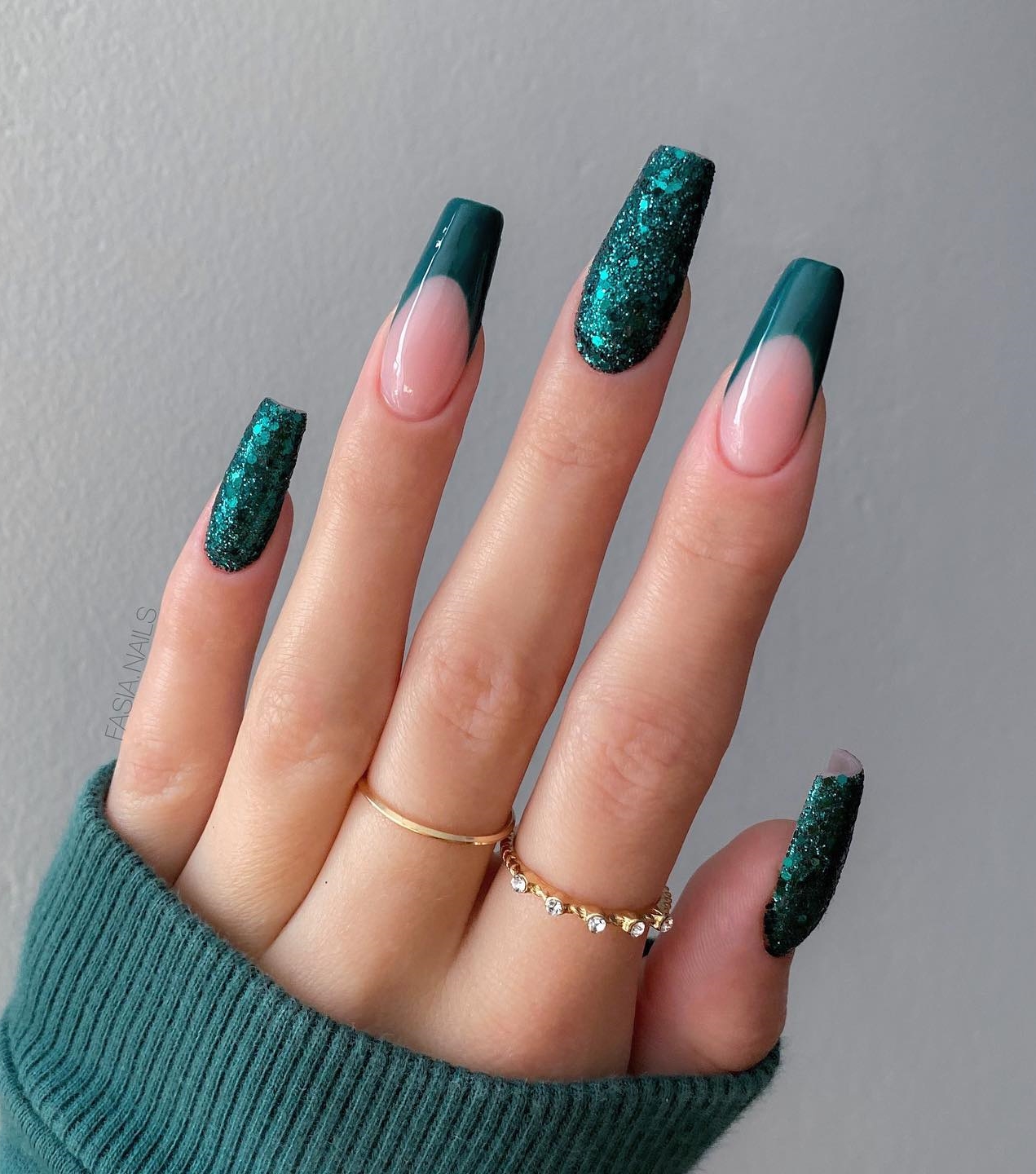 via @fasia.nails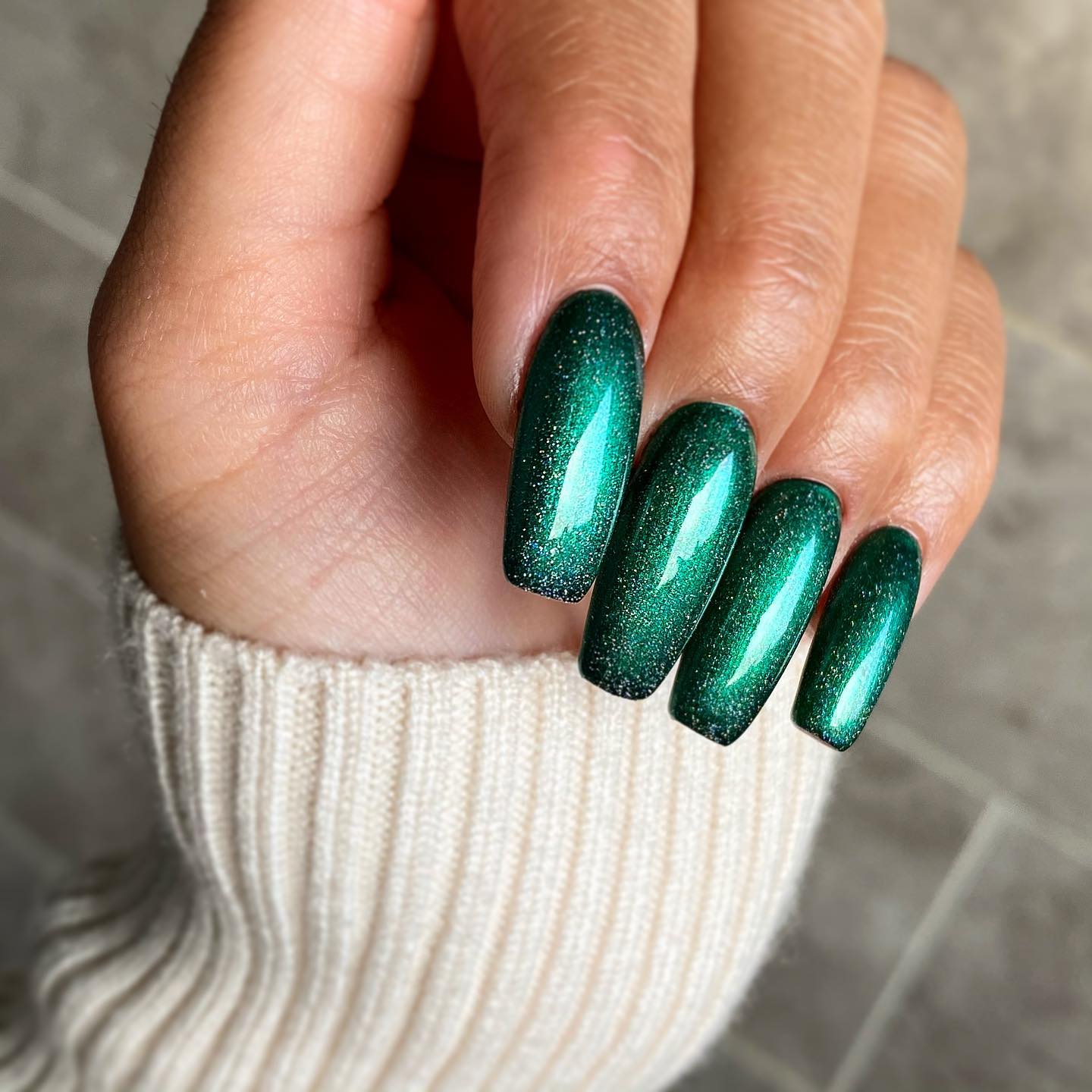 via @nailsby_jasminecorinna
Dark green nail polish is a fantastic decision for girls who prefer a classic style. With such a manicure, you will attract much attention, and everybody would like to repeat such nail art. You can find numerous shades of emerald in beauty salons, so just remember to pick the one you like most.
Cosmic Opal Nails
Opal is a mineral that impresses with its overflows and looks magical. So, it's not surprising that many women select shiny neat nails with such a design. Its main advantage is that the shades you can use can be different. And each combination is beautiful in its way. Those who want an extremely bright manicure can apply galaxy holo flakes.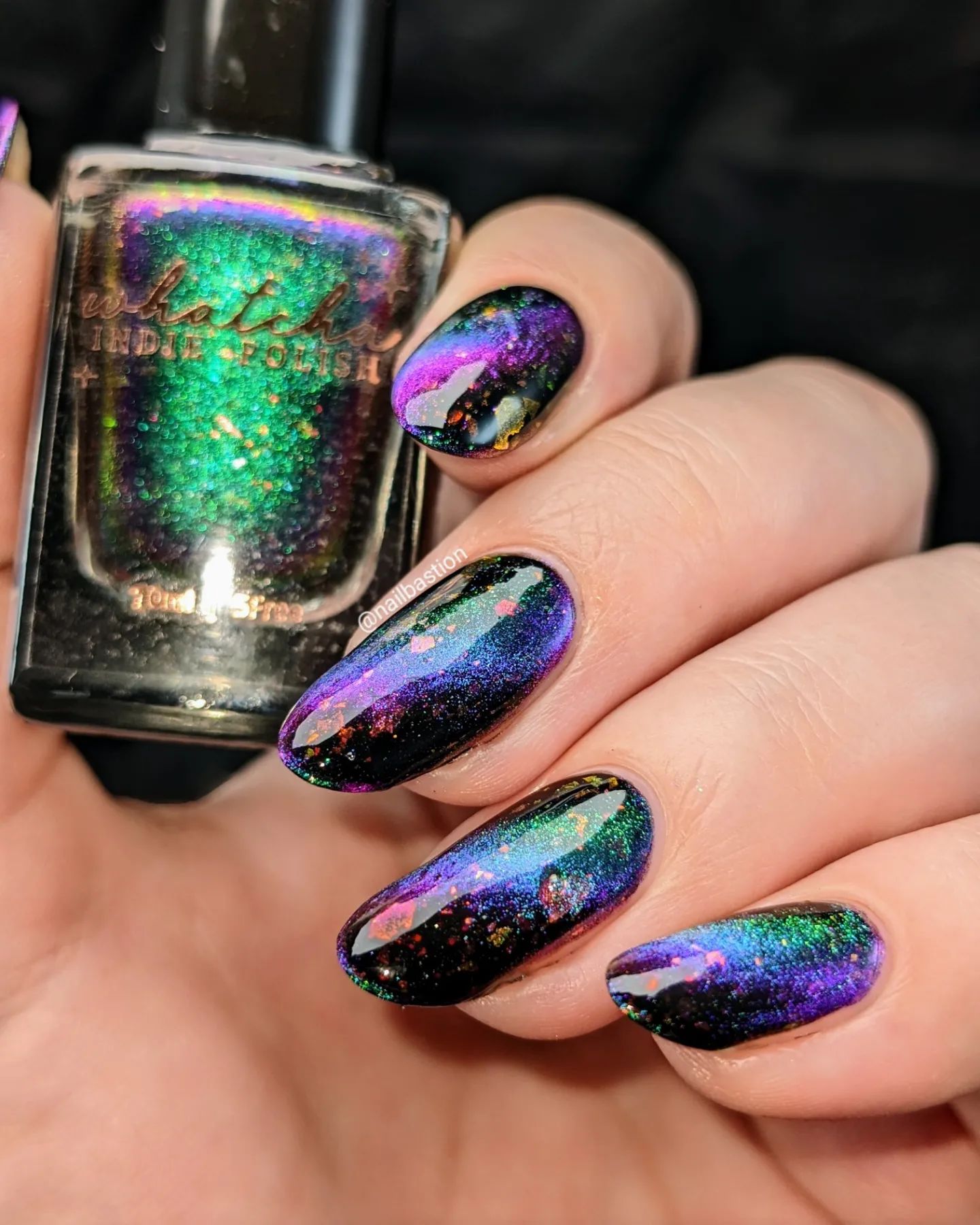 via @nailbastion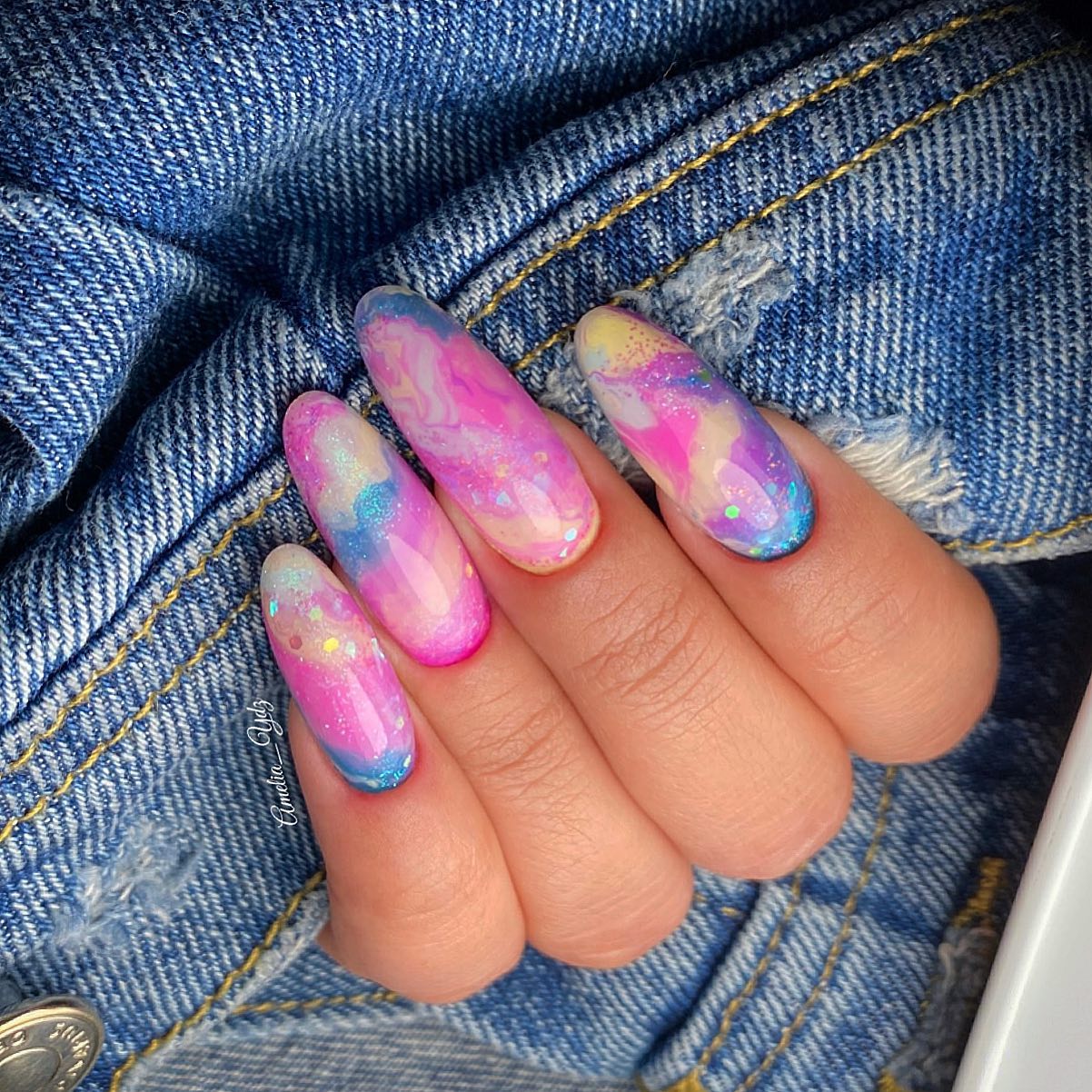 via @amelia_ydz
Pearl white opal nails are considered classic. You can also add orange, pink, and red to make a perfect combination. This design looks amazing on short and long nails, so basically, every lady can do it. If you want to increase the length of your nails instantly, ask your nail technician if they can do an extension procedure. Opal acrylic nails will delight your eyes for a long time and attract the attention of others!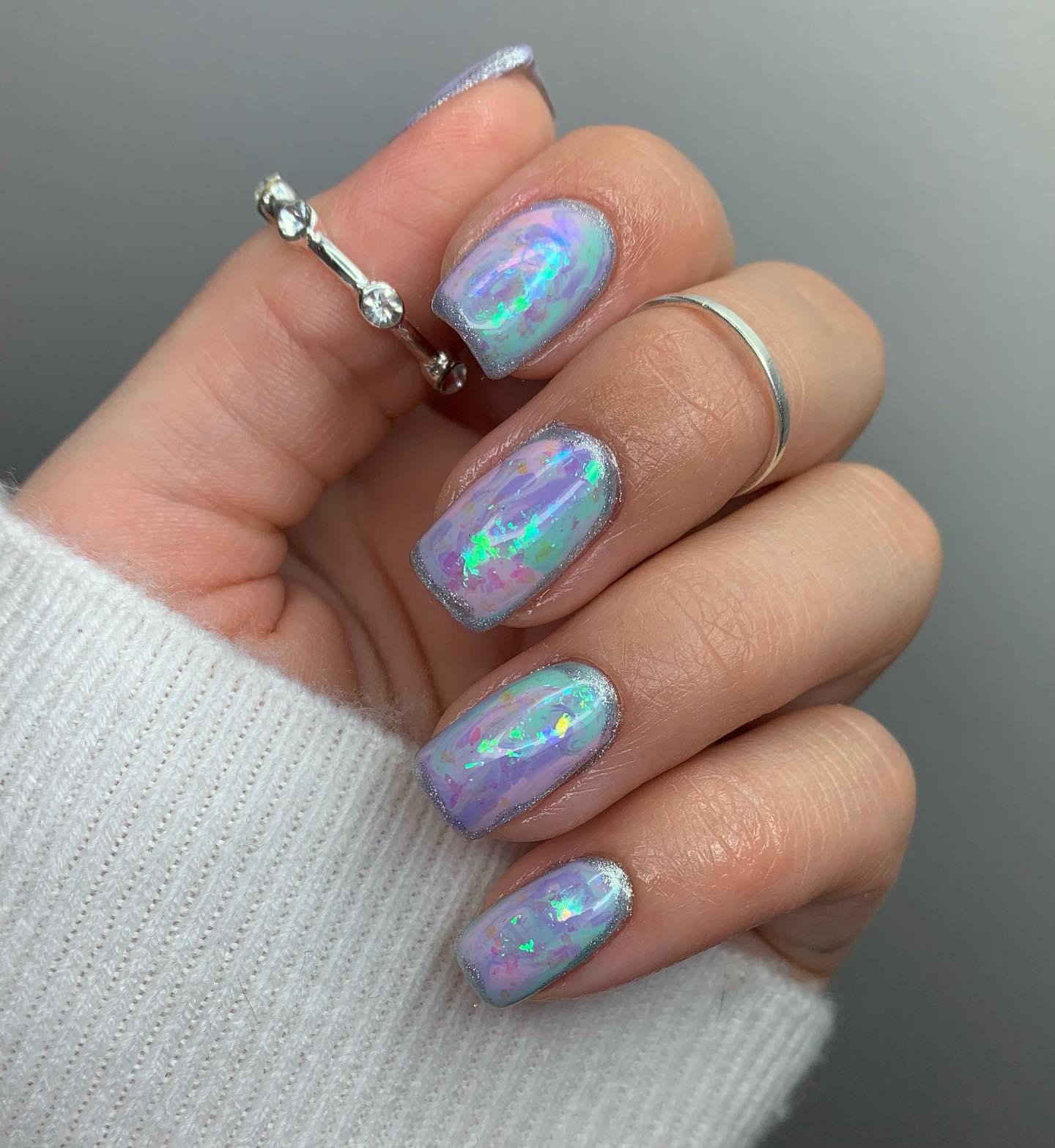 via @gelbyjay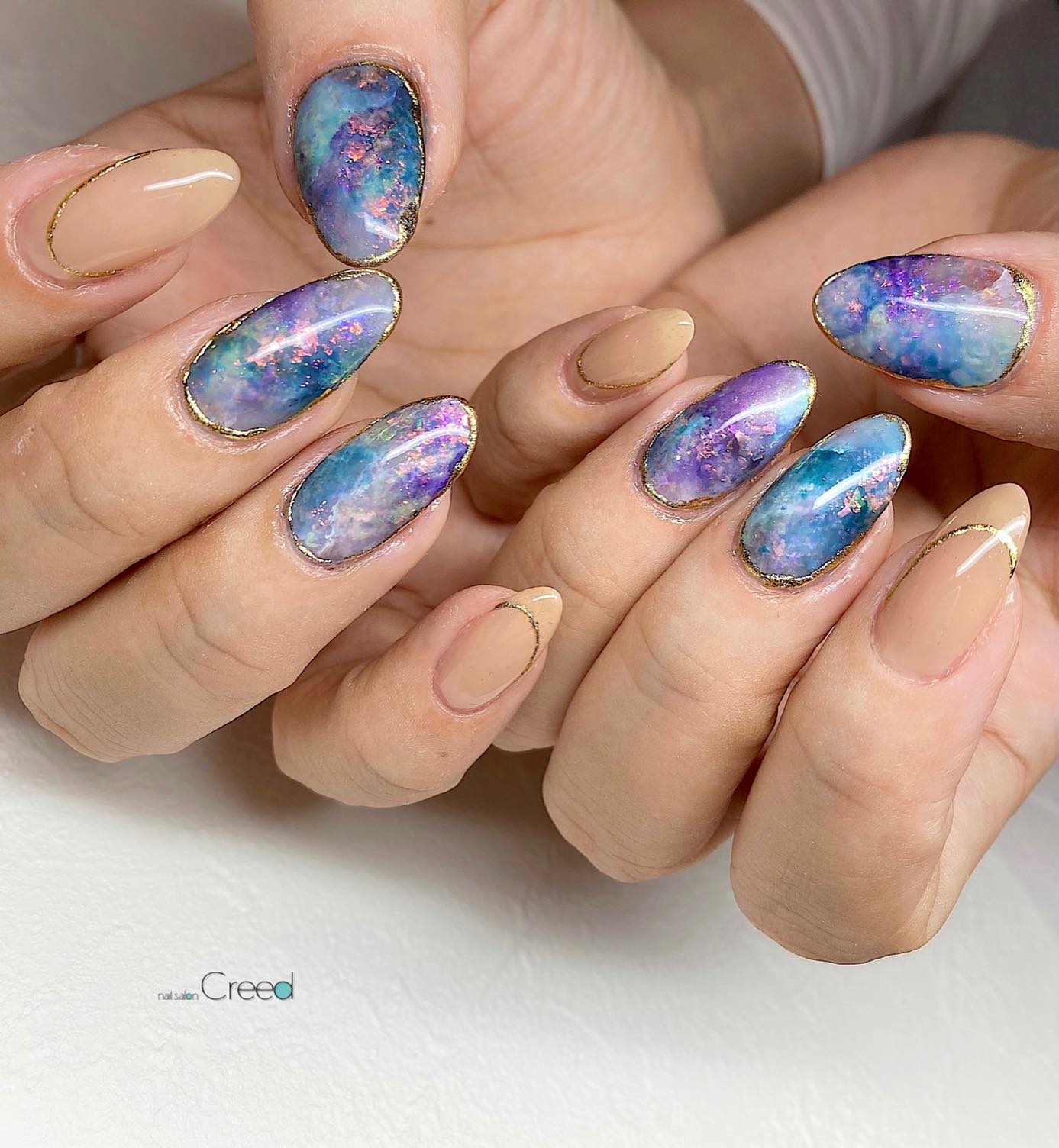 via @ayako__626
How To Remove Gel Nail Polish?
Of course, making a new manicure is a pleasant process adored by all ladies worldwide. This procedure is relaxing and uplifting, bringing joy even to the most boring or bad day. Only a woman can understand these indescribable sensations from a beautiful new nail design.
However, despite a color selection and thinking over a design, you should also consider the procedure of removing gel polish from your nails. Remember that it should be done properly according to the instructions. Otherwise, your nail plate may be damaged. The most common process of removing magnetic nail polish is the following:
Soak cotton pads in a liquid that includes acetone.

Put wet pads on your nails and press with foil.

Wait until the liquid penetrates all layers of nail polish.

Remove the foil from your fingers.

Push the remaining polish with an orange stick.
The procedure doesn't take more than 15-20 minutes, and professional technicians will cope with this even faster. You can also do it yourself, which is an undeniable benefit. However, if you prefer hardware manicures, nail polish can be removed with a special instrument, which is quicker than using the described method. It is essential to check whether a technician does it correctly or not too quickly, as the machine may overheat.