Are you looking for some stunning fall nails to try out this season!  If so, you've come to the right post!  
I love getting a fun mani for the fall season.  With all of the colors changing and the cooler weather, I like more moody nail art.
Whether I'm going to a salon or doing them myself, it's so fun to get inspiration!  I wanted to put together a collection of my favourite designs, so you can figure out what style you want to try!  
I tried to include a wide range of styles from fall swirls to French tips. 
A lot of these looks can easily be recreated at home!  If you're wanting to try out a matte look, I recommend getting this matte nail polish:
Matte About You Polish
Below, I've rounded up 50+ of my top fall nails.  Remember, feel free to pin any of the images below to recreate all of these designs in the future!
The Fall Nails To Give You Inspiration!
1) Fall French Tip by Nails and Soul 
Image and nail art via @nails_and_soul 
2) Rhinestone Details by Pardon My French Nail Bar
Image and nail art by @pardonmyfrenchnailbar
3) Fall Swirls by Nail Chark 
Image and nail art via @nailchark
4) Fall Neutrals by Makayla Jividen
Image and nail art by @fashionablykay
5) Brown Cow Print via The Hot Blend
Image and nail art via @thehotblend
6) Fall Pinks by Amy Le
Image and nail art via @amyle.nails
7) Fall Leopard by Mejzi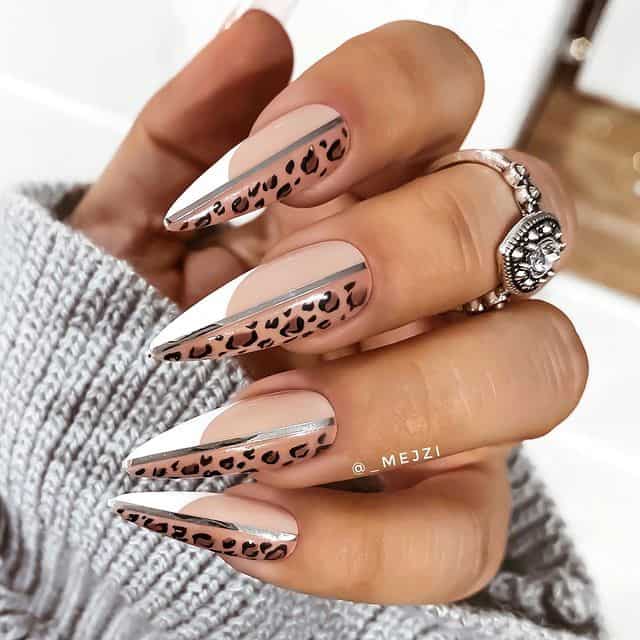 Image and nail art via @_mejzi
8) Fall Sparkle by Ashley
Image and nail art by @dtkaustin
9) Marbled Mattes by The Hot Blend
Image and nail art via @thehotblend 
10) Fall Rainbow by Maja Markowicz
Image and nail art via @majamarkowicz
11) Gradient Nude by Natalie Holt 
Image and nail art via @Natalieholtnailartist
12) Light Autumn by Mejzi
Image and nail art via @_MEJZI