Valentine's Day is important because it celebrates love. But why wouldn't you keep a spirit of it all year round? You could paint your nails in one heart nails design. Sure, the red color is classic, but you do not need to stick to it.
Many colors and styles could fit into this romantic manicure. Some of them are super easy, and you could do them by yourself at home, while other ideas you should take to your favorite nail artist.
Wear your heart on your nails! And make a strong statement that love is the strongest feeling! We collected 50 heart nail ideas that will make you fall in deep with your nails!
Wear Your Heart On Your Nails: 50 Hearts On Nails Art Ideas
#1 Red Nails with Nude Heart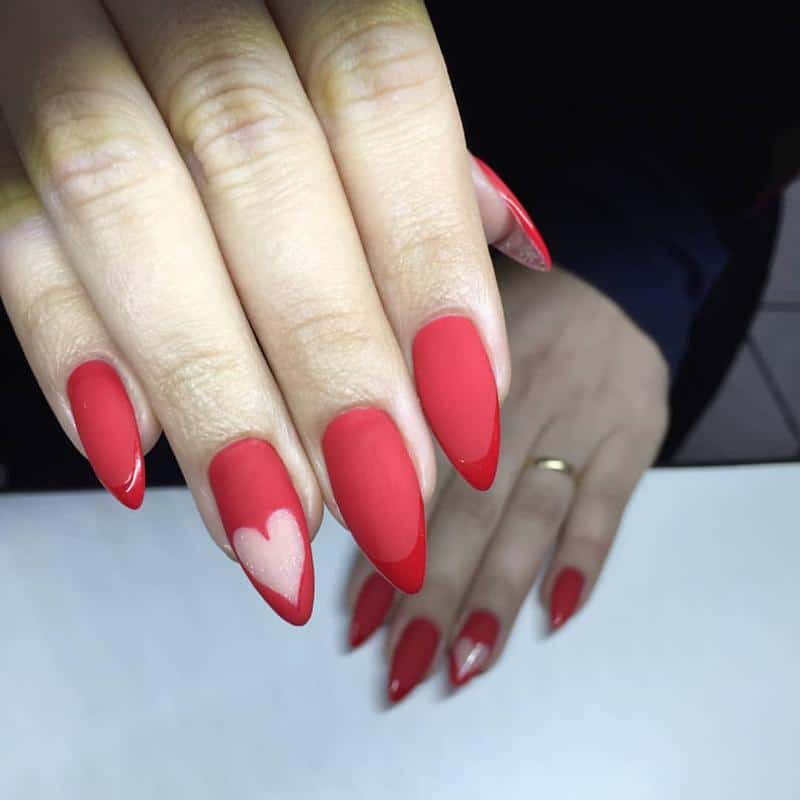 We will start with probably the most romantic design of them all! Paint your nails in red.  And add a nude sparkly heart on one finger of each hand. A tip for doing it is airbrushing the red over a stencil. Remember this design when you are going on a special date night!
#2 Red Heart Nails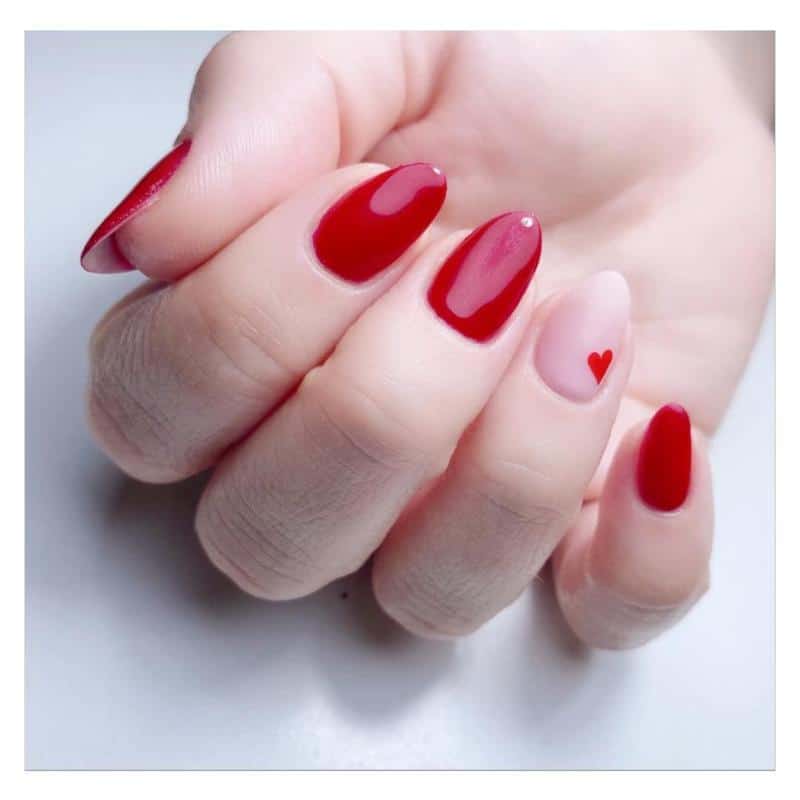 Okay, with this one, you are still painting your nails in red. But you are keeping the heart in the same hue too! Of course, the background for them has to be neutral. Are these the perfect love heart nails? You tell us!
#3 Pastel Hearts – Heart My Nails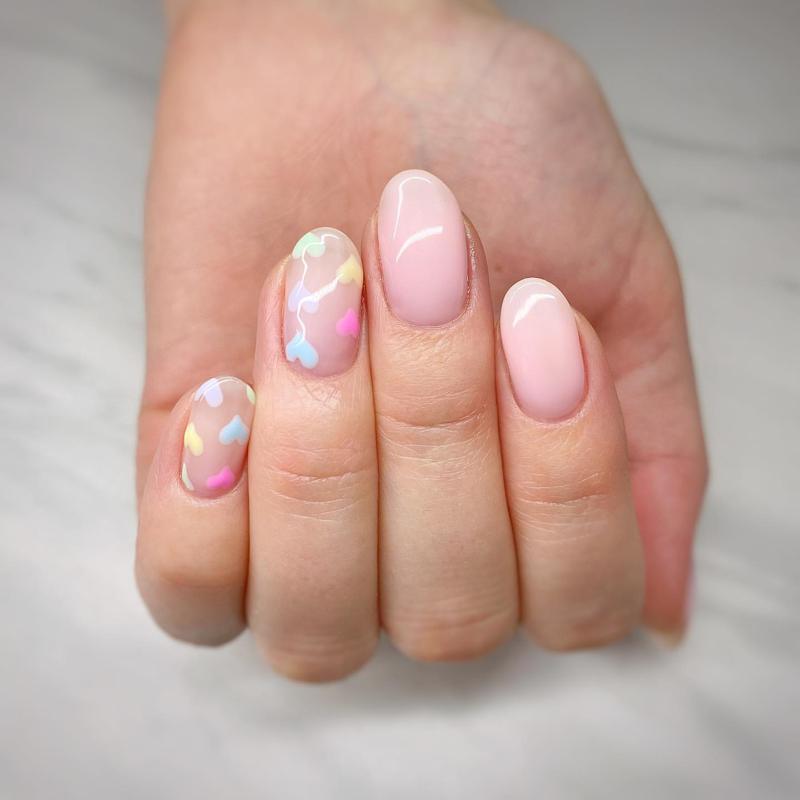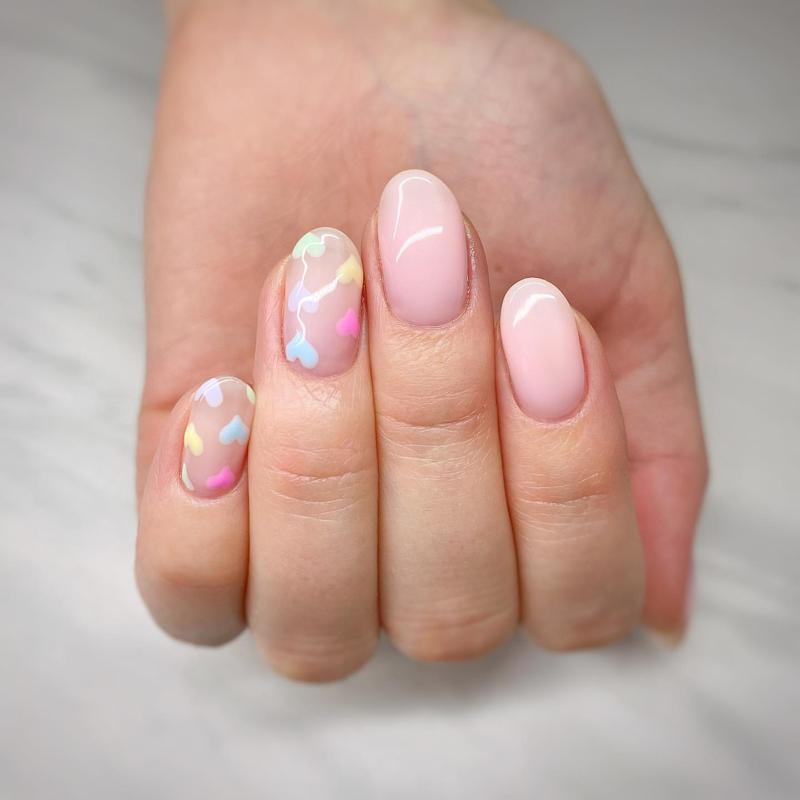 Pastel – the hue loved by all artists. Why? Because it is a deep and rich tone, and it gives a delicious, velvety texture. Now, how to do this design? First, do two side-by-side dots. Then, draw each to a connection spot below. Since it is delicate work, make sure to use a small brush. Also, you want your art to show up. So, leave the natural nail to be your background. Trust us: it is easier than it sounds!
#4 Blue Heart Nails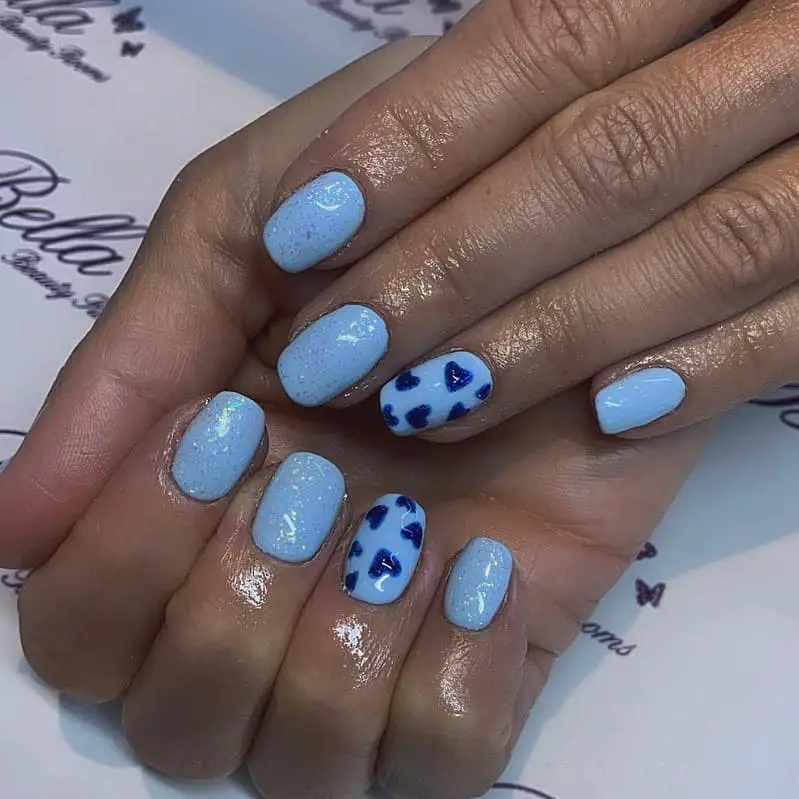 The color blue symbolizes freedom, inspiration, sensitivity, loyalty, sincerity, and stability. So it is no wonder that no one person dislikes it! There is something so calming about it. Further, it will go great with heart. Combinations are endless!
Also Read: Top 25 Best Navy Blue Nail Design Ideas (2022 Updated)
#5 Neon Pink and Hand-Drawn Hearts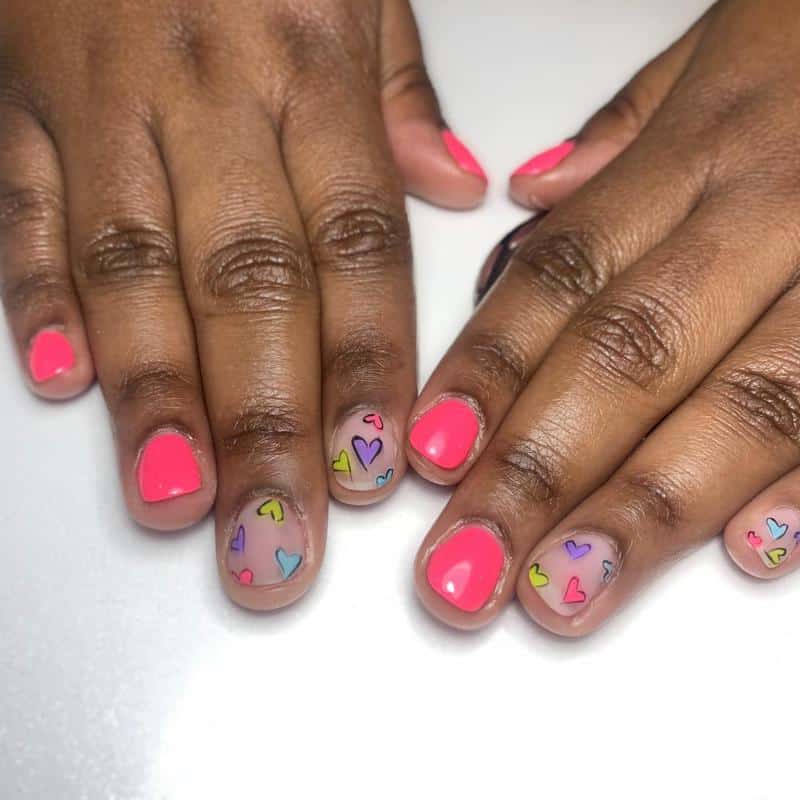 Do not really feel comfortable spending money at a beauty salon at this time? No worries: you can DIY recreate this look as many times as you want! Grab a neon pink polish and several other colorful ones, and start making your own magic! We suggest the use of the dotting tool. And keeping wet cotton next to you – you do not want to mess up the edges.
#6 Pink and A Hint of Blue With Red Hearts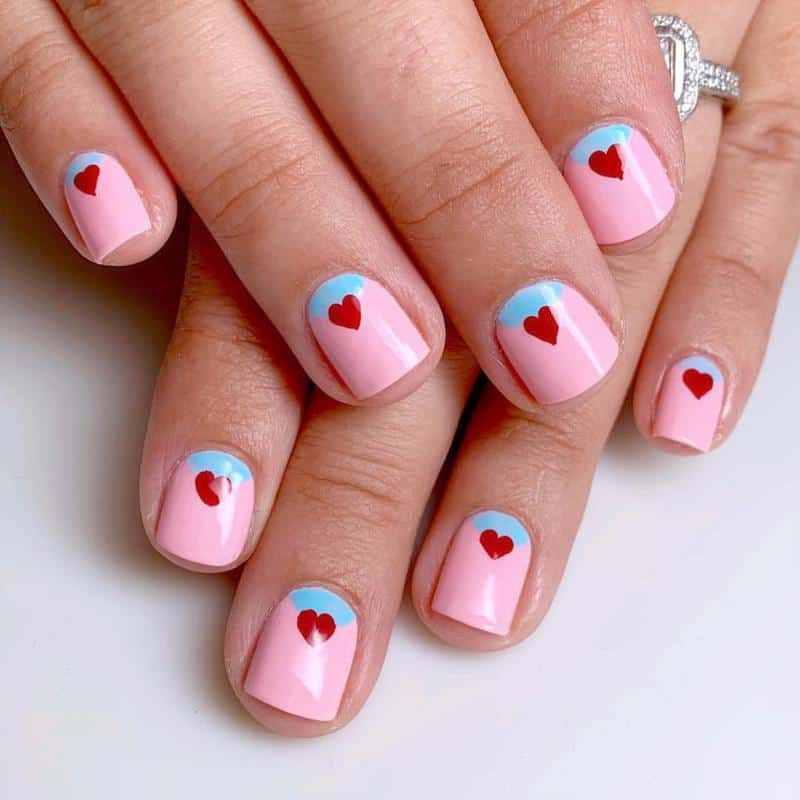 As you already know, red and pink are traditional love colors. Thus they are connected with hearts. But why wouldn't you add one more shade? For example, fit in a bit of light blue. We love how good it looks with both long and short nails!
#7 Dark Red And Black Heart Nails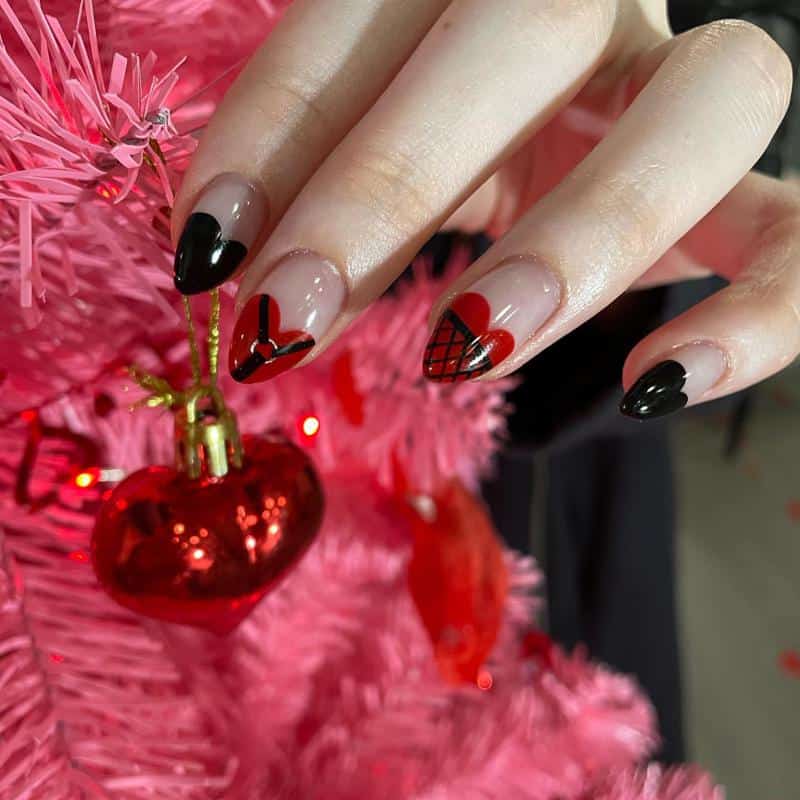 Dark red and black colors are like a married couple that everyone knew would end up together. It is a perfect combo that would go amazing with a fancy dress. Although it has hearts, you are still not risking it will look too sweet.
#8 Black Heart Nails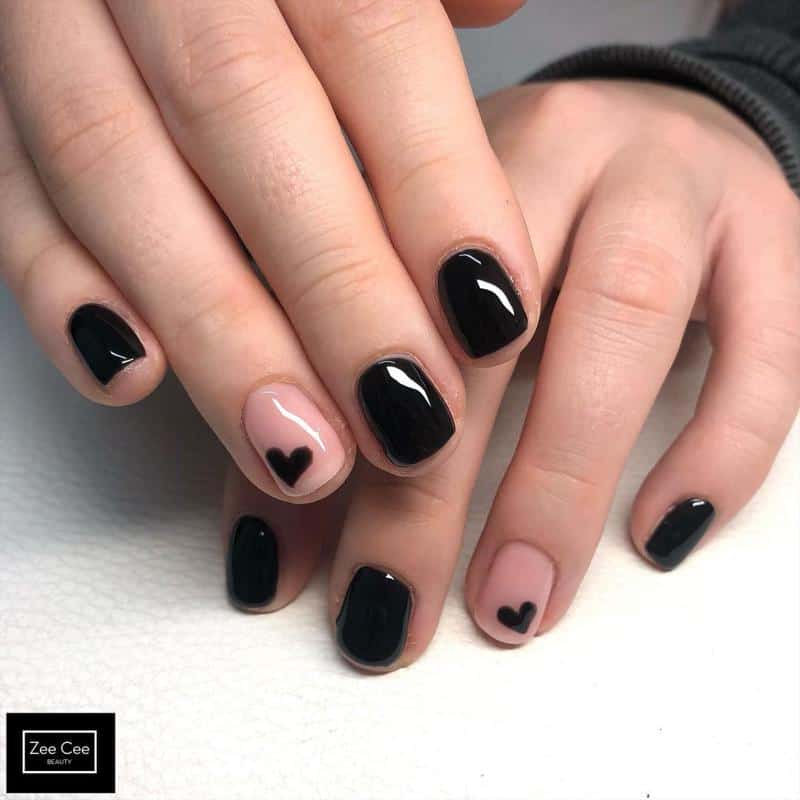 Having black nail polish is sexy. You can wear it on any occasion – it will only benefit your chic and fashionable look. But having all your nails colored in the same color is overused. Thus, keep one nail natural, or add a neutral nude hue. And then pain tiny black heart on it. Let people wonder if it matches your soul!
#9 Coffee Hues With Hearts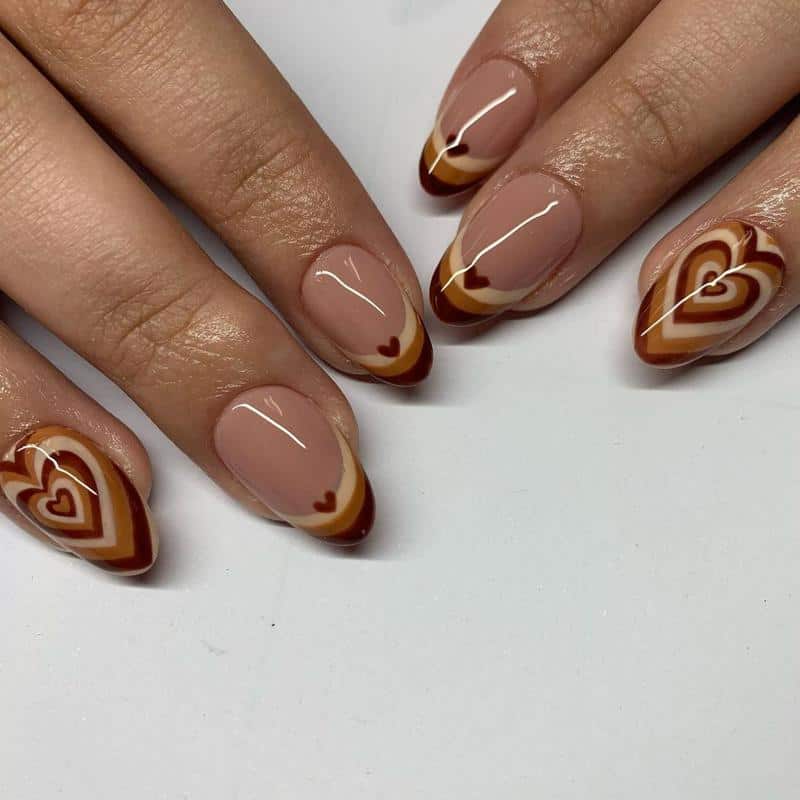 Do you prefer not to speak with people until you have your first coffee? Are you that much obsessed with this drink? If yes, you will be obsessed with these iced lattes too!
#10 Pink Ombré Hearts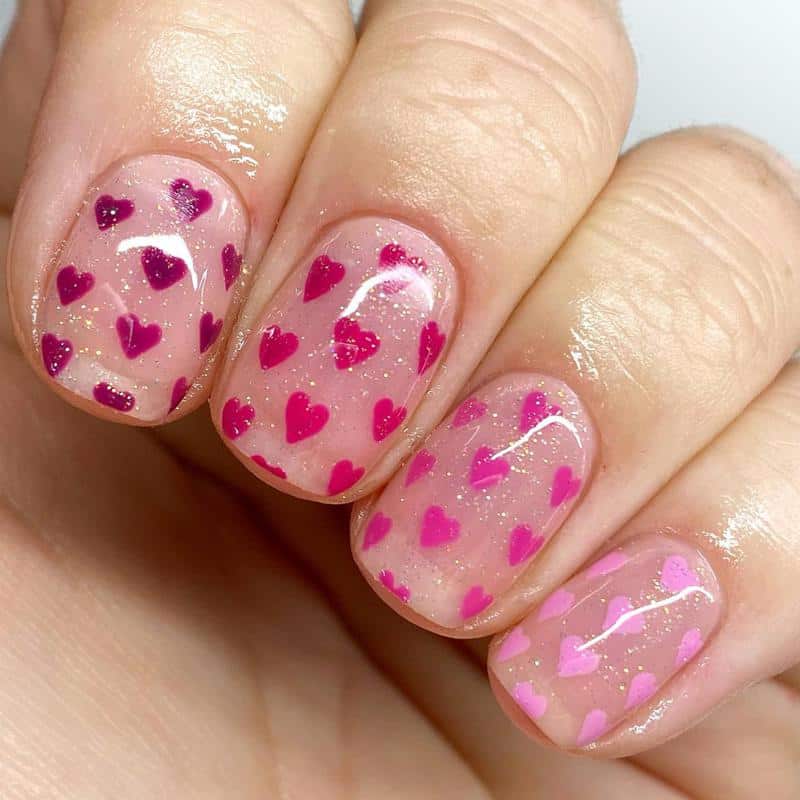 Ombre is wildly popular – and that is with reason! Now, if you are unsure how to do this design, let us give you a few tips! First, you must pick hues that are very pigmented. Start with two dots, then with a nail brush, pull the base of the dots into a triangle pattern.
Also Read: Top 30 Beautiful Ombre Nail Design Ideas For 2022
#11 A Groovy Color Palette Heart Nails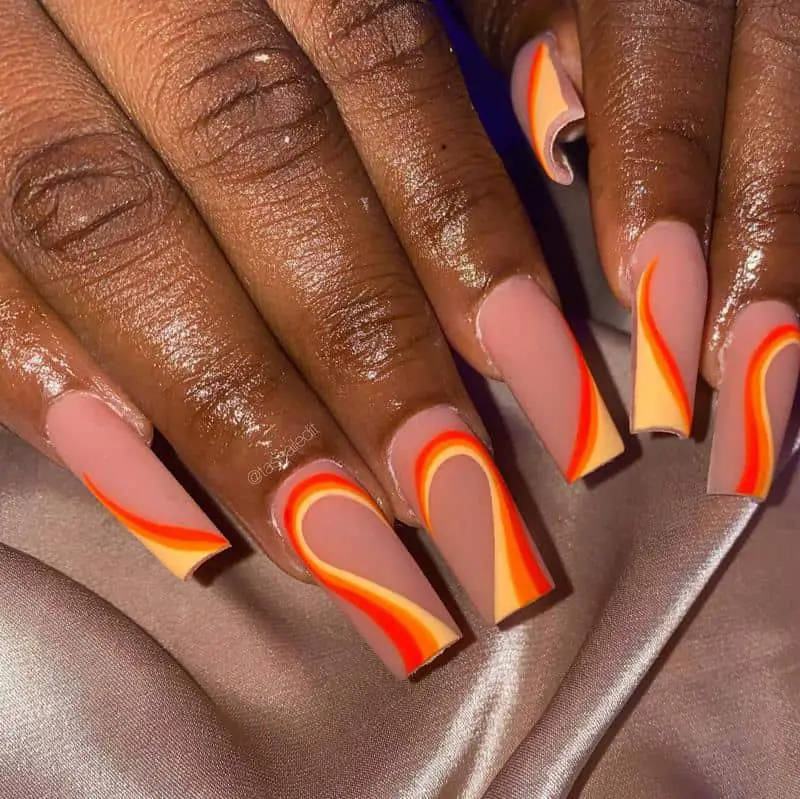 Going for a groovy color palette will change the vibe entirely! You will look rather tough than romantic! Something like an electric soul!