The excitement around the holidays is in full swing. It's time to get your hands festive-ready with some gorgeous Christmas nails! Whether you're having them done by a pro or doing it yourself, these designs will brighten any mood and give that special touch we all need during this season.
We've gathered some of the prettiest nails to try out this year, so read on for your dose of inspiration!
1. Christmas Ready Acrylic Nails
Get into the spirit of Christmas with these red and white nail arts! This multi-color with our favorite candy cane pattern design has all of your holiday elements in one cute little package! You can choose from a variety of patterns including stripes, snowflakes, or even Santa Claus face. The right length of nails will help you get in the Christmas mood as well.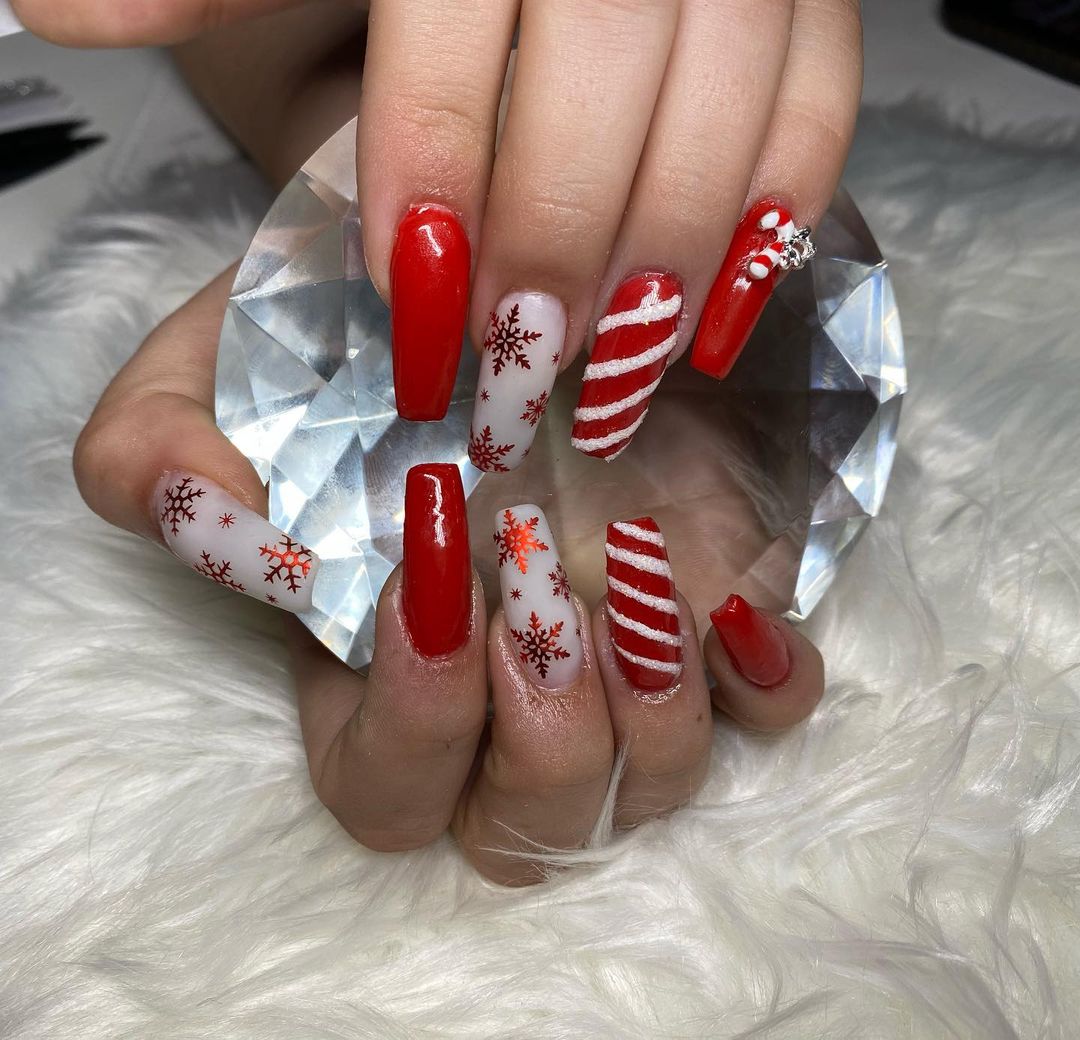 via @nailsbyadrianna_
2. Simple but Gorgeous Christmas Nails
The red nail art is such a simple yet attractive style. It's actually more complex than it looks thanks to the glossy finish of this beautiful polish! Just put on the neutral base, then add one layer of red on the tips (French style) and apply a top coat on for extra durability. You may want to paint a little present on your accent nail but it's up for consideration.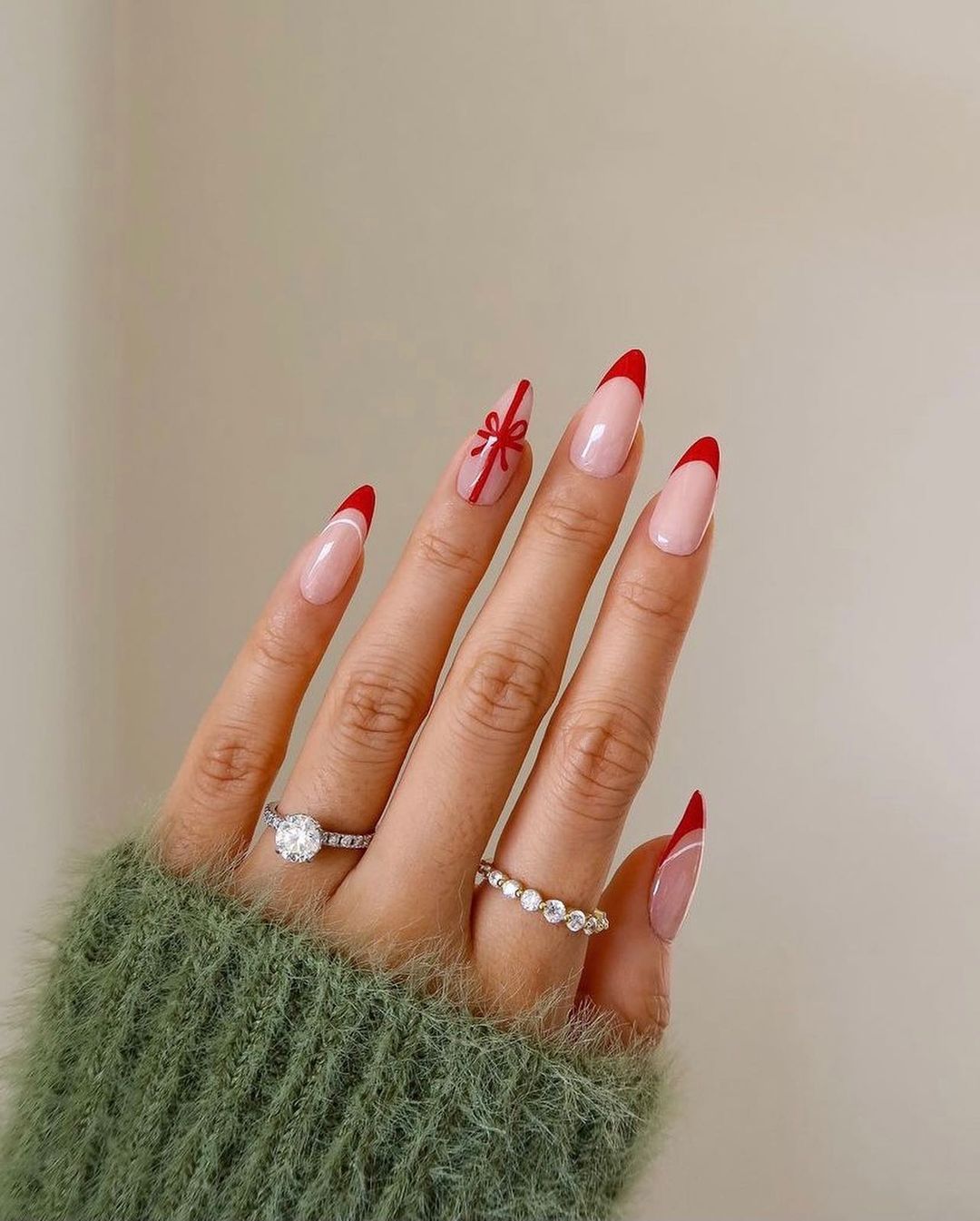 via @__nailhub
3. Cute and Short Christmas Nails
We all know that the usual Christmas nail colors can be a bit boring, so maybe you want to try something different this year? These new designs will make you feel trendy. The best part is they don't require any extra effort and will last longer than usual. You just skip the extensions and paint on your nails.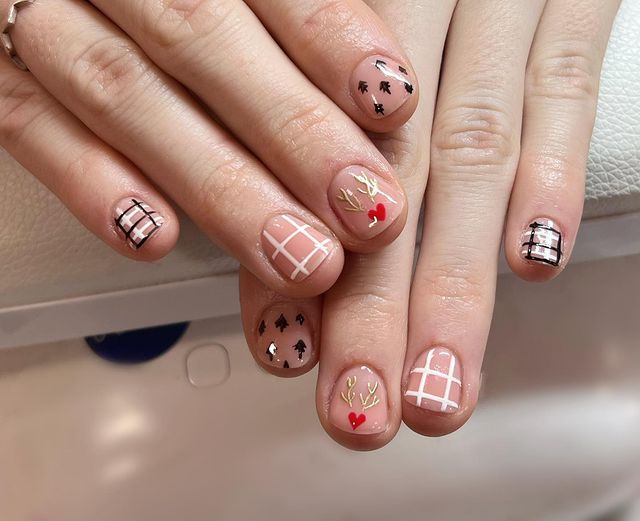 via @lavendergracenails
4. Red Square-shaped Christmas Nails
This design is so pretty with its bold colors, and it incorporates all of those beautiful holiday decorations. The square shape combined with French tips and full-on glittery nails makes for an amazing-looking manicure that will look good no matter what dress you are wearing! And we're pretty sure it will look awesome on any nail shape.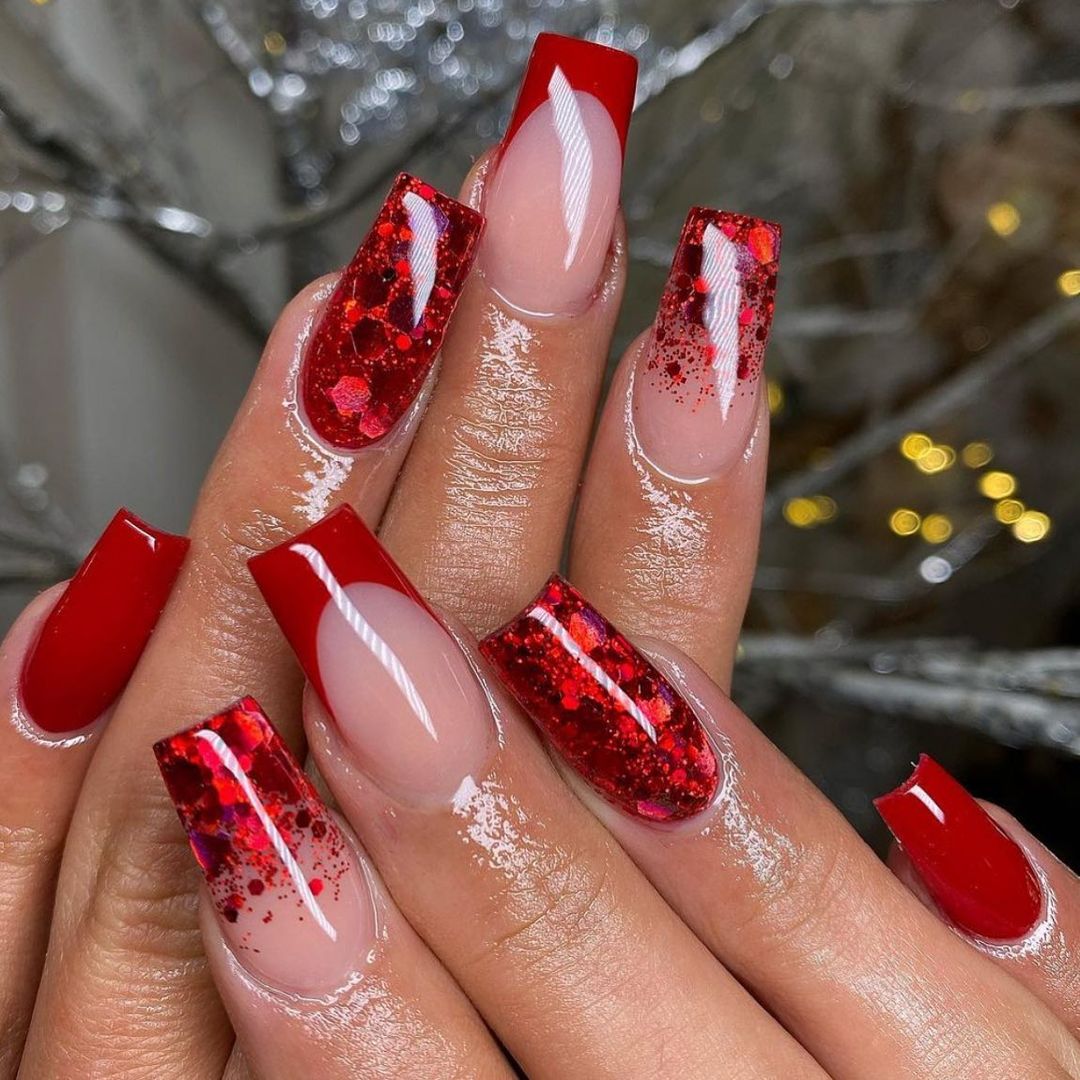 via @sculpt.cosmetics
5. Mountain Peak Christmas Nails with White Tips
The perfect white nail polish for the winter season, these designs are all about pristine snow and icicles. They make your hands look so clean and pure! The best part is they'll go with any outfit you have. From elegant dresses to trendy jeans; there's no wrong way when it comes down to your personal style choice this time around.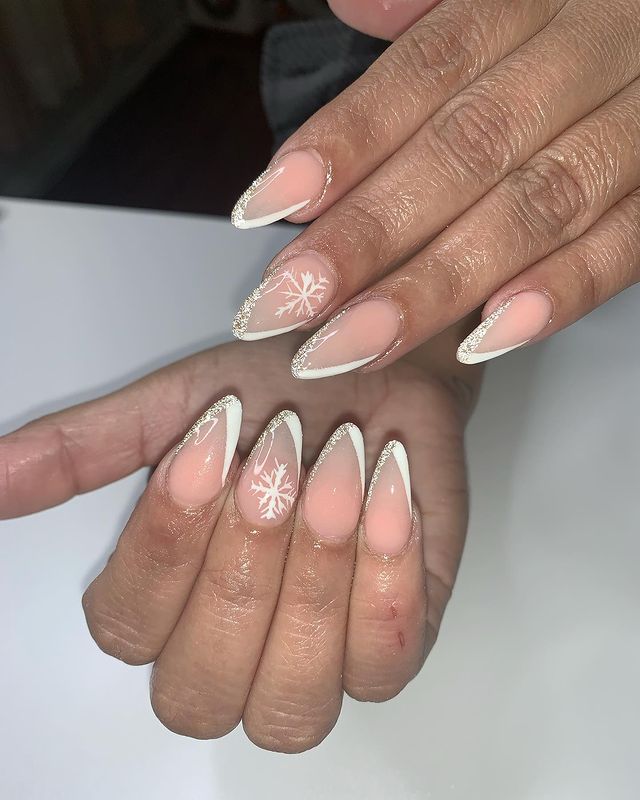 via @vq.nails
6. Coffin Shape for Christmas Nails
The coffin shape of nails has been a trend for years now, but it's still well-loved. Nail artists can create beautiful designs with different colors to make your fingers look hot and happening since there's literally a lot of space for creativity. This particular design is inspired by candy canes. Looks good!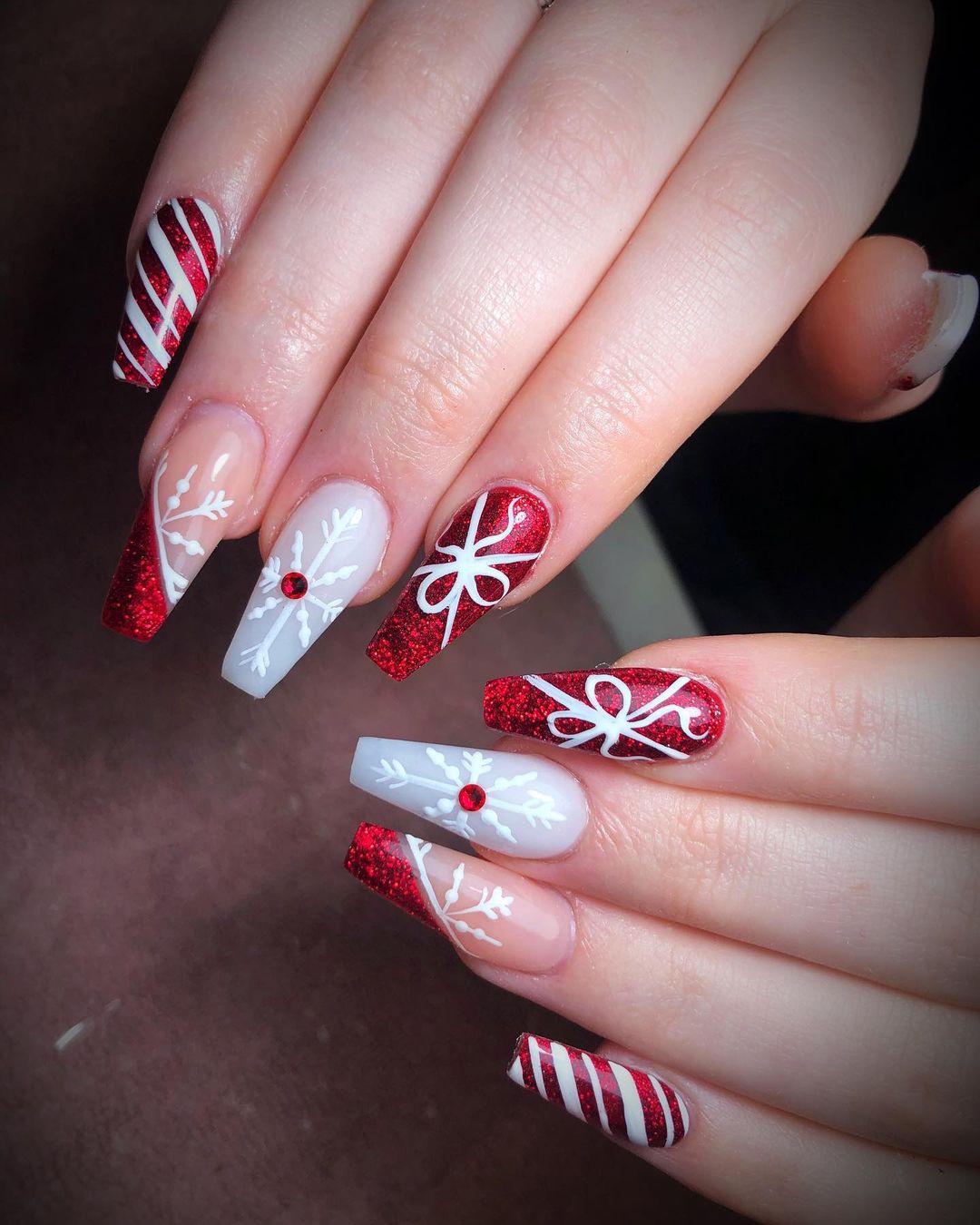 via @the_nail_duo
7. Green Almond-shaped Christmas Nails
If you're feeling like the ultimate Christmas expert and can tell a balsam fir from Fraser fir by just looking at one branch, then it's time for your manicure to reflect that. Match your sleek look to an elegant green nail design with some gold accents. Get creative by adding decorations on those accent fingers too!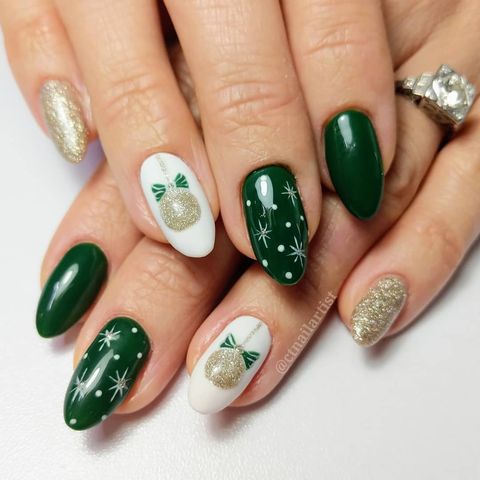 via @ctnailartist
8. Sweet Pink Christmas Nails
This design is so cozy and perfect for those cold days! To copy this sweet nail look you'll need a light pink base coat with white powder-like layers of decorations on top to get that fluffy effect. The little snowflakes add just enough uniqueness and holiday spirit, but you can definitely try something different by experimenting with patterns instead.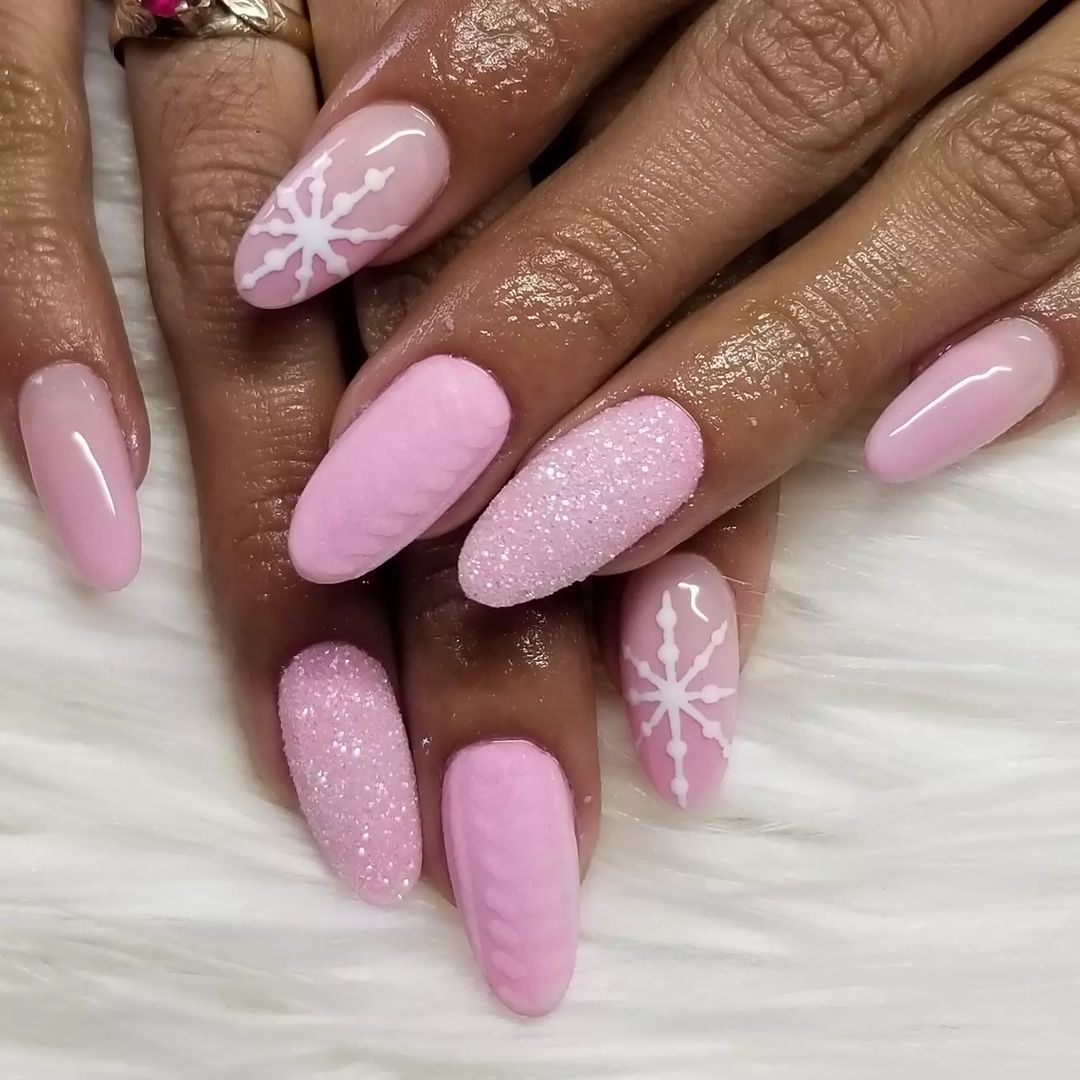 via @dreaaa.nails
9. Christmas Nails with Glitter and Gradient
What's better than one glamorous polish? Two polishes, or even three with some festive glitter on top. Nothing screams "celebration" louder than this manicure. And by the way, the only Christmas-y detail is that little snowflake on the accent finger. Replace it with hearts and you have your Valentine's nails.
via @nivipoulsen
10. Super Long Black Christmas Nails
These shades are timeless and there's no wrong time or place where either color will look inappropriate. You can wear them anywhere and even during Christmas time, especially with those cute snowflakes on top. As for the shapes – this one right here is a combination of coffin and stiletto. A pretty bold experiment, but you don't need an excuse to show off your love for style.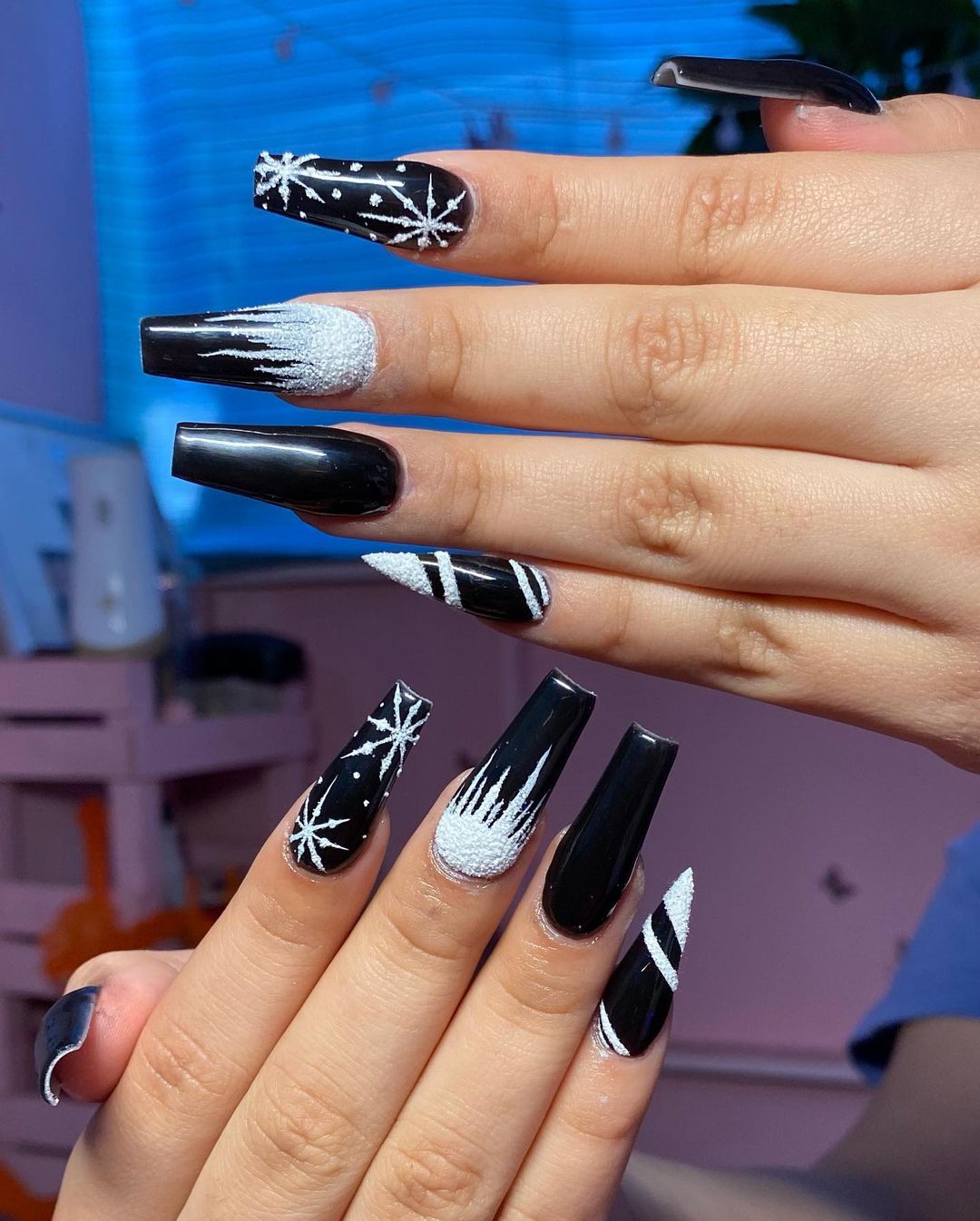 via @nailsbyanya__
11. Red Christmas Nails with a Gold Accent Nail
Ovals are a neutral nail shape that can be decorated for any holiday. This particular design features white snowflakes on a red background with a gold accent nail to bring out more beauty during the season. Such nails would make the perfect accessory this Christmas time without going too overboard or being inappropriate!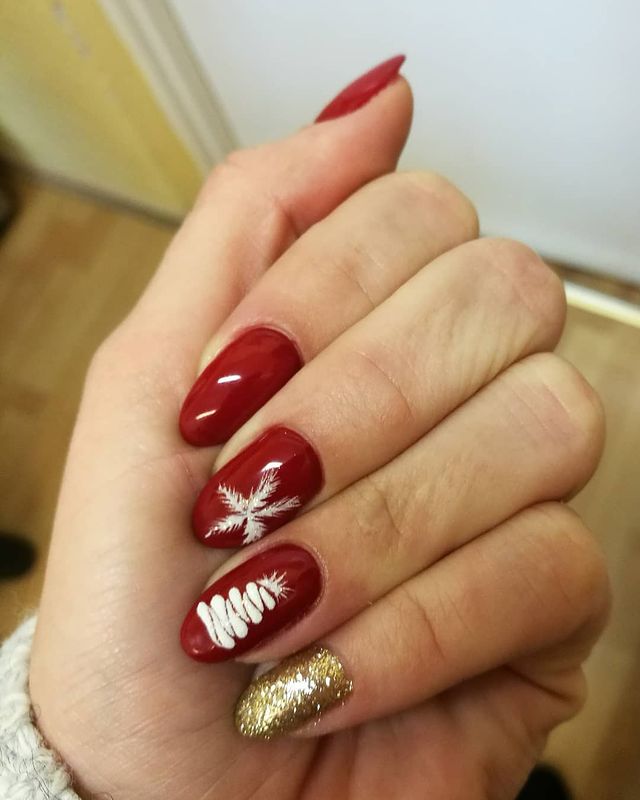 via @magdachmielewska88
12. Red and Green Christmas Nails
We can't believe how many women love this manicure! It will be perfect for the ladies who want a more practical and stylish look. It's so simple and looks great, especially if you want to skip the snowflake pattern. All that is required – green polish for your accent nail plus red color on all others. No special tools are needed at all!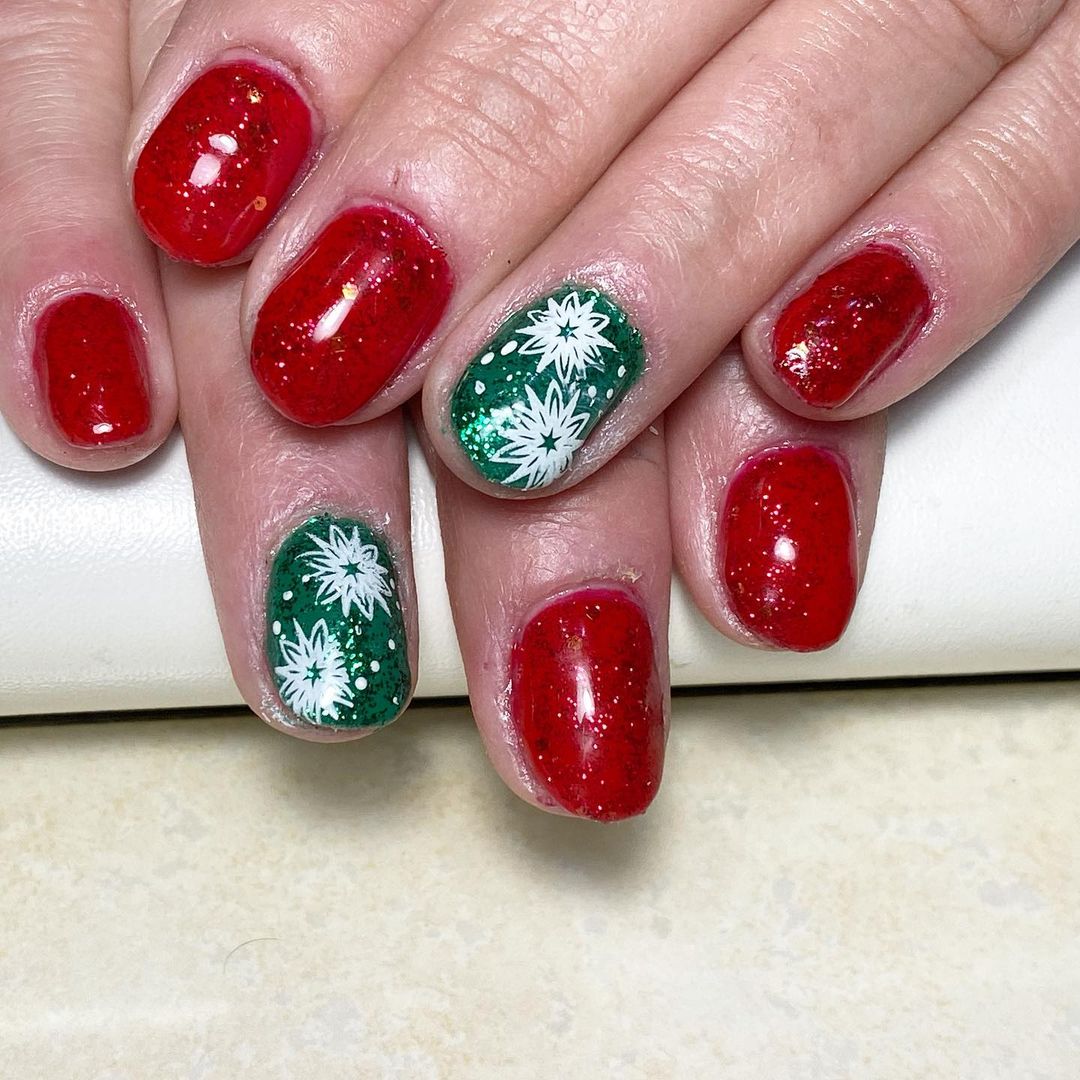 via @radiantgelnails_
13. Christmas-themed Stiletto Nails
If you've always wanted to give your mani a makeover but weren't sure what color or shape would be best, you could try out some new stiletto nails like these! The red and white alternating finishes are great for leveling up an otherwise simple manicure in no time at all, giving your look a sexy vibe. And they kind of remind us of candy cane too, which makes them even more appealing for the holidays.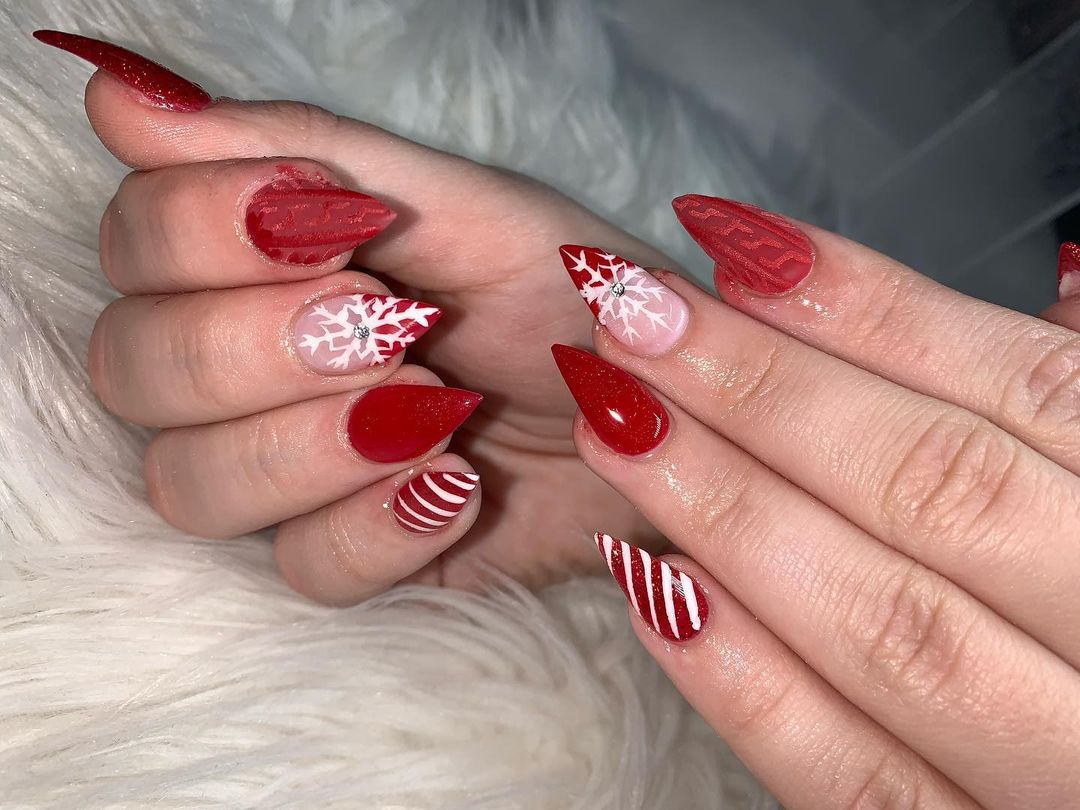 via @_kookienails
14. Gray Ombre Christmas Nails
We're big fans of neutrals in winter. This is the perfect manicure because you can wear it throughout December and January without worrying about getting too heavy or bright! It has some light-gray polish with an ombre design in Christmas snowflakes on top. Are you into the same vibes? Go try it.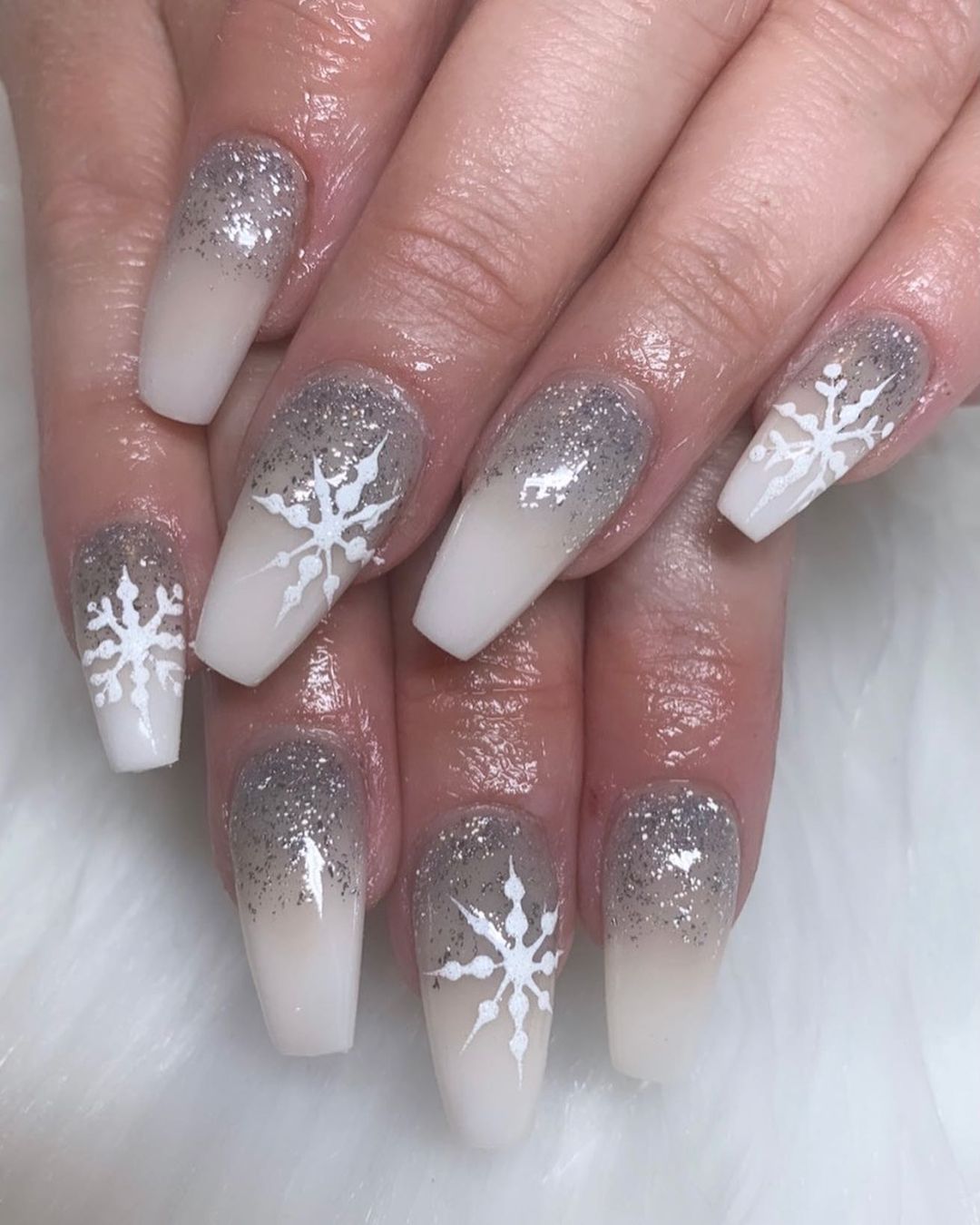 via @_.bollywoodbeauty._
15. Christmas Version of French Nails
It's easy to make your French mani super-luxe! Just add the red tips and gold decorative details on accent nails. This just makes them very holiday-friendly. A great way to spice up any look, especially if you're searching for something more elaborate than just simple polish! Go for this option. It's classy and fun!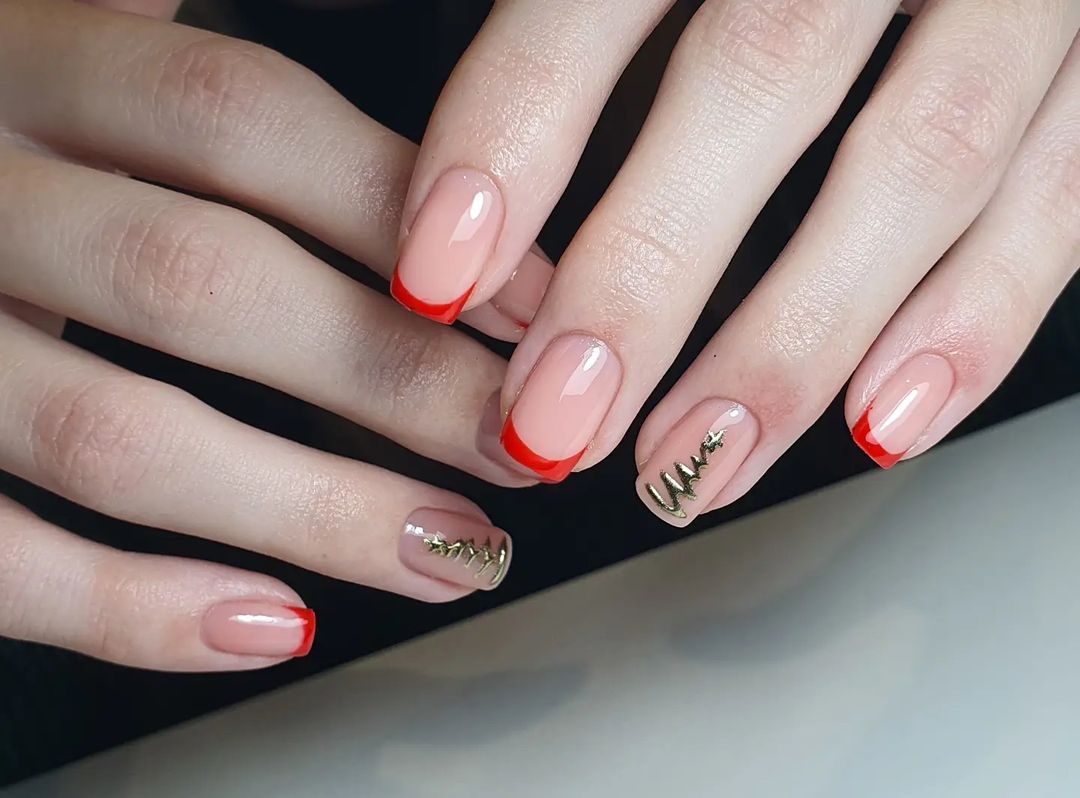 via @nailsbyamyt
16. Red and White Christmas Nails
Whether you're going for a traditional Christmas manicure or something more creative, these squoval nails are perfect. They'll really stand out on your fingers this time of year! For intricate manicures like these, make sure you use a hand cream and cuticle oil to keep everything moisturized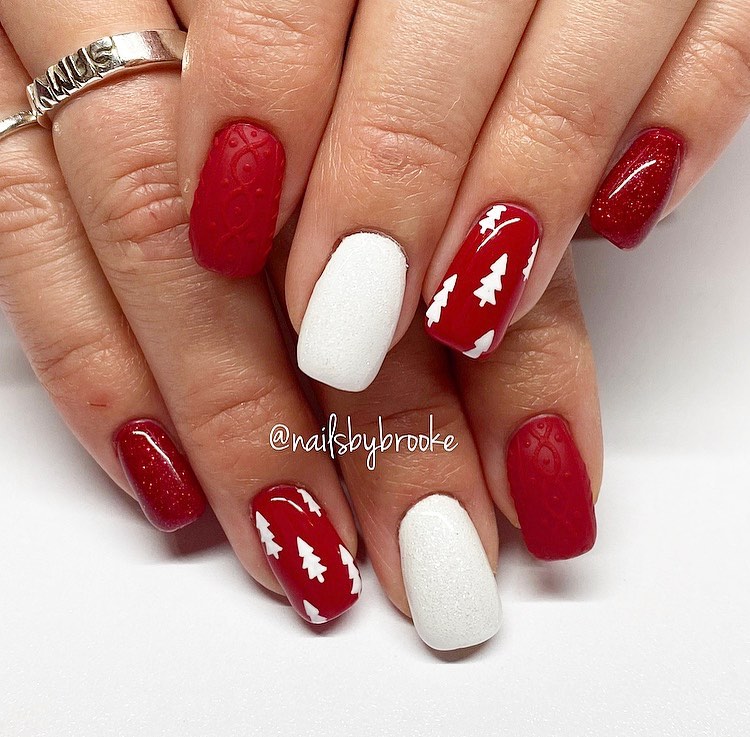 via @nailsbybrooke___
17. Red, White and Gold Christmas Nails
If you are looking for a Christmas nail design that will totally take everyone's breath away, look no further. This stunning red and gold creation is just one of many gorgeous nail designs in this category! Honestly though – can you get enough? Experiment with different combinations to create even more fun designs!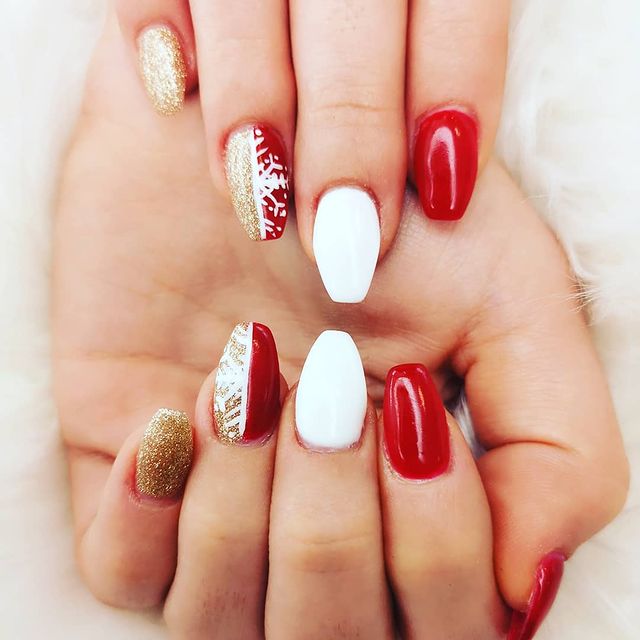 via @marieeve.azur
18. Classy Christmas Nails
Do you know those days when you're just craving some chic and simplicity? Well, this sophisticated red-and-gold manicure might be the answer to your Christmas wish. This elegant design is perfect to wear during the holidays. Apply gold glitter as an accent on one of the fingers, then apply a glossy top coat for that ultra-shiny finish we all love so much in the wintertime.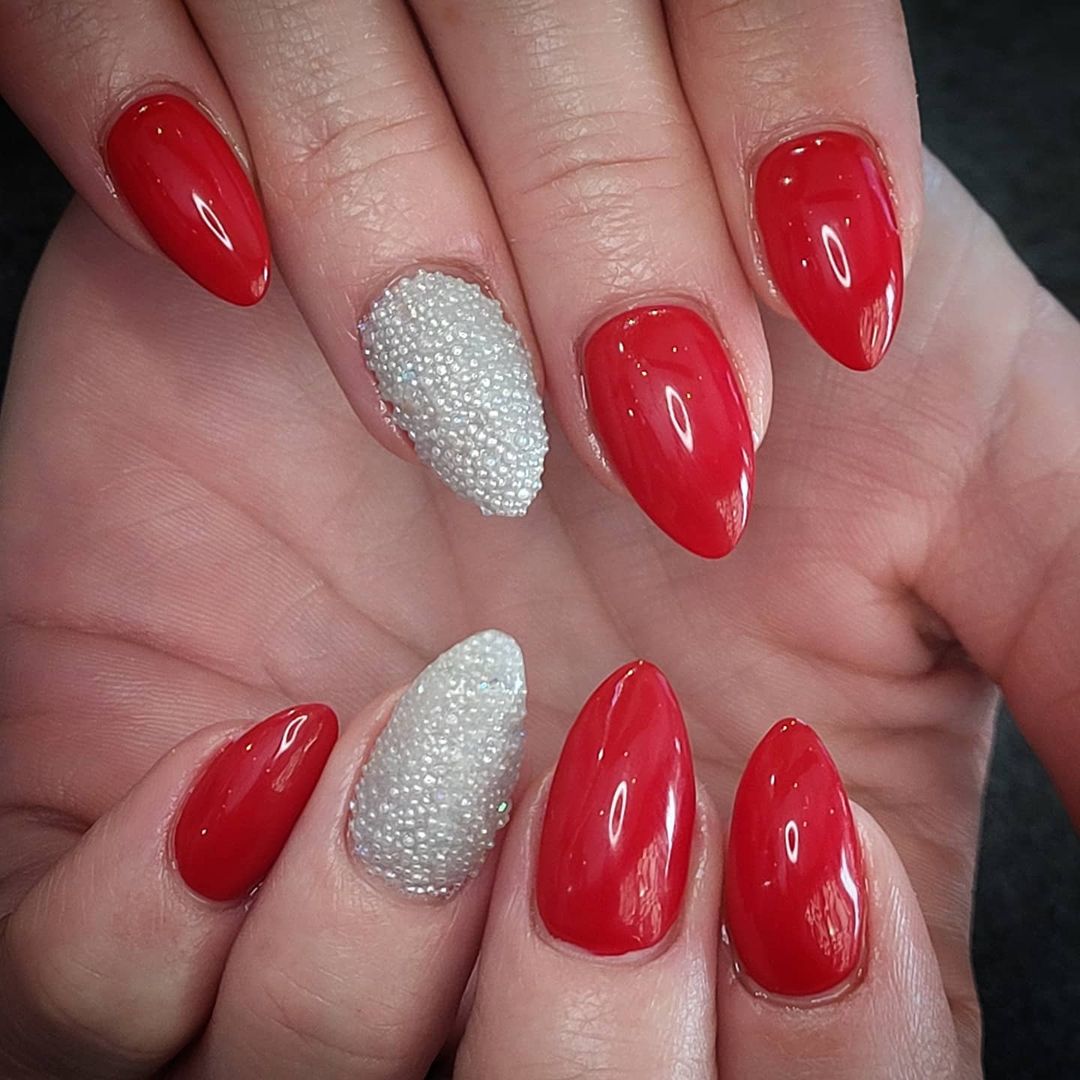 via @danyell.the.nail.witch
19. Christmas Nails with Snowflakes
The intricate designs on this nail art make us want to huddle by the fire with a hot drink until it's time for New Year. If you're up for painting detailed snowflakes (we can see why), go ahead and do what feels right; but if not there are lots of other options like nail stickers that look just as good and won't take too long!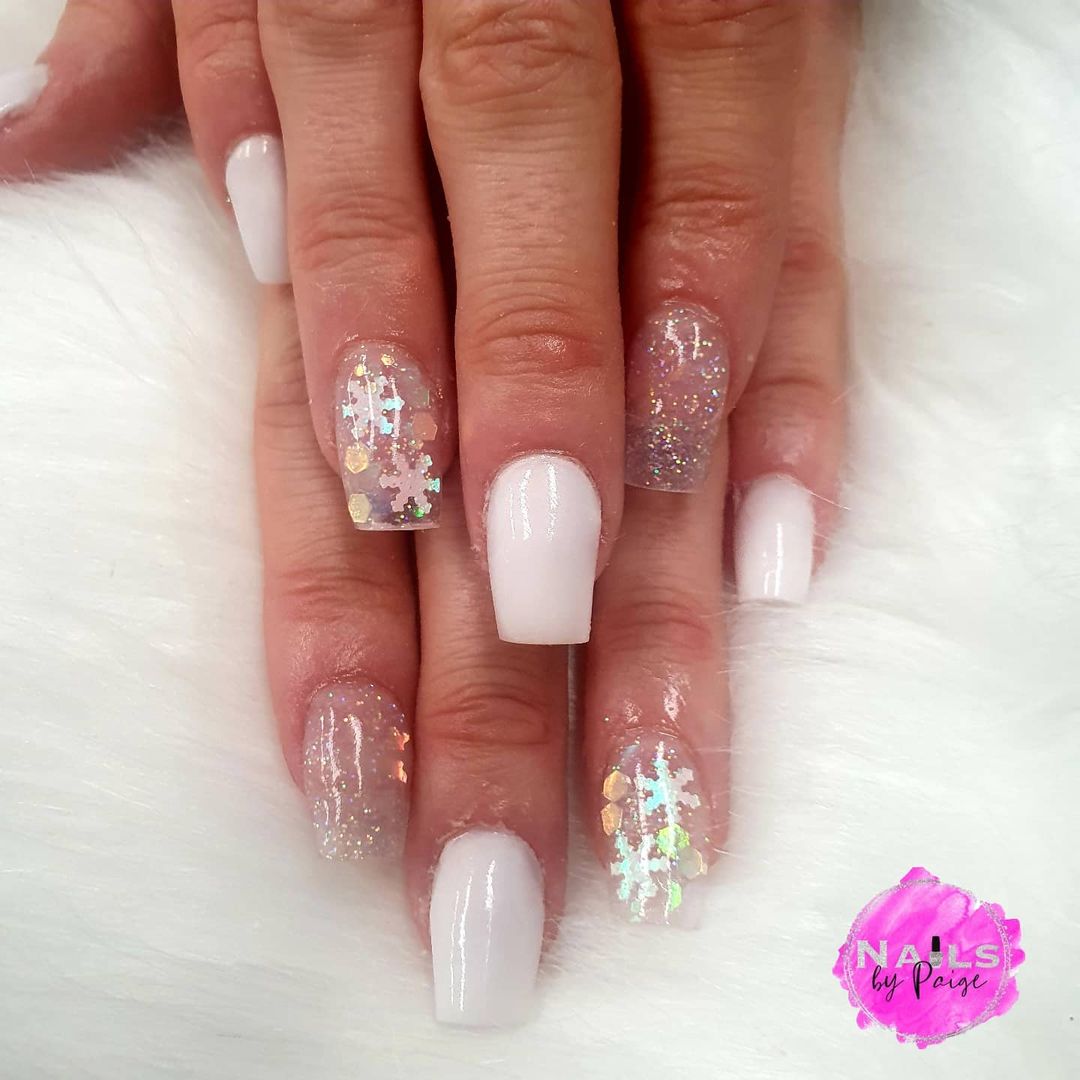 via @nails.bypaigex
20. Simple White Christmas Nails
The use of glitter and sparkles to create such a delicate look on nails is absolutely stunning. It's like they were made for each other; you can't find two better matches than these. Honestly, we never thought white alone could look this good, but with all the glitters and sparkles it gives off an elegant yet subtle appeal that's perfect for a winter holiday season.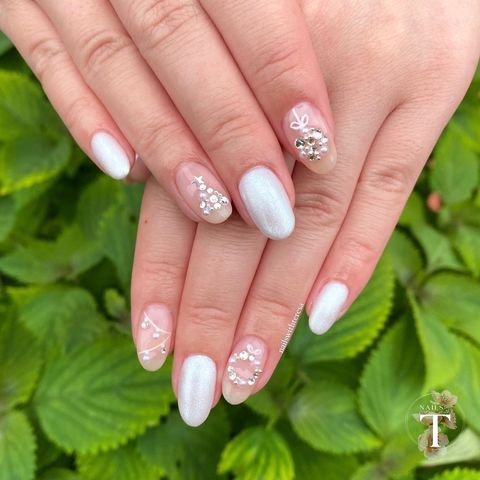 via @nailswithteresa
21. Creative Christmas-themed Nails
If you need a break from the same old Christmas nail design this year, get ready. It's time for some new inspiration with this gorgeous set of holiday nails! This is one look that will be sure to wow your guests and make them ask where you had it done. You might even catch people asking if their own hands could use an upgrade.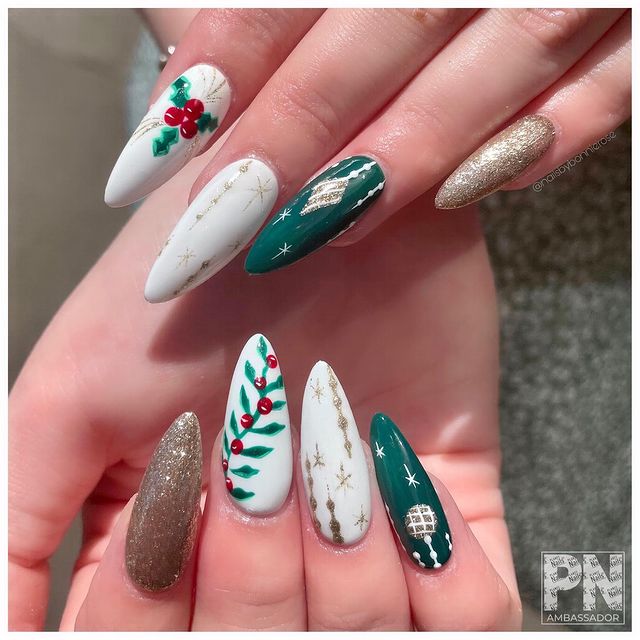 via @nailsbybonnierose
22. Red and Gold Christmas Nails
For a sophisticated Christmas manicure that will be the highlight of your holiday season, go with red and gold nails like these. To recreate this look at home choose deep and lighter shades of red and for both hands and some gold polish for accent nails. Then add in some sparkles to finish off those natural-looking designs!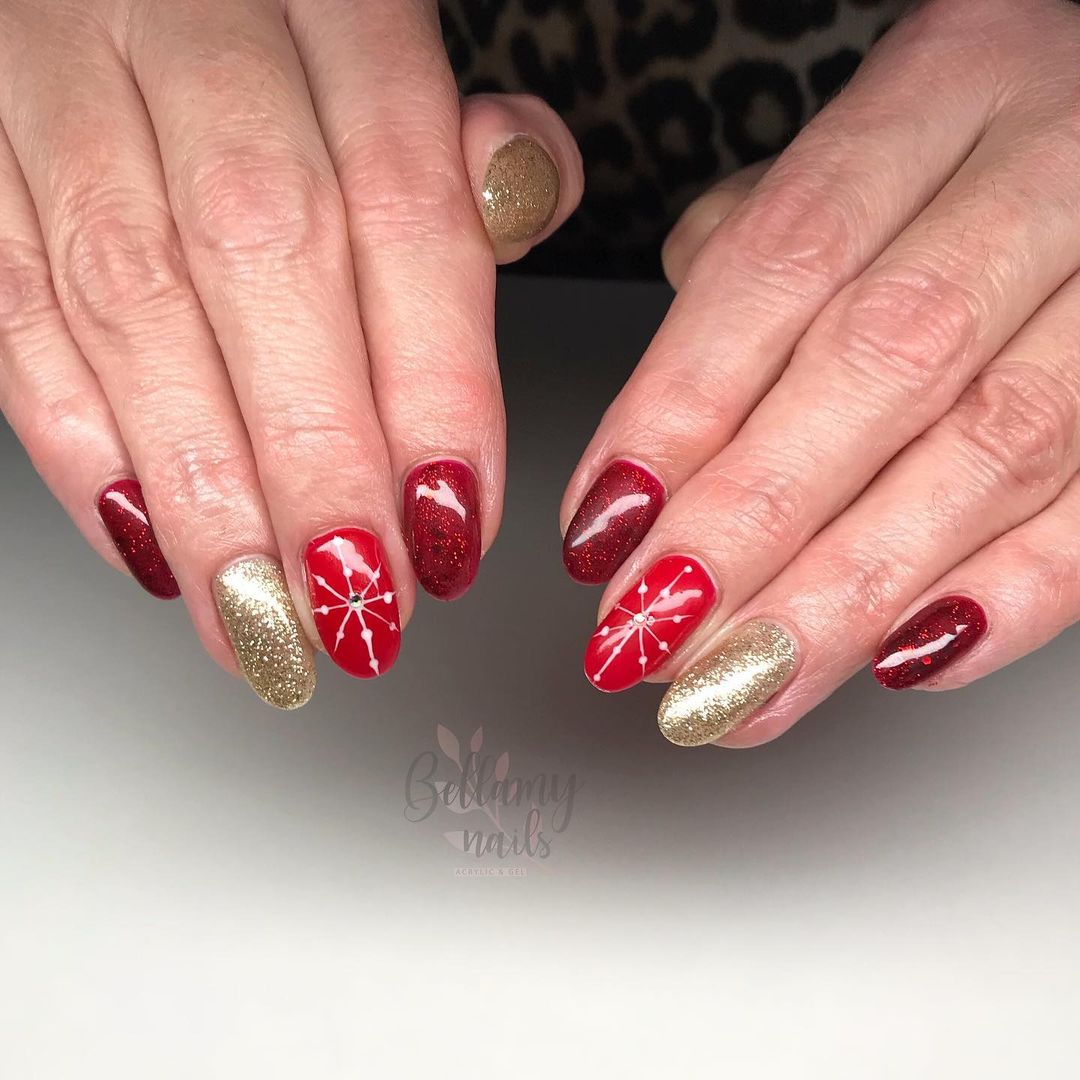 via @bellamysnails
23. Gold and Shiny Christmas Nails
This nail art look does not include the classic Christmas colors but it's still good for a more of a wintery design with some added flair. Golden sparkles and snowflakes are perfect for celebrating, so we recommend using them in your favorite designs! You can paint them or use nail stickers instead. It will look gorgeous anyway.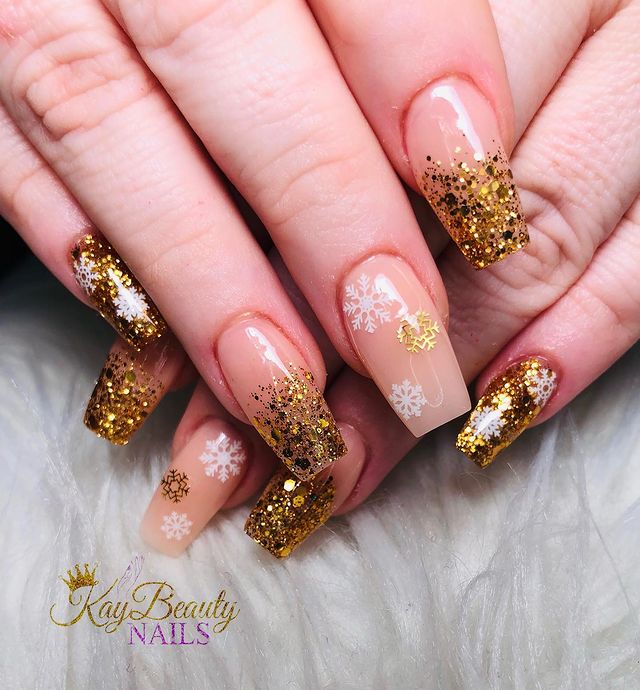 via @kaybeautynails
24. Christmas Sweater Nails
These festive nails are a great way to get into the spirit of Christmas. Paint each nail in different colors and add some glitter for an extra wow factor that will have everyone asking where you got your amazing manicure from. A simple design made glamorous with just two coatings – isn't this better than spending hours trying out new designs or working on complicated patterns?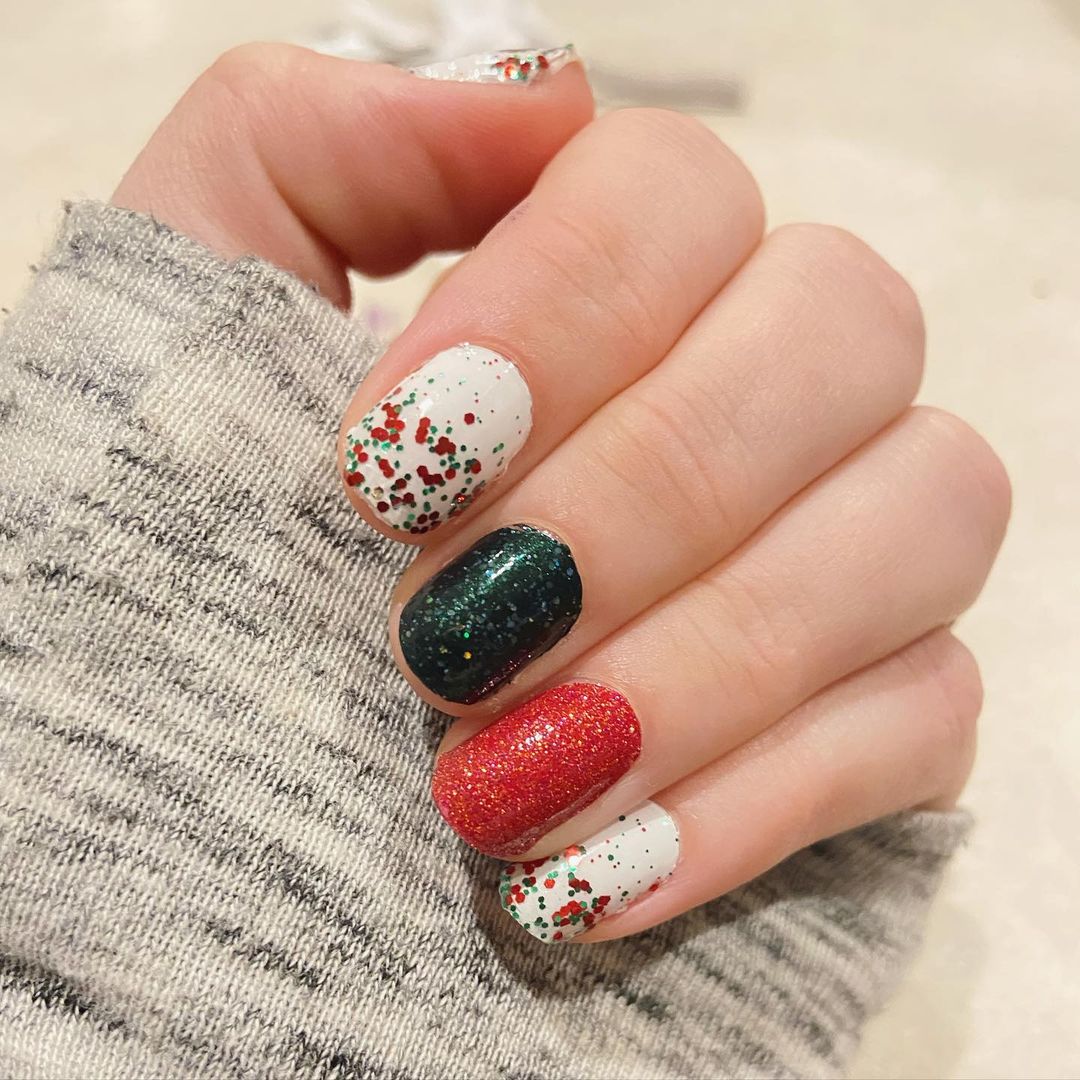 via @emileeannneal
25. Christmas Nails with Grinch
This year, take on the persona of your favorite character from a Christmas movie. You could also use ornaments, tinsel, or snowflakes if you don't have anyone who can paint Grinch on your nails. Anything you could put on your Christmas tree would also make great designs for your mani during the holidays. You can get as creative as you want!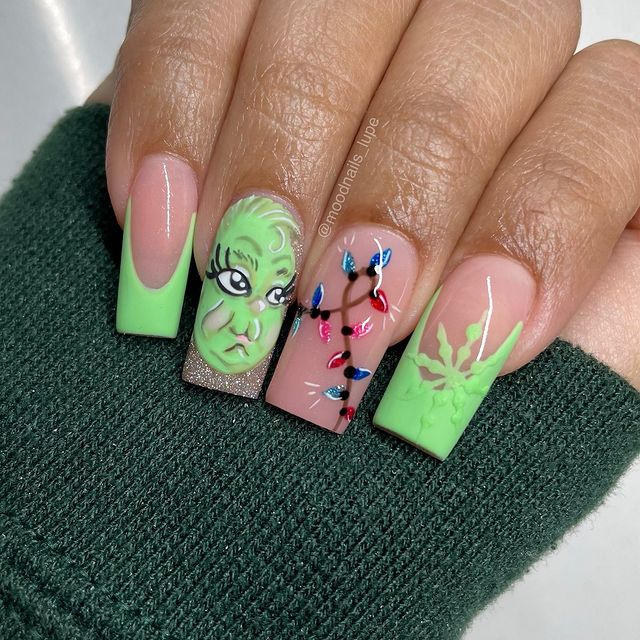 via @moodnails_lupe
26. Ocean Blue Christmas Nails
Trying to keep your holiday spirit up this season? Maybe it's time for an alternative color scheme? While the traditional red and green are still great options at Christmas time, why not try adding some blue with a touch of silver? You could also get creative with an accent color that matches your favorite sweater for those days when it gets too cold outside.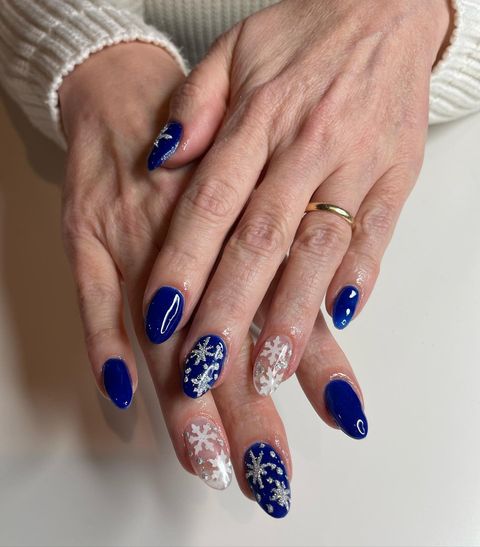 via @nailsbymandyl
27. Stylized Goth Christmas Nails
It's always a pleasure to look at cool nail designs. Gothic nail art is a great way to adapt your personal style. This interesting idea can form some interesting aesthetics and it looks perfect on Christmas too! But whether it's for Christmas or just everyday wear – these nails are perfect!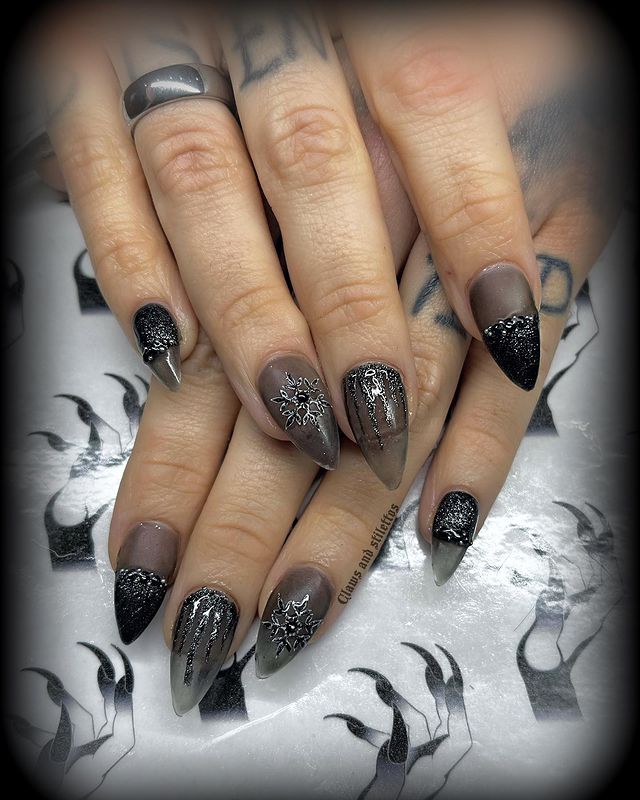 via @claws_and_stilettos
28. Glamorous and Sparkly Christmas Nails
This nail design is absolutely stunning with all the right ingredients! We love everything about it – the shape, the length, the colors! The silver shimmer with deep black will make a great addition to an elegant look for the night out. It also has plenty of glitters, which are glamorous enough on its own.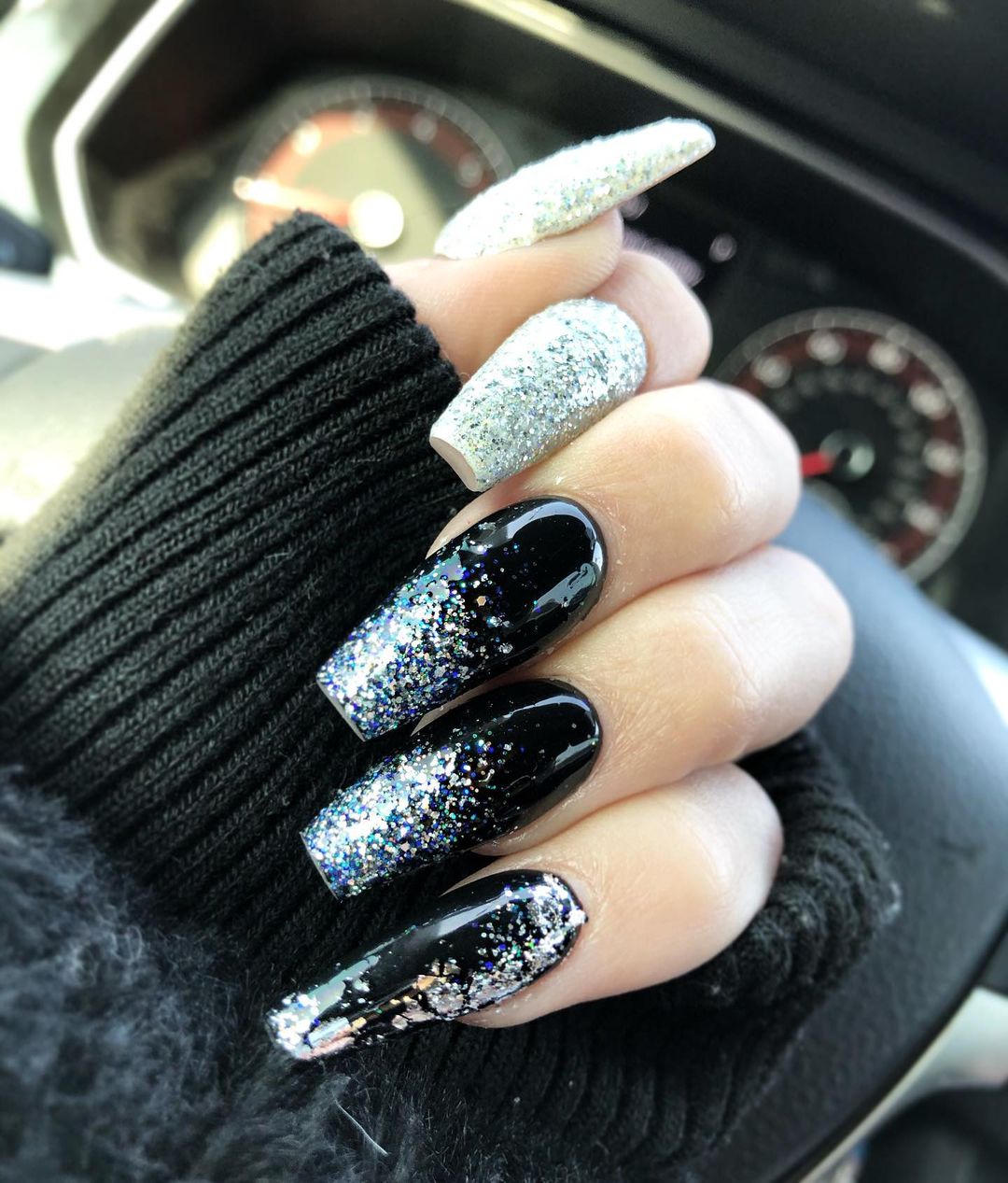 via @sheslifted_
29. Disney-themed Christmas Nails
Put an end to your boredom with these amazing designs you won't see on anyone else! We love the idea of being able to recreate our childhood memories through nail art. Disney movies have always been a favorite amongst kids and adults alike, so it would be perfect for Christmas time.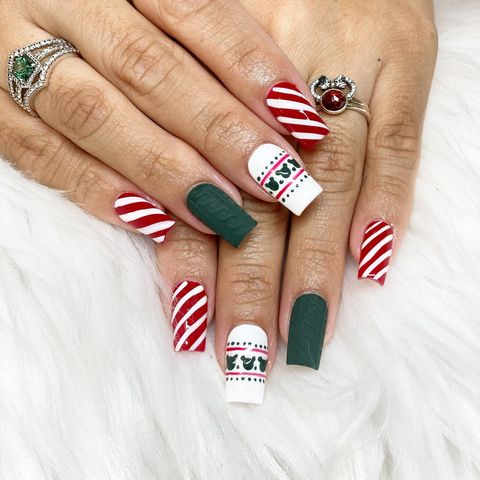 via @nailsbymimi0412
30. Super Short Christmas Tree Nails
What's better than trimming the Christmas tree? Trimming your nails! There are so many creative ways to decorate them even if they are short. From simple accents like green nail polish and golden glittery tree branches, to really intricate details, the possibilities are endless.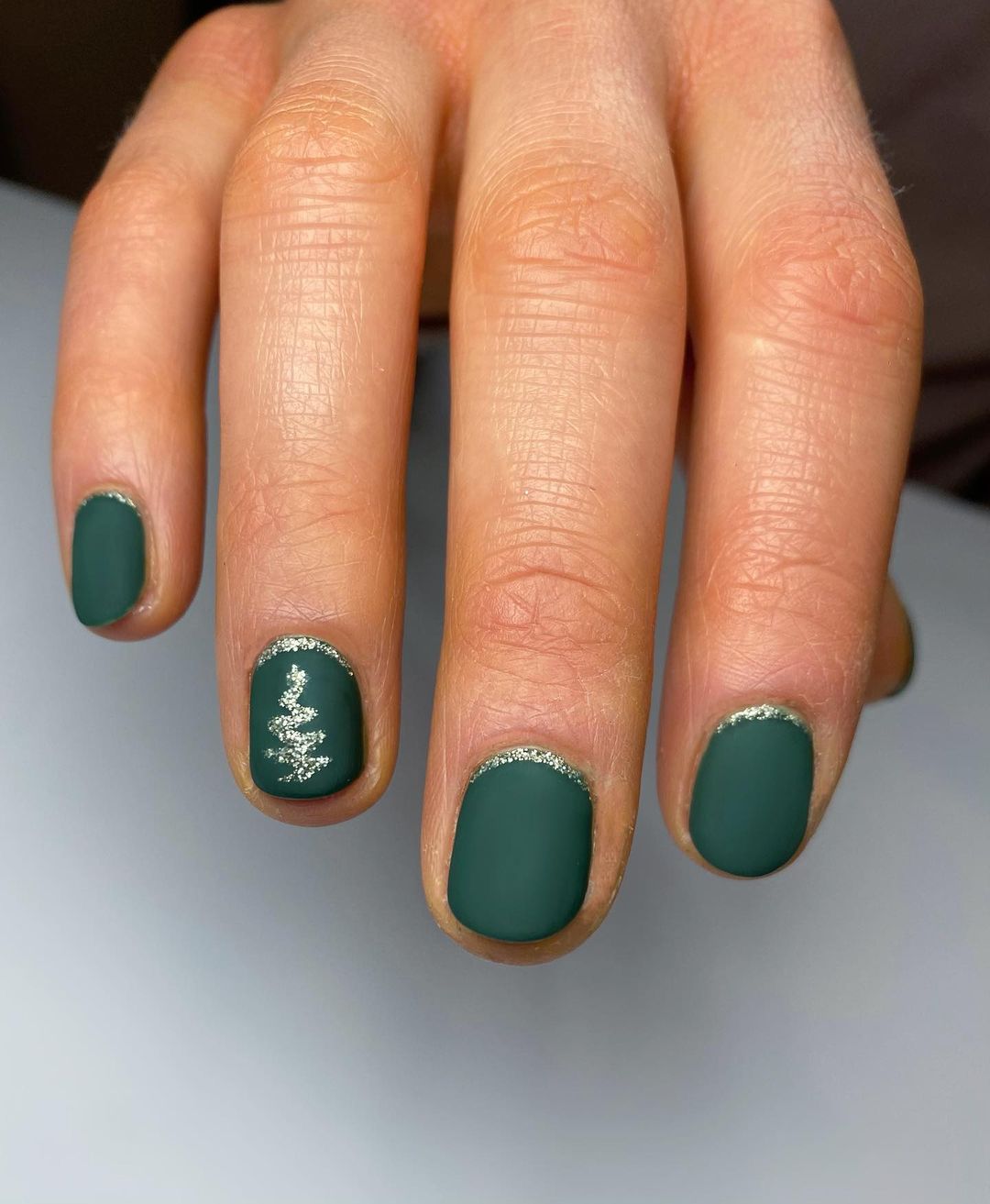 via @fingerdate
31. Textured Gray Christmas Nails
These Christmas nails are subtle and elegant. They're also very clean looking, which is fantastic for this time of year when people want to look nice but not too extravagant. The textured and glittering design on each nail really makes them stand out against your regular polish.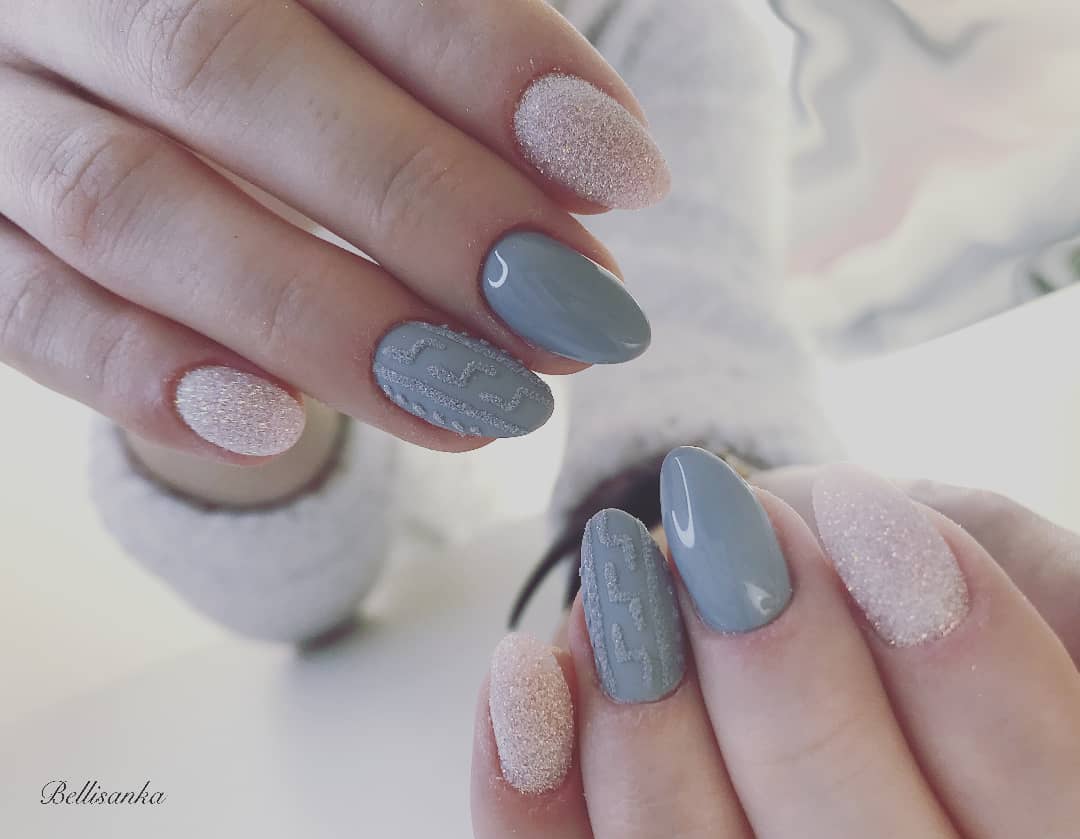 via @bellisanka
32. Versatile Silver Christmas Nails
The perfect combination of simple and elegant, this Christmas nail set will make you feel like a total pro in front of your friends. You can wear them year-round without fear because they're so versatile! Just replace that little tree on the ring finger with something else and you're good to go.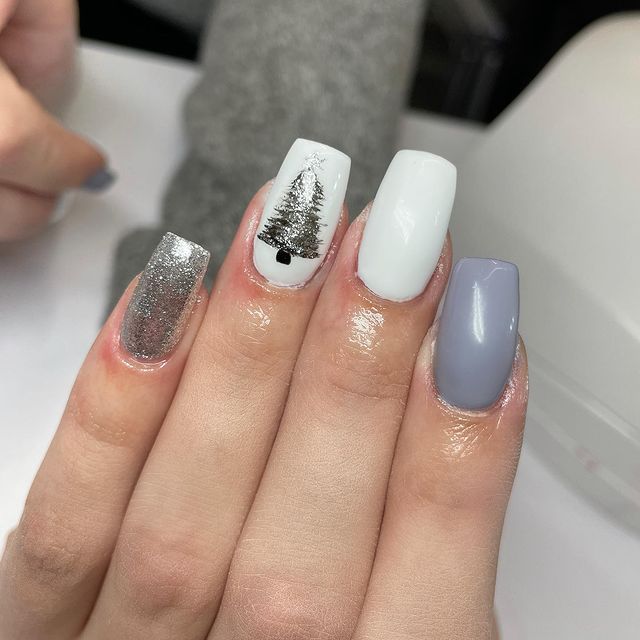 via @sophiasnailsandbeauty
33. Subtle Christmas Nails
Pastels are a staple of any springtime wardrobe, but you'll be surprised to know that these same colors can work for winter too. Pair them with this design idea of adding glittery accents on your nails in the form of little holiday gifts and get ready to enjoy some time off with your nears and dears!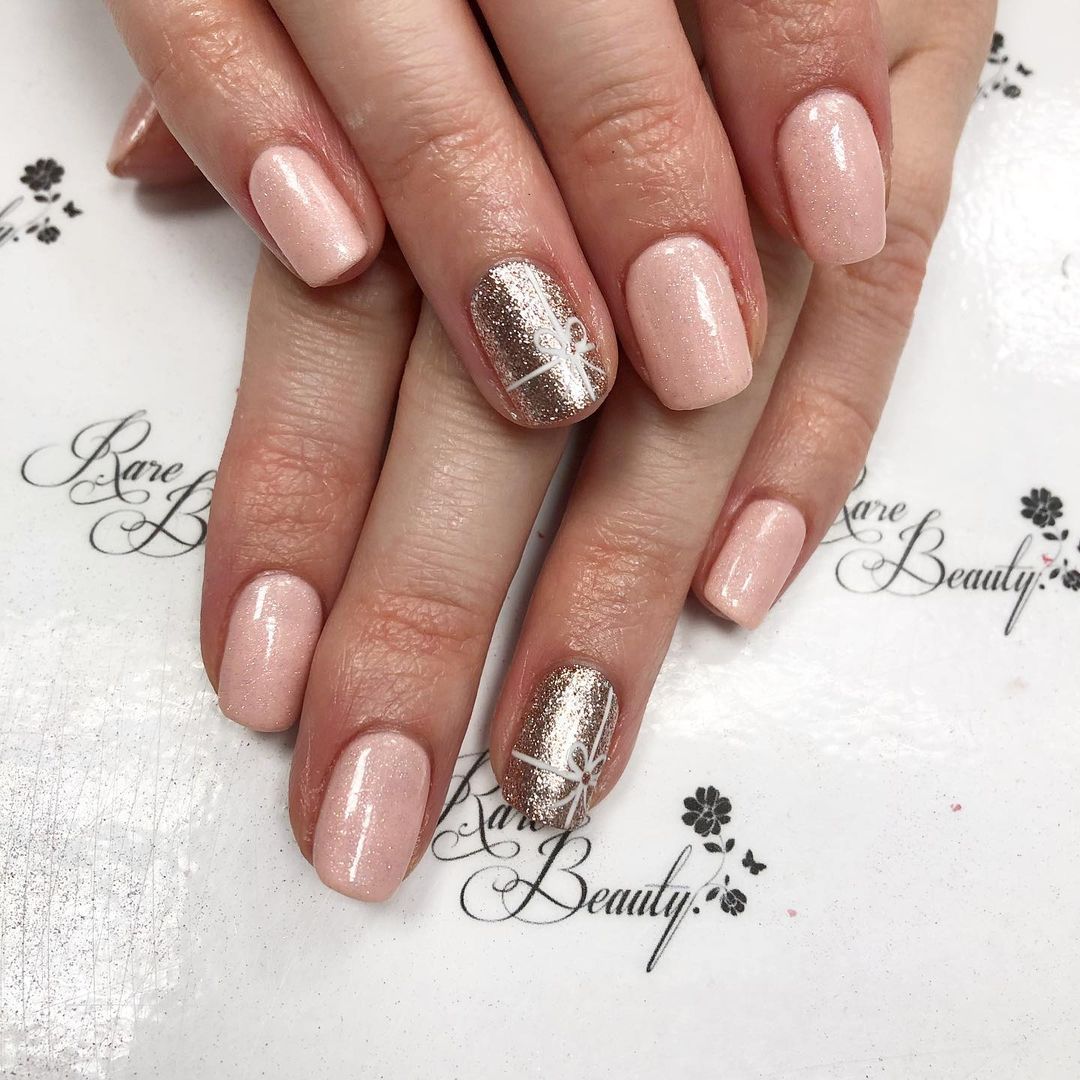 via @rarebeautysalon_
34. Christmas Dip Powder Nails
Looking to bring some festive cheer into your manicure this winter? Try out our favorite deep ruby red design! A simple yet stylish choice will be enough for even the most demanding party-goer. If you're looking for more luxury, add gold dusting or paint snowflakes onto them using a fine-tipped brush – whatever suits your style best.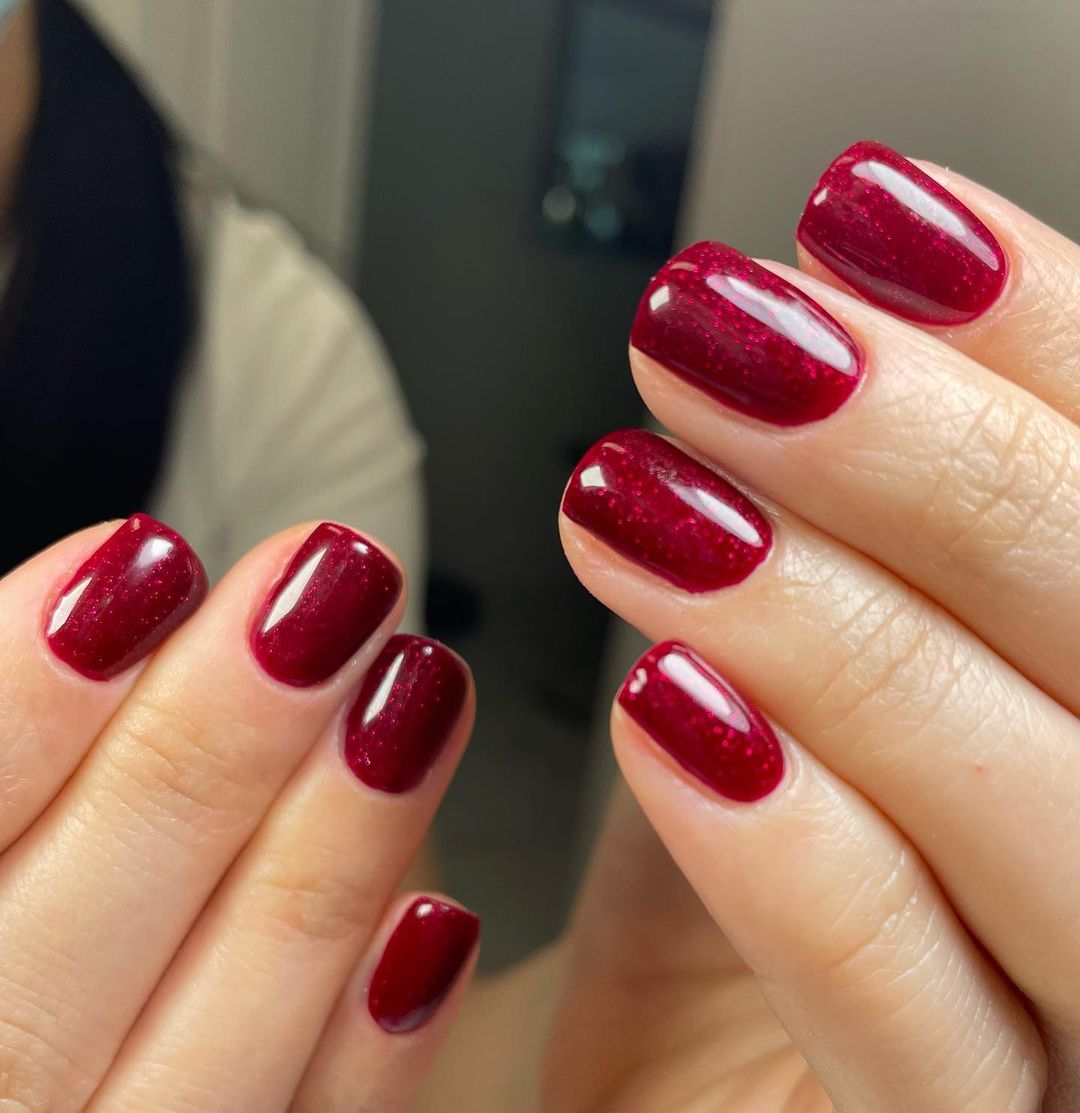 via @_gelnailsaddiction
35. Cute Christmas Present Nails
These manicured nails will help you look your best for the upcoming holiday party – just a cute little present under the Christmas tree. However, it's important to have a steady hand and pro-level skills, so kudos if you do. If not, have someone do it for you. You still have some time to book an appointment at the salon.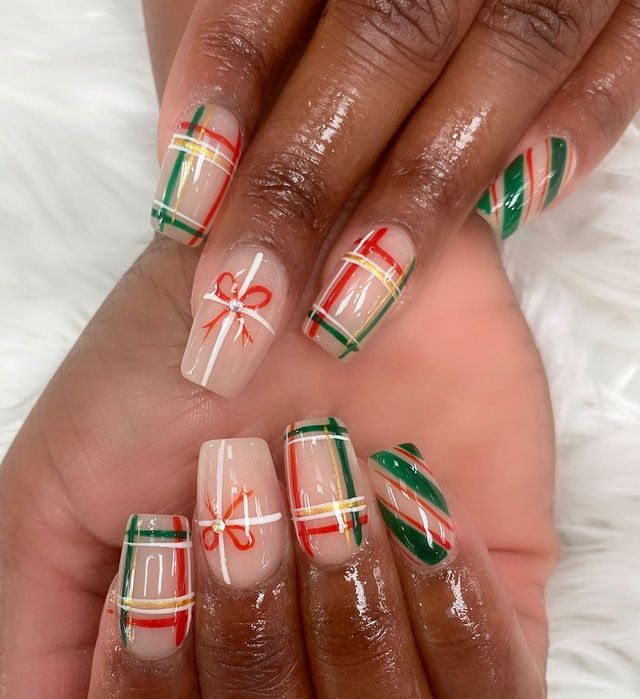 via @nails_ombre
36. Santa Claus and His Reindeer Nail Design
With the holidays approaching, you can make your nails look like Santa Claus and his reindeer! This design will give your outfit that extra touch of magic! Here the nails are super long but you could use this same idea if you have short nails. Just draw on some smaller faces for each animal instead.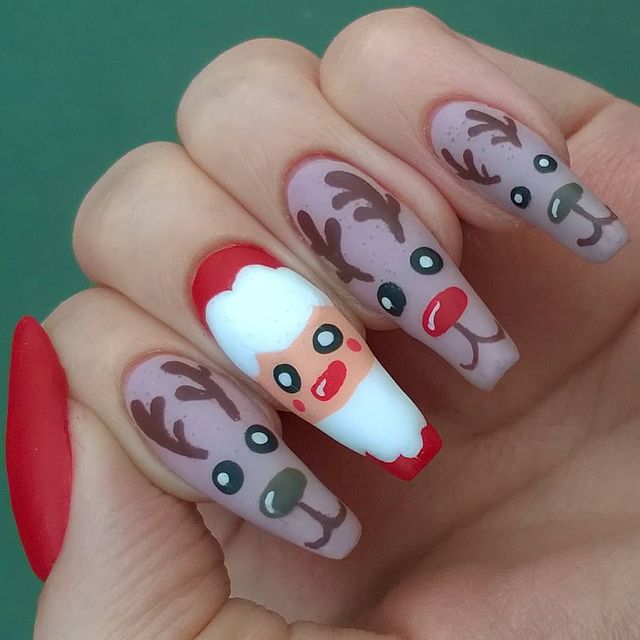 via @chocolatewitch_
37. Pretty Matte Christmas Nails
The colors of the season will look gorgeous on your nails! We love how this festive Christmas nail features different designs and that it has a matte finish with cute mistletoe-themed patterns. It's always refreshing to see these multi-colors working so well for our favorite holiday.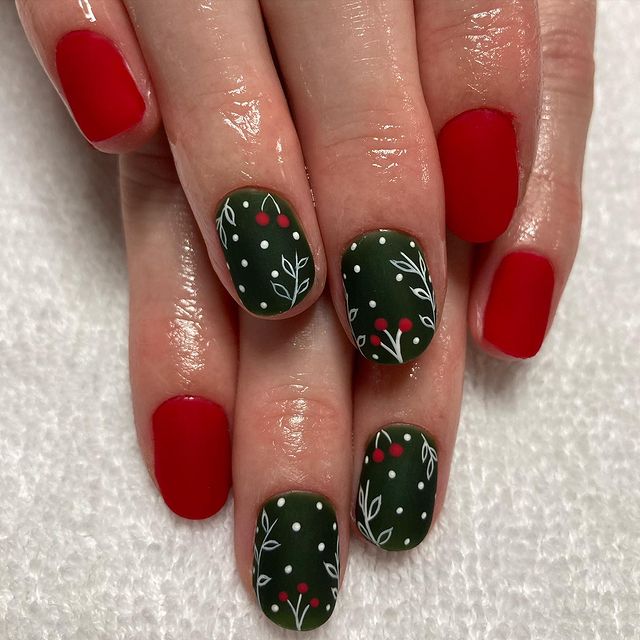 via @nailsbynikkihanks
38. Almond-shaped Aesthetic Christmas Nails
This nail art is a head-turner! We love the various elements on this length of the nails. The colors and shapes work beautifully together in such an interesting way, while also being perfect for any occasion or event where you may need some extra attention. It's amazing how different finishes can make such an impactful design, don't you think?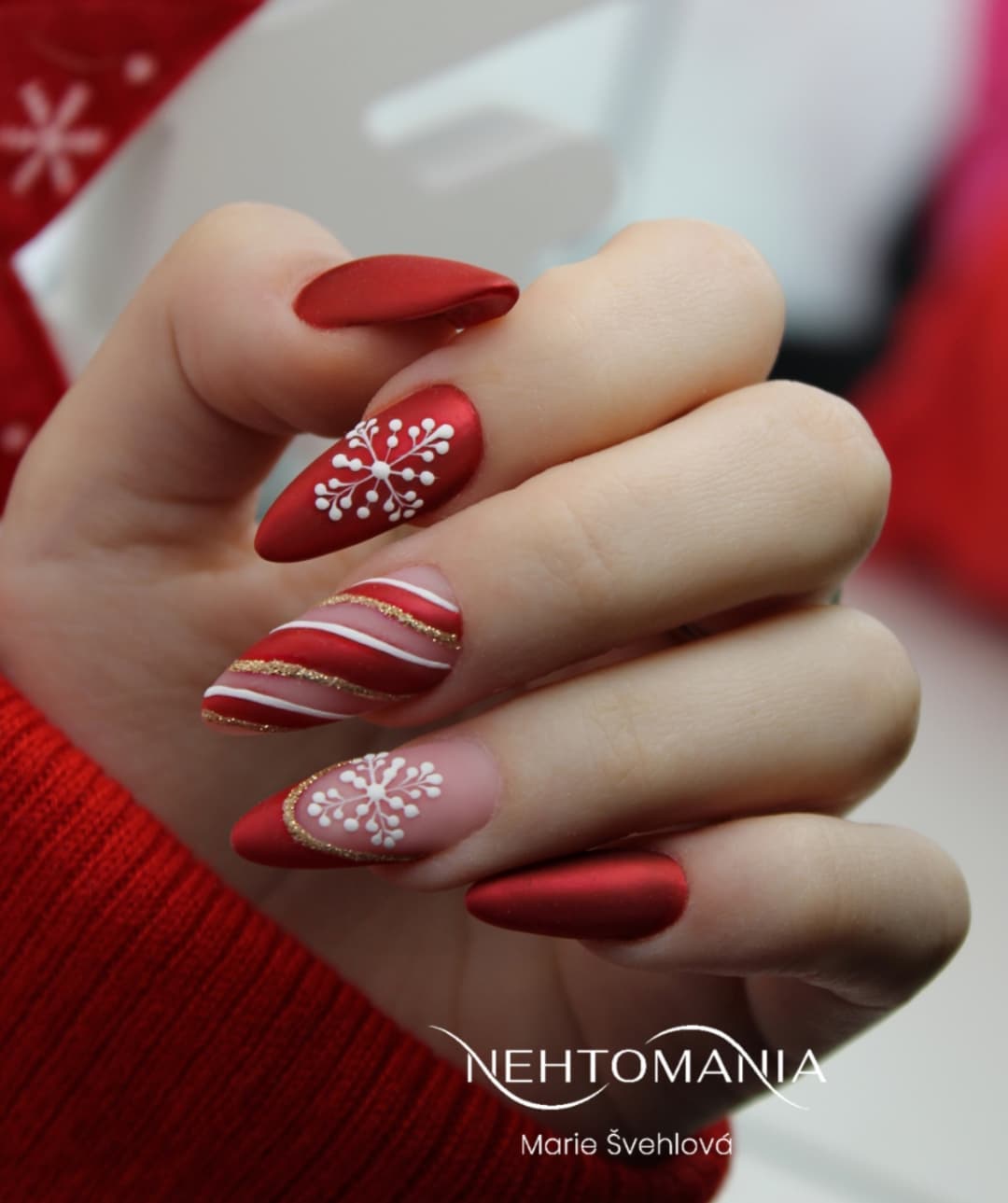 via @nails.design.majka
39. Pink and White Christmas Nails
What would be ideal for cold winter days when you want to create some holiday feel? Baby pink just happens to fit right into this vibe perfectly! A classic color combination like white on top of delicate pinks or reds is a great choice for an elegant holiday nail design. And it'll look great on nails of any length or shape.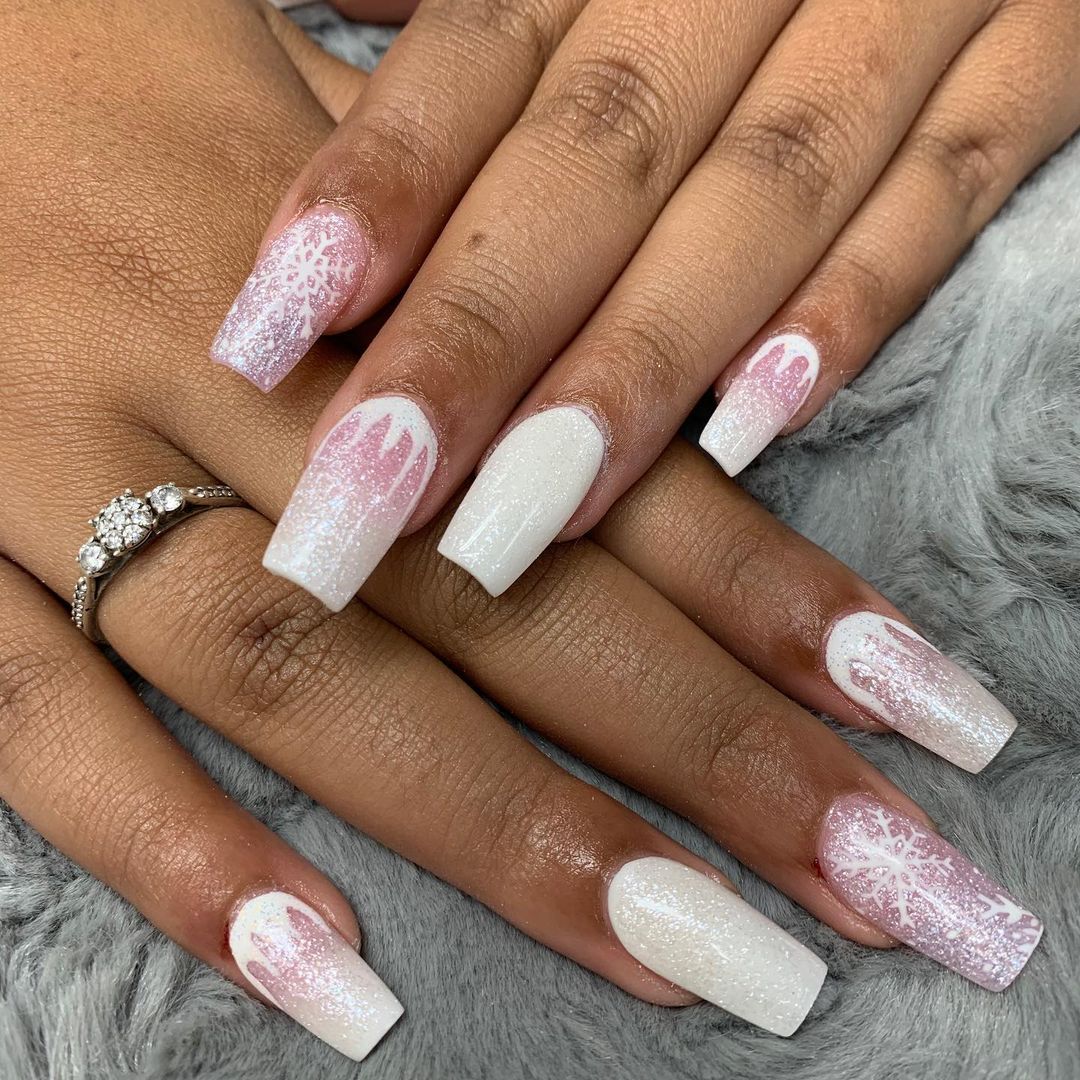 via @amy_gray_74
40. Burberry-inspired Christmas Nails
The Burberry plaid is a fan favorite this time of year. The geometric patterns and shades complement the square-cut nails perfectly, making it an easy way to add some Christmas spirit to your look without going too far out on the trend! You can never go wrong with this look.
via @nailbebe_
41. Christmas Nails with Minions
Do you love Minions? If so, then these cute Christmas Minion nails are just for you! They look festive and easy to make. These aren't drawings or anything; they're stickers that cover up your regular nail color in an instant, giving them the perfect Christmassy touch.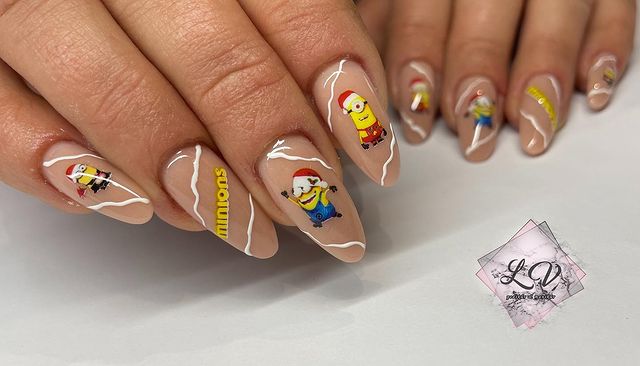 via @virginia_pedi_nails
42. Green and Glittery Christmas Nails
These nails are the perfect way to celebrate Christmas in a subtle but eye-catching manner. With their glittering green color and almond shape, they'll make any outfit more festive. And it will look amazing against white accent nails decorated with a little Christmas tree.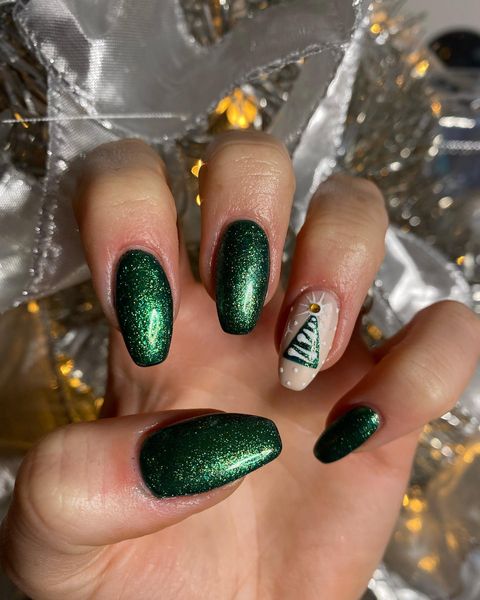 via @nails_by_aliciaoh
43. Mickey Mouse Christmas Nails
Mickey Mouse has been one of the most successful Disney characters of all time. Why not bring it to your holiday manicure this winter? The thought behind it is that Mickey and Minnie remind us of how much fun holidays can be when we're not too smart-ass or adult-like!
via @andreiamartinsblog
44. Red and White Ombre Nails for Christmas
A classic mani for Christmas? Yes, please! But why stop at just the shape of nails when you can also experiment with an ombre effect and festive colors too. Try this deep red shade that matches your outfit or add some glitter to take it over the top. And can we talk about this ultra-sexy stiletto shape??? Wow!!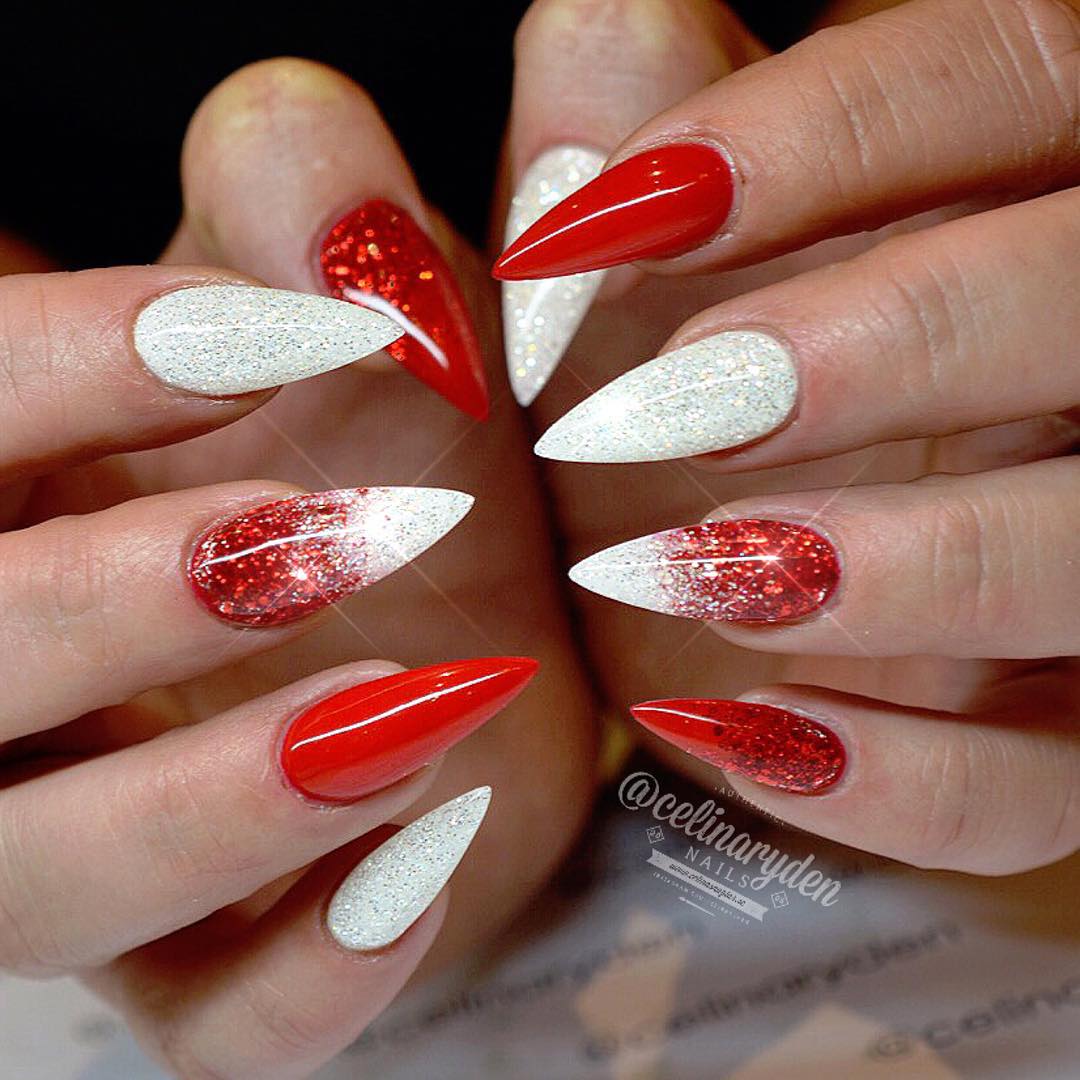 via @celinaryden
45. Silver and Gold Christmas Nails
Gold and silver flake nail art is so glamorous! Yes, it takes a lot of work, but how pretty are these gorgeous winter nails? You can make them easier on yourself by recreating this Christmas design with sparkly stickers applied after painting your entire finger in glitter for a little accent!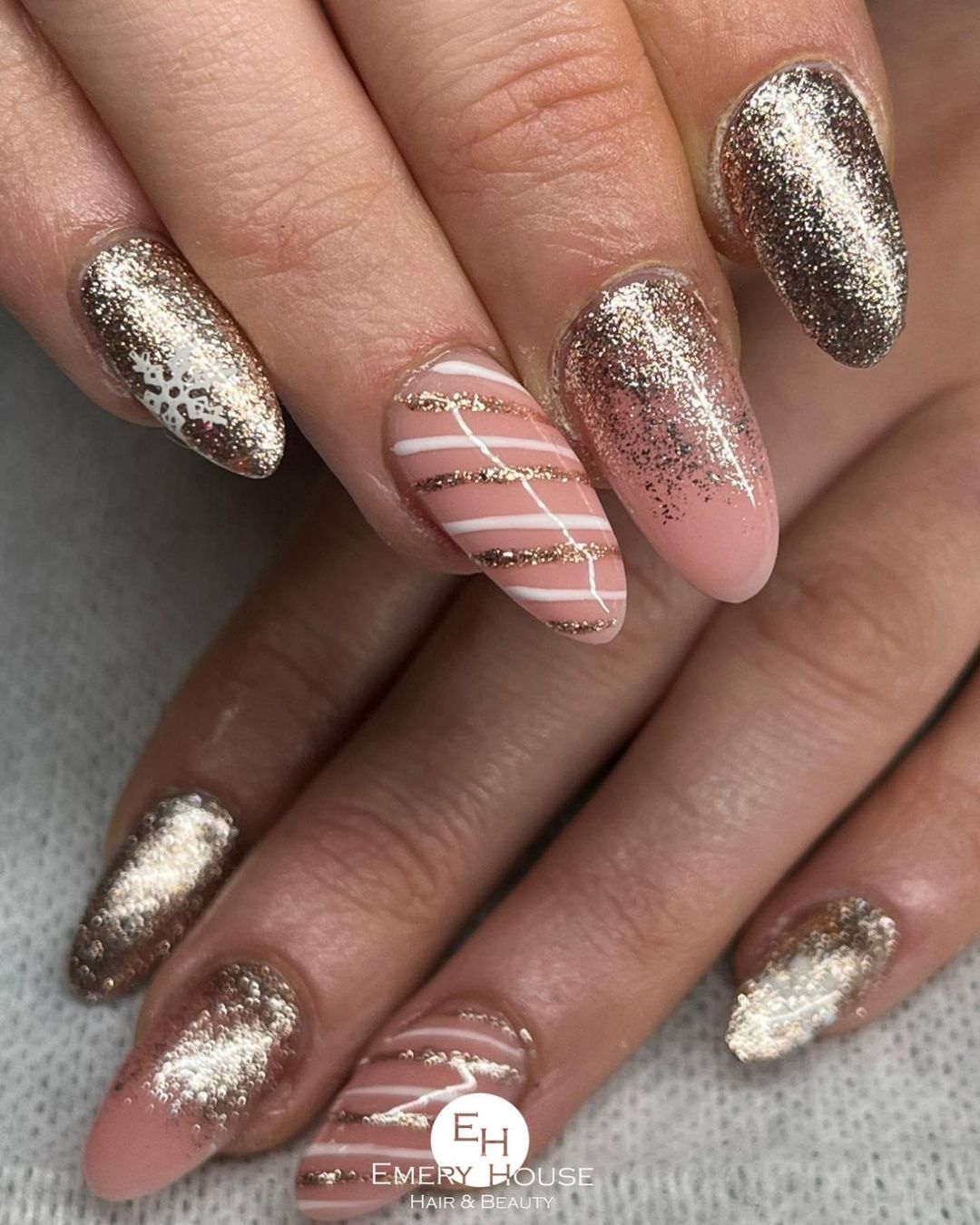 via @emeryhousechippenham
46. Red, Green, and Gold Christmas Nails
Each nail is different for this look. This makes it perfect for those who don't like painting or just want an easy design without having to think too hard about what they're doing. Abstract shapes can also feel Christmas-y with the right colors! And this pattern will work great with pretty much any length and shape.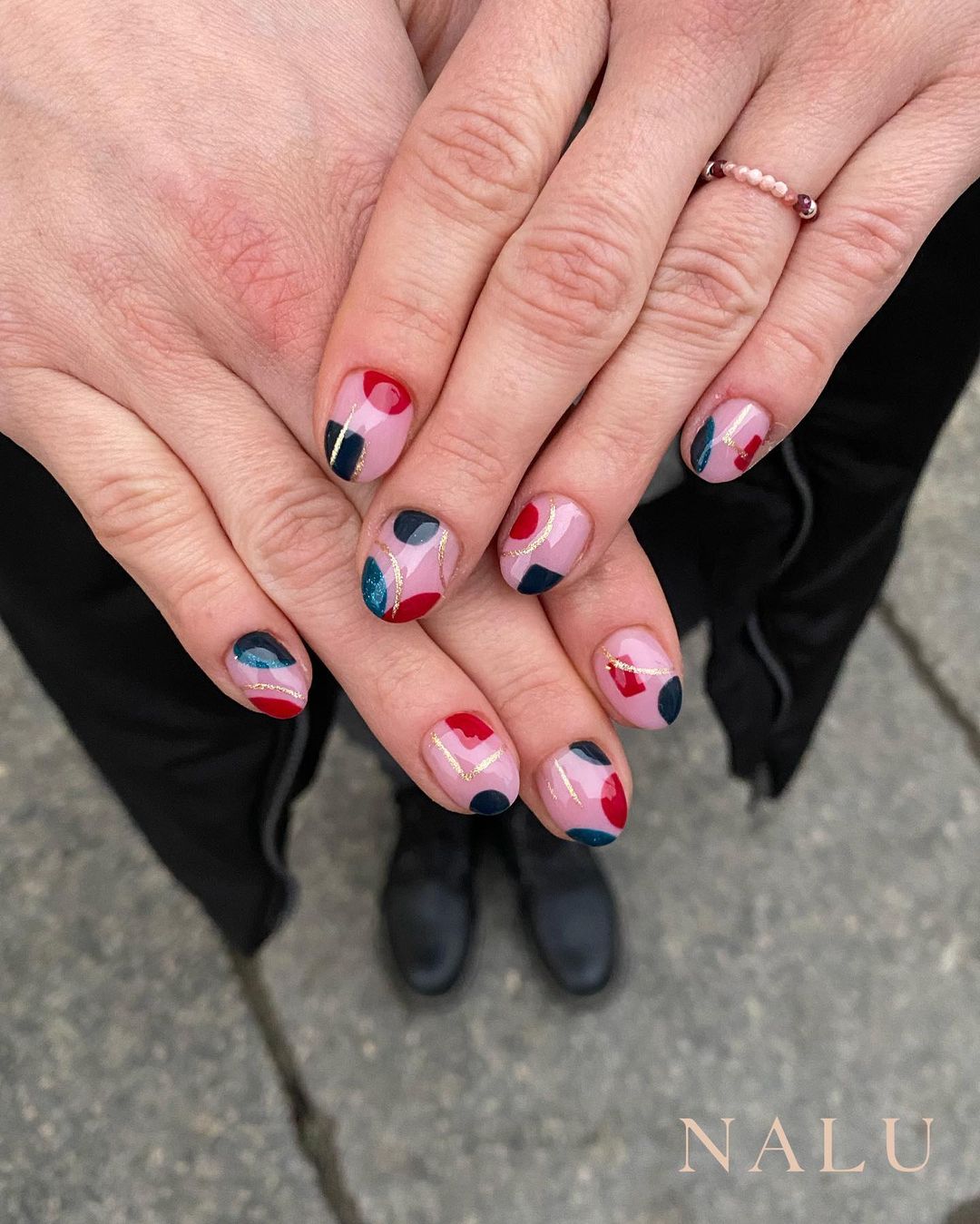 via @nalu_studio
47. Black and Gold Christmas Nails
Some people prefer to keep their fingers plain and simple, but it takes some creativity to be able to appreciate the beauty of this festive bling. Those who love dark nails should try out this design. It's pretty easy to recreate as it's just black polish with a gold accent. Use your favorite brush or dotting tool and then sprinkle crystals wherever you'd like!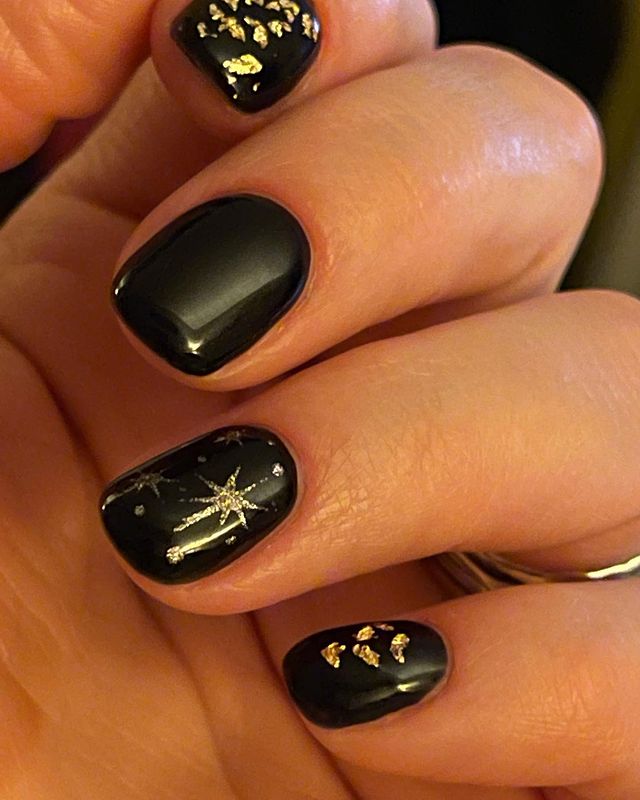 via @yesimsowhat
48. Christmas Nails with Red Tips and Santa Hat
Doing your nails in bright colors is a great way to express yourself this season. For something more interesting than the traditional red or green, try these red French tips with a cute little Santa hat painted on your ring finger. It will look cute, holiday-inspired, but still pretty unusual.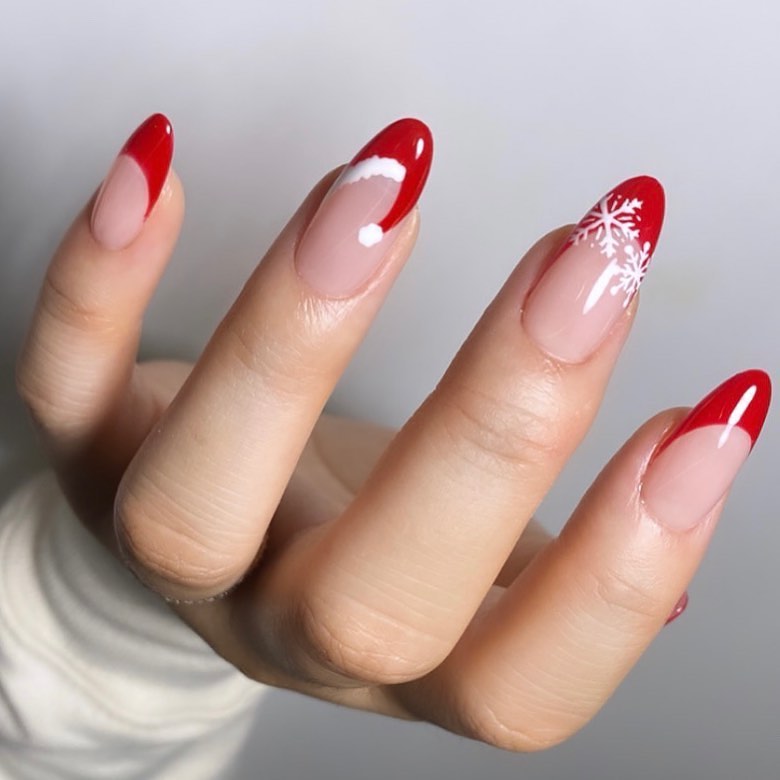 via @saviland_official
49. Purple and Silver Christmas Nails
Who doesn't love a good nail design? This is especially true when it comes to Christmas celebrations. The purple ombre color combination against white snow will make your hands look amazing and also show off how creative you can be with such simple decorations! This design will look especially beautiful on longer nails.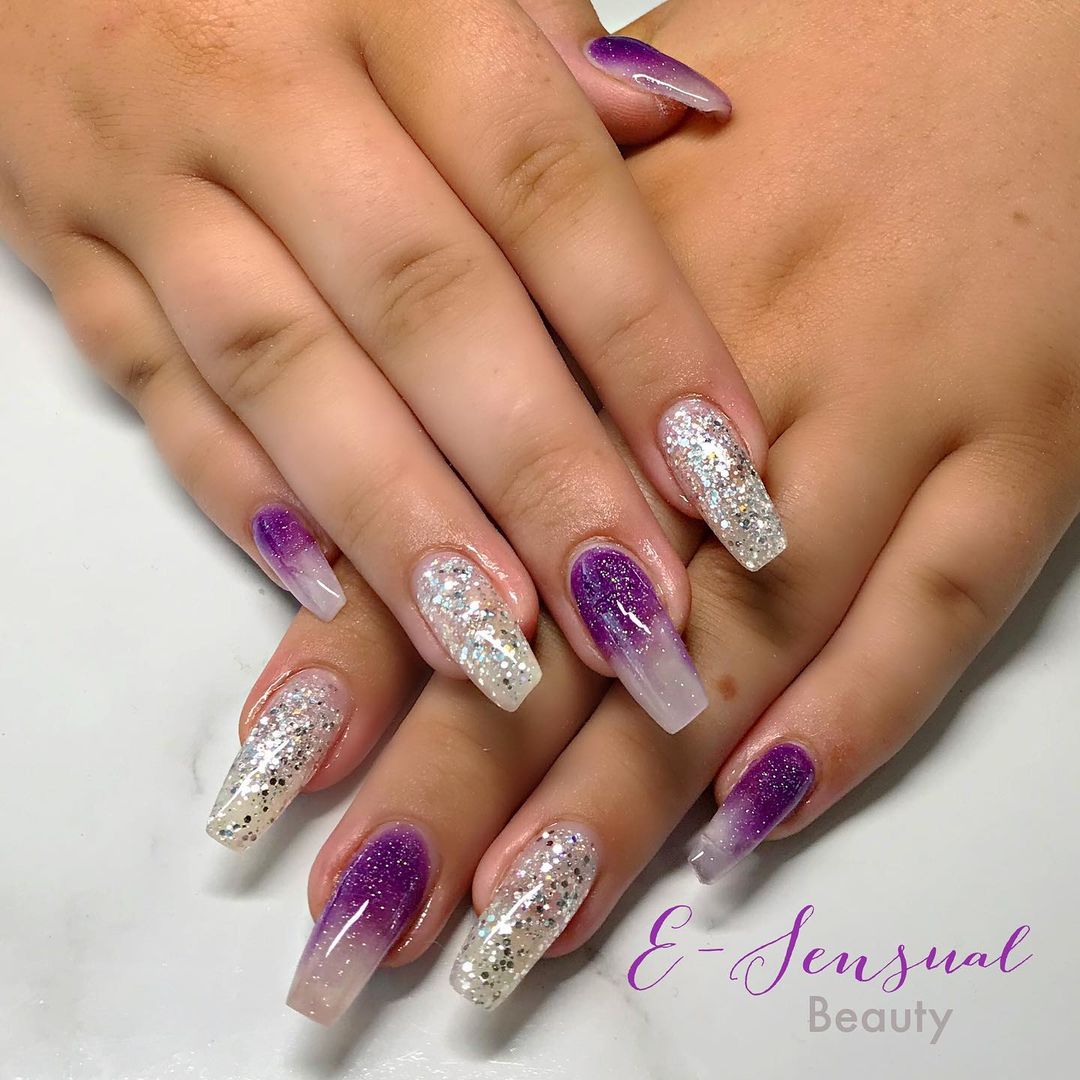 via @minnalamond1975
50. Christmas Chrome Nails
Get ready for the ombre of your life with these gorgeous white chrome nails. This is the right way to add some much-needed shine and sparkle to your holiday outfit. Ombre will make your fingertips glimmer in the daylight and glow after dark. With just a shake of sparkle, you can change any color to suit whatever mood strikes!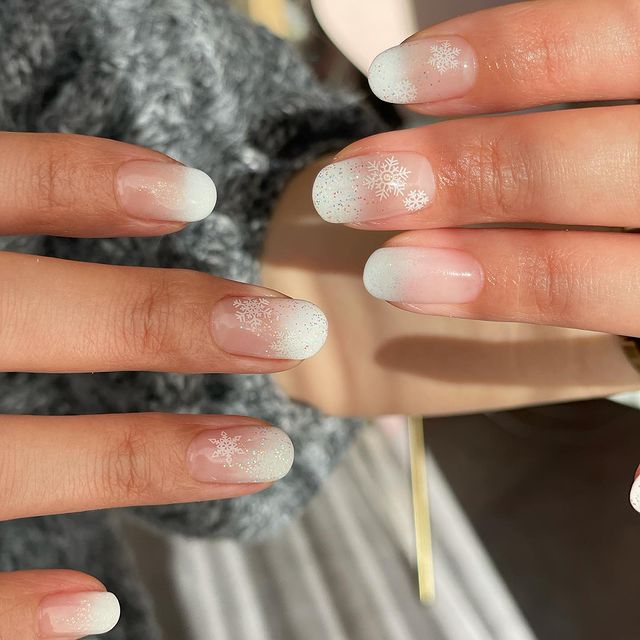 via @s_nailcloset