Nails are such a small part of your appearance, but they make a huge different. They can make or break an outfit, and set the tone for your entire look. I always have my nails done because it's one of those things that just makes me feel good about myself.
Right now, burgundy nails are super trendy. Something about burgundy nails just screams chic. Maybe it's the color, or maybe it's just because of how understated yet sexy they are right now.
Whatever the reason, you should definitely try them! I'm a huge fan of burgundy nail designs this season.
If you're looking for ideas on what to paint your nails with, look no further. We've compiled an awesome photographic list of 50+ burgundy nails and burgundy nail designs that are ultra-trendy right now.
How To Do Burgundy Nails:
There are a few different ways you can do burgundy nails. If you're looking for a plain nail color, you can definitely do them at home using regular nail polish as well as gel polish or dip.
I tend to lean towards dip polish when I'm doing my nails at home because it lasts for a while.
At the salon, you can do natural nails (using regular, gel, or dip polish), or you can opt for acrylic burgundy nails.
The nice thing about acrylic burgundy nails is that because of the acrylic, you're able to get a burgundy nail design. Some of the nail designs below are just so beautiful, plus intricate designs are really popular this year.
I also love acrylic nails because it takes virtually no time to fill them, unlike dip nails (which take forever).
Lastly, you can try press-on nails if you're looking for burgundy nails that are flawless or with a design but don't want to go to the salon. Press-ons are a great option if you're looking for matte burgundy nails too, since matte nails can be a little tricky to get right.
Where To Buy Press On Burgundy Nails:
I love press-on nails, however I don't recommend that you head out to your local CVS or Walgreens and purchase a set. To be honest, those kinds of press on nails aren't very good.
Instead, try buying press on nails from Etsy. They have some really amazing options from various sellers and the nails are high quality.
If you opt for press on nails, you can always cut and file them yourself to fit the current nail shape trend. I like to buy press-on nails on Etsy, but I use this glue to get them to stick for a good long while.
Burgundy Nail Inspiration: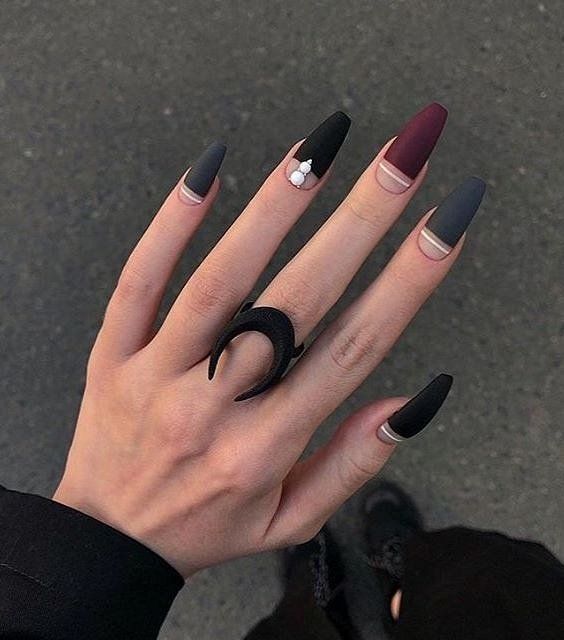 Source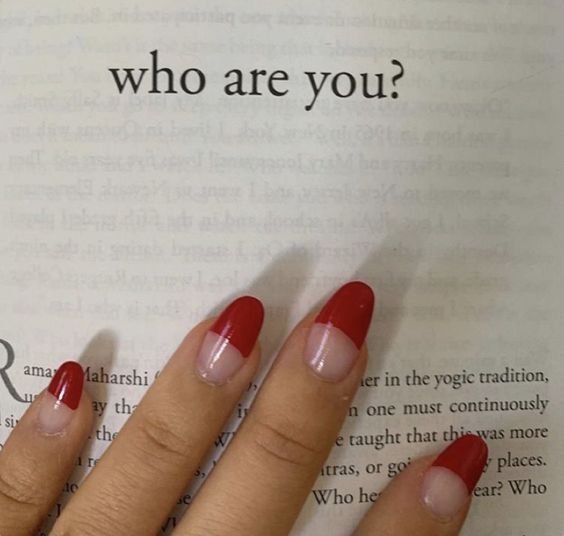 Source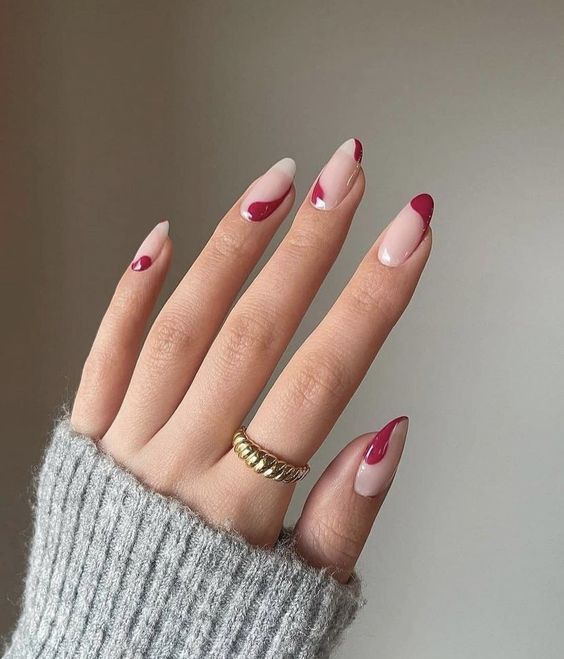 Source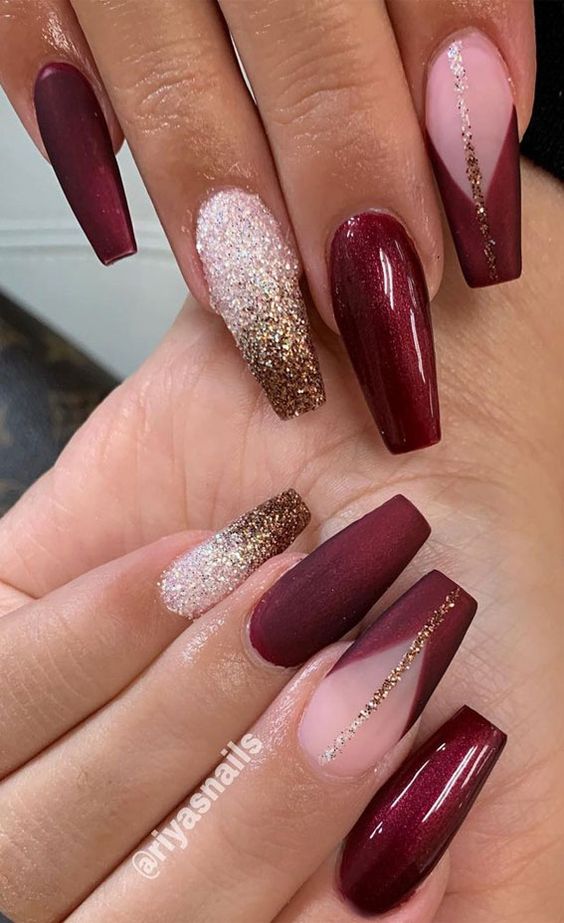 Source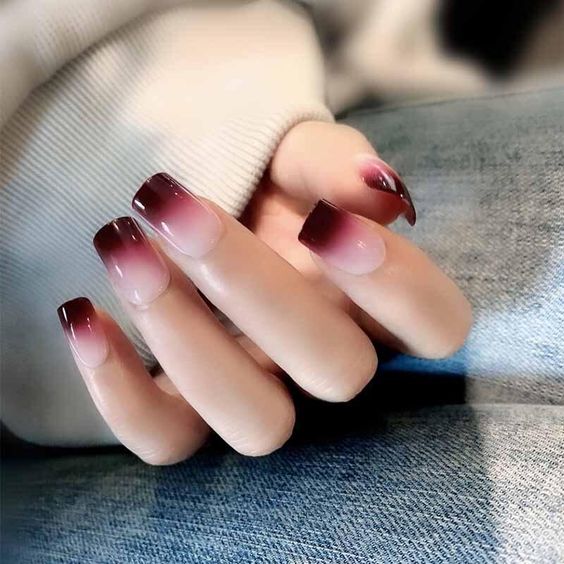 Source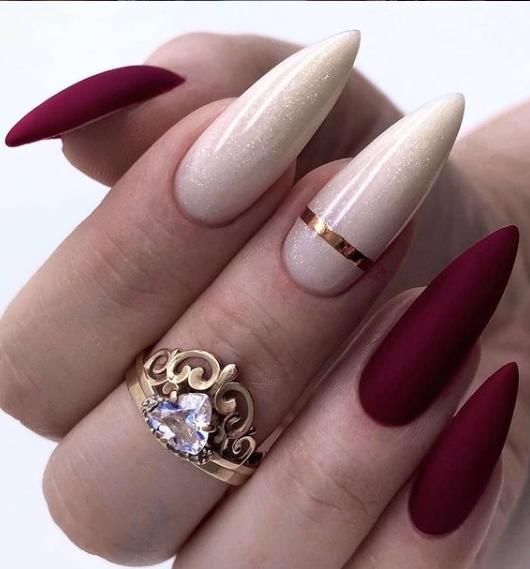 Source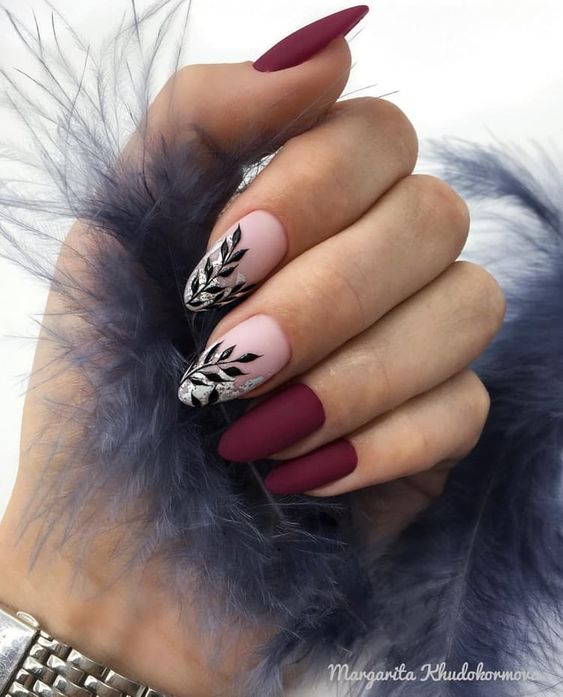 Source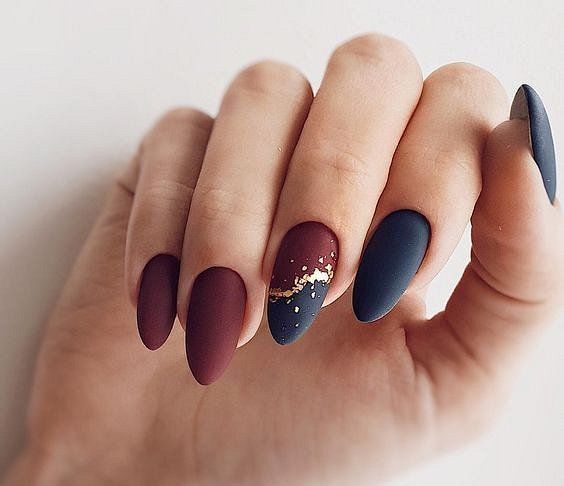 Source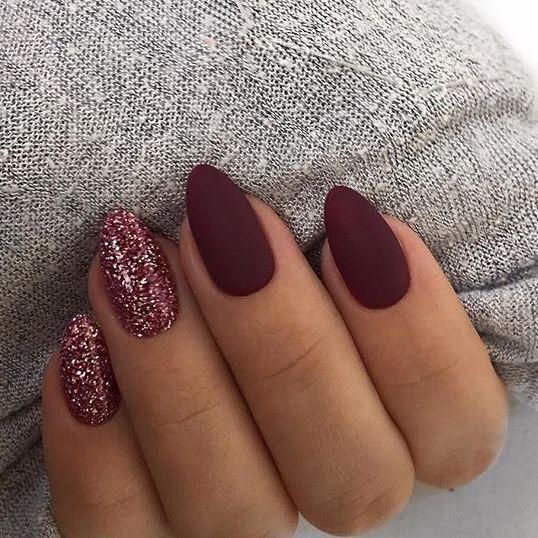 Source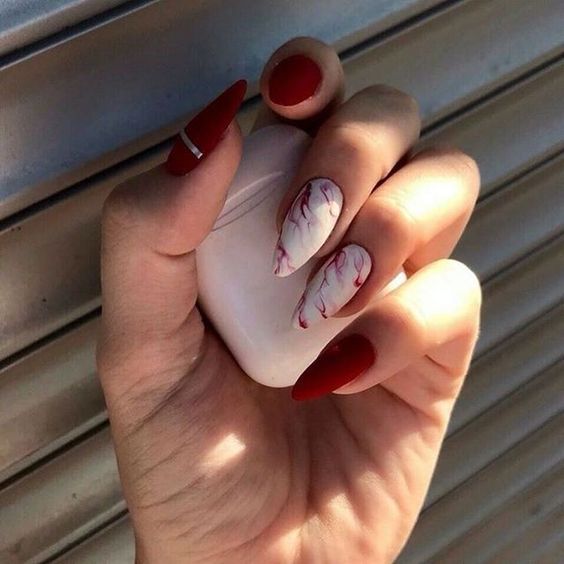 Source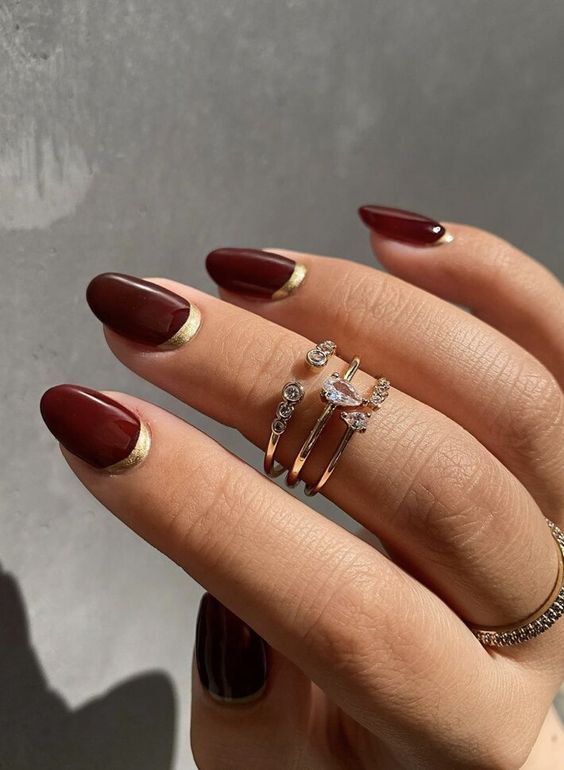 Source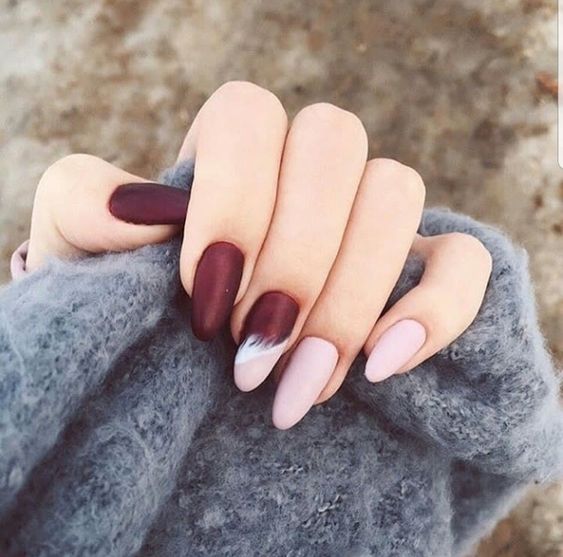 Source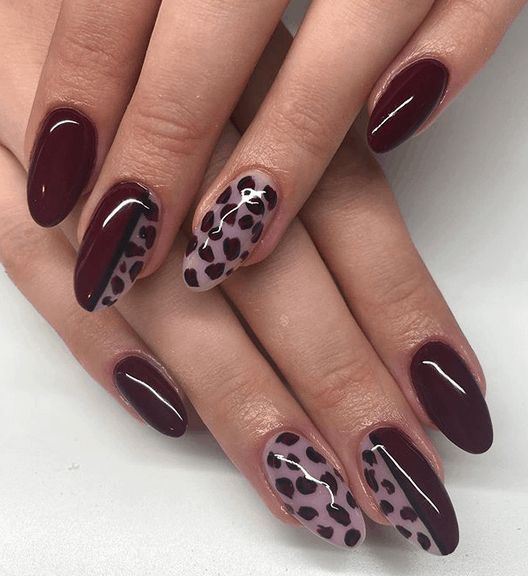 Source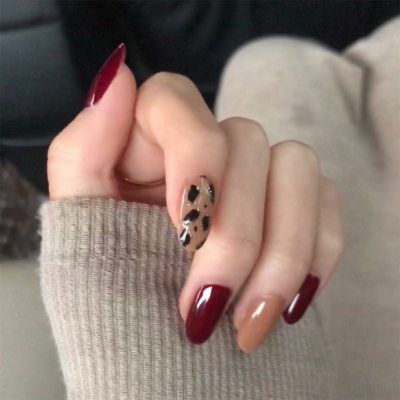 Source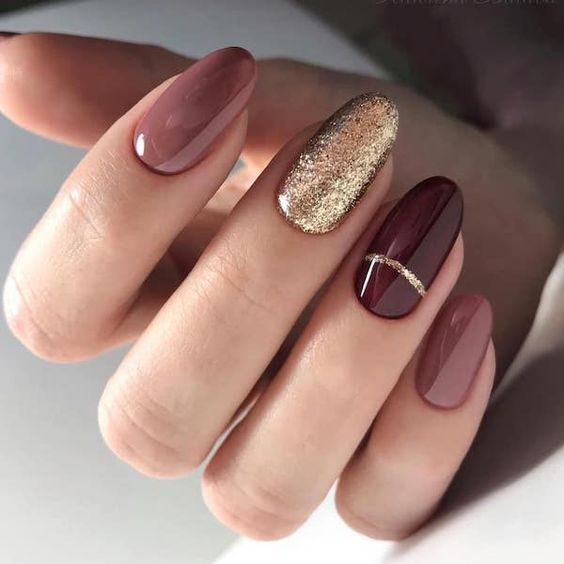 Source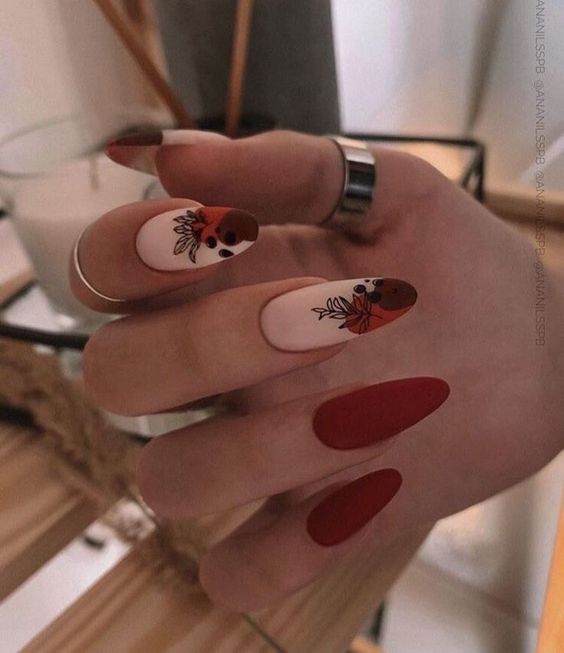 Source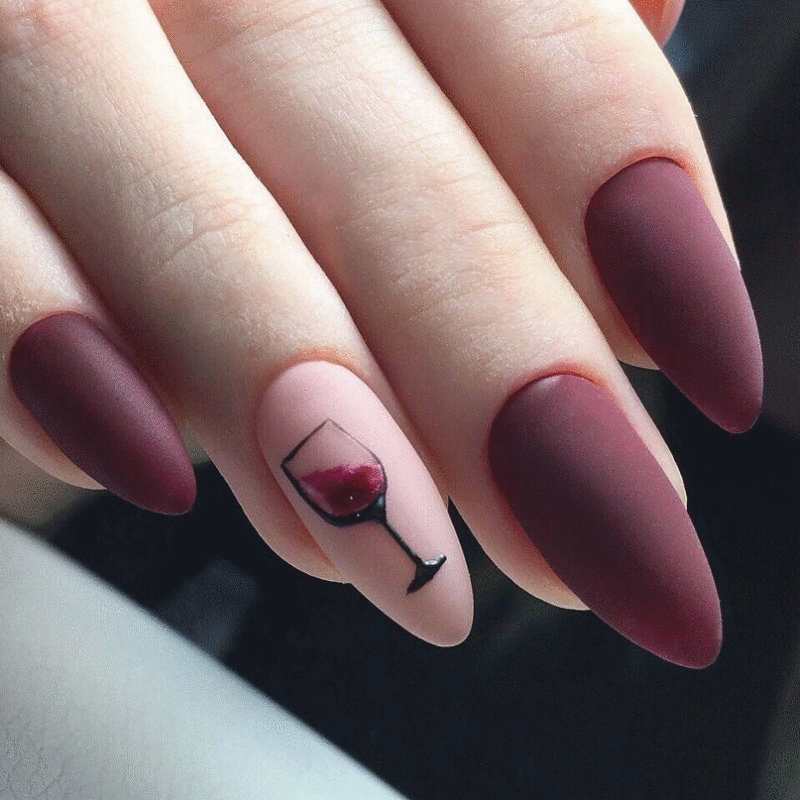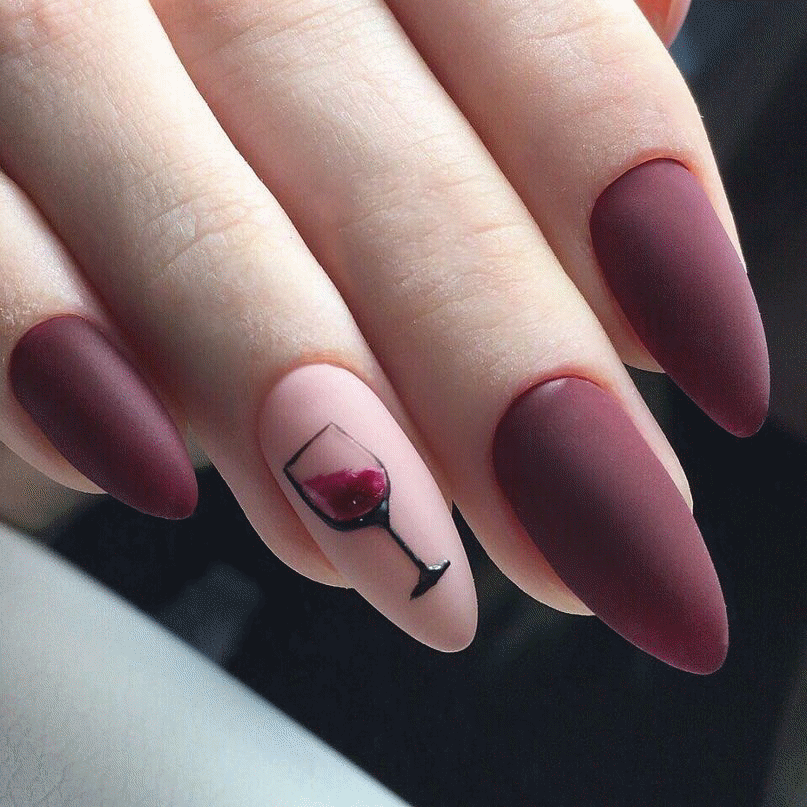 Source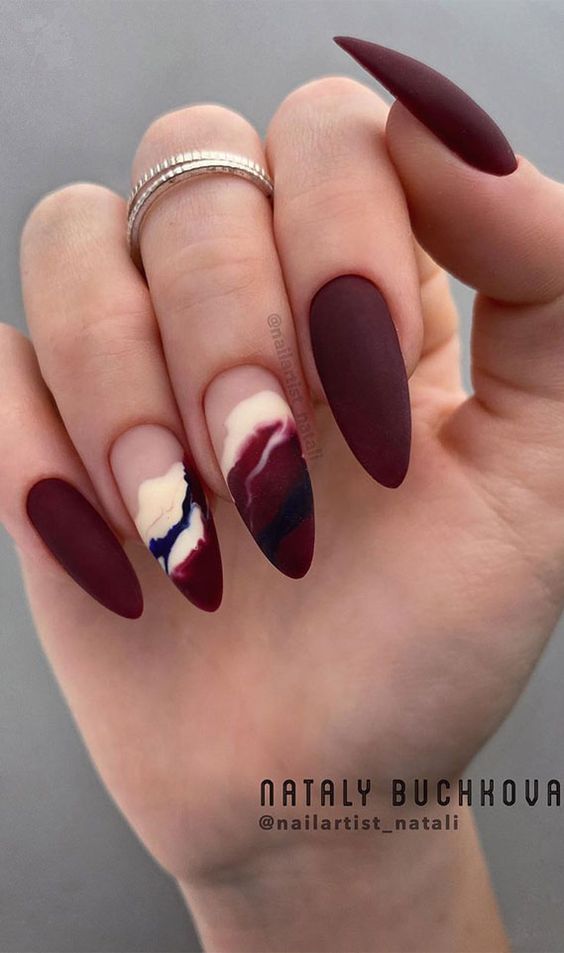 Source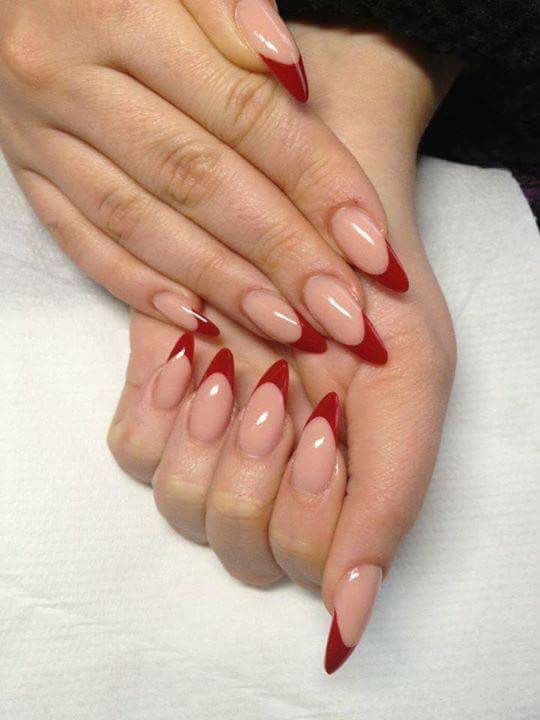 Source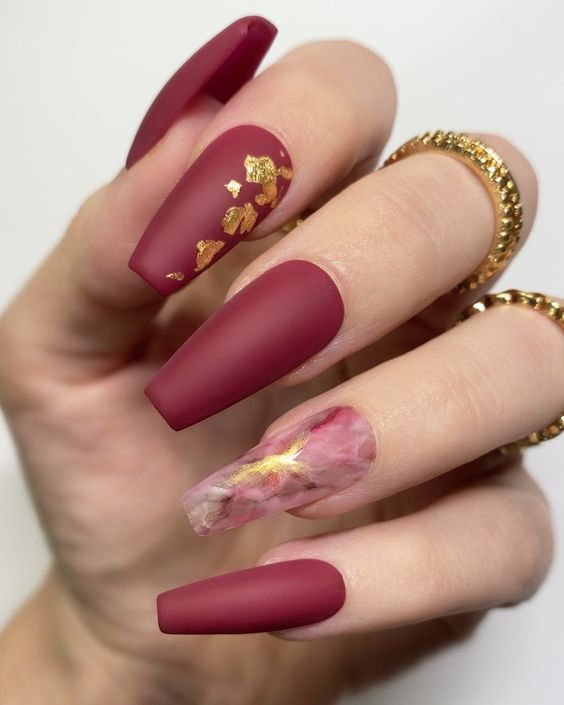 Source
Source
Source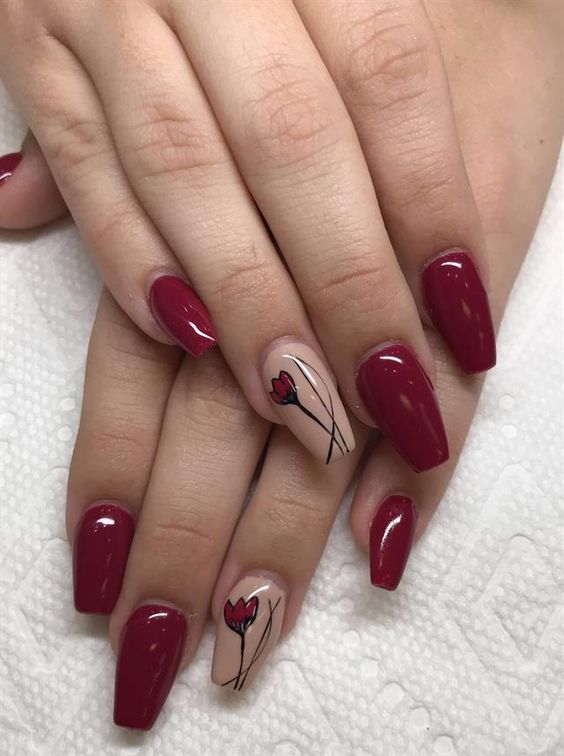 Source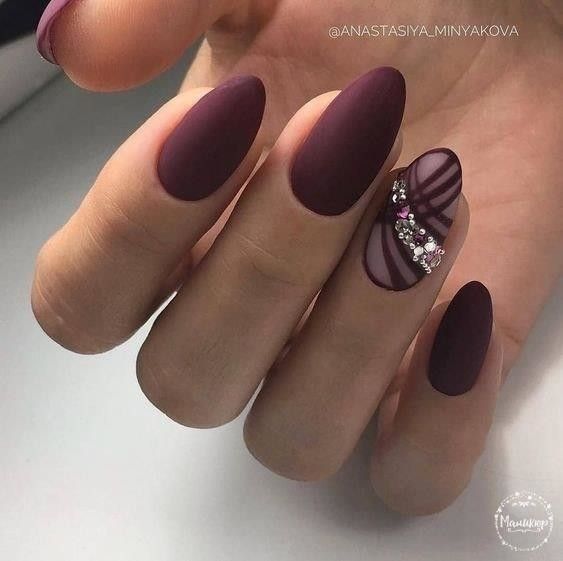 Source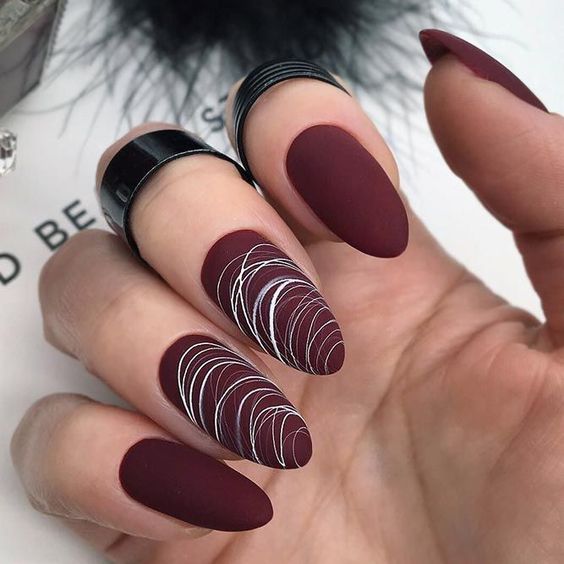 Source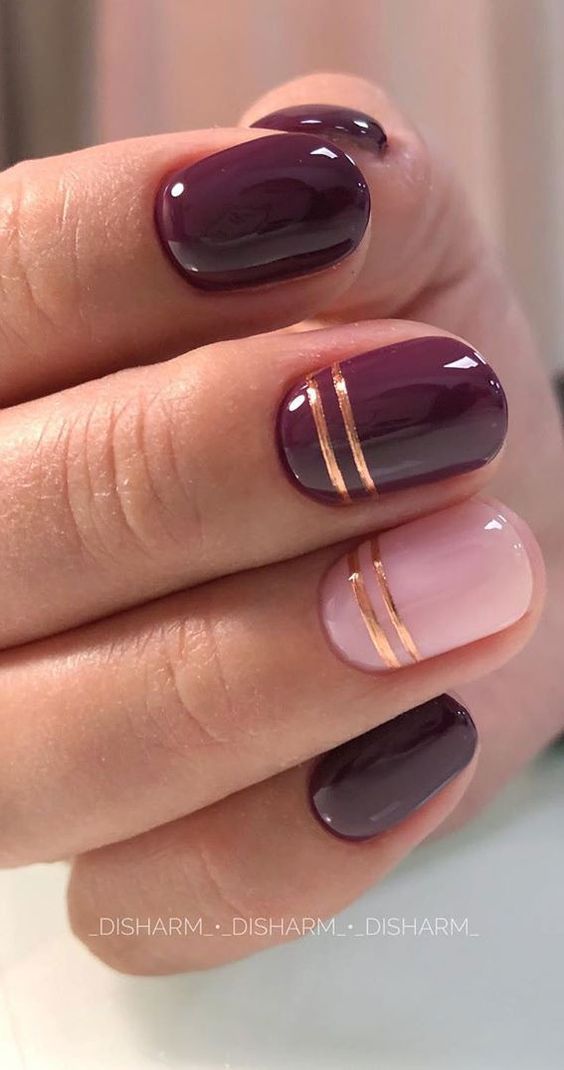 Source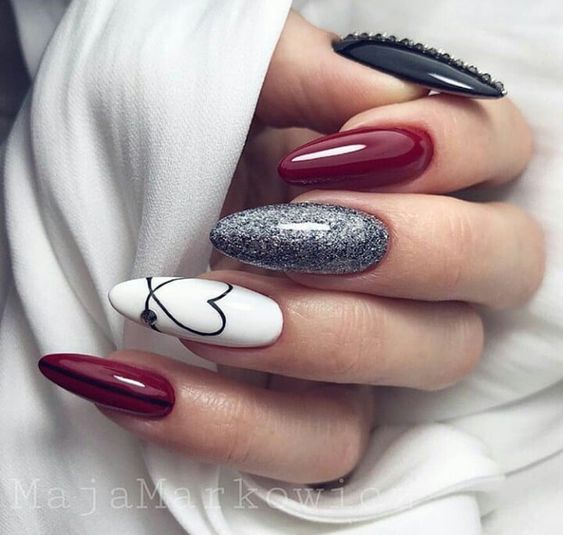 Source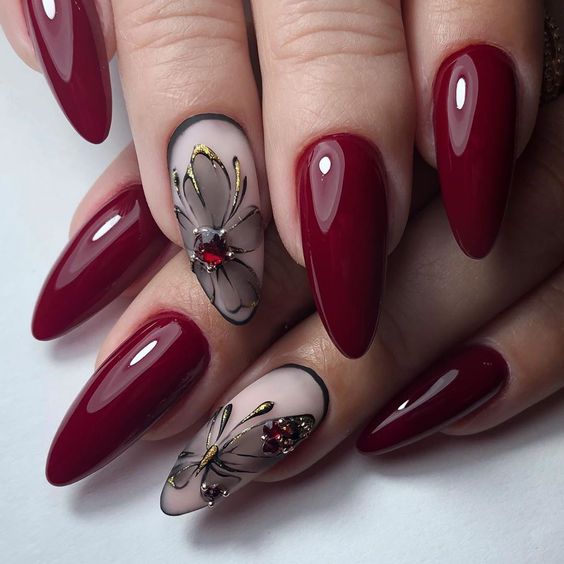 Source
Source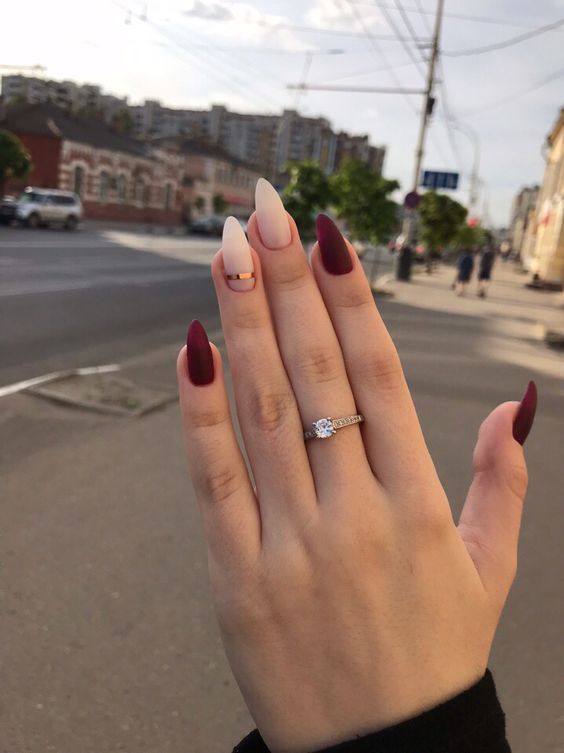 Source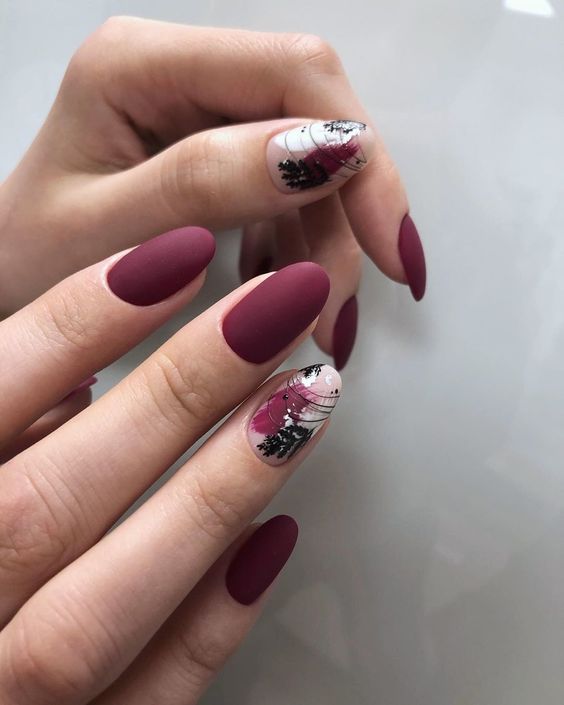 Source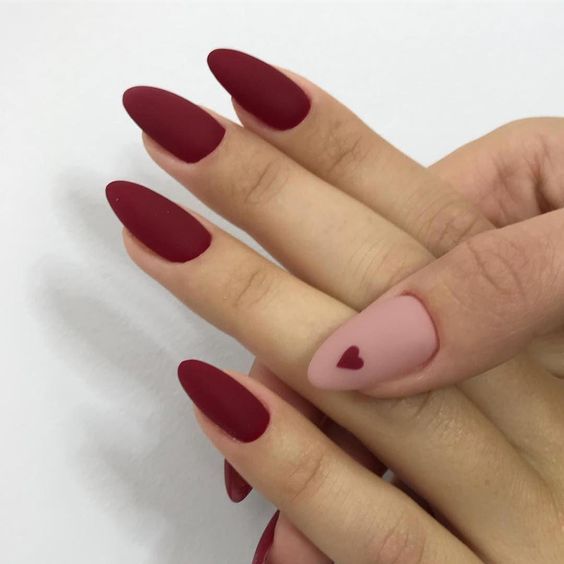 Source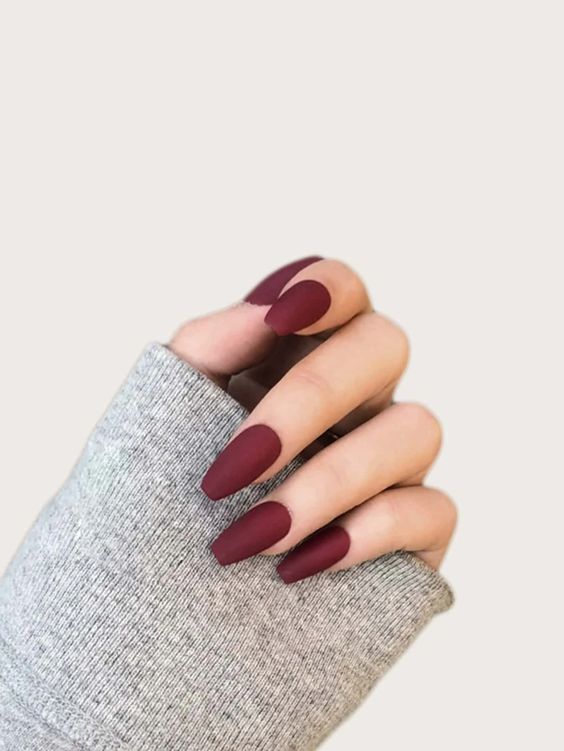 Source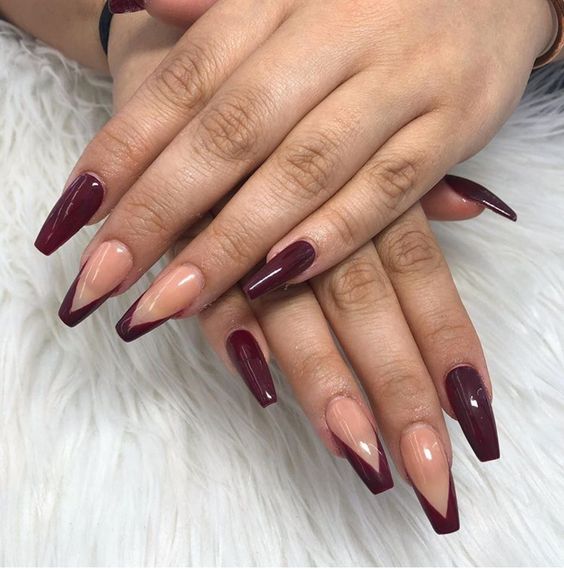 Source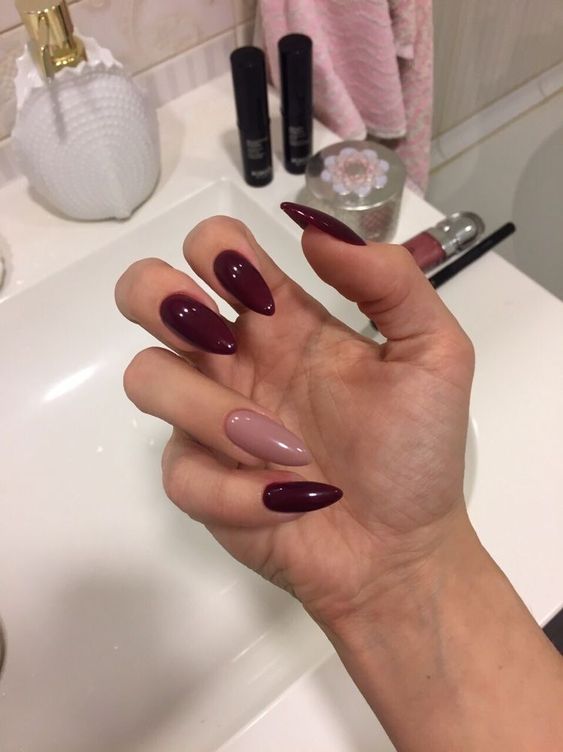 Source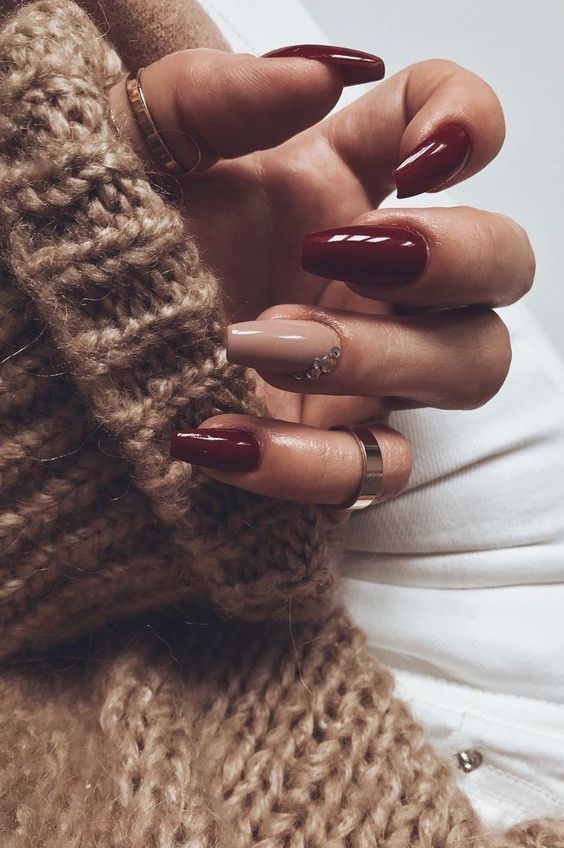 Source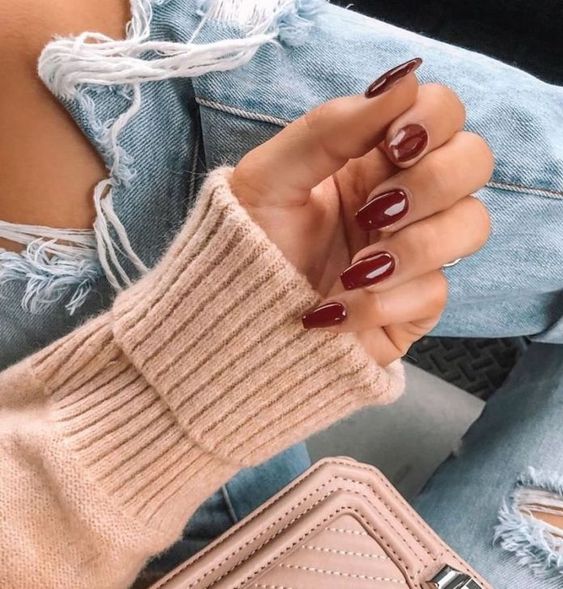 Source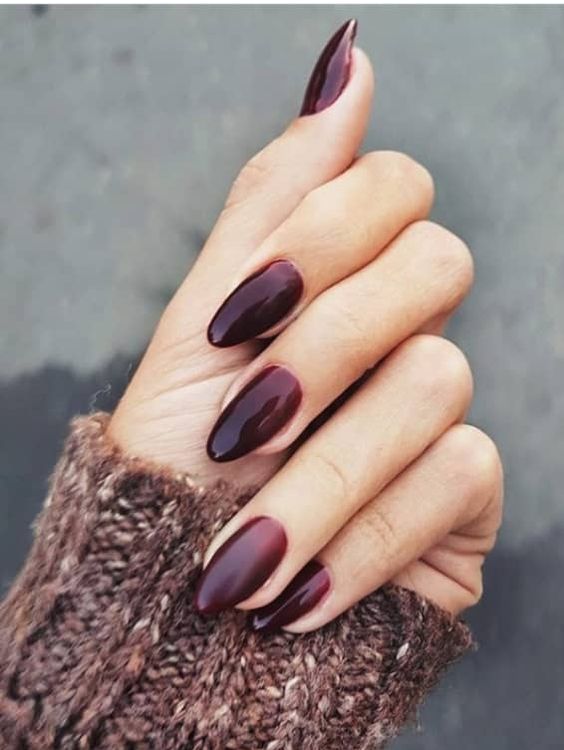 Source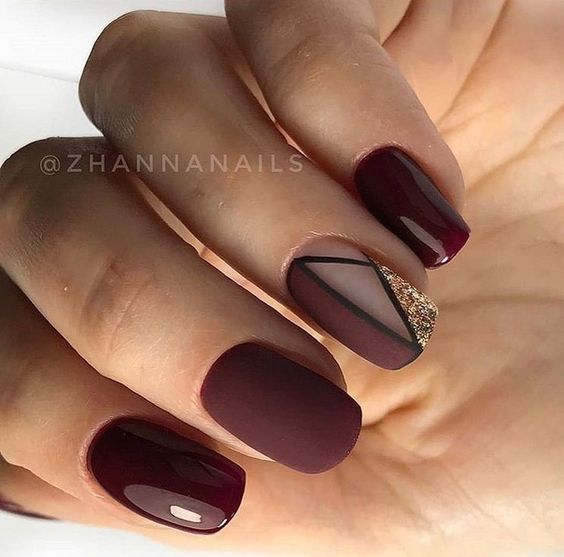 Source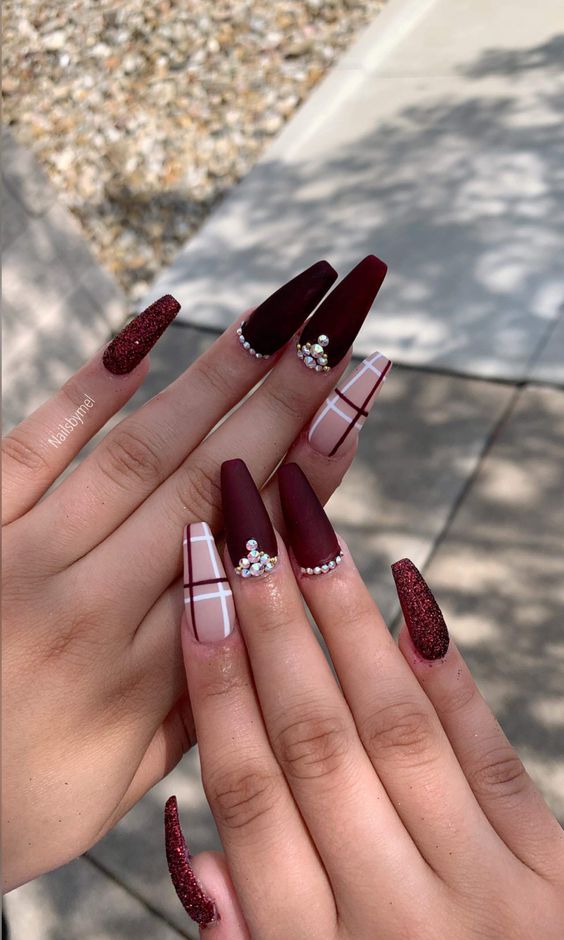 Source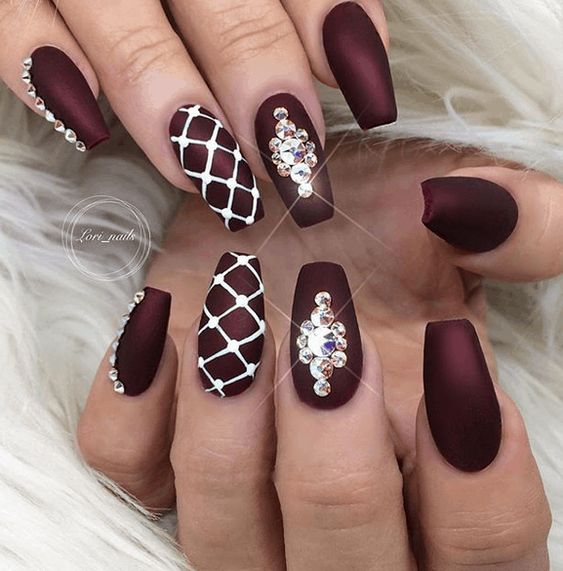 Source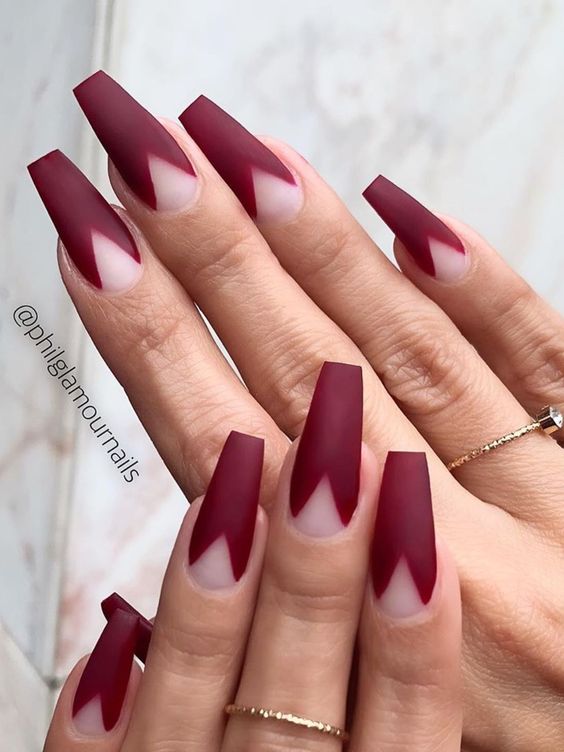 Source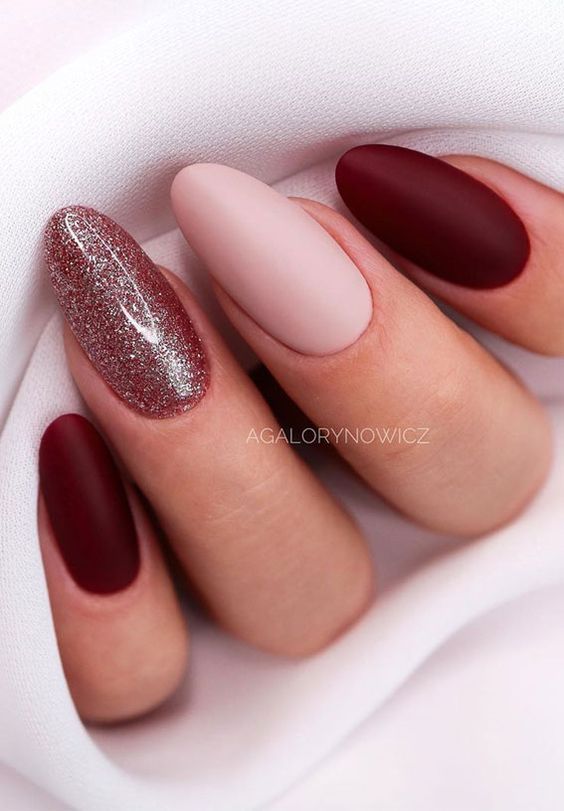 Source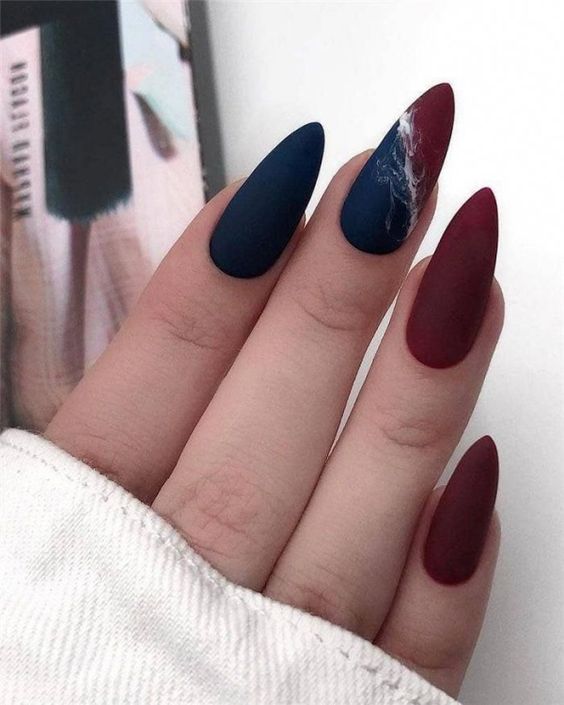 Source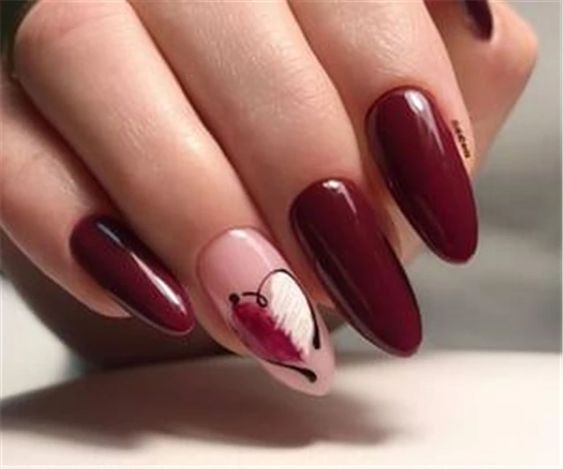 Source
Trendy Burgundy Nail Designs Right Now:
There are a few specific designs that are super trendy right now. Here are some of my favorites:
Matte Burgundy Nails: If you're looking for a more low-key look, then try matte burgundy nails. I love the way it looks with the neutral colors. Matte nails aren't used often enough these days to be honest, but if you want an edgy look that will work for both casual outfits as well as office wear… go with matte burgundy nails!
Shiny Burgundy Nails: If you're not into the whole "matte" trend or want something fun and graphic, go with shiny nail designs. Right now the way to do them is to either paint on a design or use press-on nails and add your own custom burgundy acrylic sealant over it.
Matte Burgundy and Gold: I love this combo! I think matte and gold look fantastic together, plus the color of the gold complements really well with the burgundy. It's also a very chic pairing.. perfect for when you really want to make an impression at work or in social settings where looking great is important.
Matte Burgundy & Silver: This is another fun pairing… silver compliments burgundy well too. In fact, both silver and gold compliment all shades of reds well. If you're thinking about going with a matte burgundy nail color, I would also recommend throwing in some silver as well (or even gold).
Matte Burgundy and White: This is a nice combo if you want to go all out on the matte trend. The white adds something extra special here too because it really pops with those dark colors. A great way to make your nails stand out and look very different at the same time!
Glittery Burgundy Nails: If you're into that cute girly style then go all out and do glittered burgundy nails. I love this one for an office setting or business casual type of outfit, plus it looks great with neutral colors like black and tan… so it's easy to match with any ensemble!
Matte Burgundy Coffin Nails: Love this look! The long coffin shape really makes the dark colors pop and it looks very unique compared to other nail shapes right now. I love wearing black outfits with these, plus they fit every outfit whether its laid back or fancy, which is definitely a plus.
Ombre Burgundy Nails: This is another cool ombre effect that I love. It's unique, very popular right now, and its very classy looking! If you want something that looks sophisticated then this is the perfect look for you.
Burgundy Nail Accent: Love this look because it's not too bold but adds a really pretty accent to your nails (especially if you're into neutral colors). The burgundy color stands out without looking too loud. Plus, the design is simple enough that it will work for office wear or casual outfits.
Dotted Burgundy Nails: This is really fun and cute too! You don't have to go with the dots all over either, instead just add them to your ring finger… it gives these nails an interesting twist when paired with other matte colors.
Marble Burgundy Nails: I love marble nails! If you don't want to do it all over your nails, but just on one or two, then try marble burgundy nails. It goes with so many different colors and is very easy to work with if you have an unsteady hand… plus I find the marbled look really classy too.
Burgundy French Tips: A classic that lasts forever, French tips are cute no matter what season it is. The best part of this design is that you can easily swap out the color for other shade of red/burgundy depending on the outfit you're wearing.
Matte Burgundy Stiletto Nails: Perfect for date night or formal occasions, stilettos really make a statement on your nails. The best part about this look is that you don't have to add any design to them, although it does look even more amazing when you do add a little something extra.
Flower Design Burgundy Manicure: This is perfect if you're into that girly look or just looking for something to stand out more. It's simple, yet so cute and very easy to do yourself! I love this one… even though it doesn't work with some outfits, it works with others which makes up for the lack.
Other Tips For Doing Your Own Nails At Home:
Polish your nails first and then add tape or whatever you want to use as a guide for the design. The design should be very easy if you do this… so simple, in fact, that it's barely noticeable unless someone is 3 inches away from your hands!
If the polish is hard to take off when finished with your manicures, try using baby oil or even disposable wipes. They will easily remove any excess product on your skin… plus they won't harm your nails either.
Use a nail file after applying top coat to smooth out edges of the paint job. This way it looks clean and professional instead of being jagged or bumpy. You can also use this technique for making corners less "pointy" and rounder, which is great for natural nails.
If you want your nails to look professional and clean, start with a white tip. This will make your nails look like you went to the salon or spa because it's such a perfect white color (rather than colors that come in different shades).
What are your favorite burgundy nail designs? Let me know in the comments!