Rhinestones nails designs look super chic and sophisticated. Thus, many consider they are not so suitable for an everyday outfit. We do not agree with it: being elegant might be part of your style! But you have to bear in mind that size matters: bigger is not always what you need.
Rhinestones should go in a fine combo with minimalism. You might come to the lure to add more of them. But resist the temptation. Instead, enjoy in many shapes and patterns. Sure, you must have specific abilities and patience if you want to do it yourself. Or, you could visit your favorite nails salon.
Whatever you invest into it will be worth it. Pair it with fancy clothes and good make-up, and you will look stunning whenever you show up somewhere. In the name of all said, we collected more than 30 alluring and chic manicures with rhinestones.
What Do You Need To Know About Rhinestones Nails Styles?
Rhinestones for nails are imitating the precious stones. Thus, they shine like real ones too! Also, they are available in many types, such as crystal, glass, acrylic rocks, and plastic and zirconium components. And then, glass crystals are divided into machine cut and unprocessed. Which one is the pretties depends on the personal preferences – it is in the eyes of the viewer. Even the cheapest model can look good.
As you could conclude, rhinestones come in various shapes, dimensions, and hues. Which color could it be? Transparent, colored, and with a hologram impression. The opposite side of the stones is always flat because it allows gluing then.
The best about this manicure? You can use rhinestones in numerous moments, making new designs. If you do it all right, you can reuse them up to ten times.
Tutorial For Rhinestones Nails
It is always a good idea to sketch your plan for nails. You can see how it will look like and if you need to modify something. But we are not all amazing artists. And anyway, with all the technology we have today, why would you even botter? You can look at the pictures of different designs and pick your favorite. We collected 40 patterns we absolutely love!
Now, the tone of stones is affected by the color of the base. You have two choices: combination or sharp contrast. If you have a neutral background on your nails, the hue of the rhinestones can mimic the color of your jewelry. And if you pick rhinestones in various colors, do not go too wild. Even two colors can be enough. Or at least follow the corresponding color scheme.
Which size should you pick? Larger pieces go exclusive on longer nails.
32 Rhinestones On Nails Ideas
#1 Simple Rhinestone Nail Designs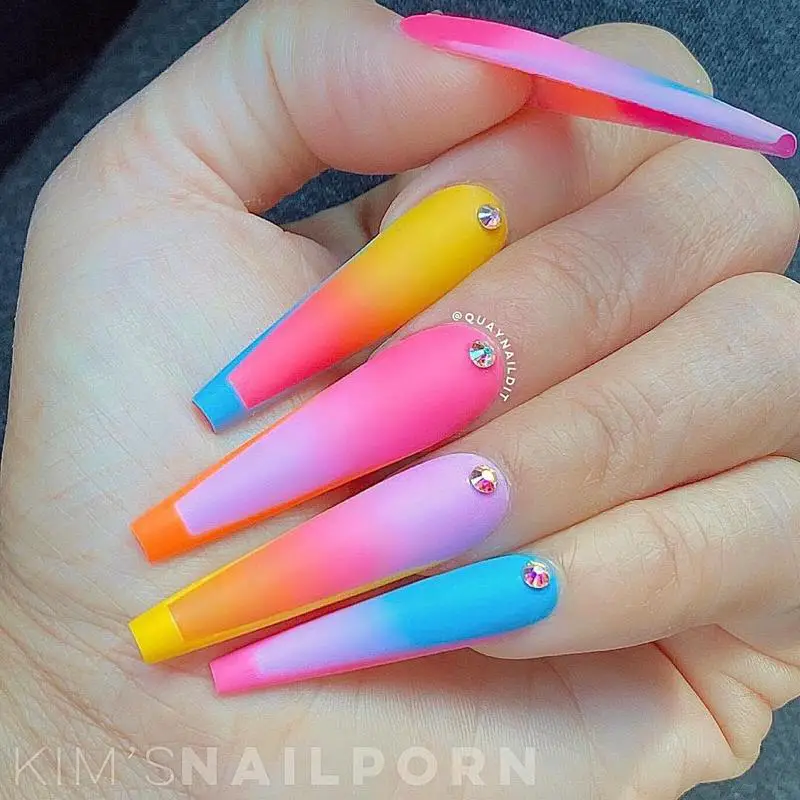 Let us start with the simplest idea! Put a single rhinestone on each nail. You can paint your nails in a color palette for a more fierce look. Or opt for one color.
#2 Blue Rhinestones Nails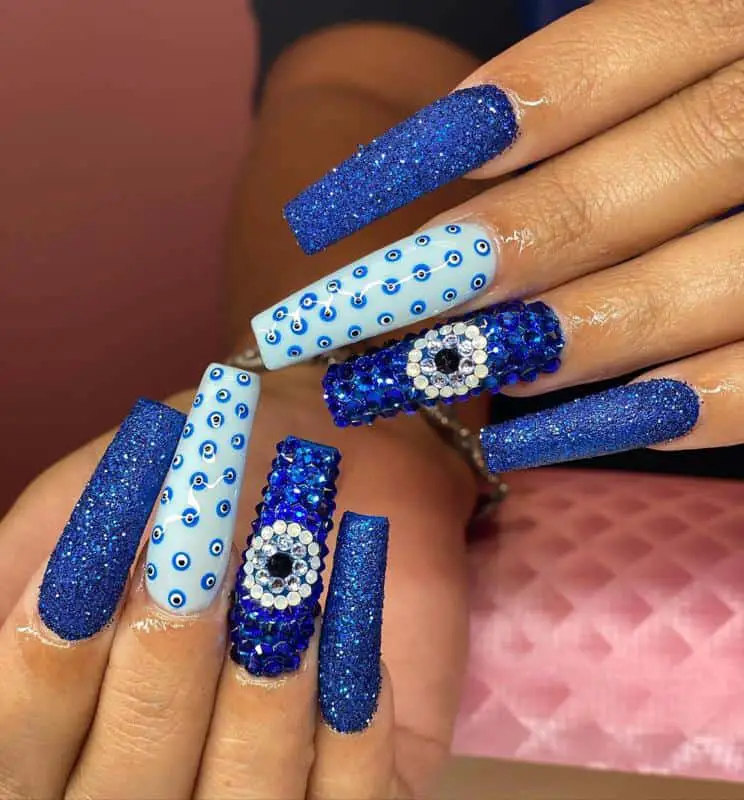 Blue is defined as a preferred color by many people. Maybe because it brings serenity. Might be that blue is the warmest color. Thus, you cannot make mistake if you add it to your style. But serenity does not mean too simple. The design we are suggesting will give the fierce makeover to your look!
#3 Baby Blue Rhinestones Nails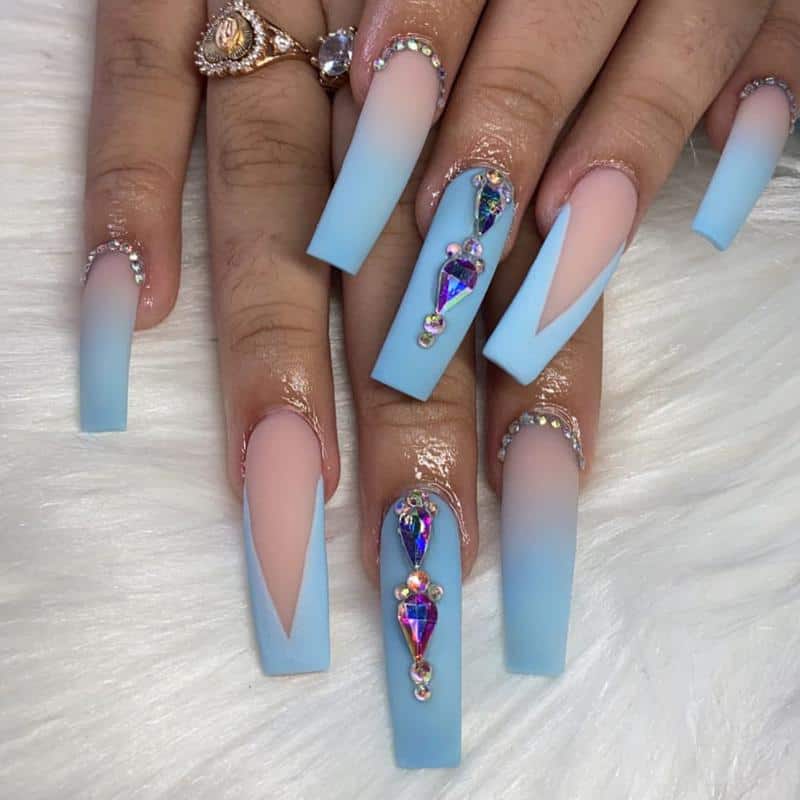 Okay, but nothing brings as much peace as baby blue does! By choosing to wear it on your nails, you will make a trustworthy and reliable appearance.