There are wonderful nail designs suitable for short nails that can help every lady to express her mood and emphasize her style. Short neat nails look wonderful, but it is unnecessary to wear classic nails if a girl wants something bright and eye-catching. Even when picking a simple nail art, remember to take into account the skin tone. Now, check out a variety of wonderful ideas for any style and mood.
1. 3D Short Nails to Express Your Uniqueness
A beautiful 3D nail art will surely draw lots of attention. It is possible to use various nail tools on short nails to implement various ideas. It can be a flower on the ring finger, butterflies, and more. A girl can choose a fun manicure or something that would look classy on the natural shape of the nail.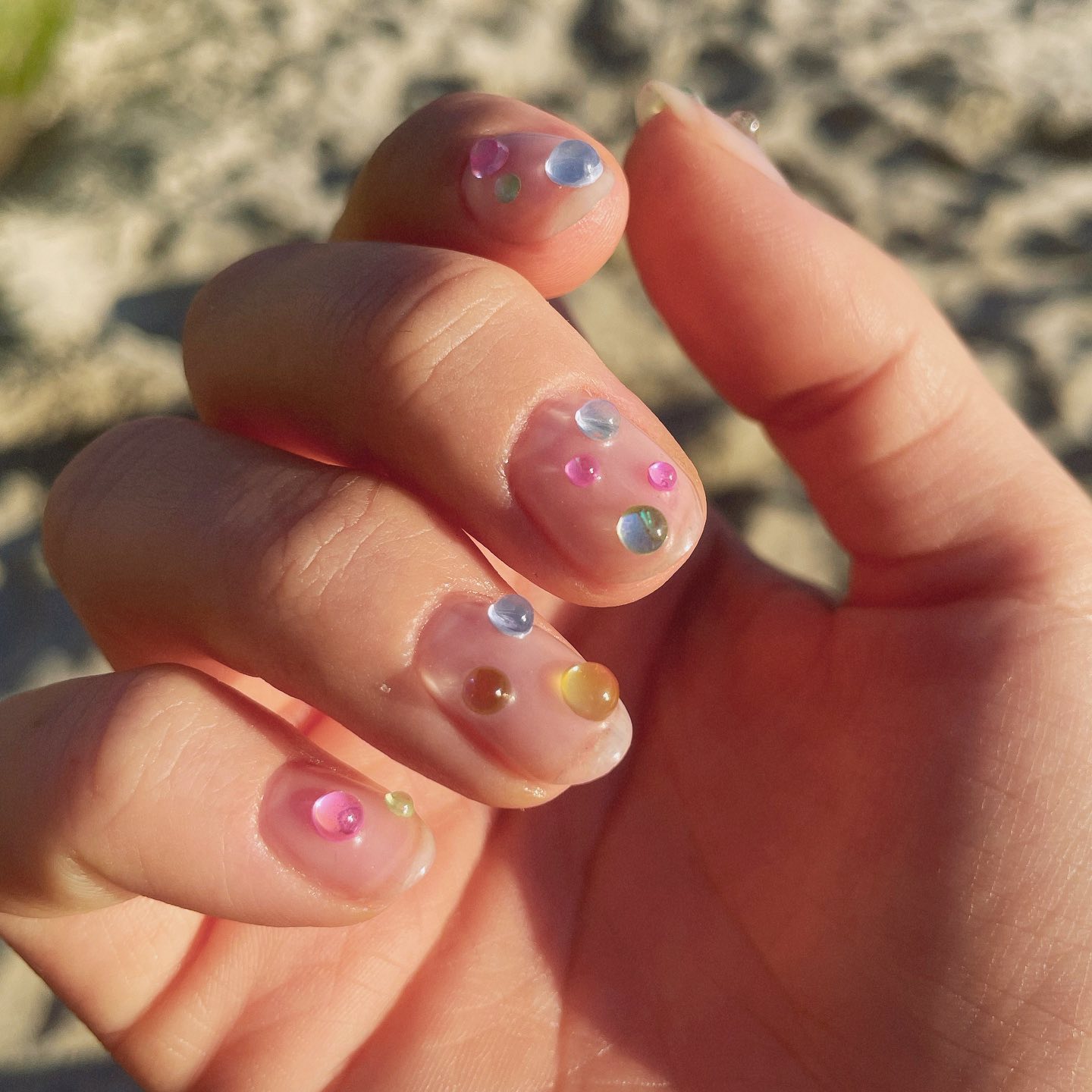 via @tendrehands
2. Holographic Nails — The Best Choice for a Party
There are multiple holographic nails designs to choose from. Enjoy a wonderful colorful mani with different shades that will look awesome. It is a great option for those who really try to impress others with the amazing look of their nails. Go through various short nail ideas to make shining nails with the desired colors.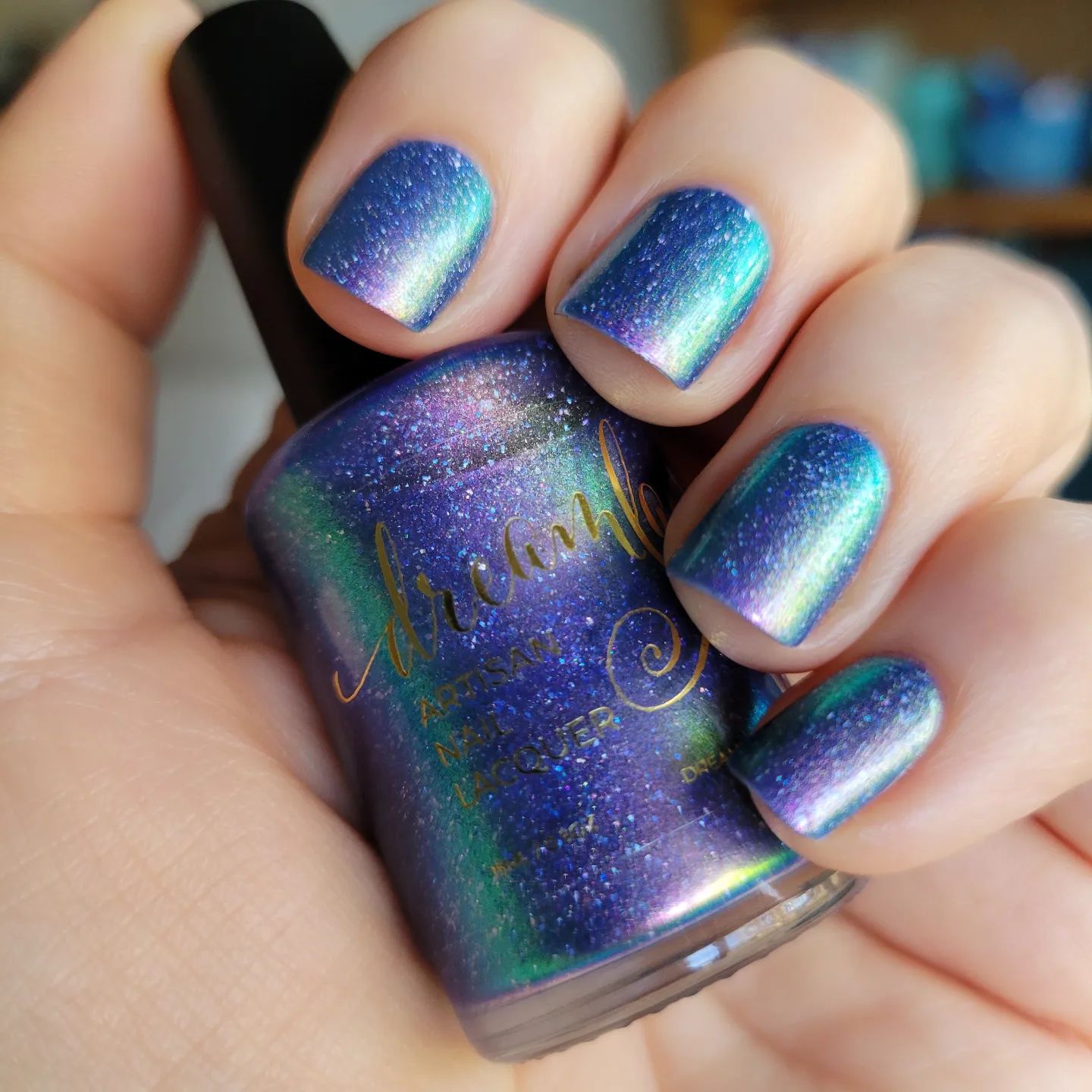 via @prettynubbynails
3. Be Spotlighted — Glow in the Dark
Luminous gel polish is what a lady needs to use to get glow-in-the-dark nails. This type of design will look great on short nails. A girl who likes going out at night should try it out. It is possible to use different colors, but even with simple white, it will be bright nails.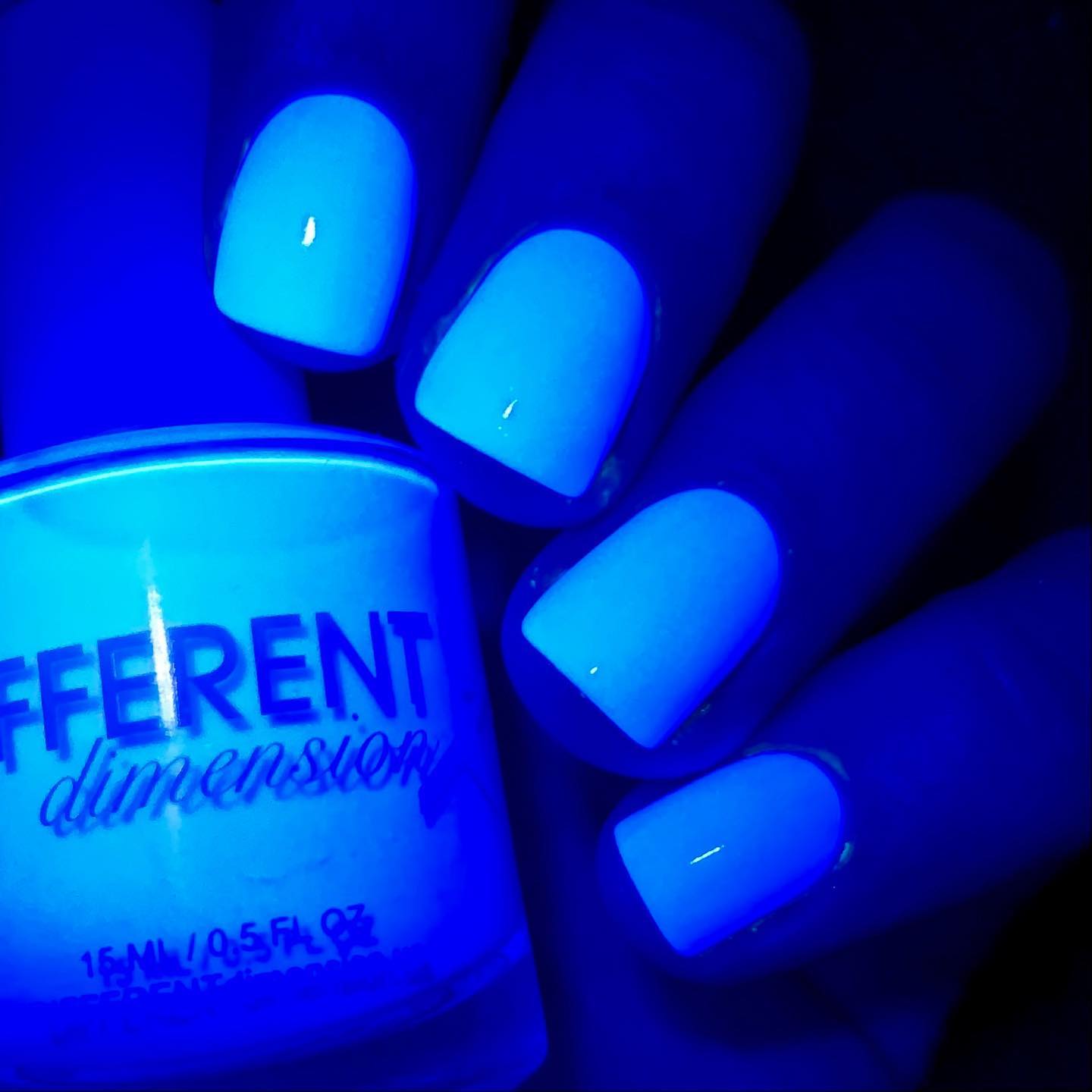 via @nbnailart
4. Add More Color to Your Everyday Routine
There are plenty of things to do with short nails in terms of color choice. Bright orange nails will add some energy to any day. Those who want to create a more gentle appearance should choose pink nails. Sparkly nails tips on glossy nails will also look stunning.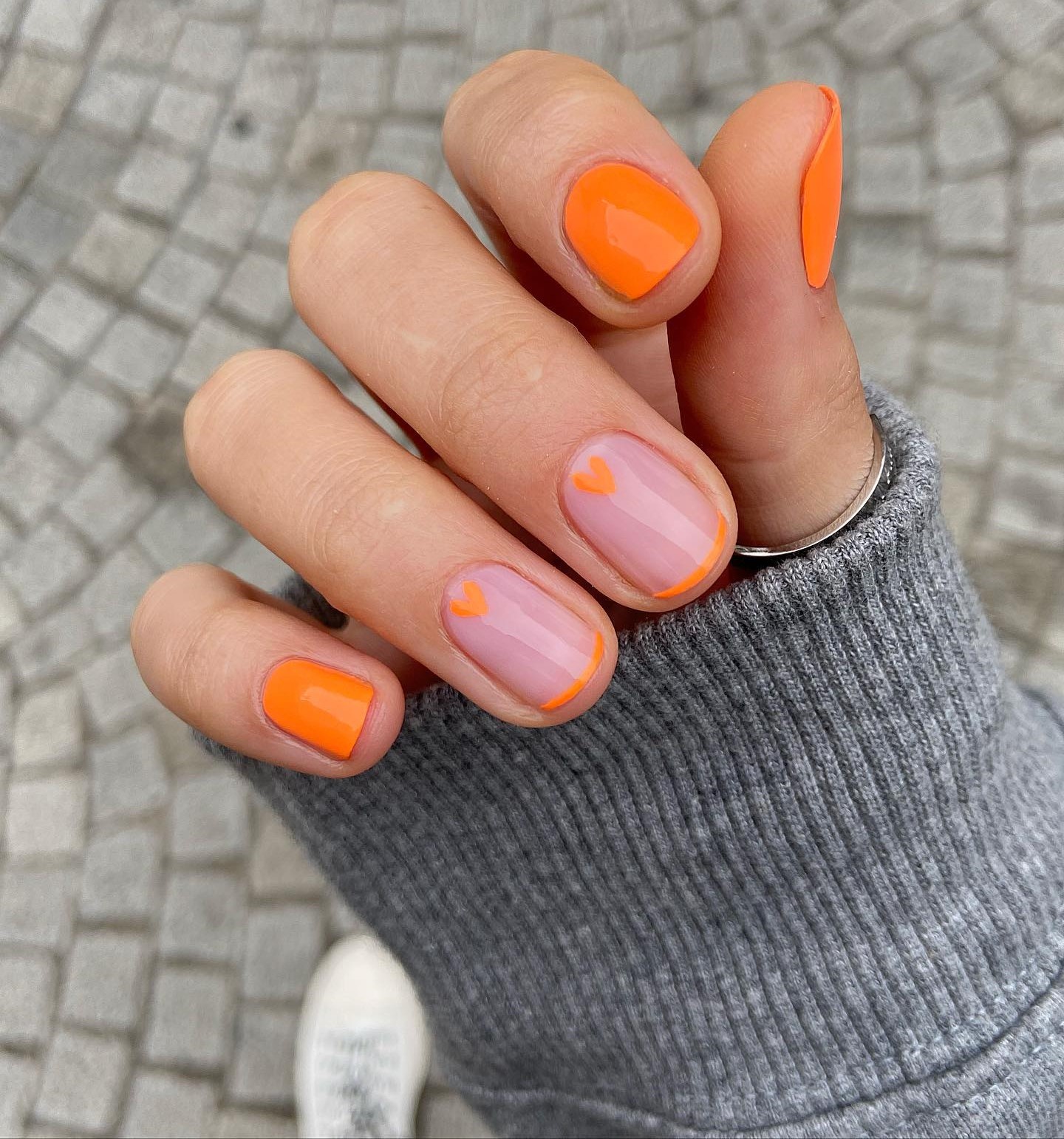 via @_by_shelley
5. Dreams Come True with Nail Stickers
Such stickers allow the implementation of any nail design. It is a great option for an easy manicure on shorter nails. Such stickers come in a huge variety, from cute animals to flowers. A lady can check out beautiful trends and find something that would perfectly match her style.
via @beautyguru_mx
6. Negative Space Nails That Will Impress
A negative space manicure is about combining natural nails with nail art to achieve a perfect look. This gives short nails a neat yet interesting appearance. Mix bright colors for a more contrast manicure or use pastel shades for a more gentle design.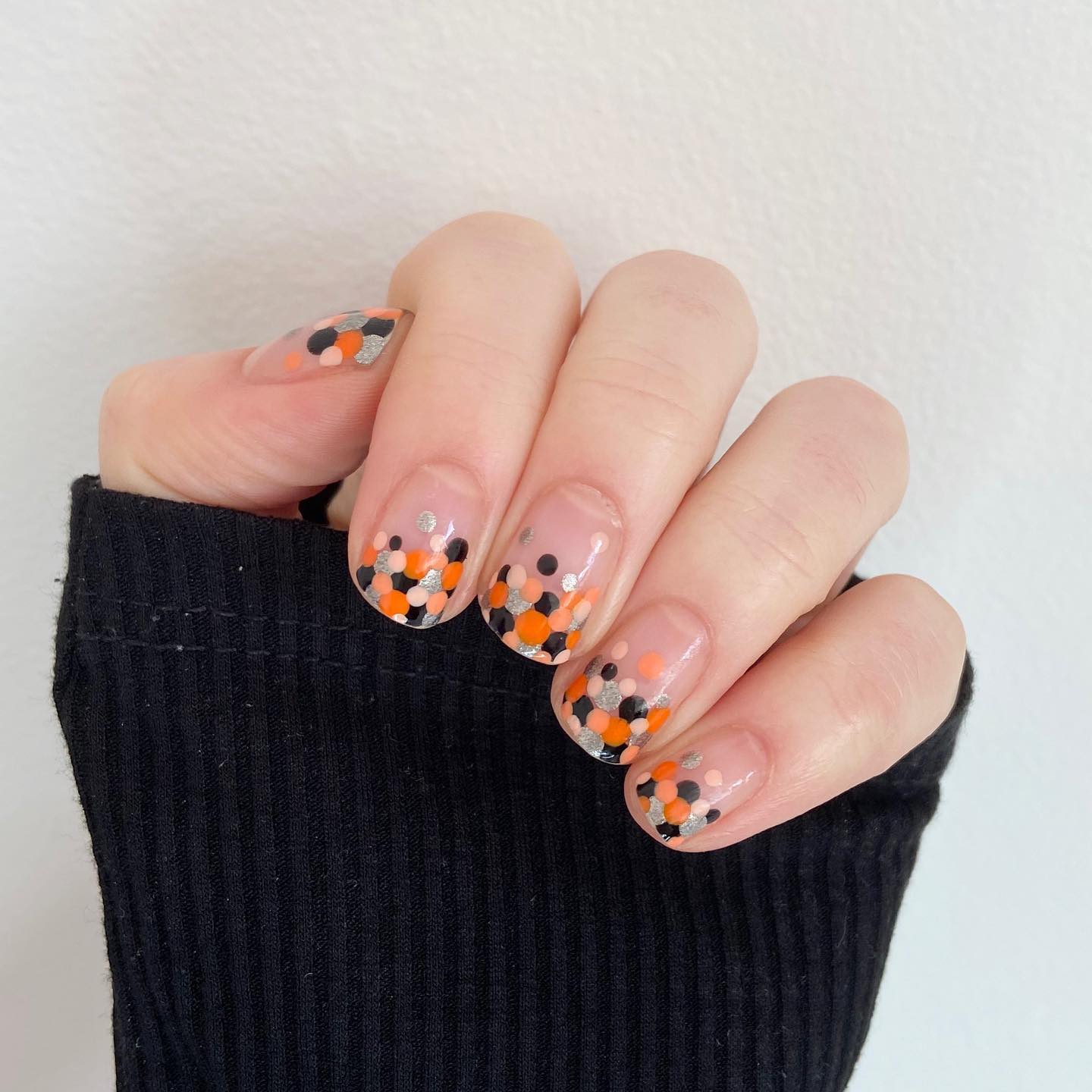 via @anna.and.nails
7. Classy Soft Colors for Short Nails Will Always Be Popular
While soft color manicure does not belong to options that draw attention right away, a lady just cannot be wrong by picking it. It suits any style. It is easy to apply such manicures not only on shorter nails but also on long nails. Nude nails have a more natural look than colorful glossy nails. Multiple colors can be used, such as beige, mushroom, caramel, and others.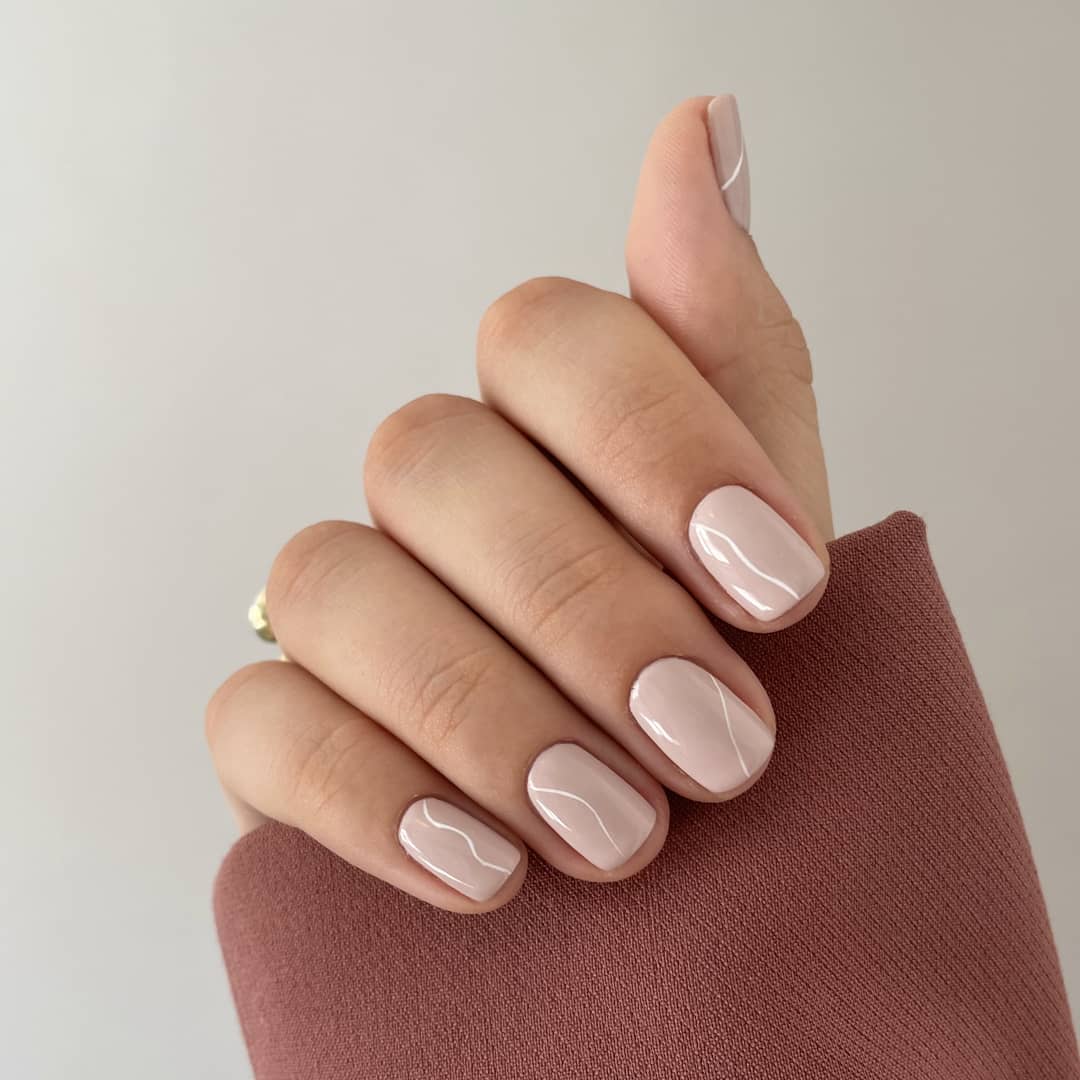 via @nailstudio_by_io
8. Minimalist Nail Ideas for any Occasion
Nude manicure has a more classic look, but if a girl wishes to add a few accents without going too far, minimalism would be a good choice. This subtle manicure can be created with a special nail pen. Thin lines are drawn in different directions, and they do not need to be perfect. The same effect of minimalism can be also achieved with abstract designs and negative space. Those looking for extreme minimalism can pick something like a moon manicure.
via @betina_goldstein
9. Classic Red Nails for Bright Appearance
Short red nails are not difficult to make, but they look bright enough to make people notice them quickly. It is possible to use different shades and use glossy or matte tones. To achieve a more festive look, use gold glitter. Red French tip is a good alternative for those who wish to use this color without having to apply it on the entire nail.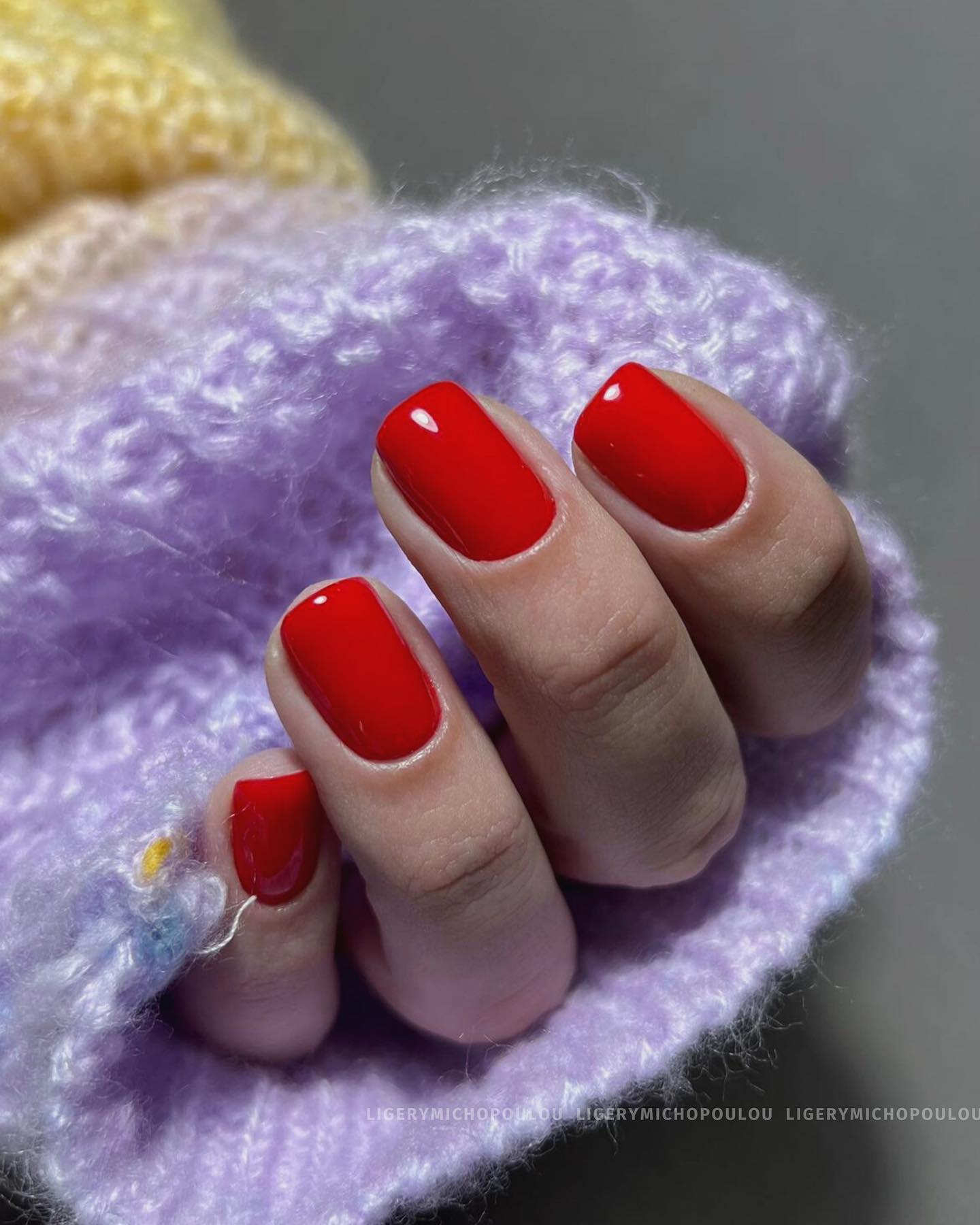 via @infinitynails.gr
10. Manicure That Will Never Age
French manicure belongs to highly popular classic designs suitable for any occasion. It is possible to make French tips in different colors, depending on the clothes, styles, or simply mood. The base color is usually created with a clear or pale polish. Despite its simplicity, it is surely among the best nail designs.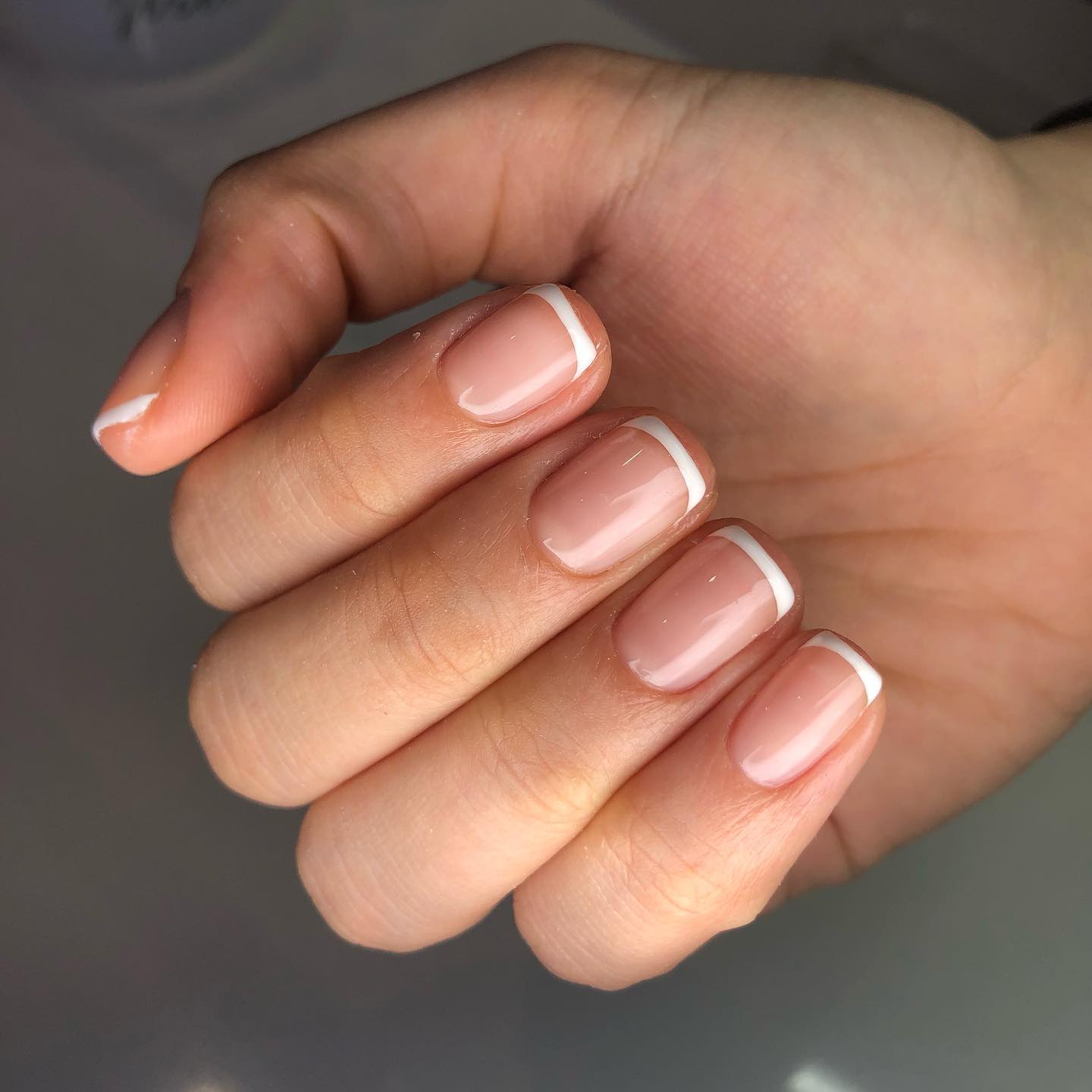 via @me_myself_andnails
11. Express Your Wild Nature with Leopard Nails
Animal prints may be a good choice for a special occasion when you can match your clothes element with them. It is possible to add a slightly different design on the ring finger to complement short nails and create a more sophisticated look.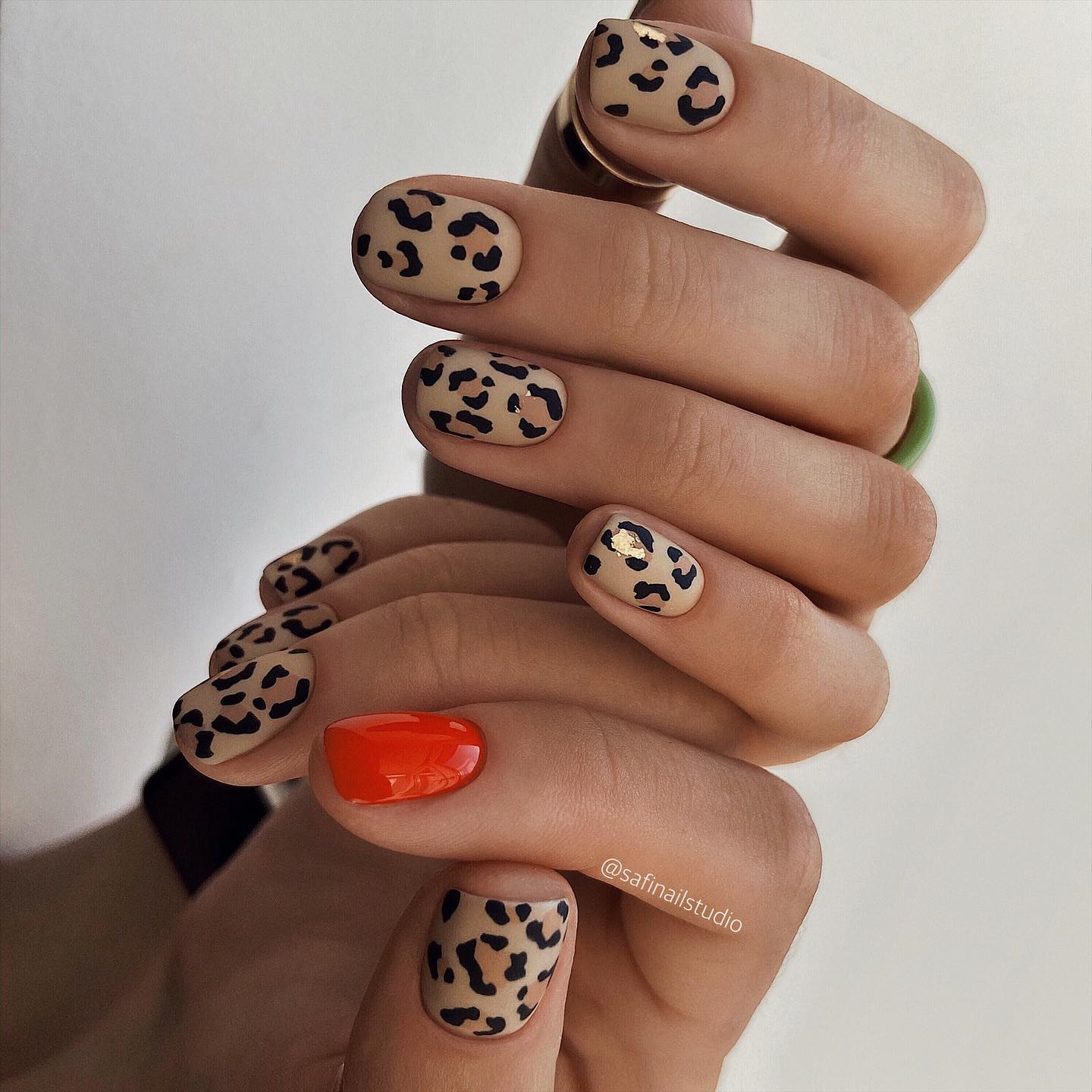 via @safinailstudio
12. Geometric Nail Designs to Suit Any Style
Special pens and other nail tools can be used for creating manicures of this type. It can be a good classic option for short nails. Not only lines can be created in contrast colors to the base color but also triangles, crosses, and more. It is possible to create any style, from office-like to something to wear at a party.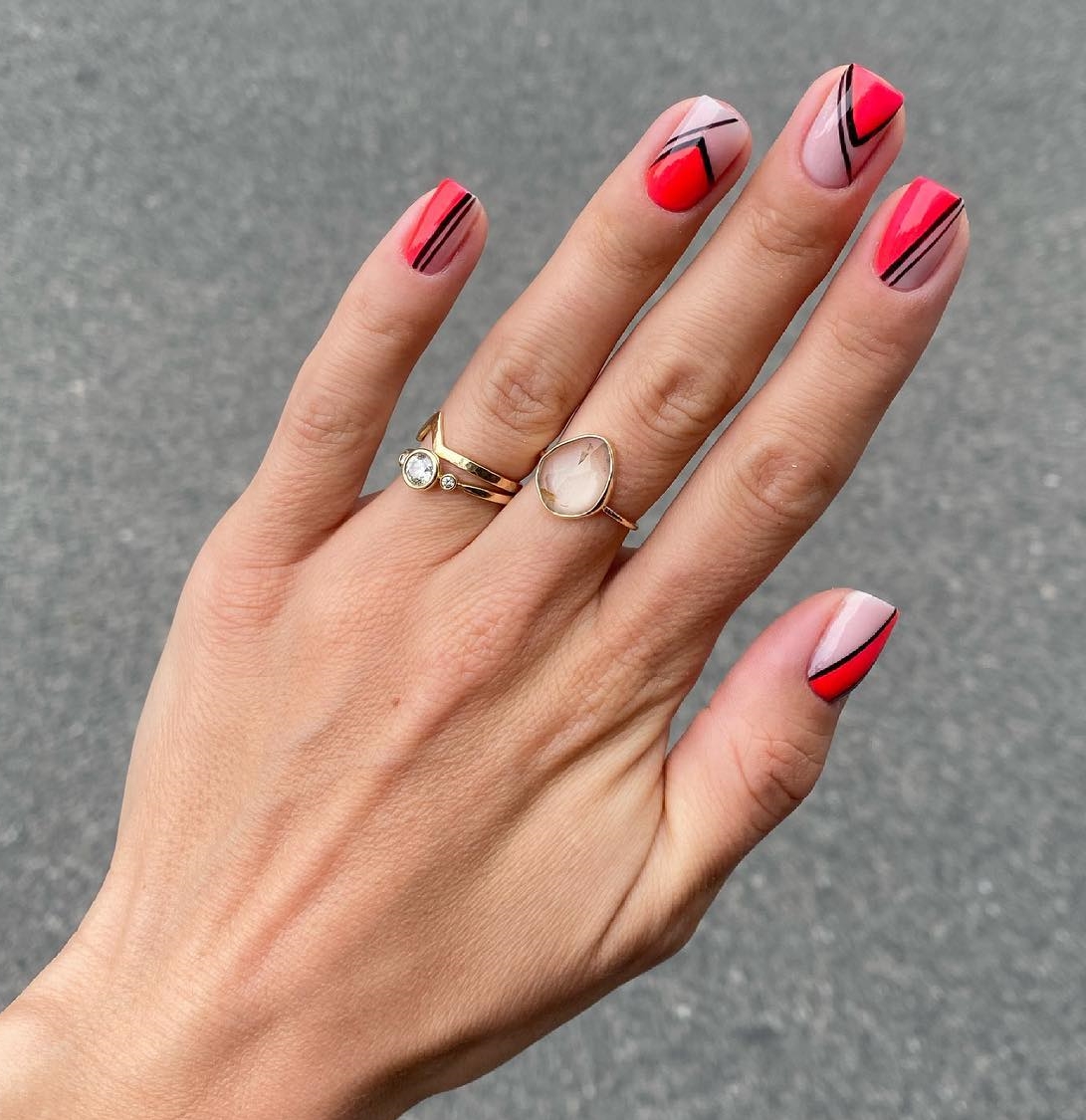 via @anetaujwary
13. Amazing Matte Ombre Nail Ideas for Any Lady
This type of manicure can use many shades that gradually change one another. It is possible to use a paint brush to apply different colors, making sure that the transition between them is subtle. Longer nails allow using more colors because of the length. However, short nails will also look stunning with cool hue choices. Colors to use can be very different; so, everything depends on the fantasy and preferences.
via @monikagromkiewicz18
14. Be Creative with Writing Nail Art
Nail stickers are an easy way to implement this type of manicure. Add words to a single or several nails. Those can be quite fun nails or something looking classic, especially when used with a nude base. For example, adding writing on light shades of brown will create a warm effect. The phrases and words to choose totally depend on the taste. Those can be something nice, like "love," or funny jokes.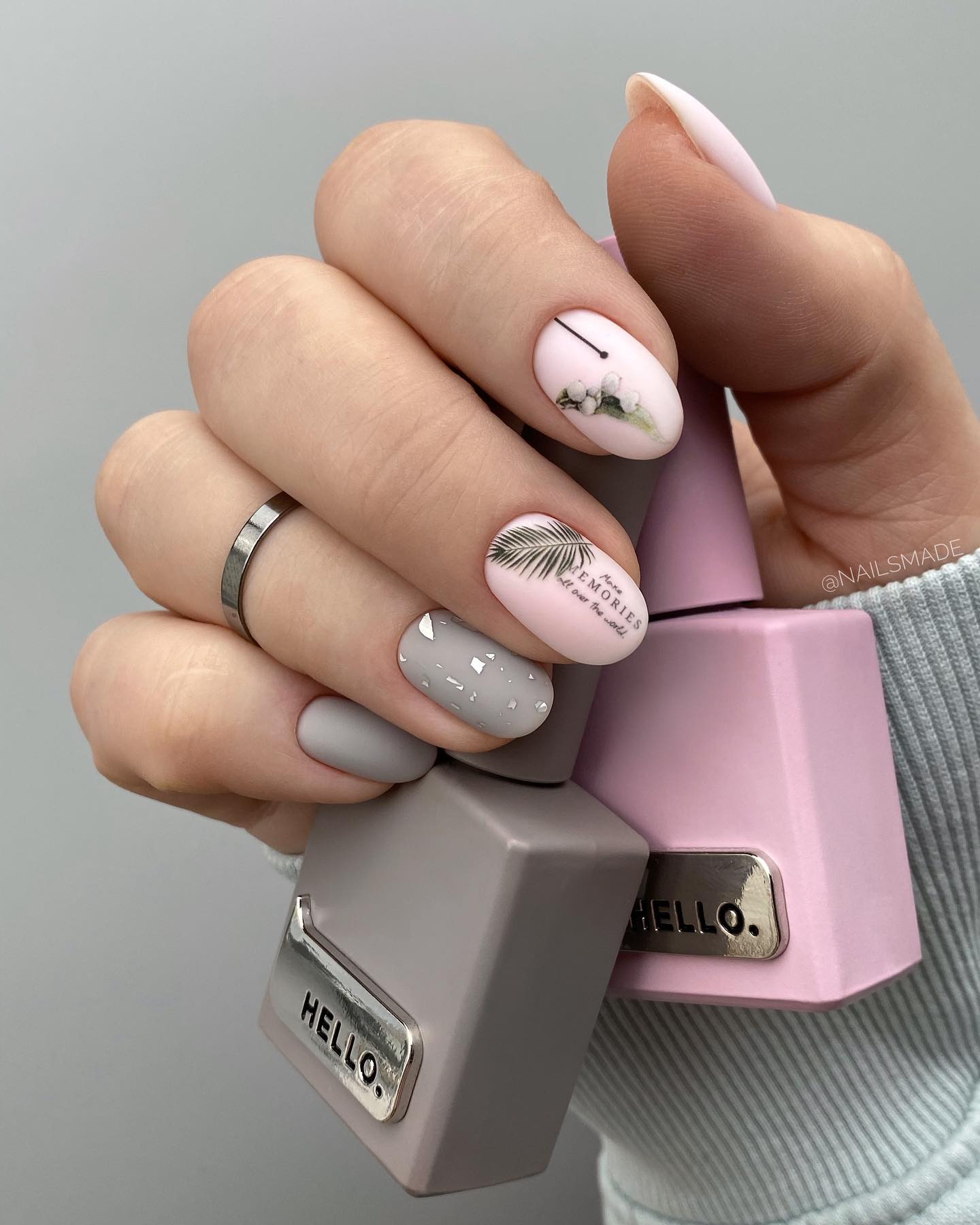 via @nailsmade
15. Try on White Marble Nails for Tender Beauty
White nail polish can be complemented with a nice marble effect. It is possible to mix and match different colors on short nails. A girl may want to create shades of grey to get a nice glossy marble effect. It is also possible to achieve a matte marble with any color. For a slighter appearance, it is possible to make a few marble nails.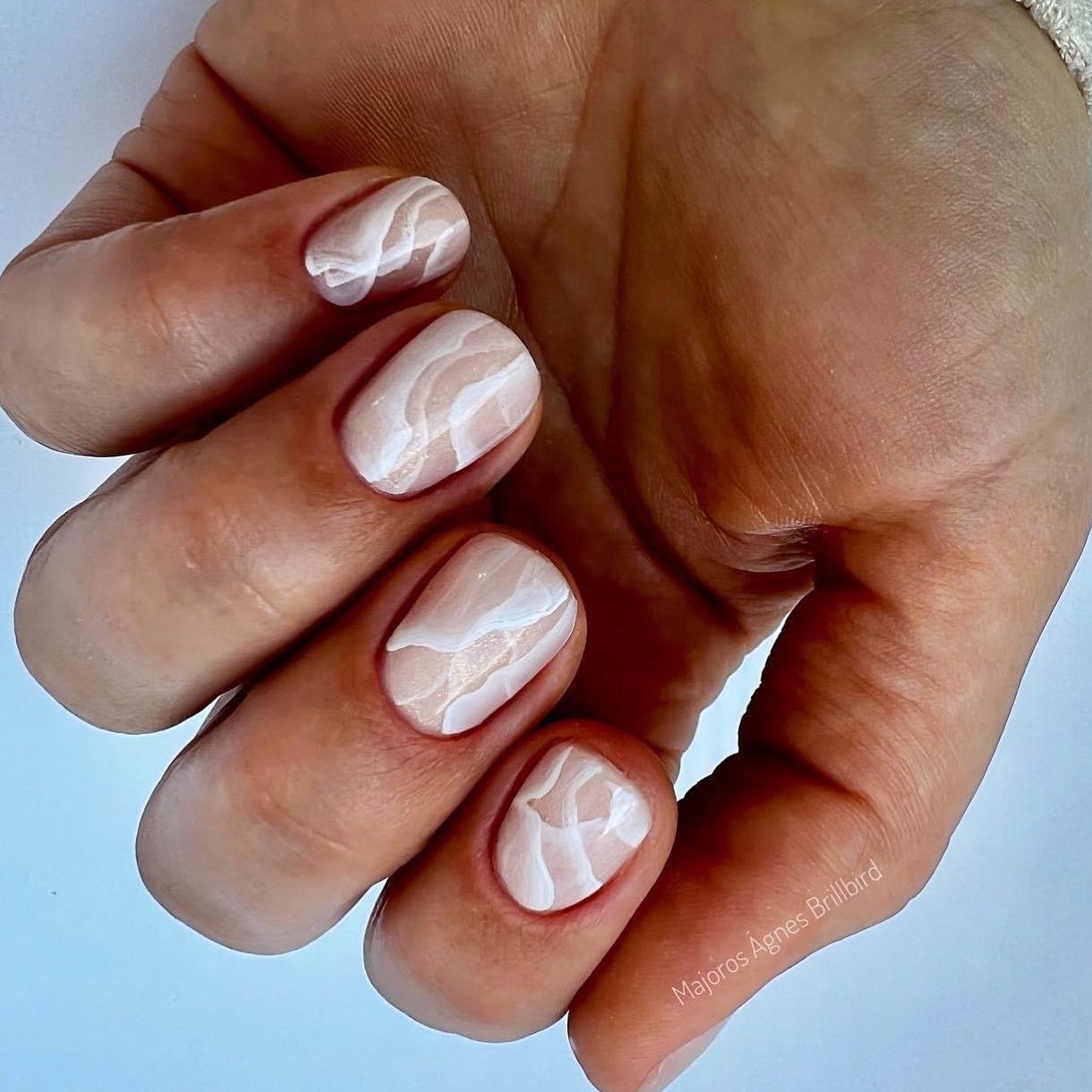 via @brillbirduk
16. Go Back in Time with Nail Trend: 90s-Inspired Nails
What is the latest style of nails? It is the one that will take you back to the 90s. It was a time when intense colors were used, such as blood red, black, maroon, and others. Spring nails, something tender, or vibrant options were not very popular. The Gothic style was the main trend in nail fashion for any length, including short nails. A different retro trend may be interesting for those who wish "sparkle nails" or want to apply dazzling gold glitter.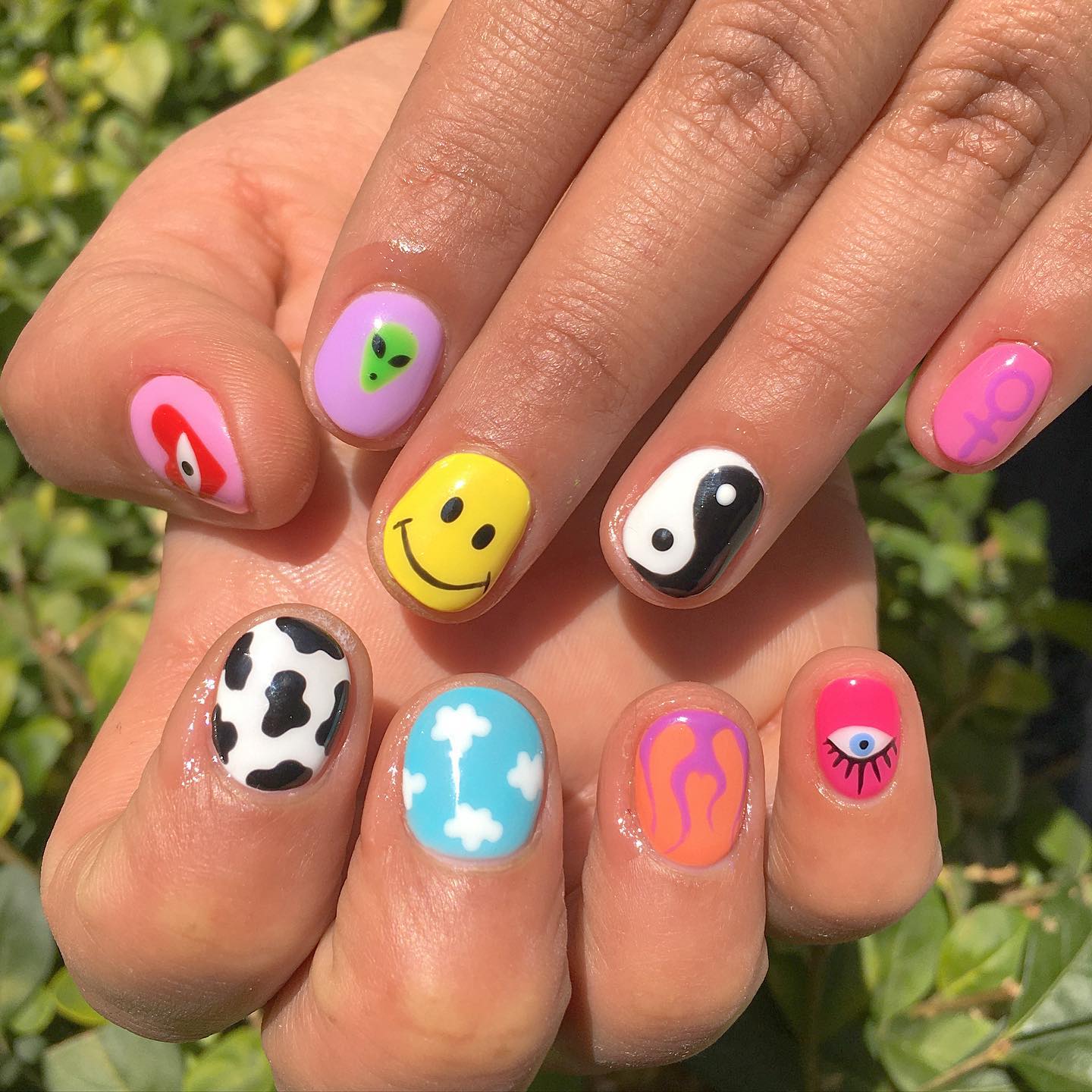 via @donailz_
17. Mismatched Nails as a Great Alternative to Classic Appearance
Unique nail designs can be created by making short nails mismatched. Choose vivid colors for a brighter look; however, it is also possible to use pastel colors for a calmer effect. Those who wish to use the same color can simply use different shades of it to create the desired effect. Moss green will look rich on the nails, while pink nails better suit those with a spring mood. Decide on the preferred color combination and get the lovely nails.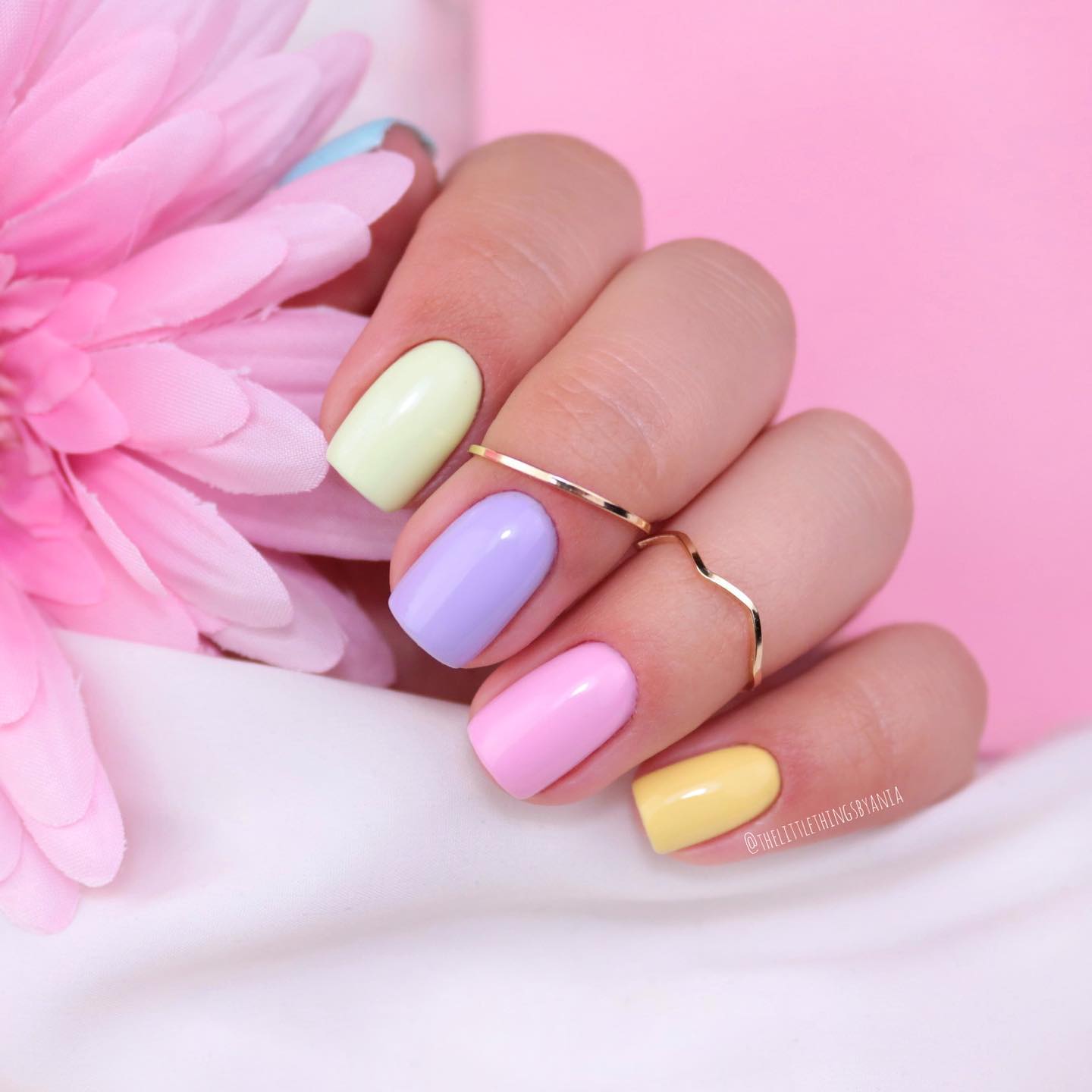 via @thelittlethingsbyania
18. Enjoy Amazing Spring Swirls on Your Nails
It is an all-year-round trend and not only a choice for spring. Using multiple colors, create cute swirls for a unique style. Any color can be chosen. Colorful elements will look amazing on the pastel nail colors. Swirls can be positioned in different numbers and various places on the nail surface. In fact, it is not necessary to apply the same idea to all nails. Come up with a unique nail position for every nail. Also, consider adding this element only on certain nails.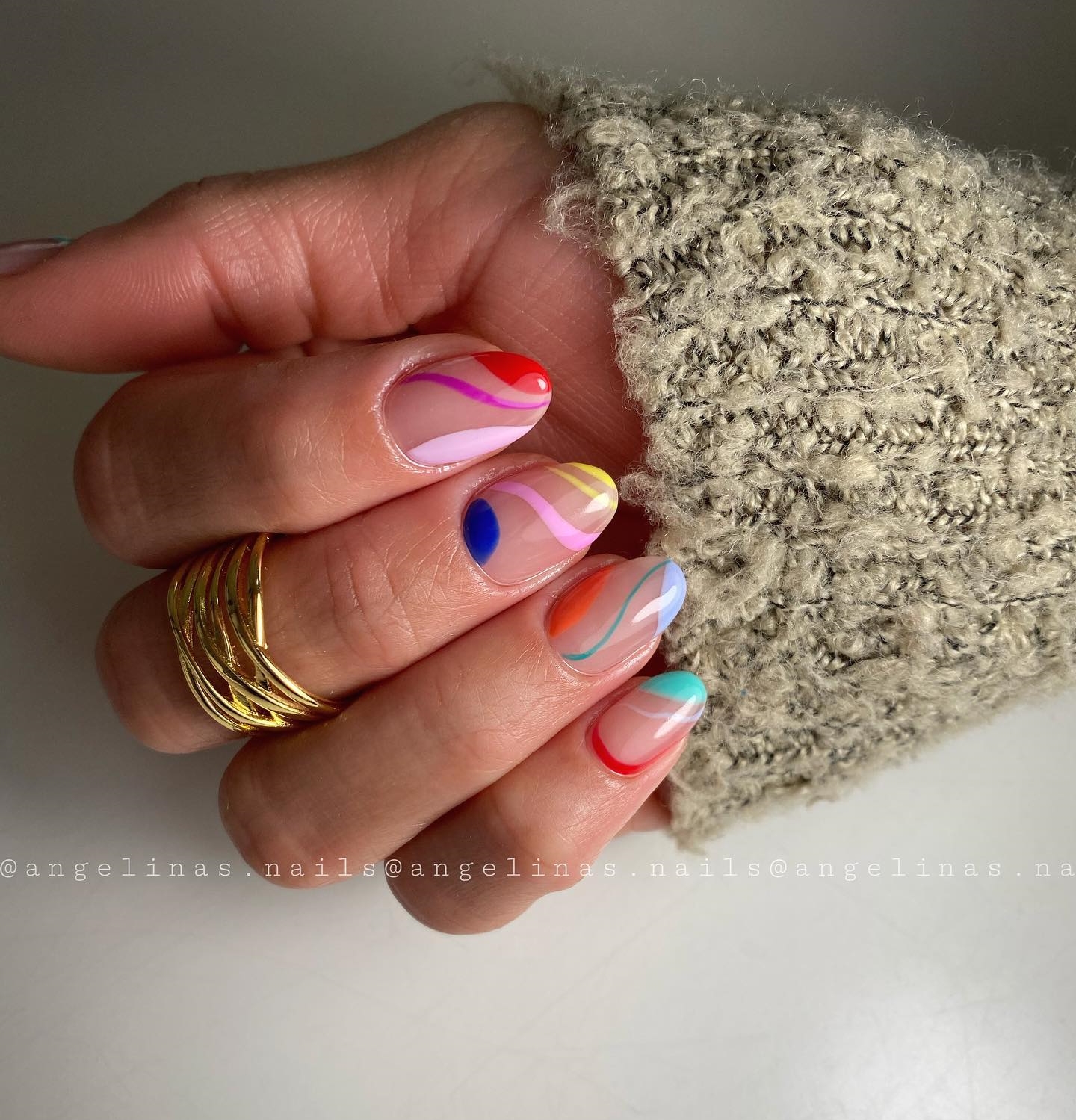 via @angelinas.nails
19. Smiley Face Nails for a Wonderful Mood
Even on a bad day, smiley nail designs will help stay cool. Girls can use a clear base color to apply a yellow smiley face on each of the nails. Consider applying a pastel smiley face in the center of nails or position them differently. The options are multiple here. Special stickers will help in creating a neat look. There is one more simple way to go, which is using a bright yellow base. It will be easy to create smiling faces using nail pens.
via @lizzywade
20. Nice Polka Dots Patterns on Your Nails
The type of nail art that is easy to implement is adding polka dots on tips or all over the nail surface. It will look cute on short nails in any color combination. However, it is recommended to make polka dot nails with contrasting colors. The number, size of the dots, and their position totally depend on the preferences. There are multiple options to choose from, such as adding dots on a few nails, positioning them differently, using multiple colors, and more.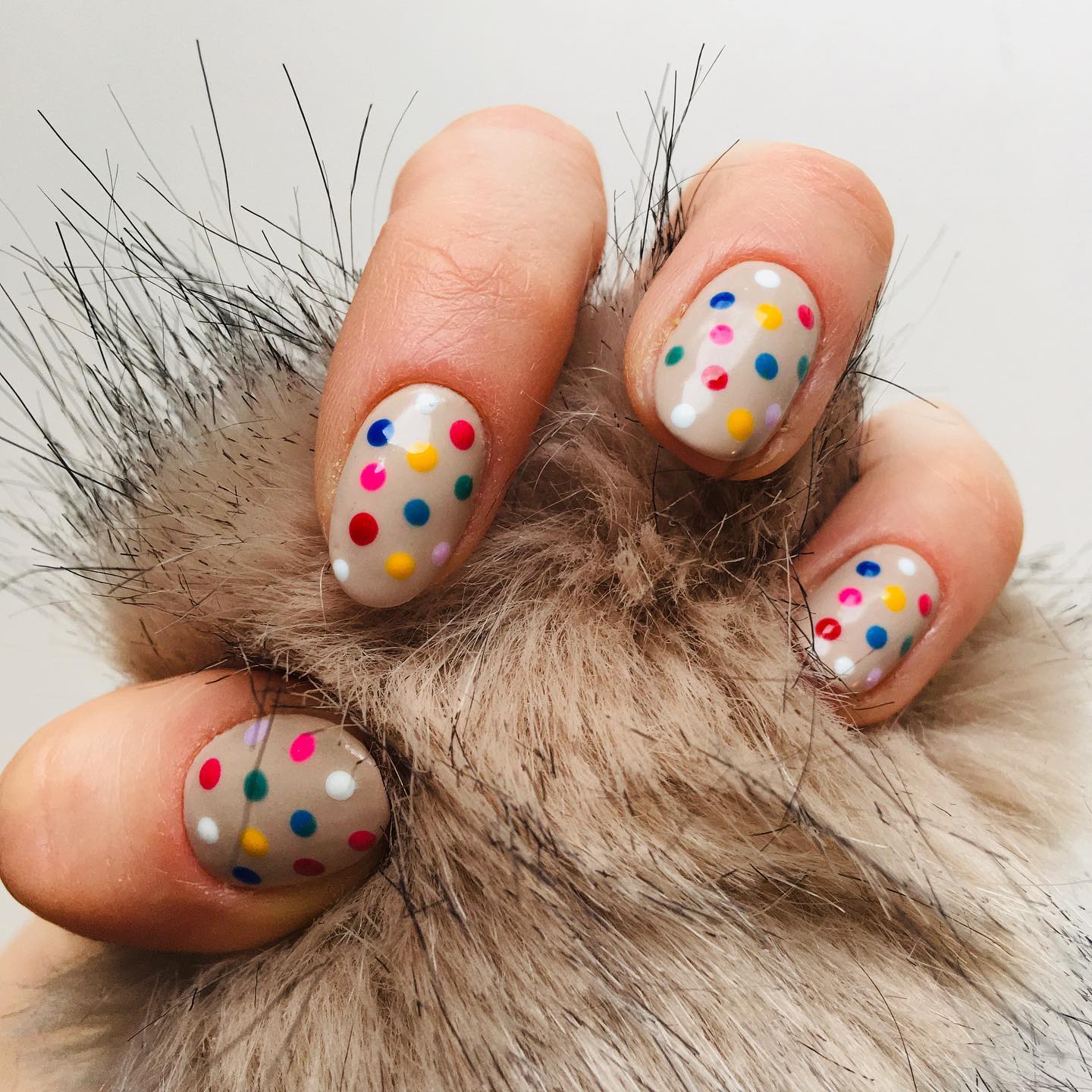 via @martyniix
21. White and Gold Nail Designs for Luxury Look
White and gold nails look gorgeous. Experiment with applying silver or gold glitters on different parts of nails. A simple way to go is to make a single nail in one of the colors. Gold highlights can be applied on tips, corners, sides, etc. This will create a nice shinning effect in combination with white color. Gold sparkle nails are a good choice for a celebration or party. Bridges can also consider this option to look like princesses on their special days. In fact, this type of manicure can also be created by applying golden elements on nails, which will also create a lovely 3D effect.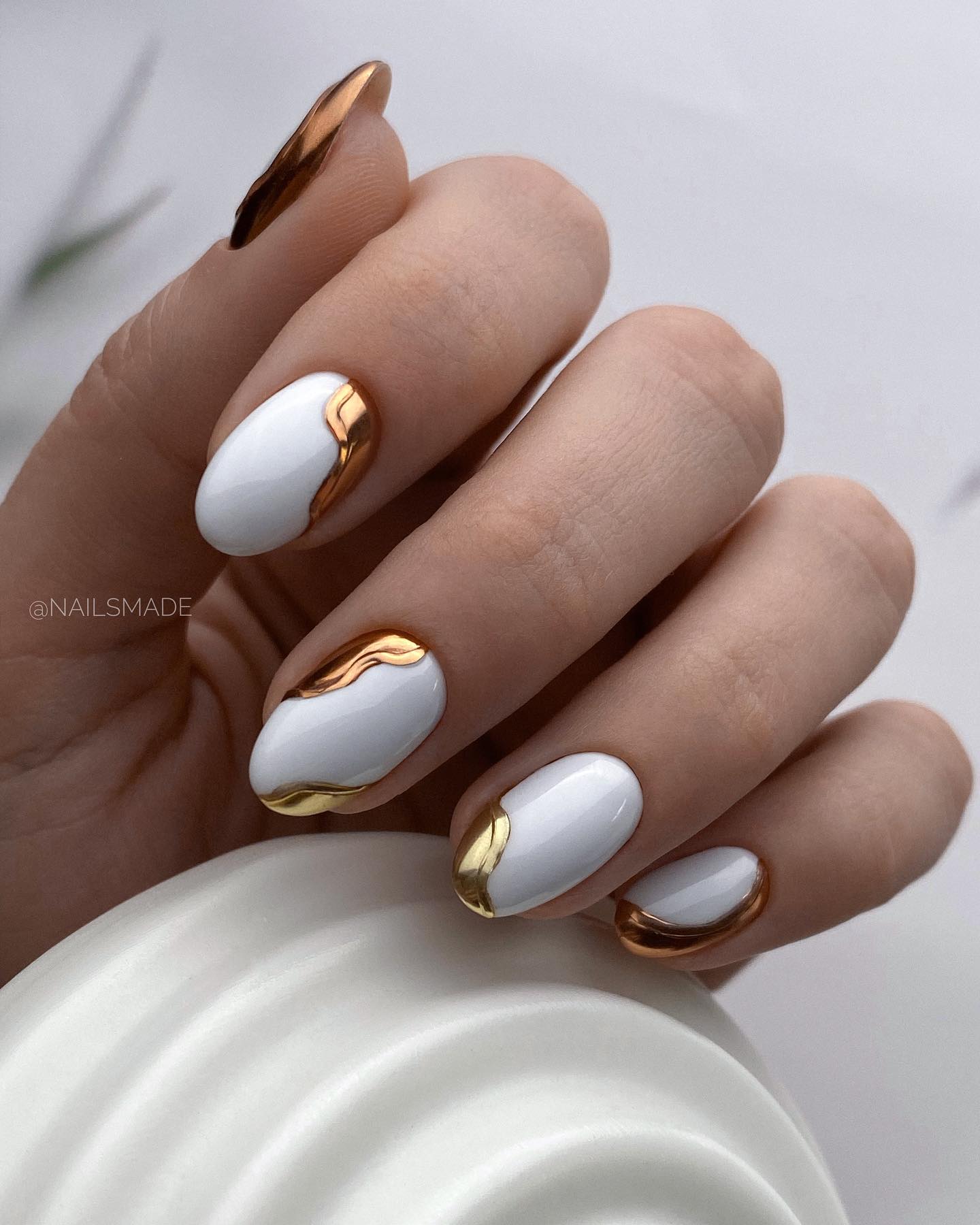 via @nailsmade
22. Experiment with Modern French Tips
Another cool trend is making unusual French manicures. Traditional, white color is used on tips, but ladies can go beyond this rule. This idea can be implemented even on short nails. Carefully choose a color for a French tip. In fact, it can be a mix of colors to create a nice rainbow effect. Experiment with matte tips of different colors, such as green, yellow, brown, etc. Black tips, for example, will look stunning in combination with a light pink color. Anyway, any color can be added to the tips of nails.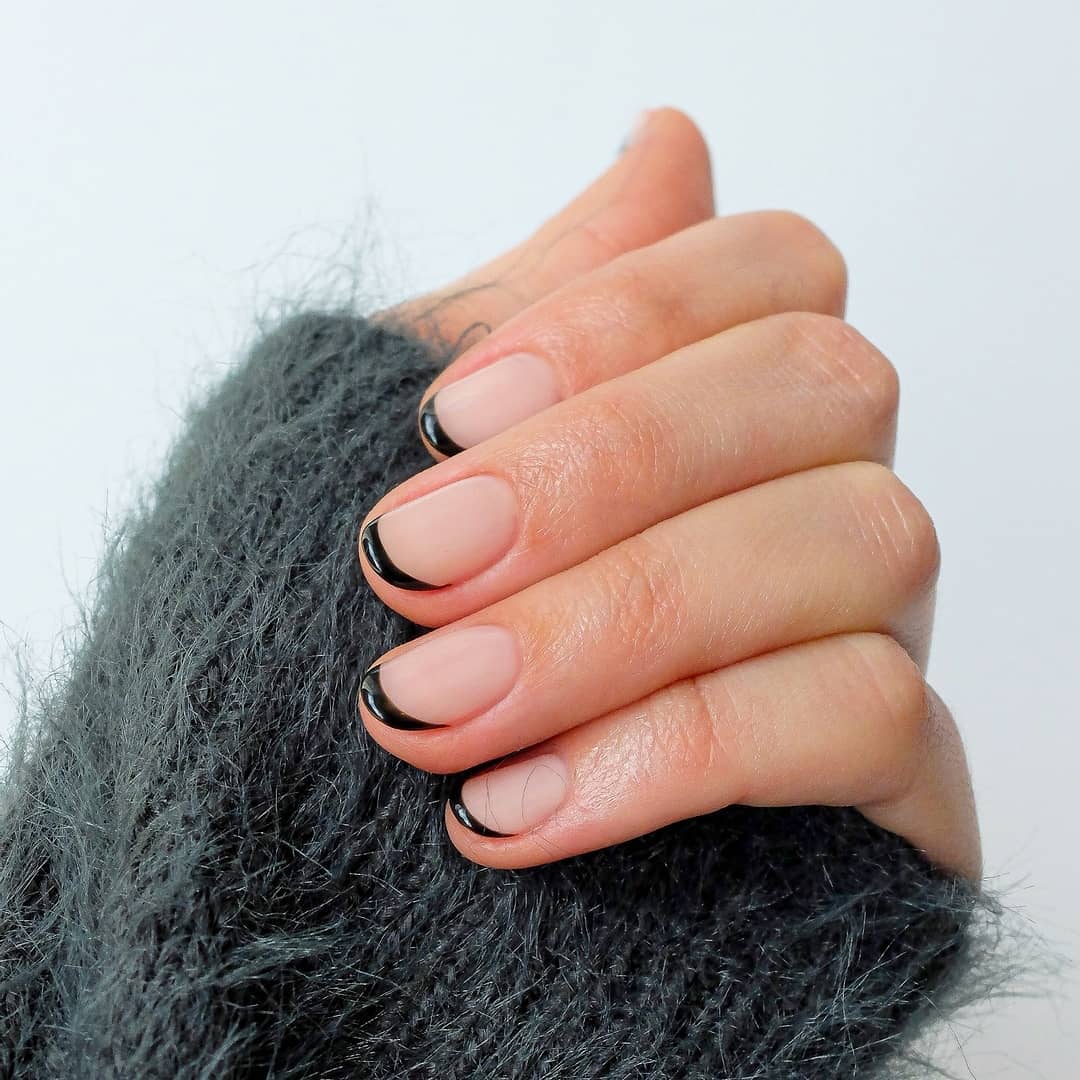 via @mytownhouseuk
23. Eye-catching Chrome Nail Art
Cool glittery metallic mani looks stylish. However, it is possible to create adorable mani in any color, such as red, blue, pink, and so on. Chrome will create nice cold shades that will beautifully shine. The variations are multiple. For example, it is possible to make chrome tips or add a few chrome elements. A combination of different colors is possible. This may not be a choice for any occasion, but add it to the list of options when you want to look especially great.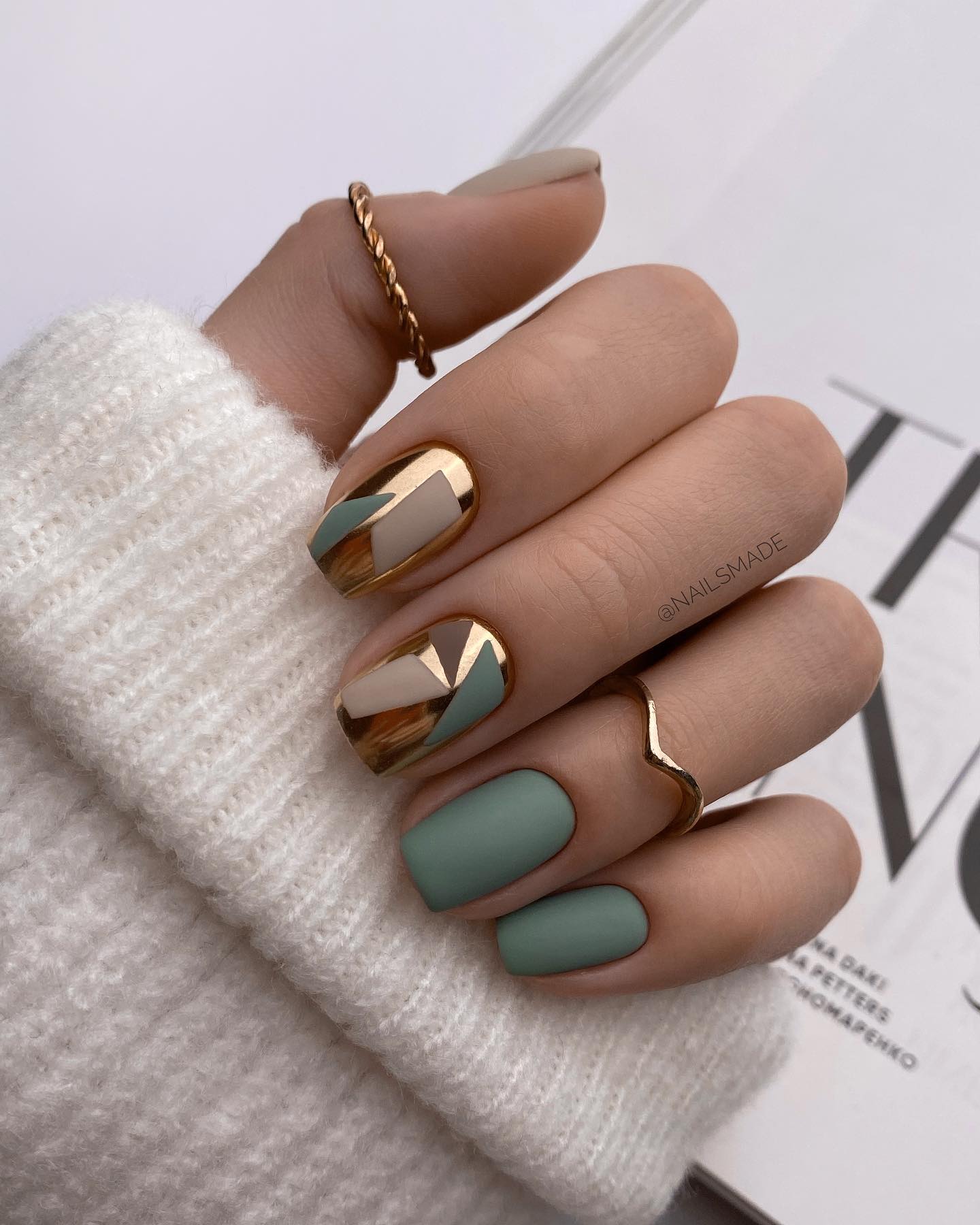 via @nailsmade
24. Shine like a Queen with Diamond Design on Nails
Add a nice shining ascent to the short nails. Glitter can be applied to nude colors to create different geometric shapes for a stunning effect. For example, a girl can combine two colors and make a shining border between them. Those who prefer a more classic look can pick a white polish. A very simple yet interesting option is to apply glitter for a diamond effect only on the ring finger. Just a single drop can totally change the look of any manicure. However, avoid adding too much to keep a nice accent rather than creating an overwhelming effect.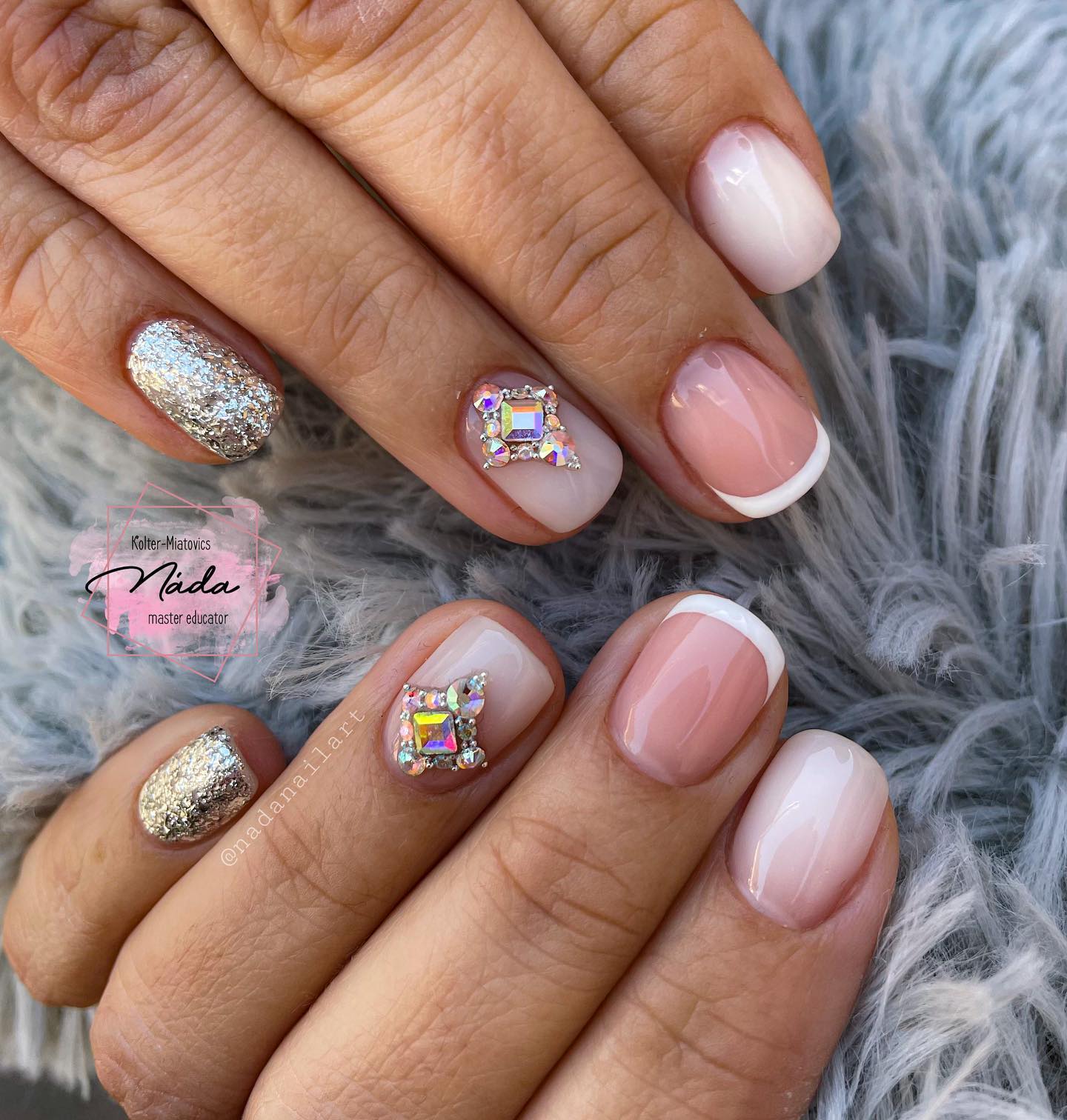 via @nadanailart
25. Classy Neat Nails with Clear Polish Will Suit Every Girl
Those are not only office-style nails but an option to choose for any occasion. Add more than one coat for high shine. No need to choose a single color since using a clear polish is enough. Also, it is a quick design to opt for. Choose it if the nails need to have some rest from a more intense manicure. Despite a simple design, your nails will look lovely. Another great advantage of this choice is that it is easy to fix any problems if it occurs. No skills or special tools are required; so, it is a great DIY option for every lady.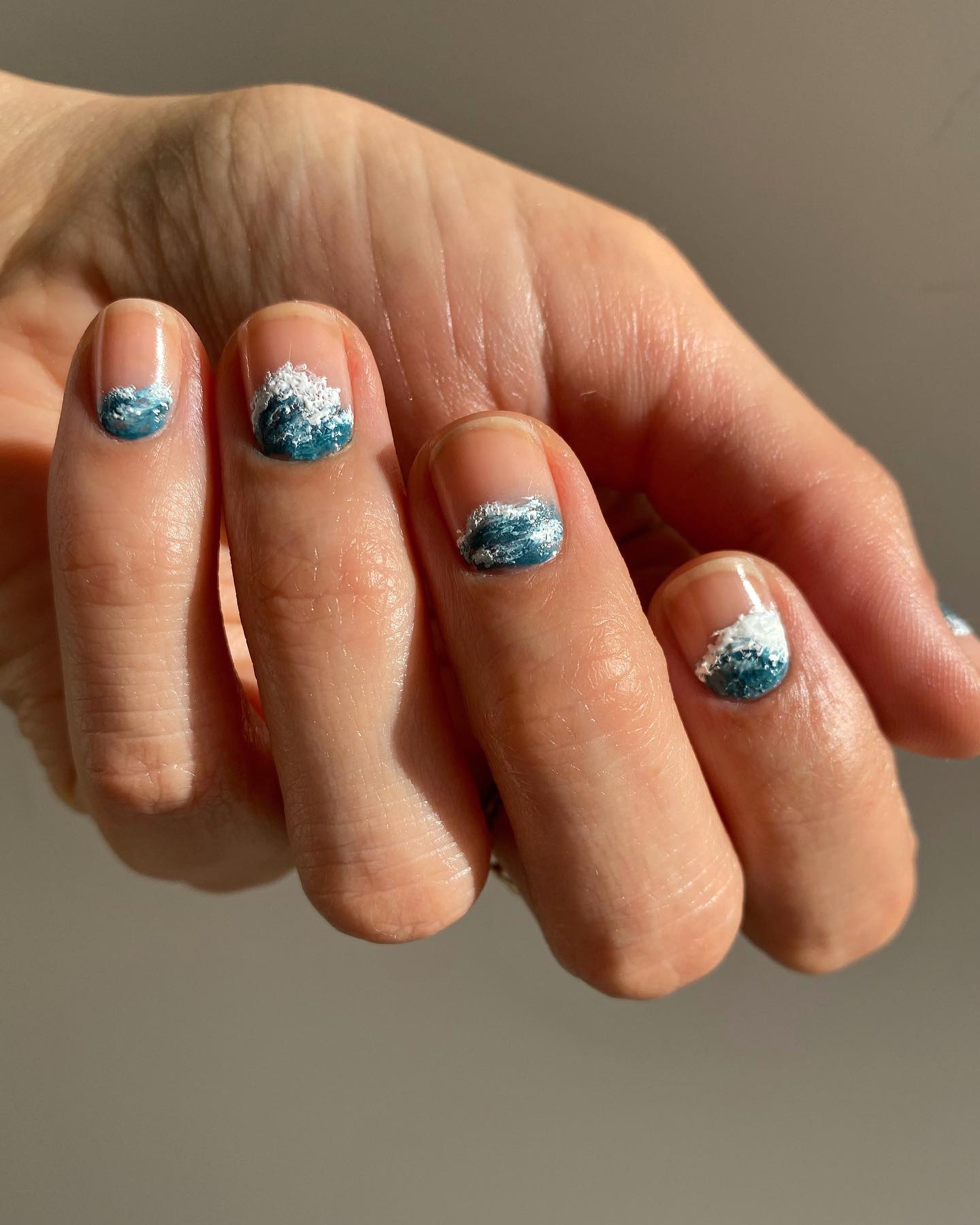 via @betina_goldstein
What Manicure Is the Least Damaging to Nails?
The healthiest choice for the nails is a basic manicure that comes with high-quality polish. An organic polish would be a perfect choice since it comes with vitamins. Other options are the French manicure and gel manicure. A lady can also opt for minimalism where she can add a few lines leaving most of her nails natural.
How Often Should I Get a Manicure?
Specialists recommend waiting for about 2-3 weeks before getting another manicure. This will keep the nails healthy. However, this really depends on the lady's style and needs. If she requires having it more often due to the specifics of her job or hobby, she can have it. In this case, it is preferable to opt for the least damaging manicure.