The previous year wowed us with many inspiring spring nail designs, ranging from eye-popping teal & pink combos to sweet Easter bunnies styled in pastel colours. However, the upcoming nail art season promises a fresh take on both colourful nails and minimalist designs, adding brand-new spring colours, intriguing combinations, and eye-catching details to our mani arsenal. So, get set — spring nails are coming!
Spring Colours for Your Nails
Obviously, Very Peri is the number one pick among spring colours for nails since it is Panthon's colour of the year and a dreamy yet positive hue to perfectly fit the mood of spring. However, our spring nail ideas are not limited to periwinkle shades and pastel nail polishes (although keep an eye on soft pink and a creative mix of multiple chalk tones). Vibrant shades of green are trending and play into the blossom of nature to land a stunning spring manicure. Deep blue and flesh red are amazing spring colours to garner much attention, especially when combined with trendy details like 3D embellishments.
Bright Nail Designs
However, you don't need to stick to full-on nail art or colour blocks to enjoy bright nail designs. Often, less is more, and you can brighten up your pastel-styled nails with a couple of funny little stickers. Bright the 2000s-inspired smiley faces, butterflies, and cherries are officially back, not to mention that they work fine for DIY designs. Getting wild prints is another way to go, with zebra stripes topping the choice of hot nail trends.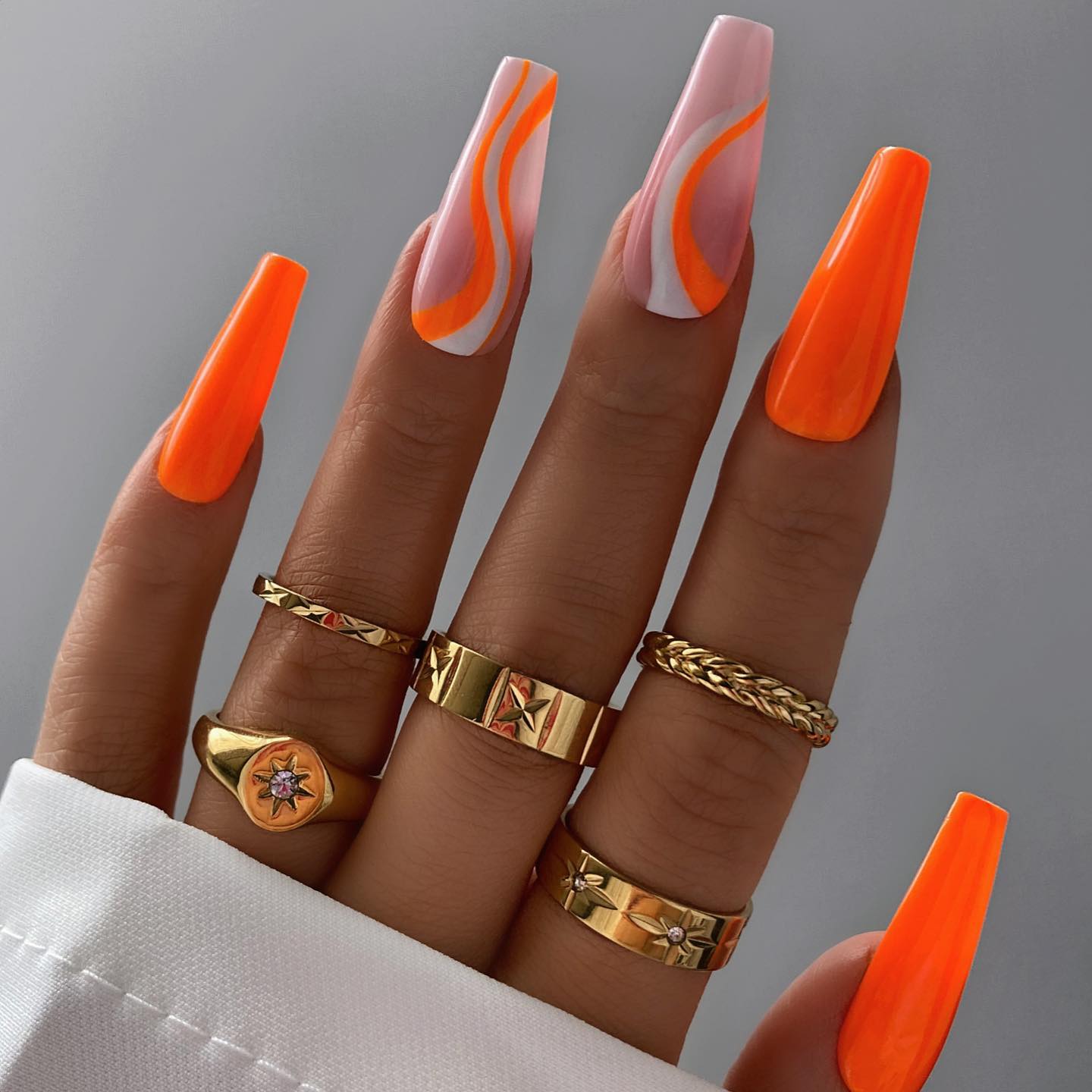 via @pressedbycharlotte_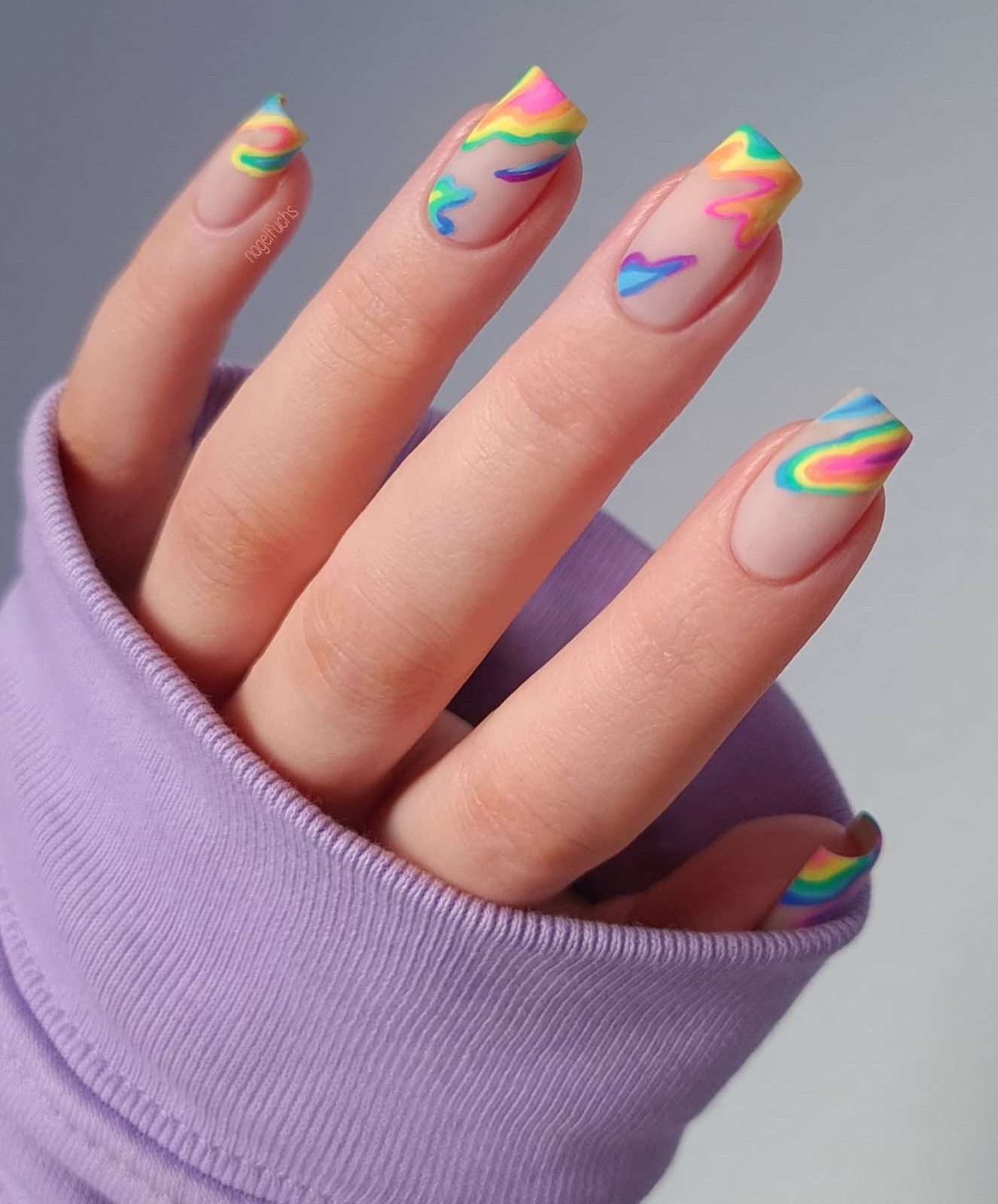 via @nagelfuchs
Contrasting Nail Colours
Haven't we mentioned that mixing and matching different colours is good for this spring? Actually, you can skip on matching and go for contrasting nails, which can be bright or light, matte or glossy, or even a combination of the above. Trend-setters let us get creative again to shake ourselves free from winter depression and pandemic-triggered uncertainty. Surely, you can get a super cute manicure easily through black and white colour-blocking, but pairing complementary and contrasting shades, say, in waves would be a fancier and more colourful nail idea.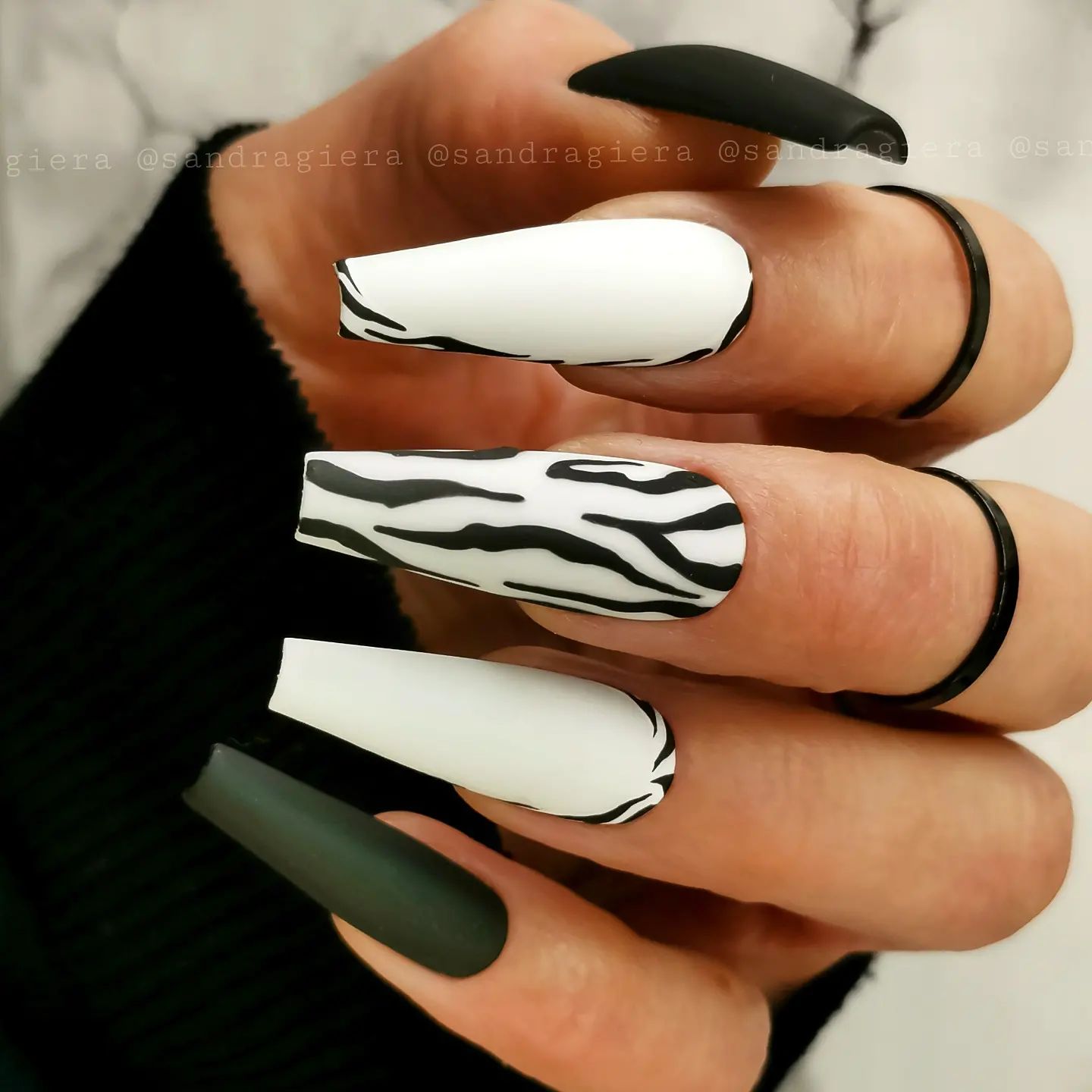 via @sandragiera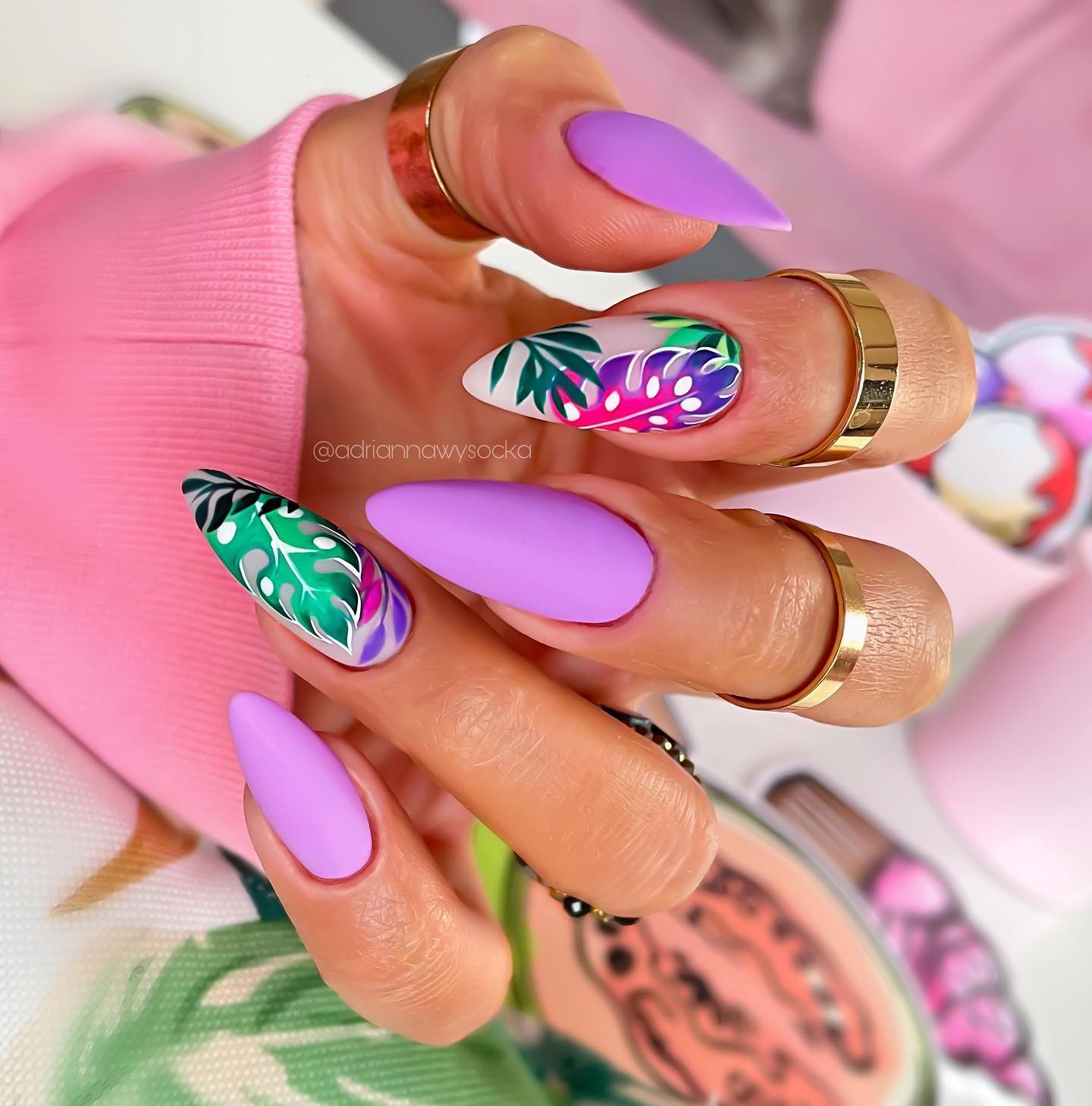 via @adriannawysocka
Spring Stiletto Nails
If you want to look fashionable to your finger tips literally, you should learn how to rock stiletto nails, which are in vogue again. The best part is that you don't need to tinker with filing to get perfect nails of the desired shape since press-on nails will do all the hard work. You will need only to cope with the creative part and design your spring stiletto nails chicly. The long and spiky nail look craves drama, and you can create it effortlessly by simply placing an accent on the tips. A French manicure with bold black tips or pastel tips of various colours is just one of the stylish options.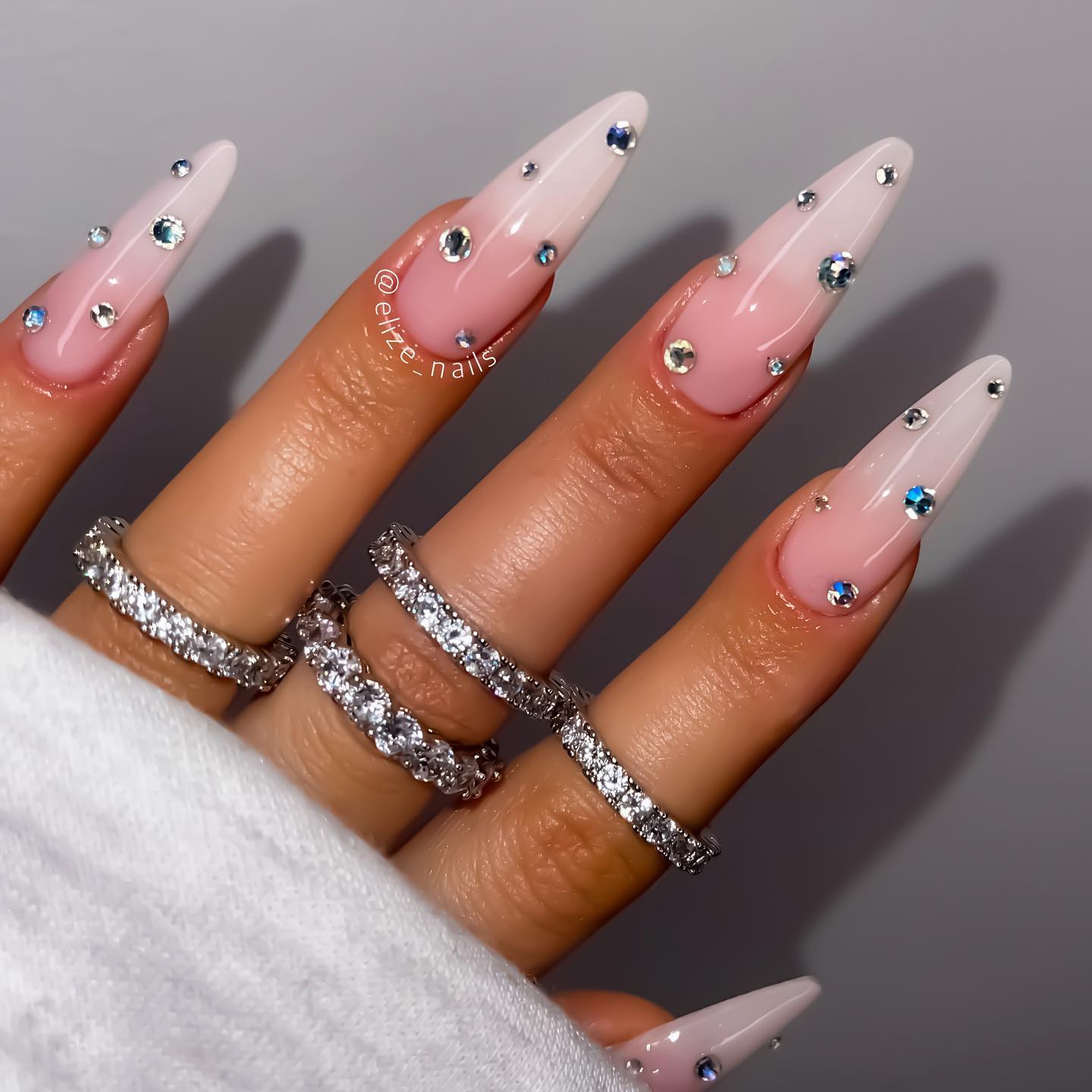 via @elize_nails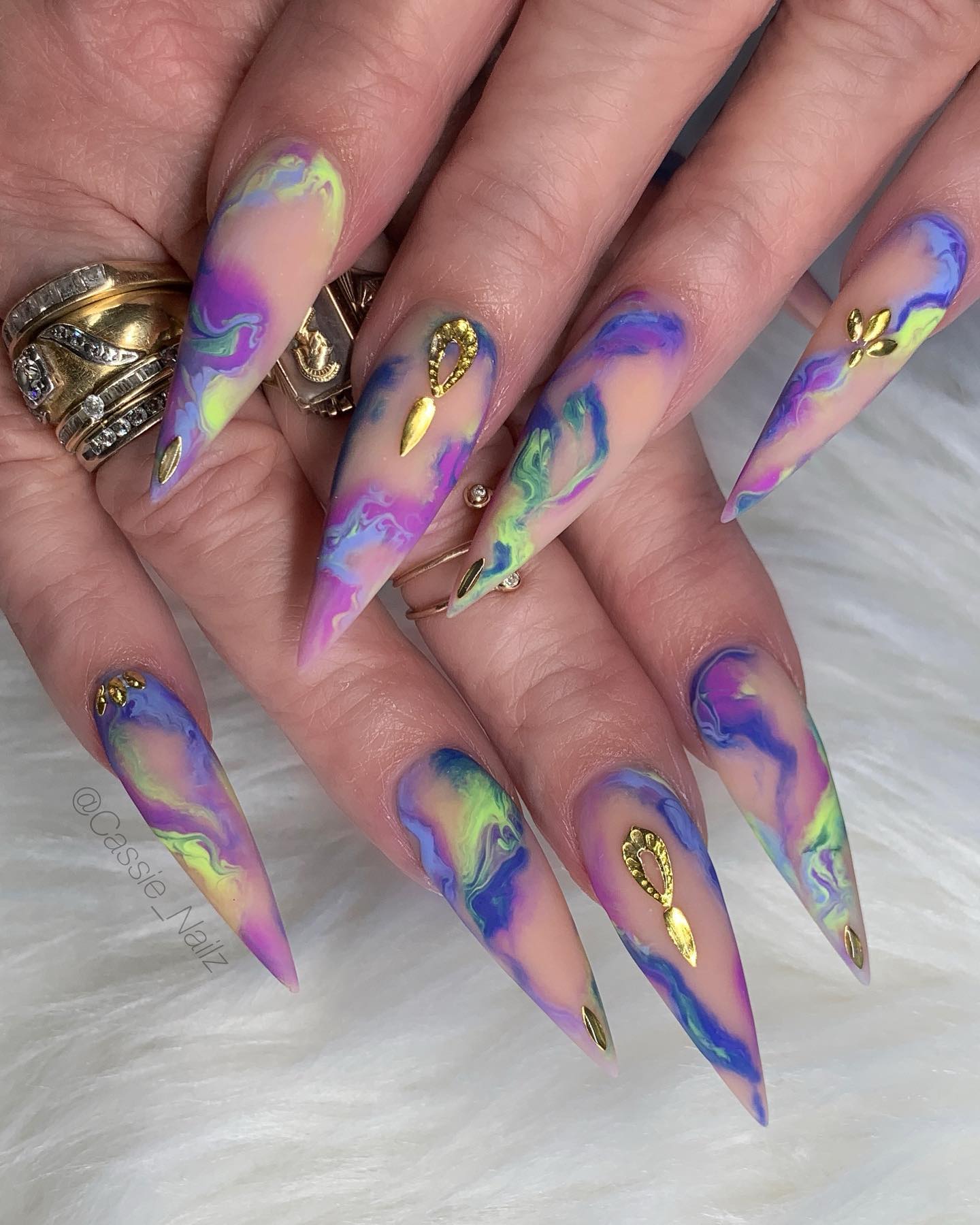 via @cassie_nailz
Stunning Sparkly Nail Designs You Cannot Miss This Season
Glitter nails are something we borrowed from the last season, as sparkly nail designs chime in with winter-to-spring transition. Whether we are talking long sparkly nails all covered with a magnetic polish to produce a stunning velvety effect or tiny specks of shine added to nail art to sport short sparkly nails, you are sure to grab plenty of attention with the mani.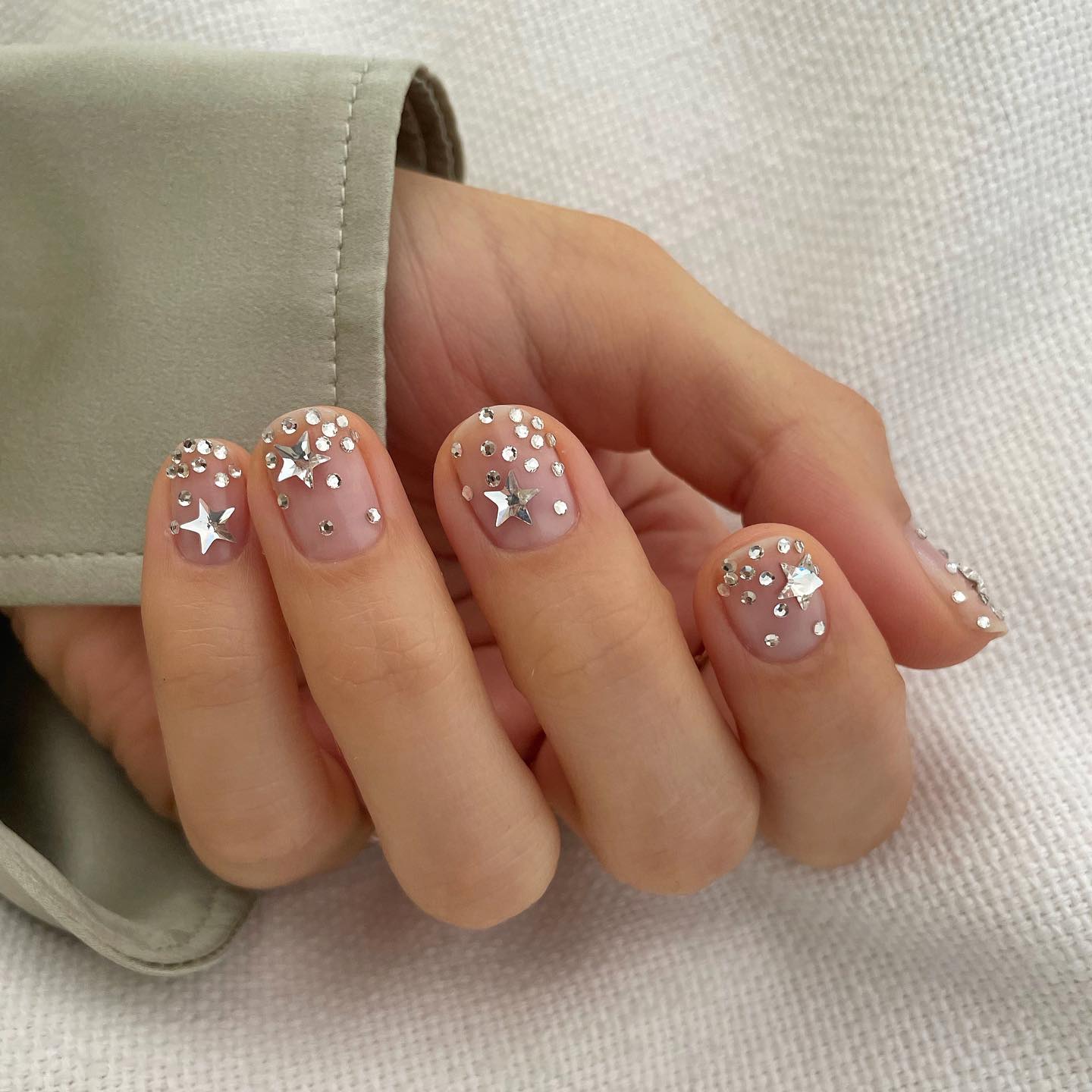 via @betina_goldstein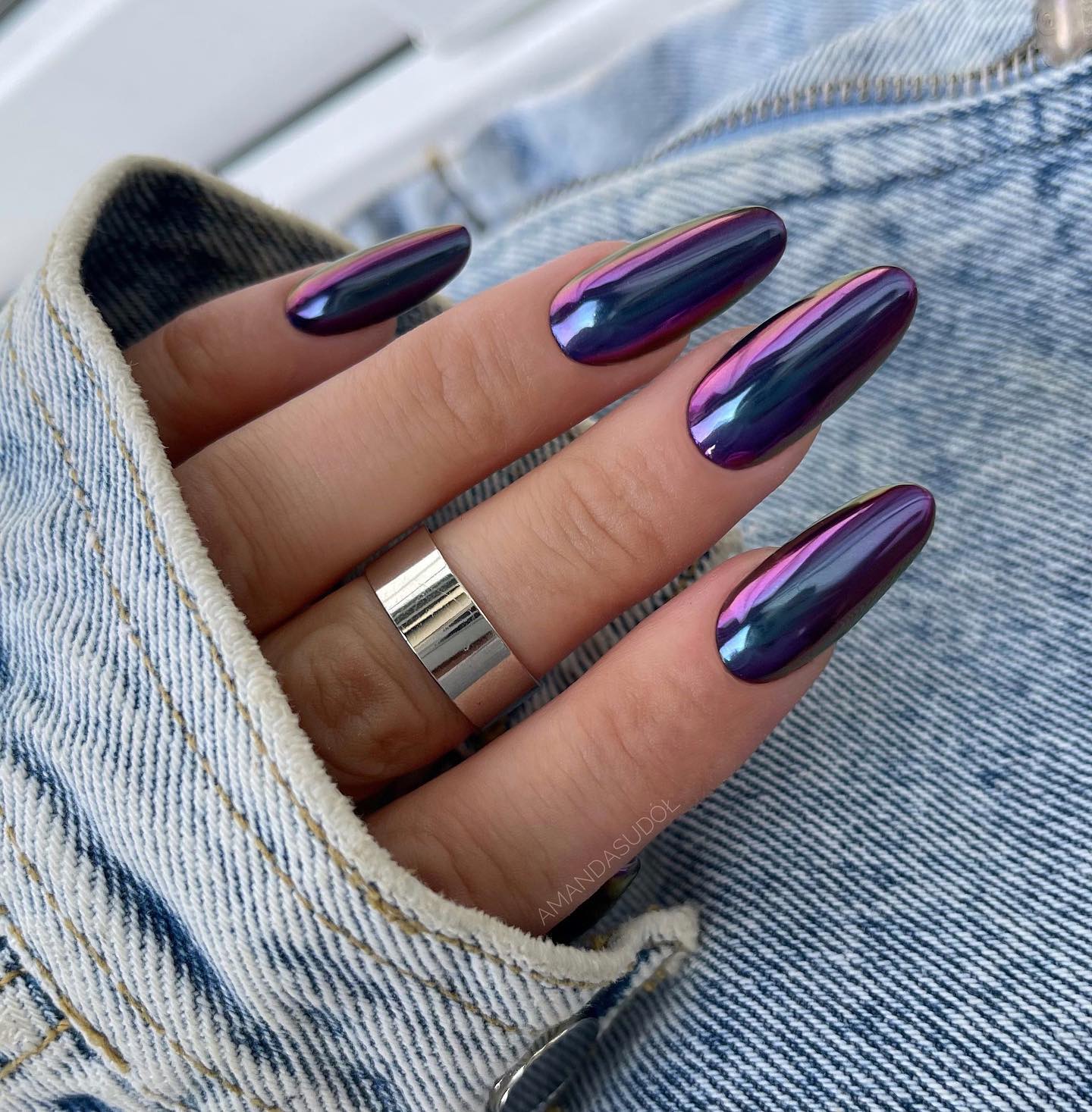 via @amanda.sudolll
Lovely Floral Designs
The best approach to welcoming a spring season is by doing floral nails. Even if warm weather falls behind schedule, lovely flowers coupled with spring colours never fail to warm the cockles of your heart and please the eyes of others. And here are a few trendy ideas for your next manicure: scatter delicate rosebuds across mint polish or combine another pastel base with soft florals.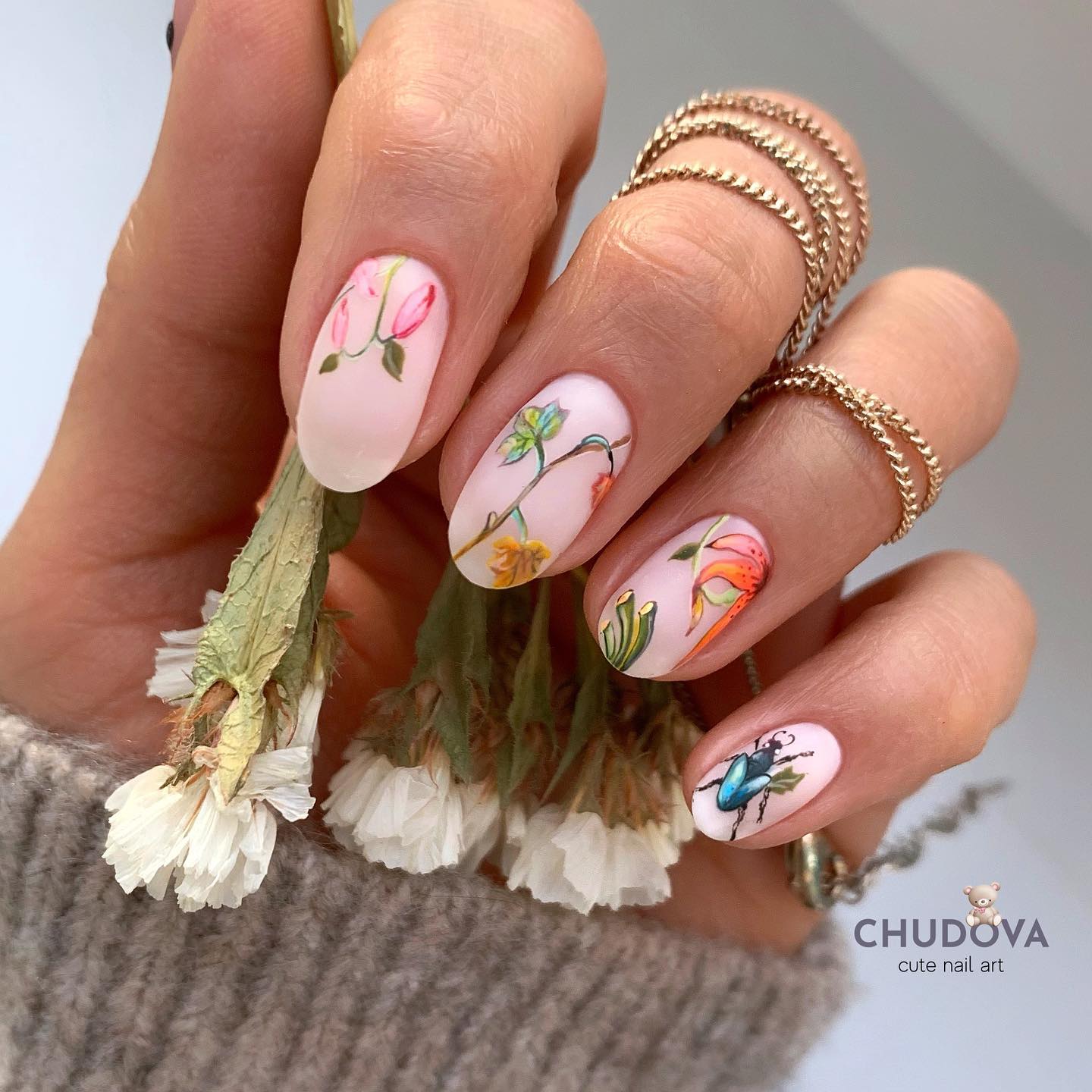 via @chudova_nailart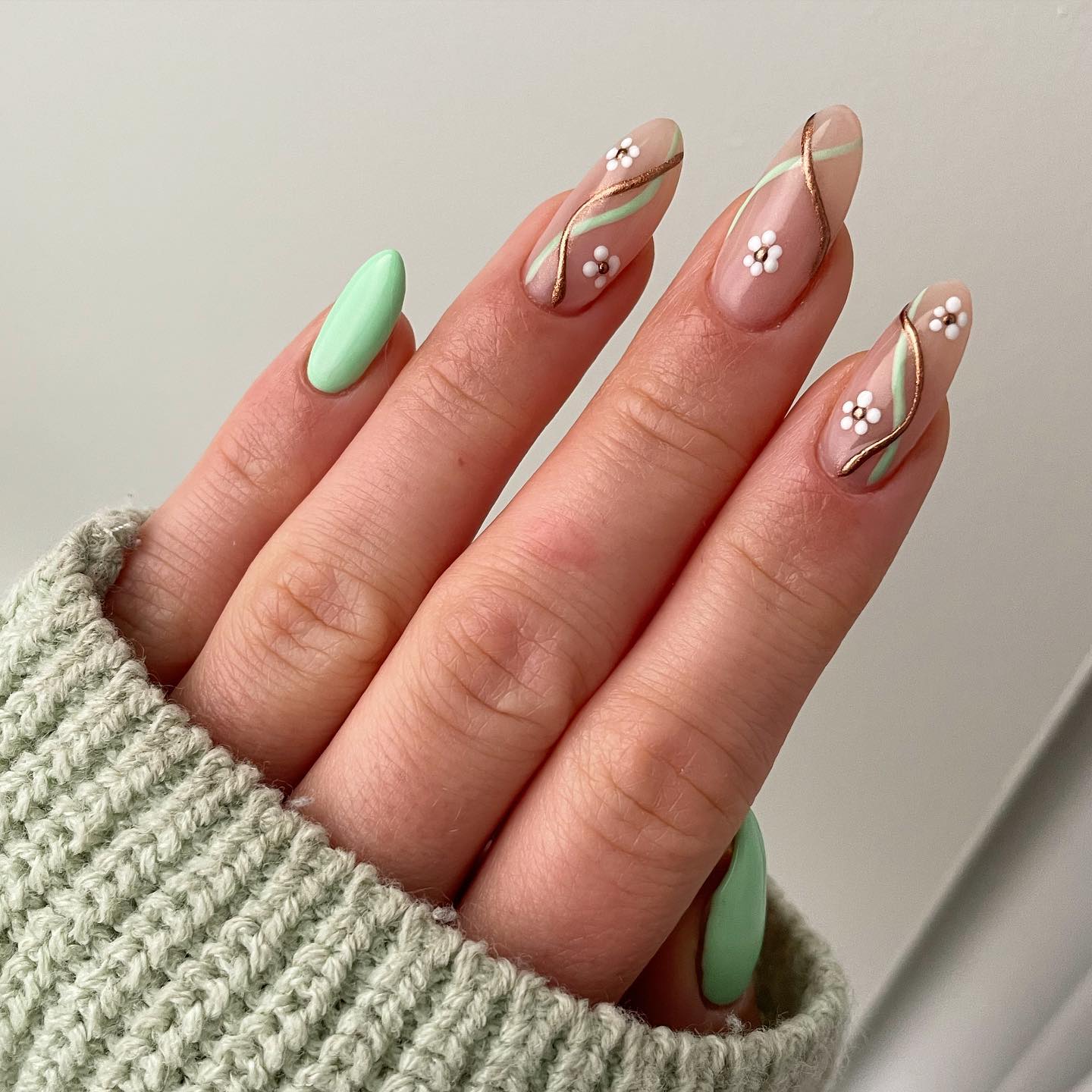 via @nails_by_daniellekatie
Ombre Nails This Spring
Playing with colour gradients is a sure-fire way to create amazing nails regardless of the season, at least until ombre nails go out of style. But they are definitely not going to do this anytime soon, so we all can enjoy the beauty of gorgeous colour transitions. Pastel colours are an obvious choice for the spring, but you can take it a step further and let each nail fade into a different shade. Sky blue is another source of inspiration among multiple chic ombre nail ideas.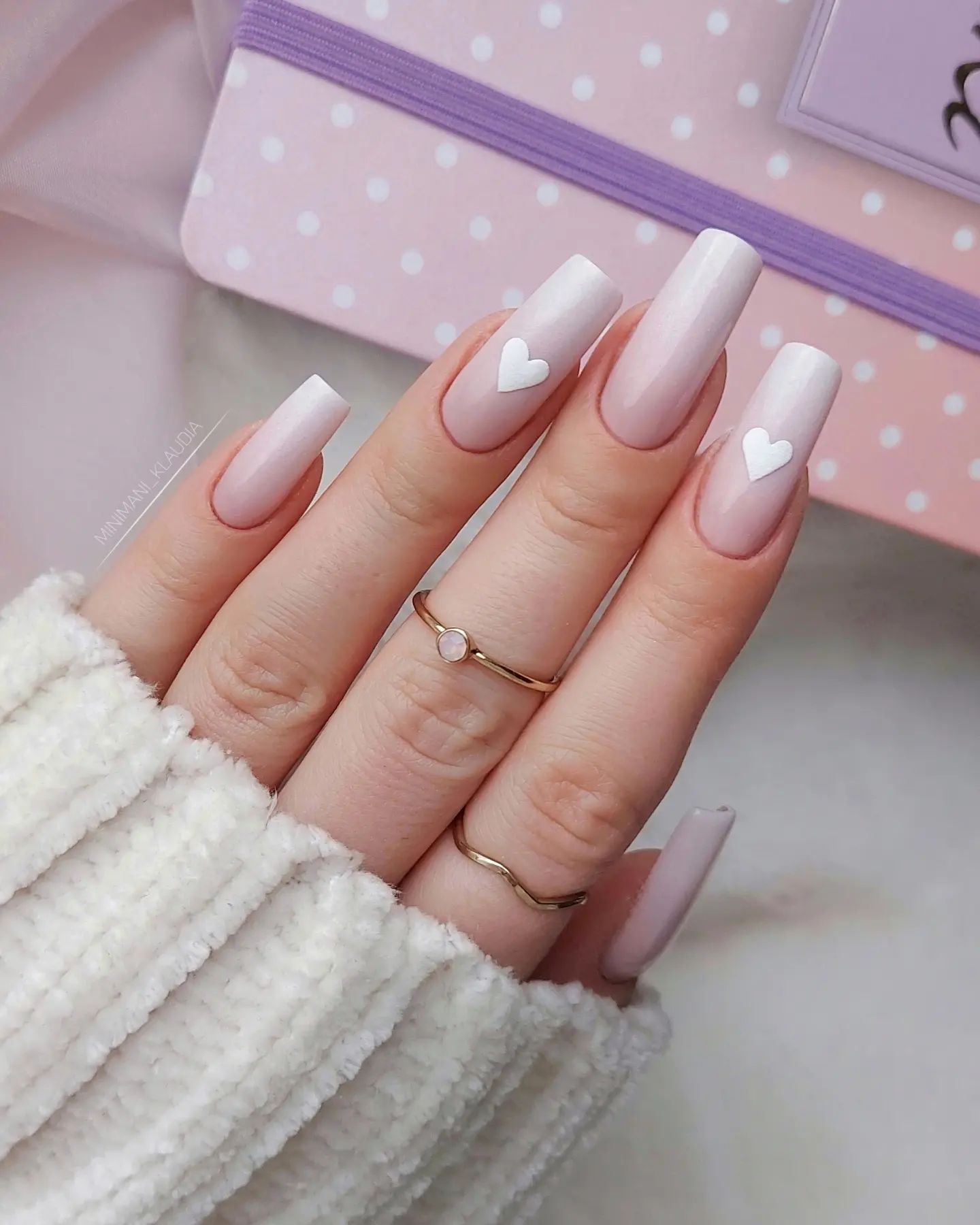 via @minimani_klaudia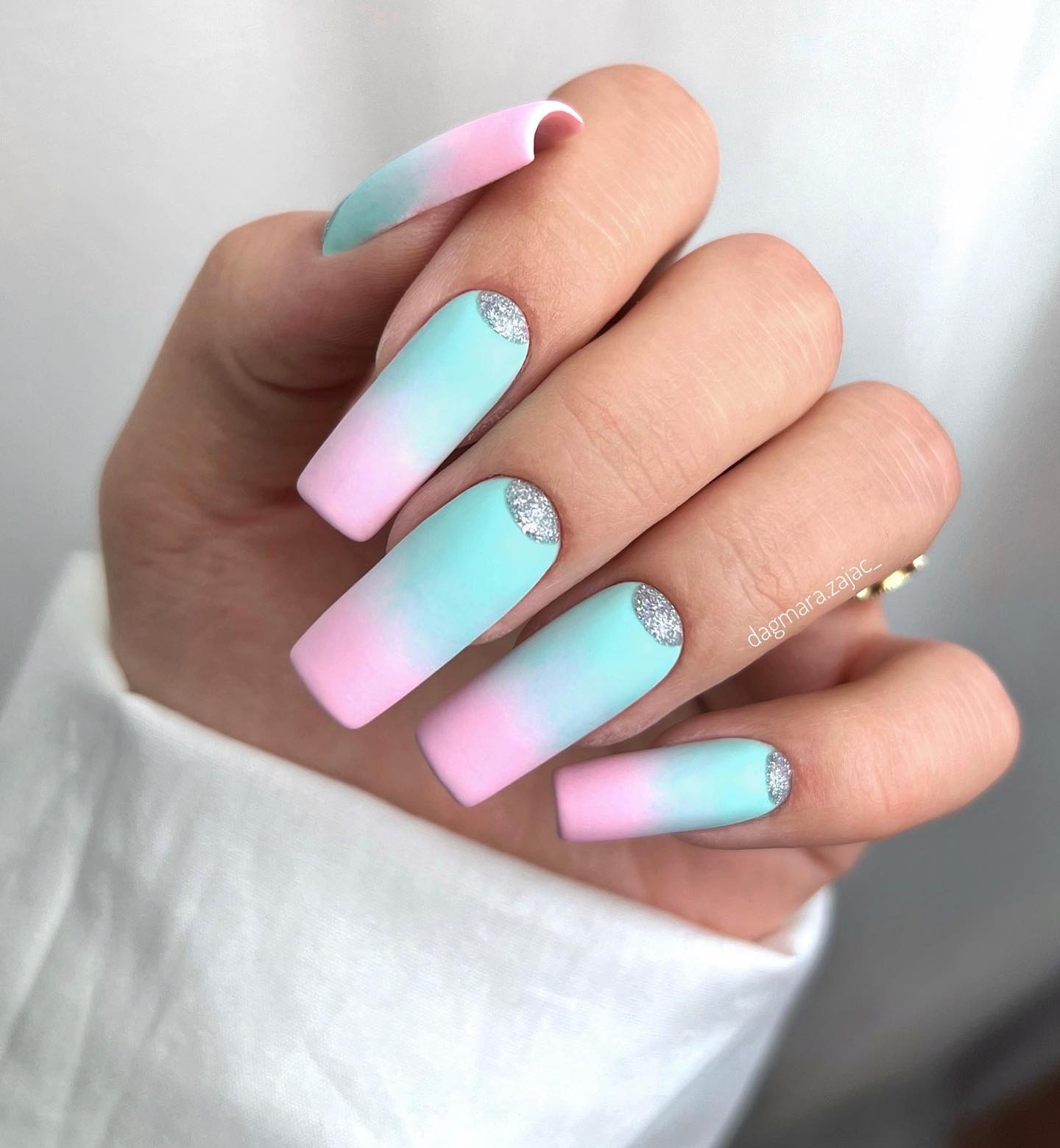 via @dagmara.zajac_
Classy Nails – Always a Winning Choice
A classic French manicure may seem boring, but not with fresh nail designs offered for this spring. The rebooted French tips include wavy lines, metallic shine, contrasting finishes, dark twists, and quirky patterns. The micro version of French mani is still there, also experimenting with various shades and glitter. You can even alternate colours on tips or add a mirroring line along the cuticle. And don't forget about a hot French manicure with a side tip!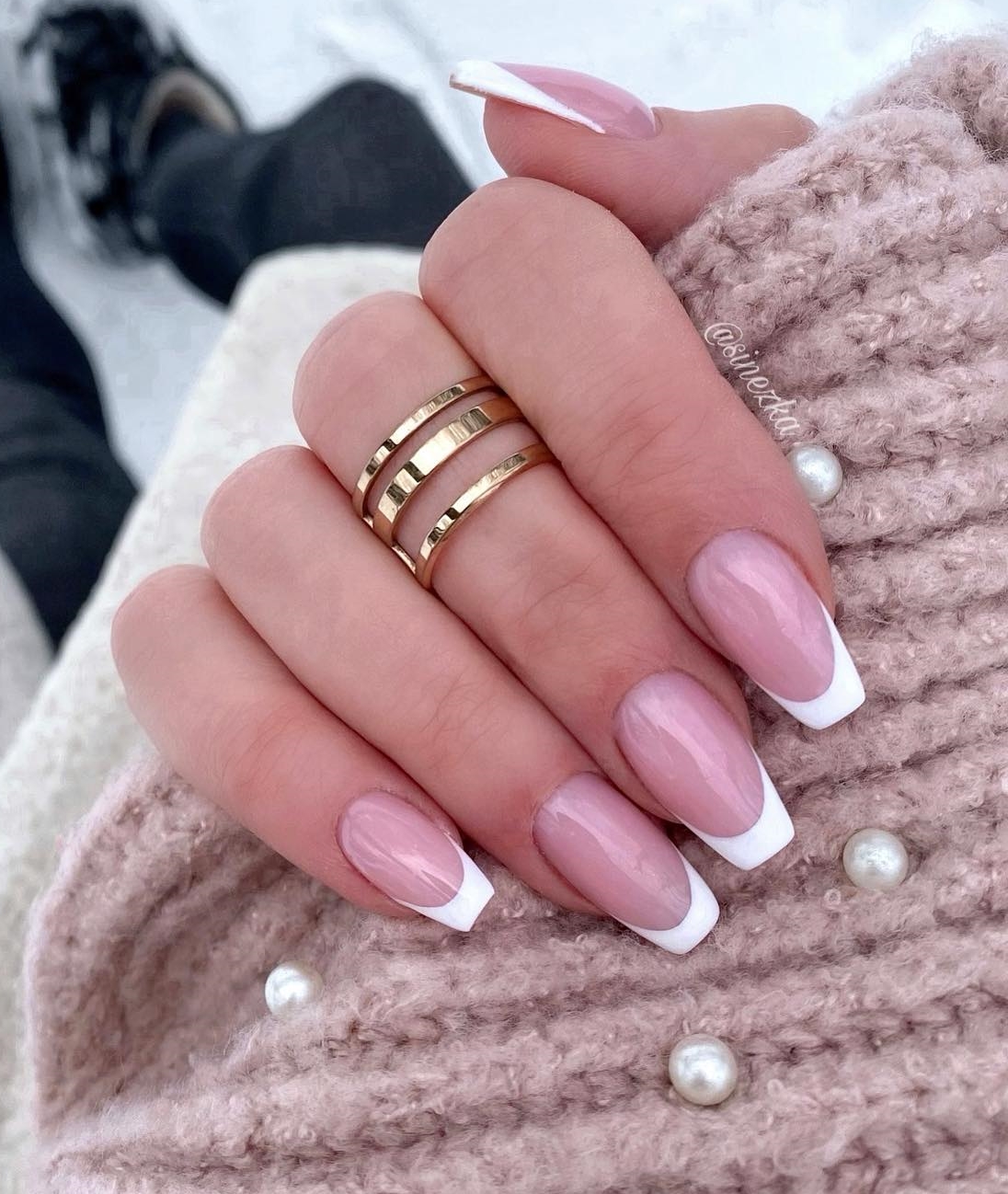 via @sinezka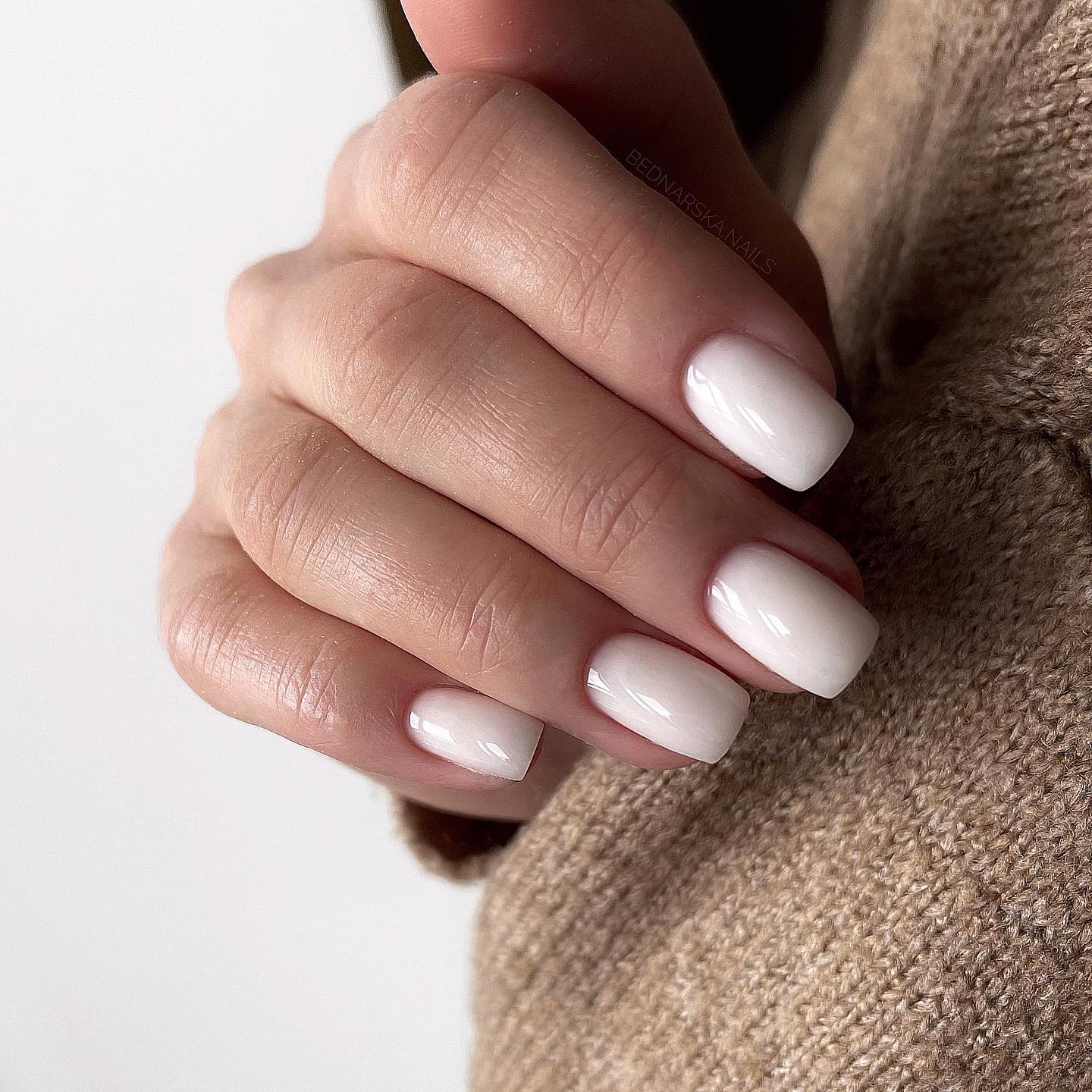 via @bednarska.nails
Nude Colour Nails
Nude nails are all girls' favourites since sheer polishes look elegant on any length and shape. The key to the look is a combination of healthy nails and the right tint to complement your skin. Luckily, neutral nails 2022 can vary in shades from pinkish to latte while shiny coats can give way to nude matte nails whenever you feel tired of the sheen. And surely, there are always ways to diversify your nude nail designs with milk-white dots, glitter strips, or lovely stickers.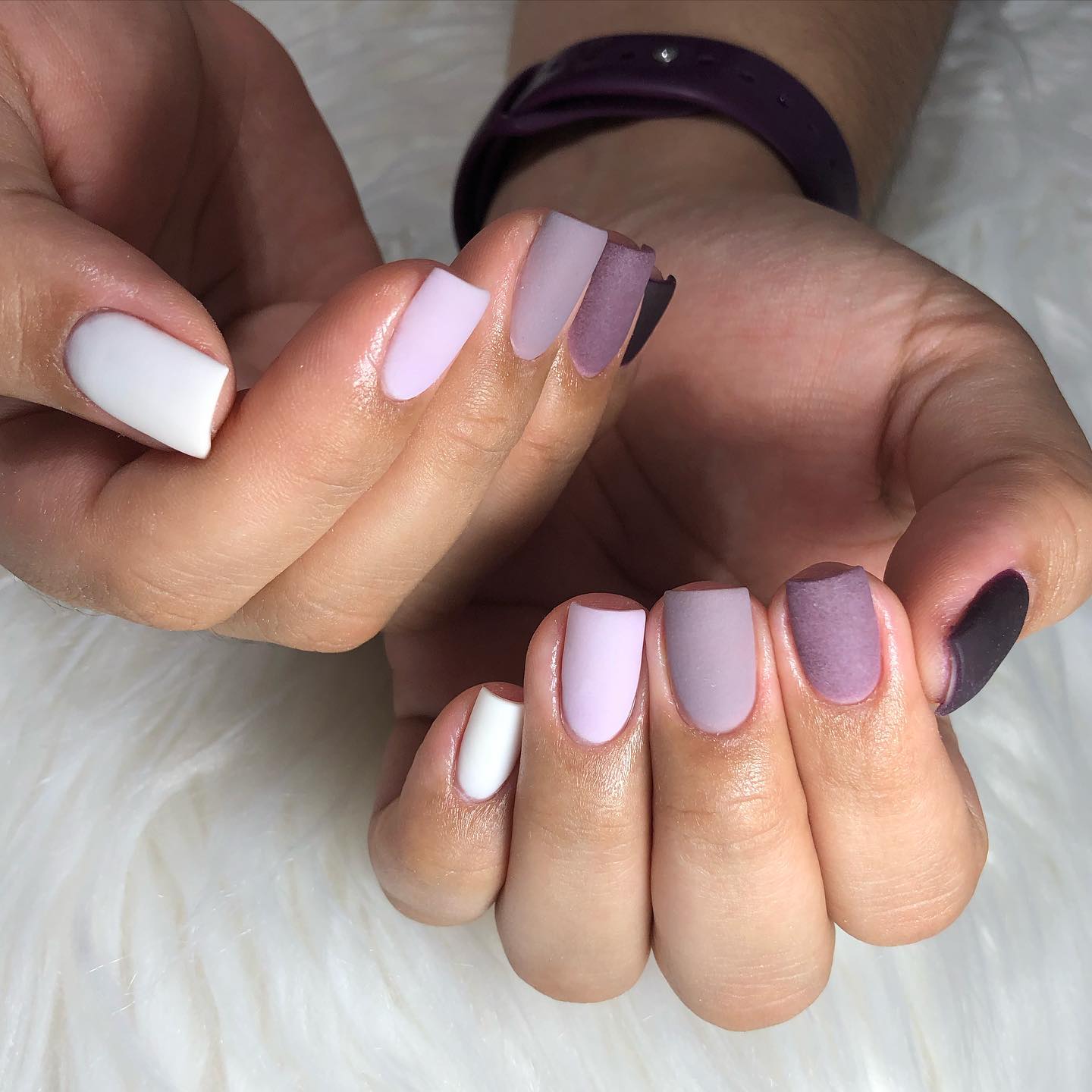 via @nails_yez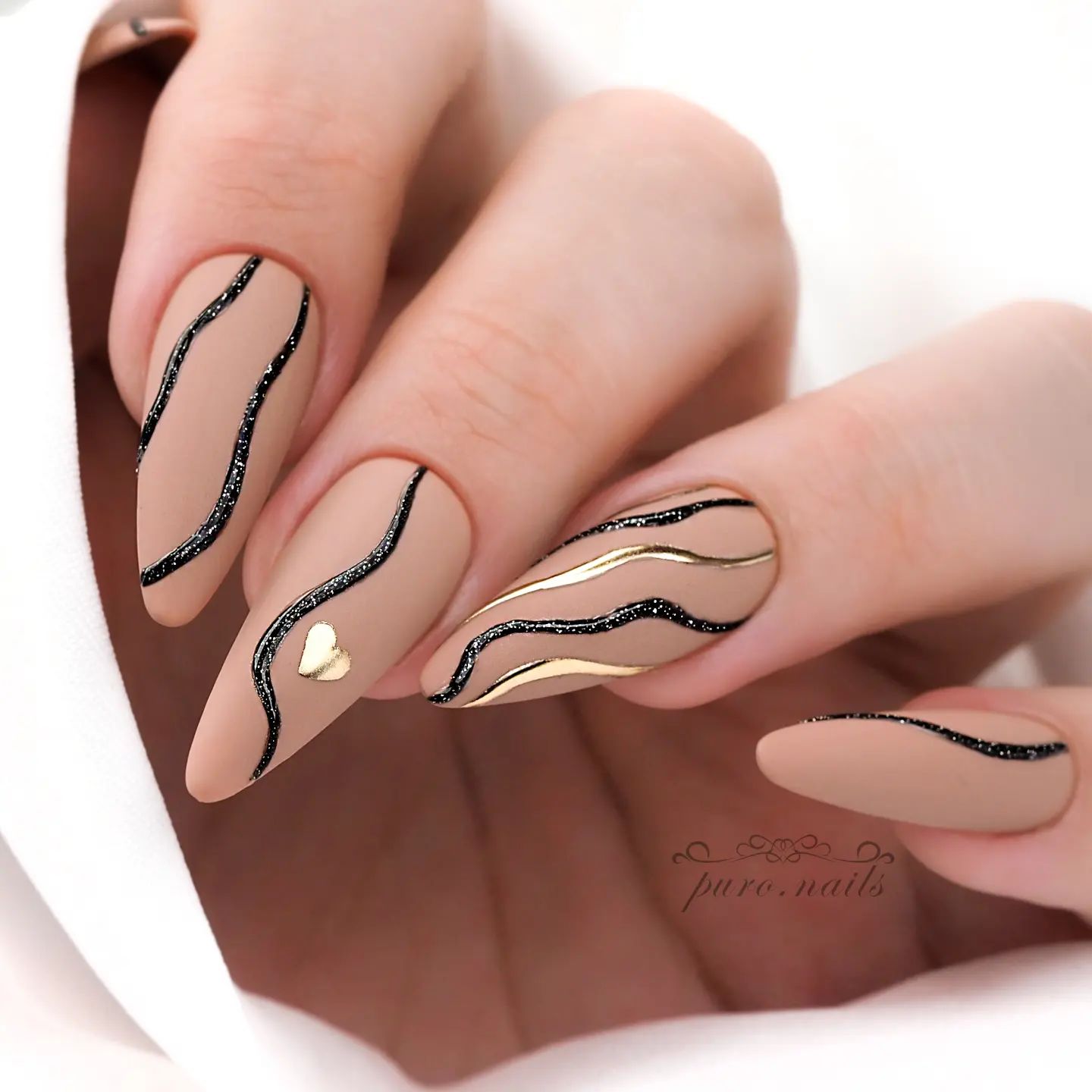 via @puro.nails
Accent Nails
Speaking about diversification, we cannot miss out on accent nail ideas since they give us a nice chance to customize a mani without sweating over each of our fingers. It's enough to add a massive rhinestone or delicate pearls to one or two nails to make a statement. Painting a glitter accent nail is, probably, the easiest way to elevate your manicure, as it blends well with almost any design.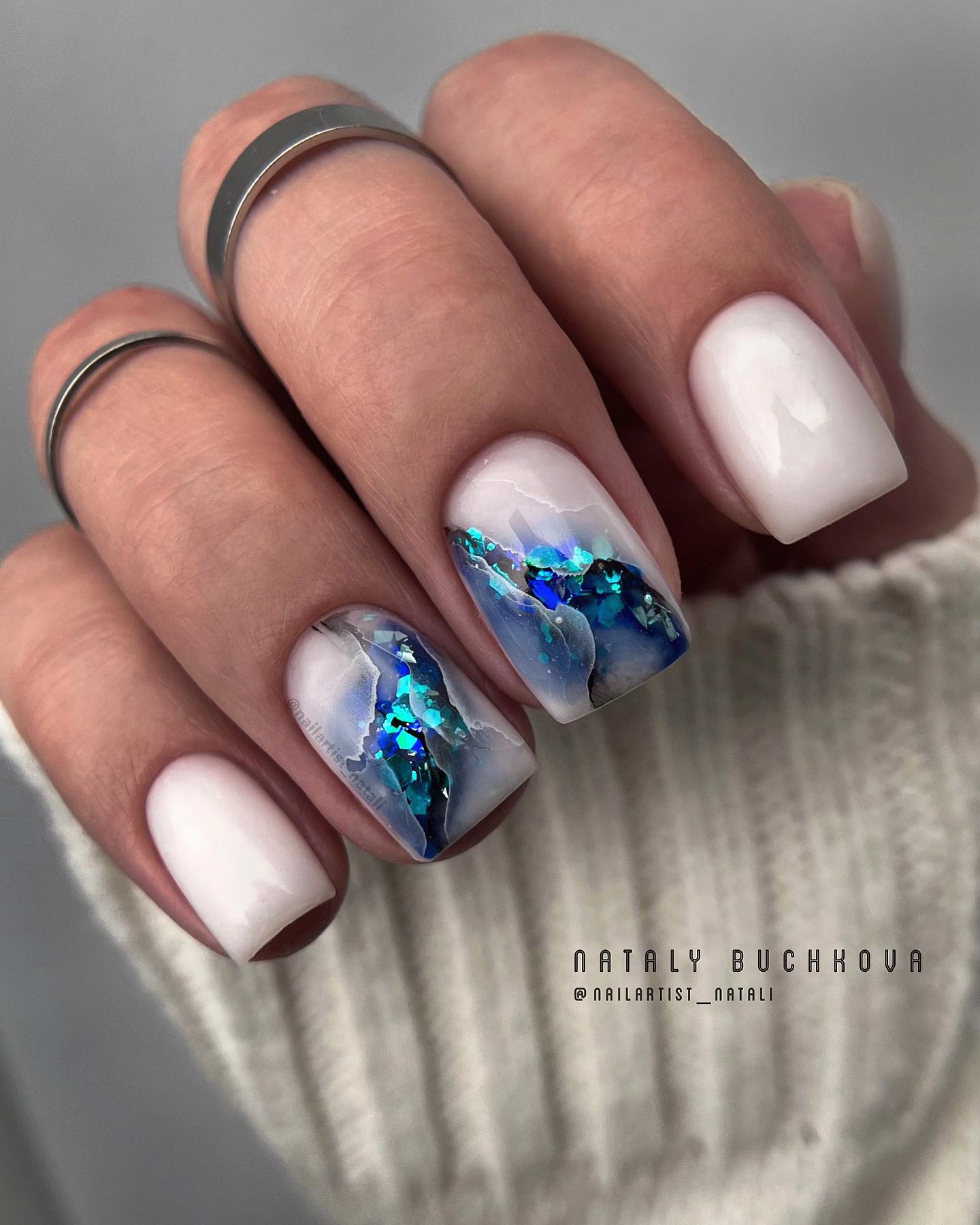 via @nailartist_natali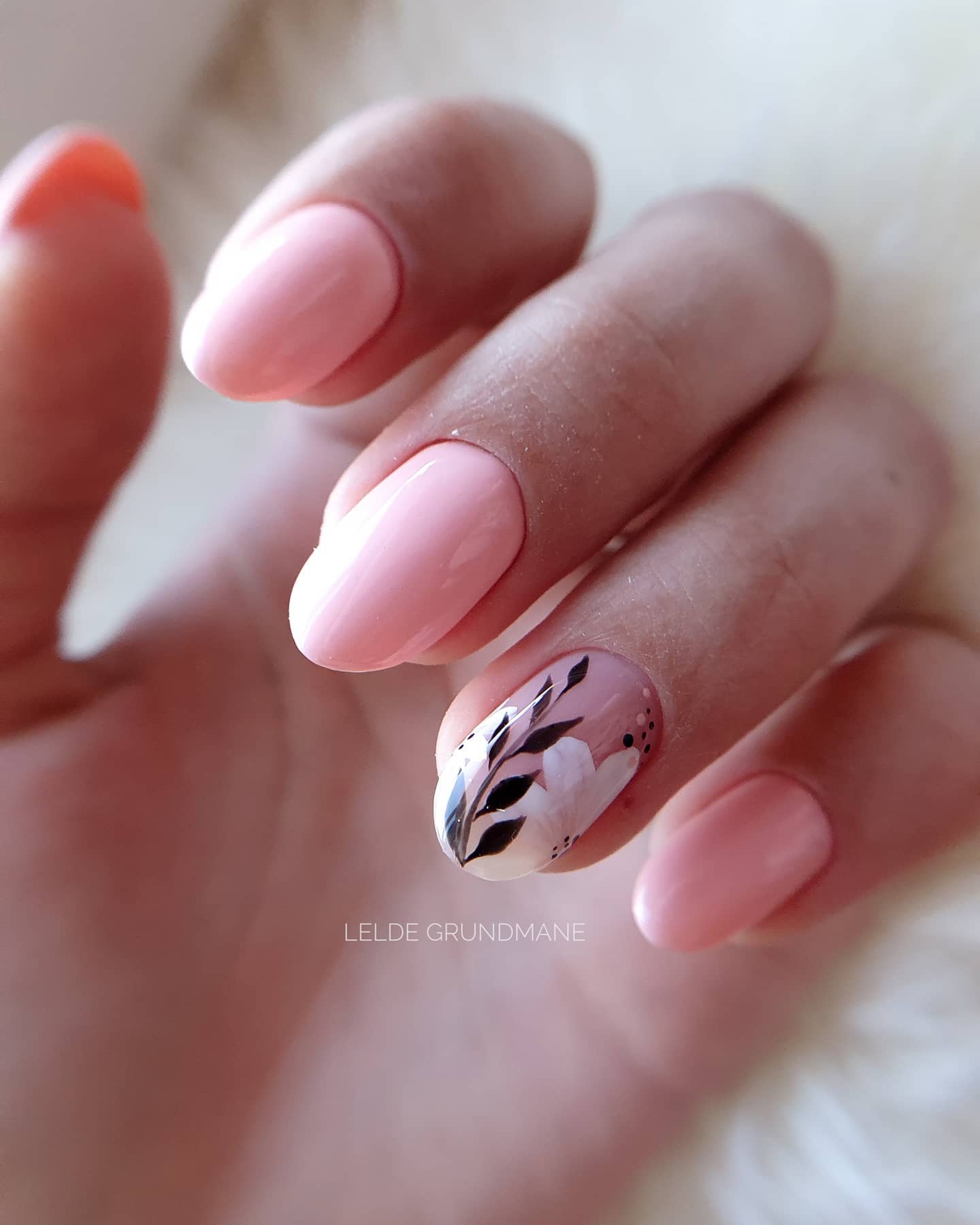 via @lelde.grundmane
Matte Nail
We adore matte nail art for those wonderful textures that utterly transform the feel of each colour it touches. So, we are happy to announce matte nails going mainstream, with pastel colours being the best pick for the spring. However, make sure to choose a different colour for each of your fingers to abide by the mix & match trend. For daring girls, matte black nails would be a funky alternative to traditional Easter-themed designs.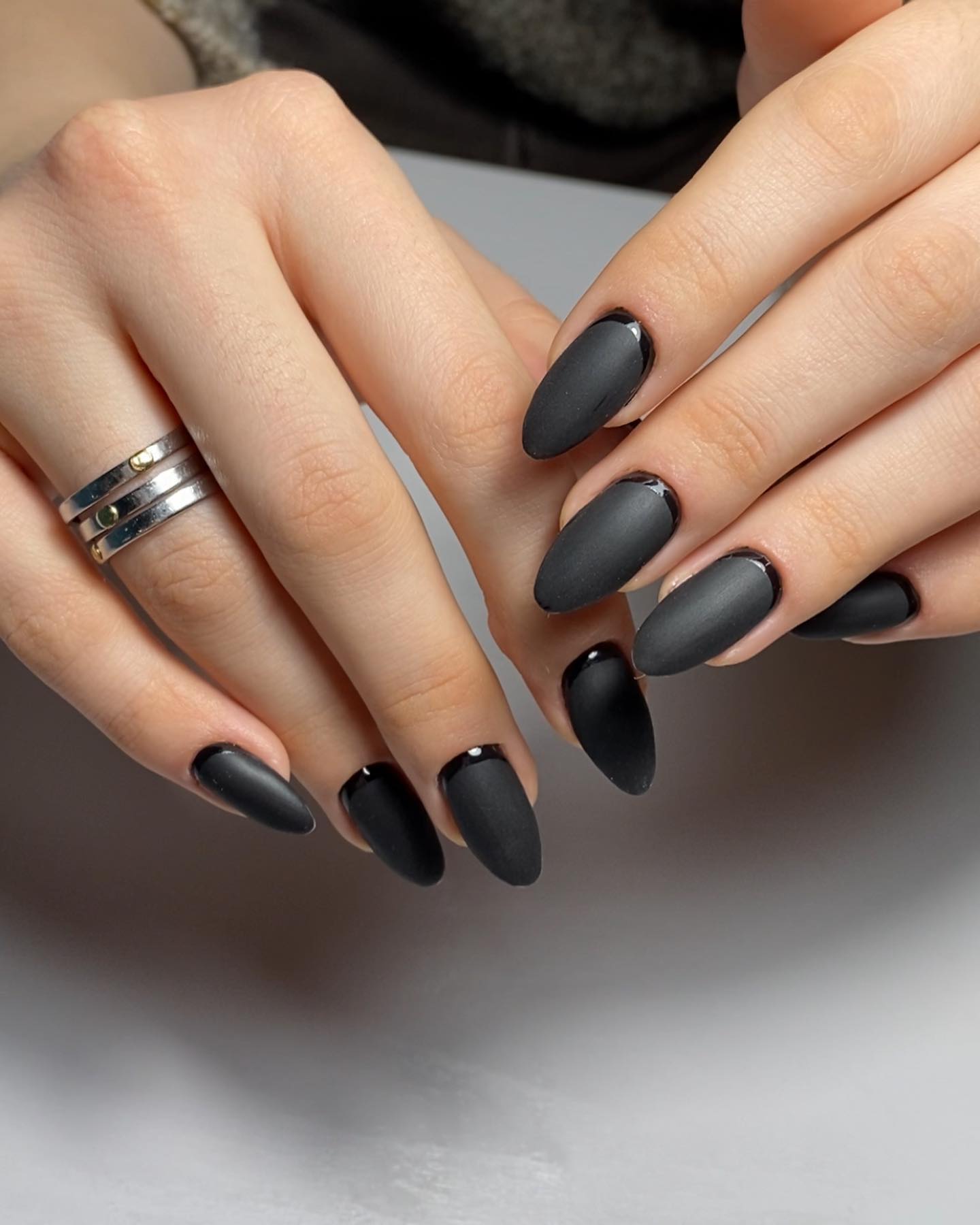 via @themanilab_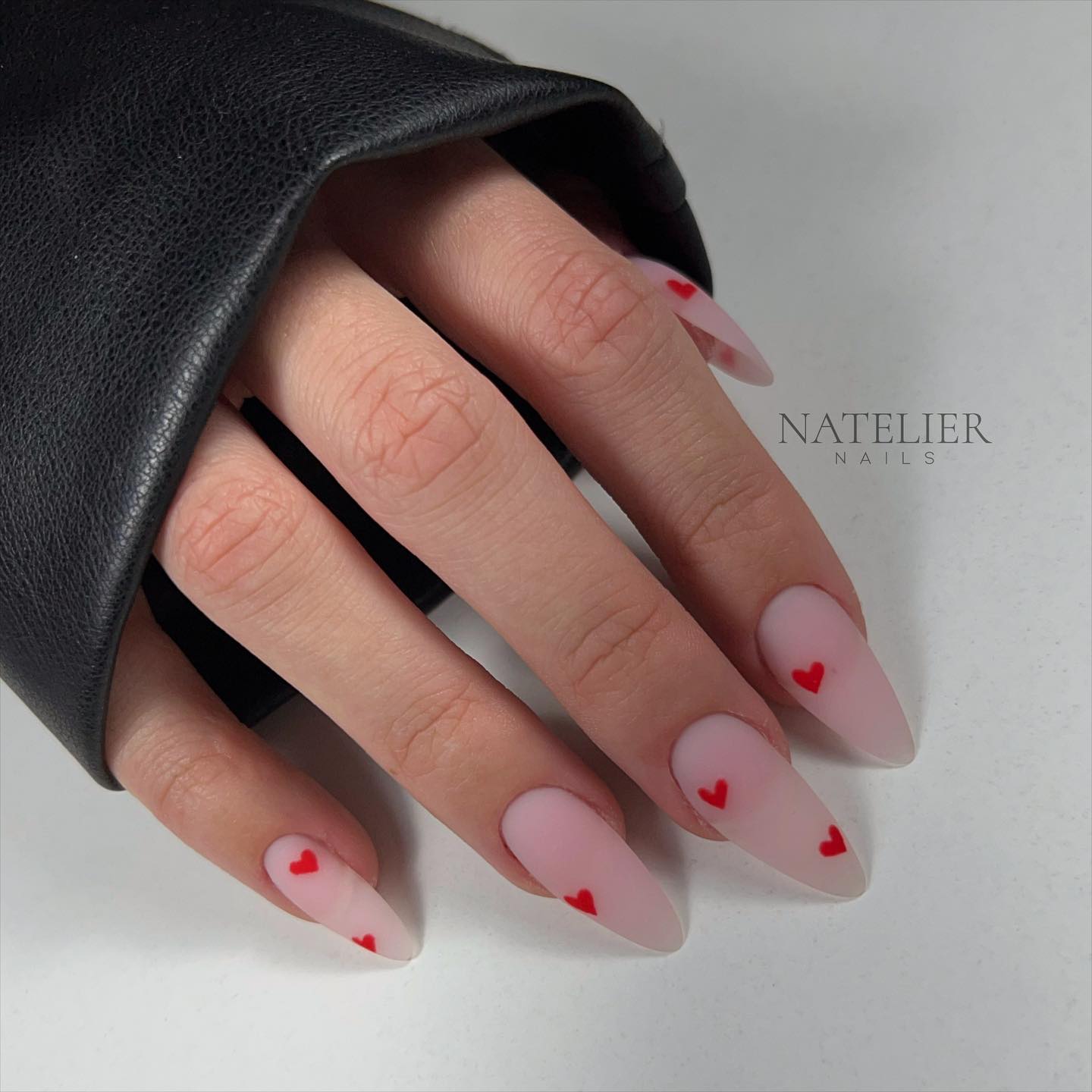 via @natnailsns
Rainbow Nails
Say goodbye to grey days by wearing cheerful rainbow colours! No, you don't need to paint a colourful arc on every finger — rainbow French tip nails will do the job perfectly. But if you want to get the full colour palette without using a liner brush, think of rainbow ombre nails, whether matte or glossy, pastel or fluorescent.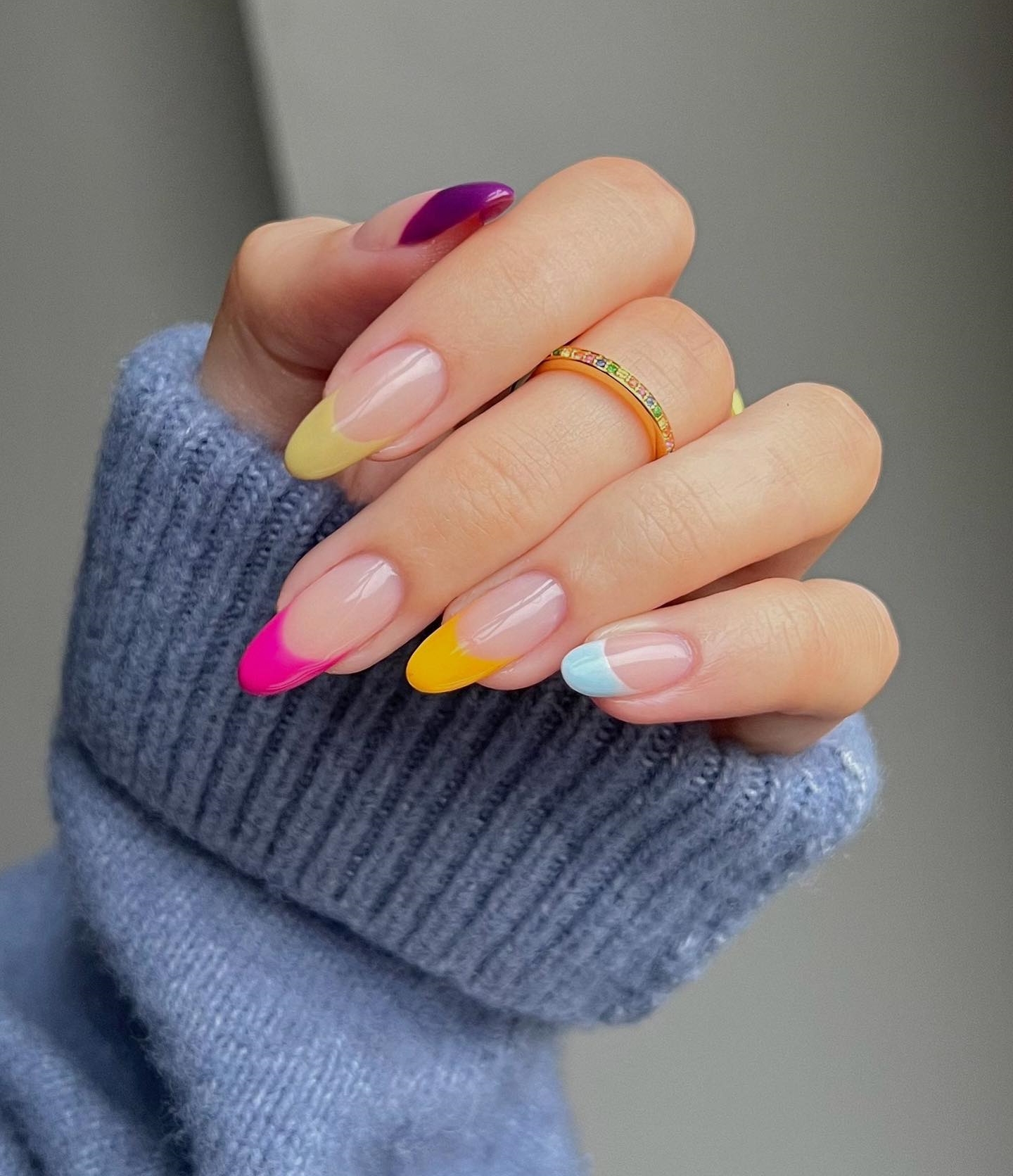 via @amberjhnails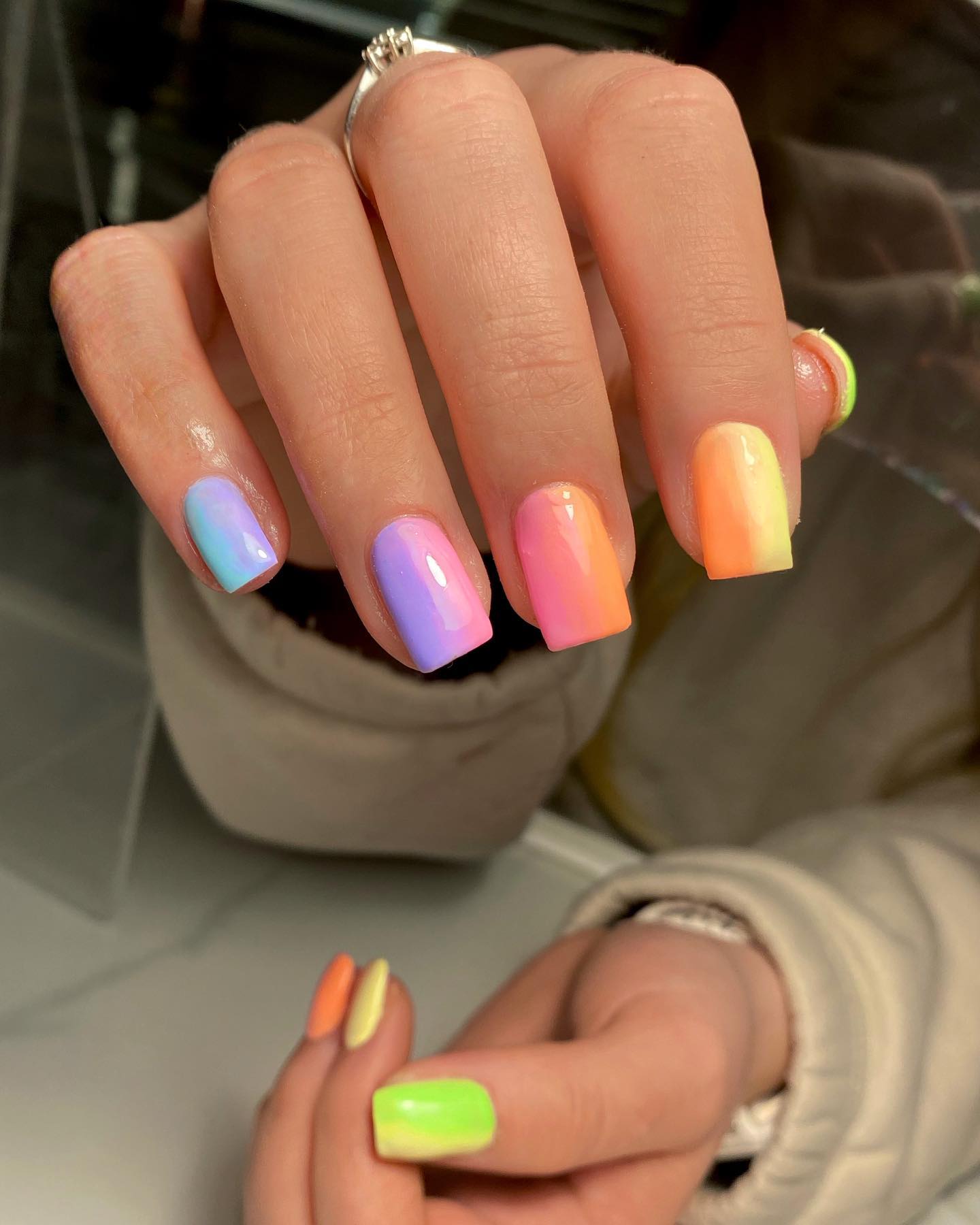 via @j.e.m_nails